The Yondermann Cafe
In the heart of Derbyshire you'll find the Yondermann Cafe serving you a real slice of local life.  The cafe has been established for over 60 years but Julie, Alasdair and their team took over in 2008. They pride themselves on providing the best service and quality food from local sources.
Homemade delights
All burgers, pies and cakes on the Yondermann menu are freshly made each day so you're always in for a treat. The menu boosts a whole range of food for whatever mood you're in; big biker breakfasts right down to light afternoon snacks and cake.
A large portion of their produce is purchased from local sources and suppliers from the meat, eggs, milk and fruit and veg.
Lots to do at the Yondermann
There's always something going on at the Yondermann; from bake sales to raise money for charity to biker get-togethers. Being based right by the Peak District, the cafe becomes a popular pit stop for bikers on their latest adventure. There's a large car park attached to the cafe so they're always encouraging bikers to stop.
Important Yondermann Cafe information
Telephone: 01298 873056
Opening times: 8am – 3pm, 7 days a week
Location: A623, Wardlow Mires, Wardlow, Buxton SK17 8RW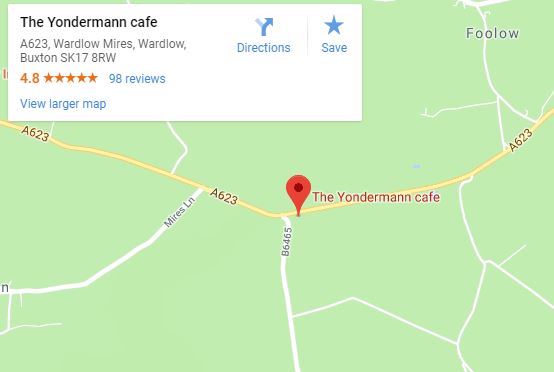 Yondermann Gallery
Gallery