RockyJo's
If you're based in the Northampton area and you're looking for a café that hosts regular bike nights and meets then RockyJo's could be perfect for you.
Feeling hungry? Why not to take on their ultimate burger challenge, a double stake burger with cheese and bacon served with a large portion of chilli chips… Very few have finished it! Just looking for a quick bite to eat and a cuppa? There's plenty on the menu to choose from, especially the fine selection of homemade cakes on sale every day.
RockyJo's also offers a cake design and ordering service so if you've got any upcoming birthday or special occasions then make sure you book yourself in!
Biker nights take place every Tuesday through the summer months,  there are also 4×4 meets, VW evenings and car nights.
Important RockyJo's information:
Telephone: 01933 275000
Opening times: Monday – Friday 9am – 2.30pm, Saturday 9am – 1pm, Sunday closed
Location: Unit 116 Leyland Trading Estate, Wellingborough, Northamptonshire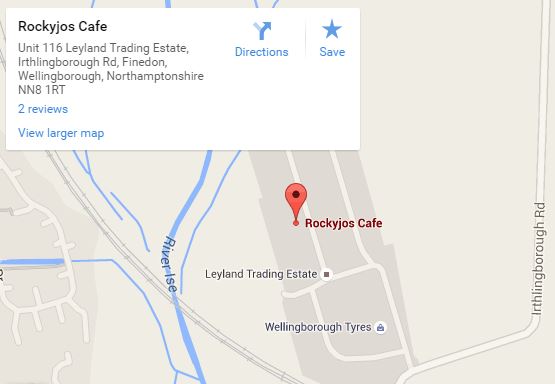 Key Events at RockyJo's
Event: Bike Night
Date: Every Tuesday throughout summer