Devitt Insurance have been arranging motorcycle insurance for UK bikers since 1936. We've been working hard with our panel of insurers to get the best quality cover for motorcyclists each and every year, it's no wonder we've got some happy customers.
Read our interviews with our longstanding customers… 
Trevor
Location: Hampshire
Born: 1923
Insured with Devitt: 77 years
Bike models: Mash Roadstar & Yamaha 250
77 years ago Trevor took out his first motorcycle insurance policy for his beloved AJS 350 with Devitt, and he's never looked back.
Trevor has always been riding bikes, even during the war he was stationed in Calcutta riding an Ariel 350. When returning to the UK, he took a position with the AA patrolling on his motorcycle.
Owning a whole range of different bikes over the past 70 years including an AJS 350, Ariel 350, Norton 18, Mash Roadstar and a Yamaha 250, Trevor is a biker through and through.
Although he's retired now, aged 92 , Trevor still finds time to get out on his Yamaha 250 with his son and son-in-law who are keen bikers too. Like they say; once a biker, always a biker.
So why has Trevor stayed with Devitt for over 70 years? This is why: "Over the years, Devitt's service has been second to none. I have always recommended Devitt to friends and family because it is a company that really values its customers."
Thanks Trevor, here's to another 80 years!
Gallery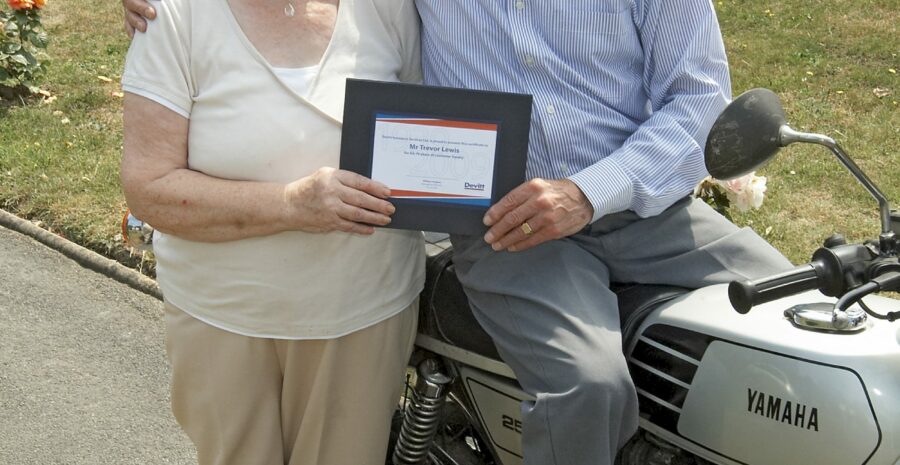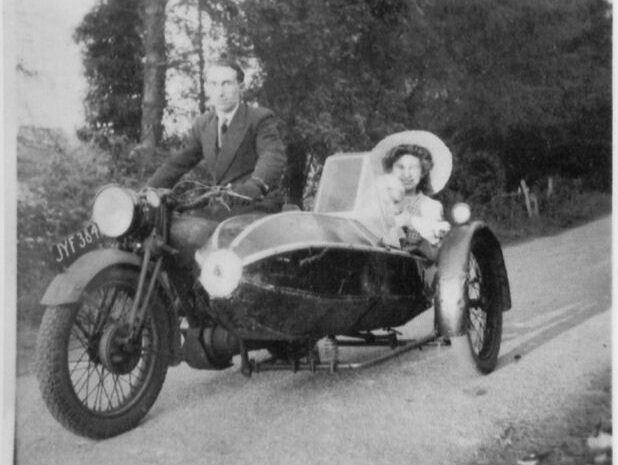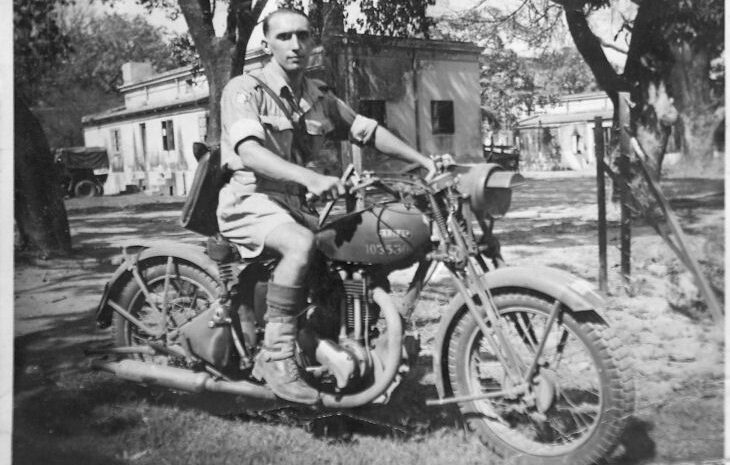 Bob
Location: Kent
Born: 1948
Years with Devitt: 44 years
Bike model: Yamaha Virago 535
With more than 45 years of biking under his belt, Bob knows a thing or two about motorcycles. Currently riding his beloved Yamaha Virago, Bob still loves the total freedom of biking.
Following in his father's footsteps, Bob purchased his first bike when he just 16 years old. With years of countless experiences, ride outs and adventures under his belt, Bob's all-time favourite biking memory was riding all the way to Berlin and back, stopping off in the Netherlands to pick up a friend who joined him part of the trip. They both stayed with friends in Berlin, before heading back to the UK.
One thing Bob has learnt is the comradery of the biking community, both here in the UK and abroad. It doesn't matter if there's a language barrier, bikers can always find a way to communicate!
Bob's reason for staying insured with Devitt for so long is simple; if they know what they're doing then why change?
Chris
Location: Surrey
Born: 1952
Insured with Devitt for: 21 years
Bike Model: Triumph Sprint
Chris took up motorcycling almost 25 years ago as a way of beating the rush-hour commute into London. After the IRA bomb scares, trains in London weren't running frequently and driving by car in and out of the capital was feasible, so Chris decided to take his bike test and commute via motorcycle every day on an old BMW styled police bike.
When the head office was moved to Heathrow, Chris decided to stick to two-wheels every day for his commute around the M25. Even after being knocked off by a car-driver changing lanes on the M25, Chris didn't give up riding! Chris' biggest piece of advice for other riders is to always make sure you get eye contact from other road users so you know they've seen you, being the most vulnerable thing on the road means you need to be seen by all.
Now retired, Chris solely uses his Triumph Sprint for leisure purposes popping out on his bike for a ride a few times each month, and still remains insured with Devitt after 21 years because of the competitive pricing.
Jeffrey
Location: London
Born: 1947
Insured with Devitt for: 20 years
Bike Model: Honda Blackbird
Over 20 years ago Jeffrey purchased his first ever small two-stroke machine for commuting to work, from then his passion for motorcycles only grew stronger and as the years went on, the bikes got bigger and better!
Jeffrey currently owns a Honda Blackbird, his dream bike, which he now rides just for pleasure. It's all about the freedom of biking for Jeffrey, being able to jump on and go whenever you fancy riding. Every biker is individual in how they ride and what they do with their motorcycle so there's no right or wrong.
The most embarrassing moment for Jeffrey on his motorcycle has to be just after purchasing his new Honda Blackbird. Making a trip to the local petrol station to the fill up his tank ahead of his ride, went to pop the bike on its stand but didn't kick the stand down properly. Slowly the bike began to fall into the pump leaving Jeffrey trapped between the two. After the bystanders had finished laughing, they managed to pull him free and nobody (including the bike) was harmed!
After being insured with Devitt for 20 years, Jeffrey is always confident in the price being competitive and the service being second-to-none.
Norman
Location: Essex
Born: 1946
Insured with Devitt for: 20 years
Bike Model: Yamaha XJ600 Diversion
At the age of 16 years-old Norman bought his first ever scooter, one of the original Mods of the decade. After years of playing around and chasing the Rockers, Norman decided to give up his scootering ways after getting married and occasionally rode bikes. It wasn't until a family holiday when Norman got back on two-wheels; he decided to purchase a motorcycle again once he got home.
The motorcycle was mainly used for commuting to and from work, but also included the odd after-work ride out with his buddies. Even after a terrifying experience of his front wheel blowing out causing him to be thrown from him bike and the bike sliding under a lorry – Norman still loves riding!  However since retiring, Norman is now looking to join a local biker group for the summer months so he can get back to his grassroots of riding on his Yamaha XJ600 Diversion.
If only Norman's garage was big enough and he would have his Harley Davidson dream bike but the Yamaha still gets out on the roads a couple of times a week with a race through the countryside to make sure she's ticking over properly.
The main advice from Norman about young bikers is to slow down, take it easy and build up your experience on the roads. Spending many of his years working as part of an ambulance crews, Norman has seen his fair share of accidents involving motorcyclists.
Mark
Location: Hampshire
Born: 1955
Insured with Devitt: 20 years
Bike Model: Triumph Bonneville T140 V
At only 16 years old, Mark purchased his first ever motorcycle and hasn't looked back since. 44 years later, Mark still rides his Triumph Bonneville – his dream motorcycle!
A majority of Mark's time spent on two-wheels was commuting an 80 mile daily round-trip to work in London, followed by weekends jam-packed of long ride-outs with friends.
With experience as being a bike instructor for 5 years, Mark's advice for riders is to stay safe and be very careful out there. Don't forget to watch out for the 'company car'!
More than 20 years of insurance with Devitt, Mark believes that we've always remained fair and competitive. Even when it came to making a claim, it was very easy.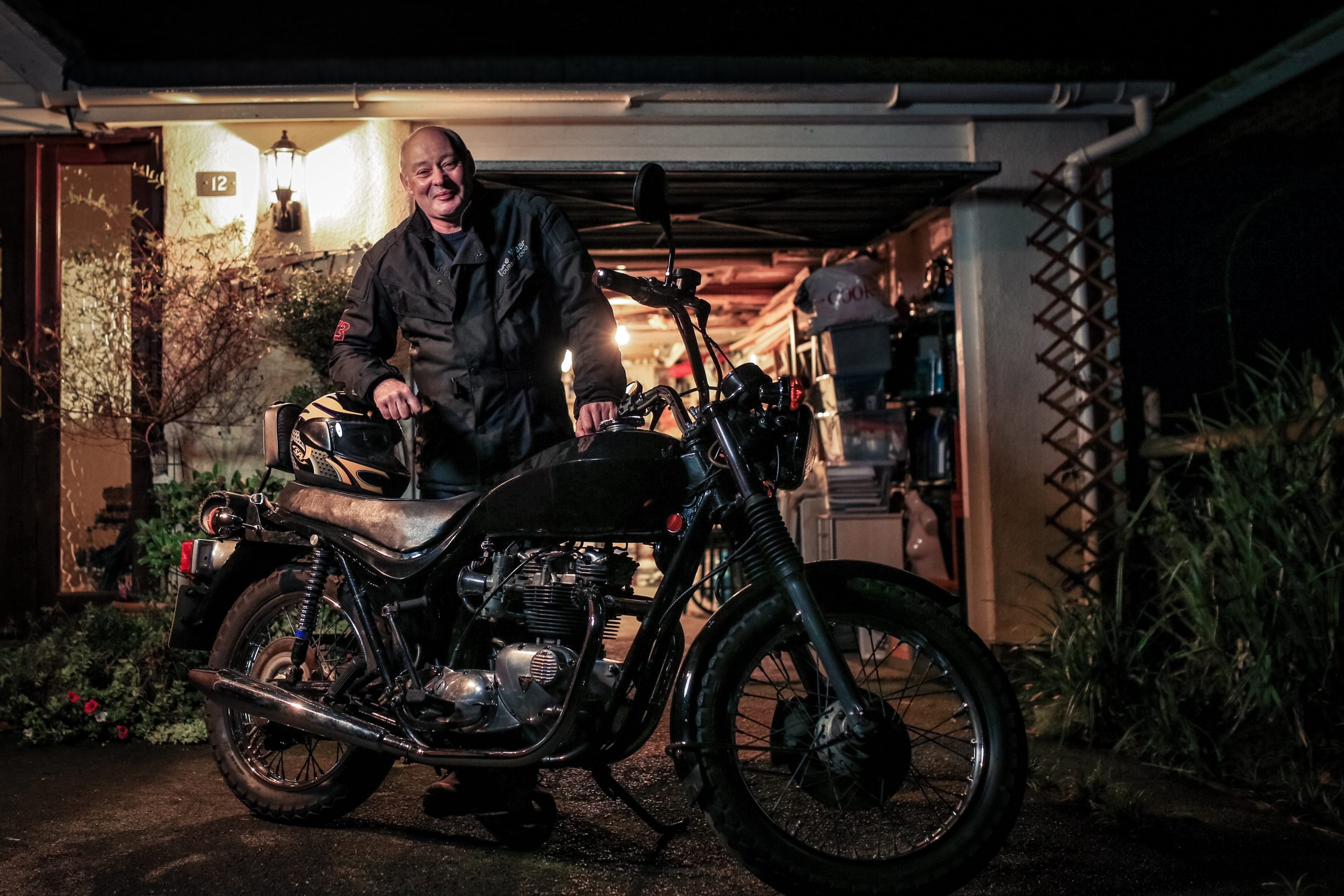 Looking for reasonable and reliable motorcycle insurance? Get a quote online with Devitt today or call 0345 872 3614.