It's common knowledge that wearing proper protective clothing is a necessity when riding a motorbike, even though it is only law to wear a helmet that has passed the SHARP test.
But if you're racing in THE biggest motorbiking championships in the UK, it's obligatory to wear the correct and fitted gear.
Check out Jordan's video of his scrutineering checks that is done before each and every round of the British Superbike championships, to make sure all racers are wearing the correct protective clothing that will keep them as safe as possible when out on the track…
Helmet
"I use a Bell Star Carbon, supplied by RaceFX. I decided to use this helmet when I tried it on for the first time; it was a perfect fit and extremely comfortable to wear.
The helmet has a 5 star Sharp rating which gives me full faith in the helmet. We designed the helmet around matching the colours into the bike to keep the helmet as retro looking as possible. The old look is much preferred in mine and my dad's eyes.
The helmet has been thoroughly tested by me twice; once at a Snetterton test where I landed hard on my head. I also tested at Thruxton where I crashed at +100mph.
The helmet reacted perfectly, with no headaches from either of these crashes.
I have full faith in my helmet – at the end of the day, how much is your head worth?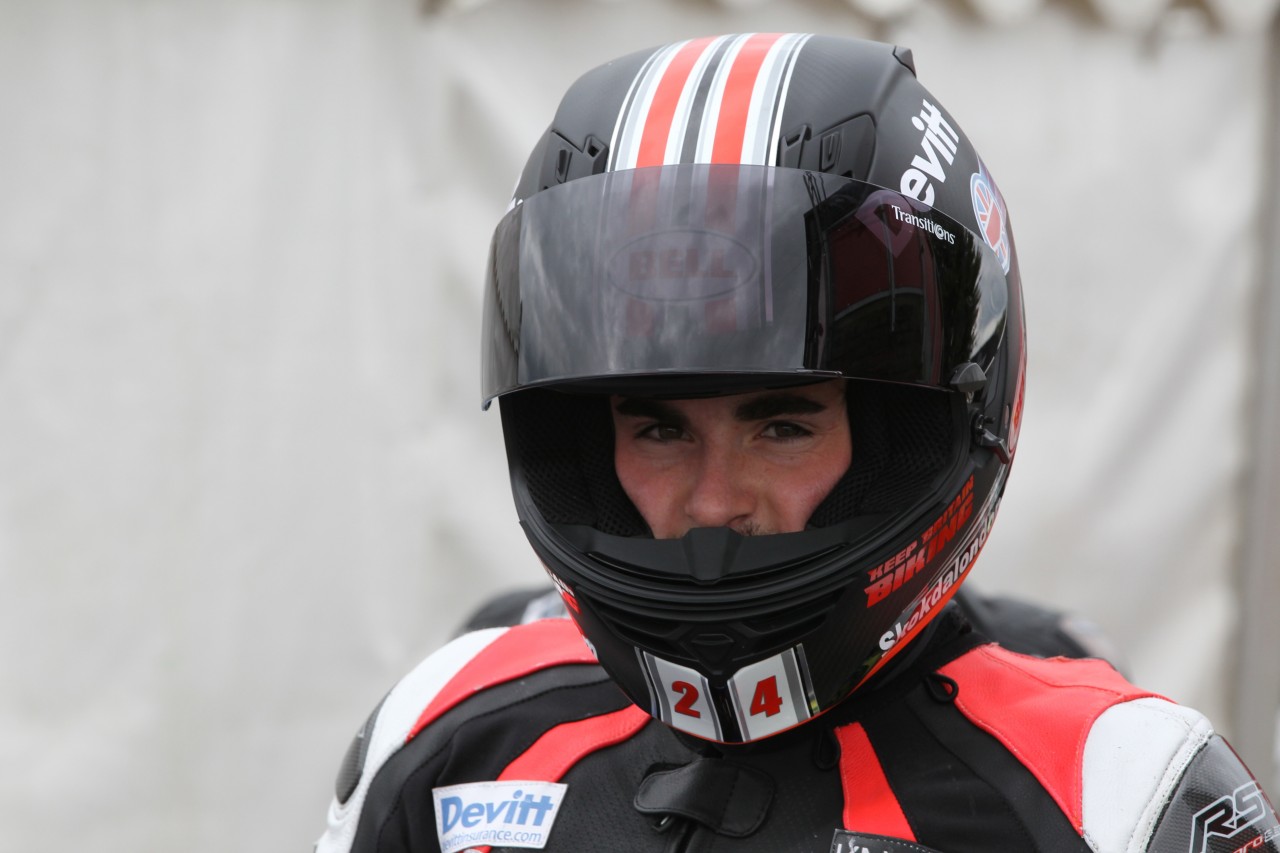 Leathers
I use RST Pro Series leathers. They are a very simple set of leathers that are mass produced for a very good price for high quality leathers. They are very comfortable once they are fully bedded in.
The leathers perform very well when crashed at an average speed but struggle slightly once they are crashed at high speed – but that's the case for all sets of leathers.
Check out the gallery below of Jordan's leathers after his 100 mph crash at Thruxton. 
Gallery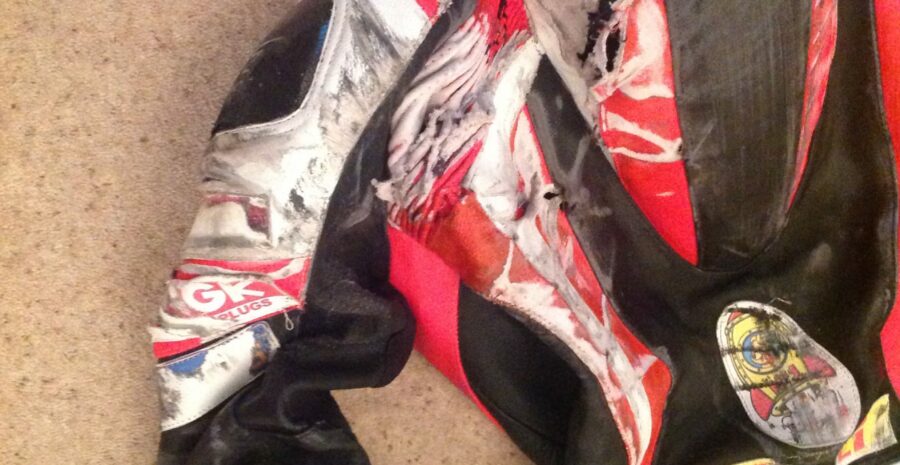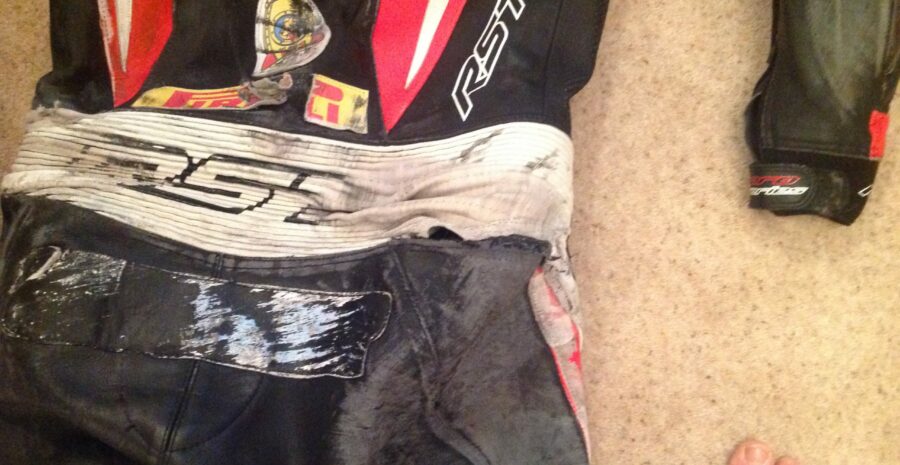 Gloves
I wear Knox Handroid gloves. The best money can buy in terms of gloves for motorcycles. They are expensive but they should be an essential component to any motorcycle rider and racer. They have a fastener round the wrist area and the top of the hand area to protect against sliding on the back of the hand.
Hands are very important for us motorcycle racers, and they a very comfortable once they are worn in. They have finger protection to stop any skinning of the fingers if I did crash. They also have plastic covers for the palm of the hands to stop any grazing for when you put your hands down if you crash which is instinct to do.
I believe that gloves should be compulsory for road riders.
Hands are an essential part of everyday living, and allow you to do what you want to do, and to risk that over a price tag or being uncomfortable is a risk I do not think should be taken. Although the gloves most racers wear are very expensive, there are many sets of gloves that you can get for a decent price that will save your hands to a certain extent (do the job well enough).
These kinds of manufacturers are very important to keeping the cost low for road riders. The cost of running the bike itself is enough so add-ons like that should be as cheap as possible, but overall people should be wearing gloves at all times on any kind of two wheeled machine.
Boots
My race boots are Frey Daytona race boots. They are very expensive boots but the money is all worth it when it comes to saving the ankles and I have every faith they will keep me protected.
The inside of the boots are full carbon fibre and are separate to the outer boot, which is made to withstand road rash.
It is designed not to move from side to side but they are designed to pivot forward and backwards. They are also very strong to withstand any serious knocks.
My boots have performed very well in every crash that I have had, and never left me with serious injuries.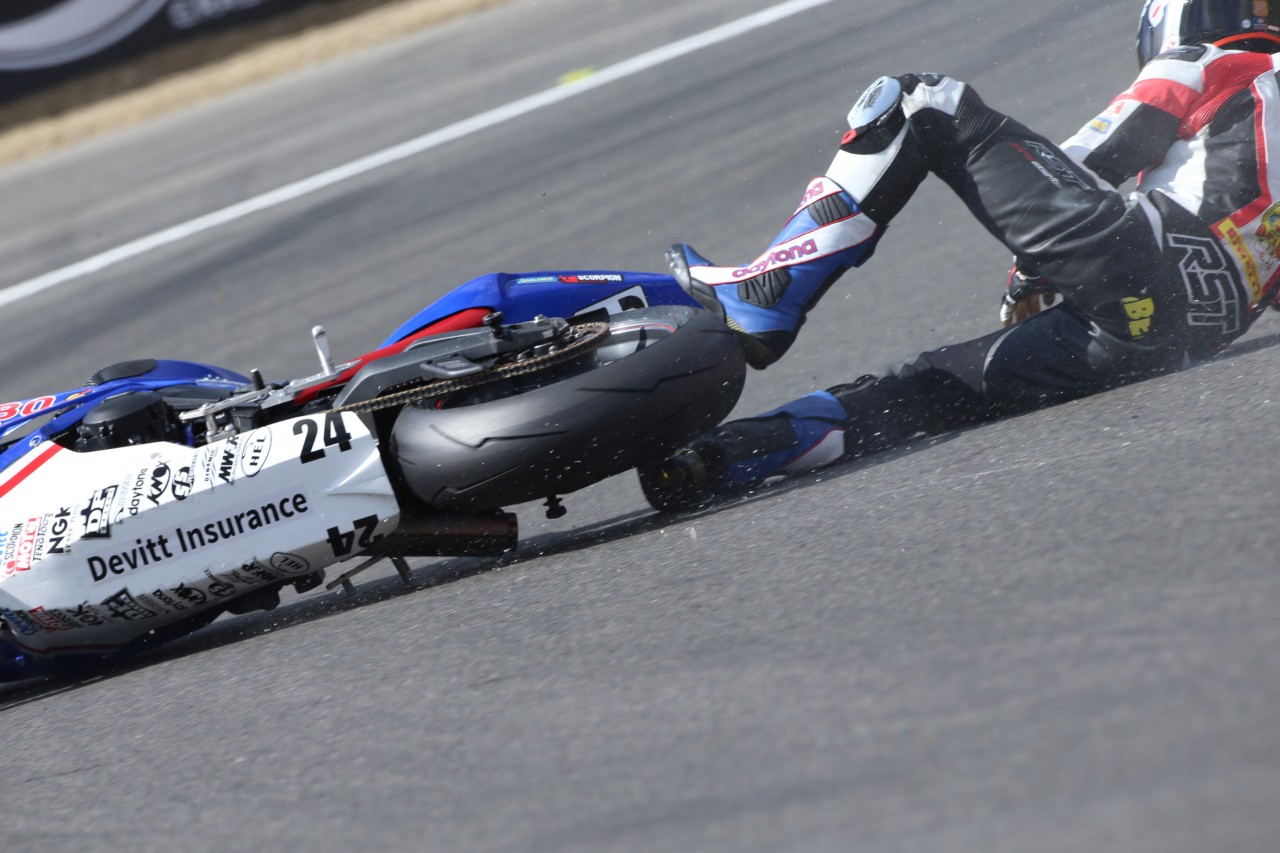 Back protector
I use a Knox Track vest for my chest and back protection. It is a back protector and chest protector built in one that is securely fastened at the hips.
The back protector is designed to soften any serious blows to the back but most importantly it is designed to stop over extension of the back so it doesn't bend round more than its meant to. The back protector is designed the spine to prevent any spinal damage which is the most severe damage of all.
The chest protector is to protect blows to the ribs and sternum. It is a layer of padding that can reduce any serious impacts to the chest."
Gallery