BSA motorcycles were manufactured by and formed part of the Birmingham Small Arms (BSA) industrial group.  BSA became the biggest producer of motorcycles in the world from mid 1930s to early 1960s through the success of its own products as well as the acquisition of Triumph.  It had gone from a brand that was associated with commuting to one which was synonymous with race track success.
A brief history
BSA began production of motorcycles using engines from other manufacturers, then brought out the first wholly BSA motorcycle in 1910.  Made available to the public in the following year, the entire production sold out.  The appeal of BSA motorcycles was centred around value for money – they performed reasonably well for an affordable price.  Other selling points included reliability, availability of spare parts and dealer support.
Great for commuting, BSA motorcycles were also popular with fleet buyers who wanted to use them for telegram delivery and breakdown help services.  Due to its ability to appeal to a mass market, BSA soon claimed that "one in four is BSA" on their advertising.
Although better specifications were available for an added price, BSA motorcycles were not seen as racing material, especially compared with brands like Norton.  Not surprisingly therefore, up until 1947, there were only a couple of BSA mounted riders in races.  However, this changed within a five year period and BSA motorcycles became the vehicle of choice for most riders.  BSA used racing competitions to raise its profile and improve sales.  For example, it completed a one brand sweep at the 200 mile Daytona Beach race as BSA team riders took first, second, third, fourth and fifth places.  It was hoped that the achievement would attract more US sales.
The BSA group was at its peak during the 1950s and had made numerous acquisitions throughout this period, including the purchase of Triumph in 1951.  BSA became the largest motorcycle manufacturer in the world post acquisition.
With the world at its feet, the factory experienced further competition wins in motocross sport during the FIM 500cc Motocross World Championships in 1964 and 1965, with rider Jeff Smith mounting a B40 to win back to back titles.
However, although BSA performed well on the racing track, by the mid-1960s, it had lost considerable marketshare to Japanese manufacturers.  In the early 1970s, the financial woes of the entire group meant that the BSA dominance had to come to an end.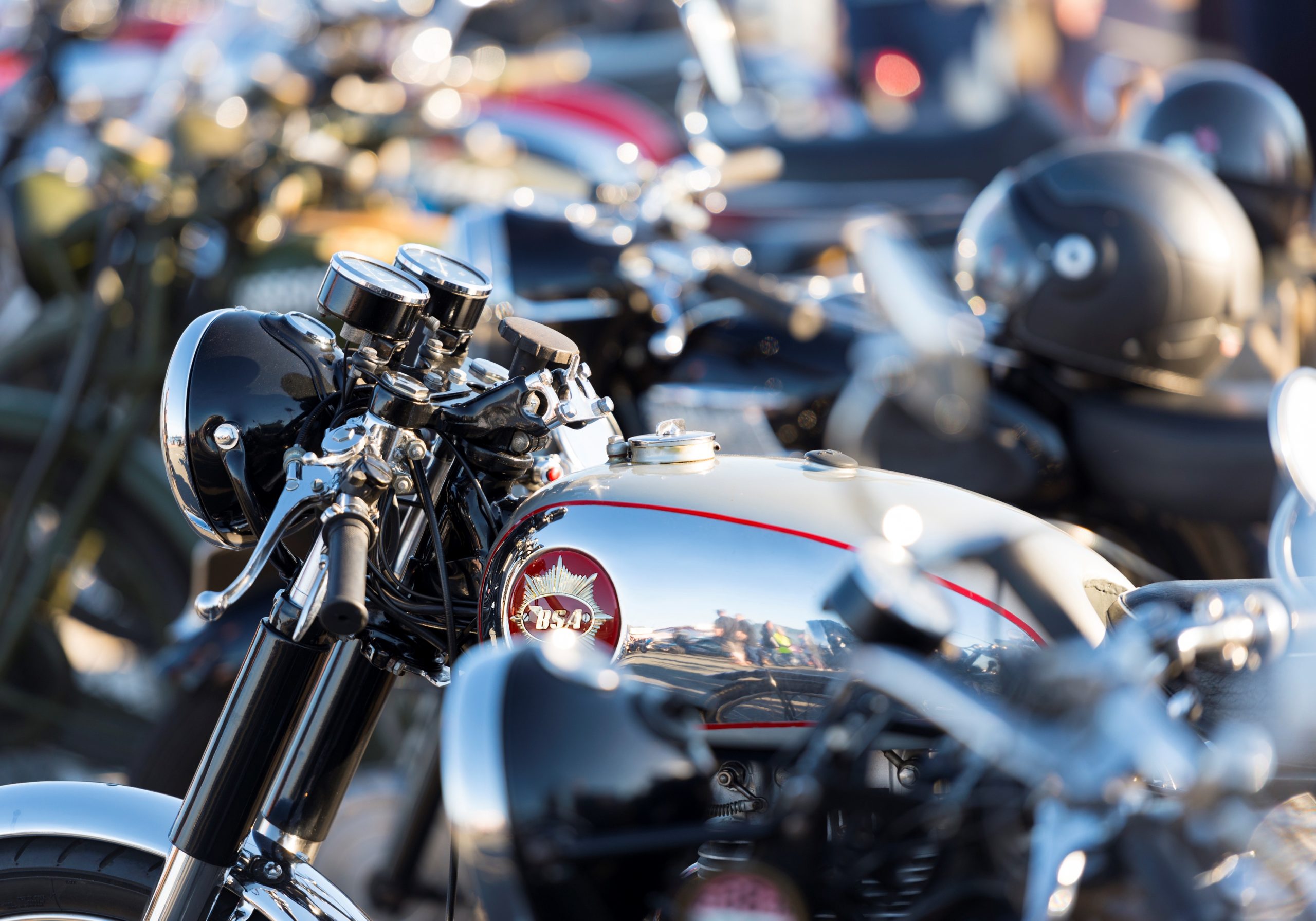 Popular models
BSA Goldstar: hailed as the seminal and most successful BSA model, the Goldstar is also arguably one of the most revered British motorcycles of all time.  It was in production for 25 years and numerous models/variants were made available.  They came with 350cc or 500cc engines and were the fastest motorcycles in the world during the 1950s.
Price new: not available new
Price used: £2,650 for a fully restored B40 1965 Goldstar which features 346cc engine.
Licence type required:  A
BSA A10 Golden Flash: in production from 1949 to 1961, the A10 was a new post war design which came with a 650cc OHV parallel twin engine.  It was a fast machine for its time and a worthy competitor to Triumph Tiger 100.
Price new:  not available new
Price used: £5,995 for a restored A10 Golden Flash 1959 model.
Licence type required:  A
Reviews
While the success of the BSA Goldstar proved enduring, the BSA Bantums were widely known to have a weak second gear selector that often required repair.