After a long, five-week summer break, the MotoGP World Championship got back underway at Silverstone at the weekend, with the British GP silencing our overseas friends with fine weather and a sun-swept three days. And with a dramatic few days, the championship has been well and truly re-ignited.
Bagnaia back in contention
With just one point in his first two races and without a podium in his first five, the season got off to the worst possible start for pre-season favourite Francesco Bagnaia. And although he won in Spain and Italy, crashes in France, Catalunya and Germany looked to have all but spelt the end of his title hopes.
That put the Ducati rider some 91 points behind championship leader Fabio Quartararo. However, back-to-back wins at Assen and Silverstone, where Quartararo only managed a solitary eighth place, means he's now back in the title hunt.
The gap's still 49 points so there's still plenty of work to do but, in recent times, the next circuits of the Red Bull Ring, Misano and Aragon have been happy hunting grounds for the Ducati riders, so Bagnaia suddenly has a spring in his step.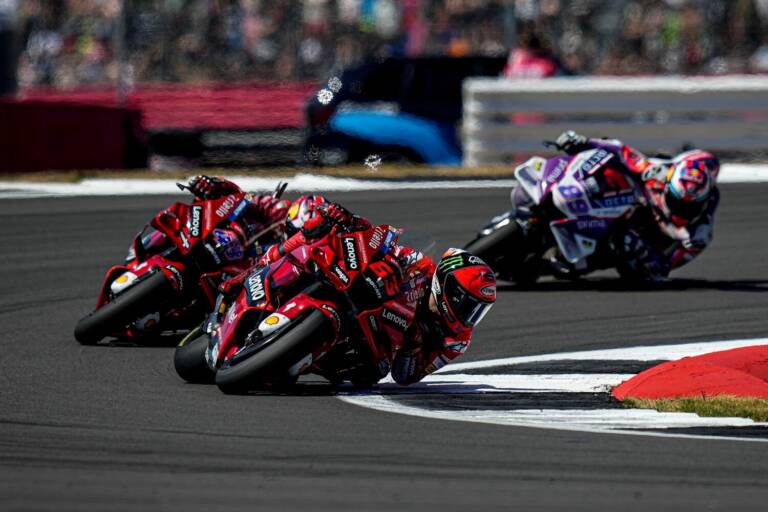 The Silverstone win looked unlikely given his form at the venue in 2021, when he could only manage 14th, and again in practice last weekend with FP4 seeing him languishing in 21st place and almost two seconds off the pace.
To say he, and his team, turned it around would be an understatement and switching to the hard rear tyre on Saturday afternoon proved to the master stroke and one Quartararo and his team missed (see below). It's little wonder that Bagnaia claimed afterwards that it was his best ever win and it could well prove to be one of his most important.
Tyre choice hampers Quartararo
With a controversial, long-lap penalty hanging over him – courtesy of taking out title rival Aleix Espargaro at the previous round at Assen – Quartararo arrived at Silverstone with a little trepidation as to how the penalty would hinder him during the race.
As it turned out, the long lap was one of the shortest on the calendar and he only lost 1.5s and three places, dropping him from second to fifth, when he took the penalty. However, he was unable to recover from it and never gained another place, his choice of rear tyre ultimately holding him back.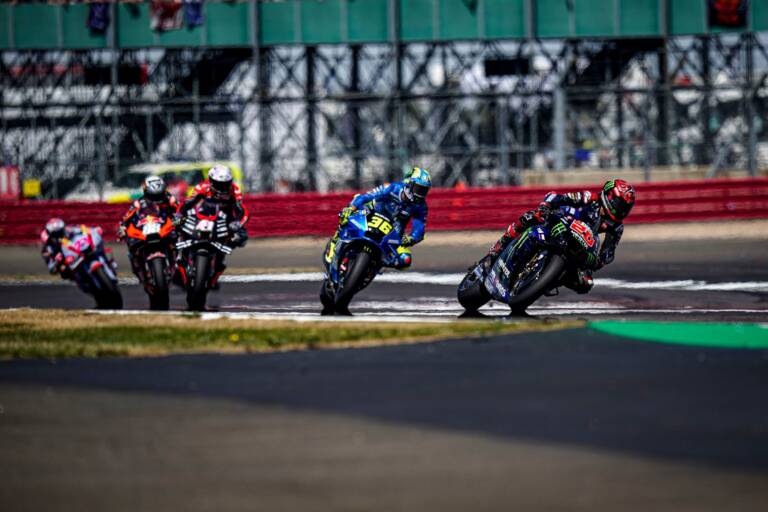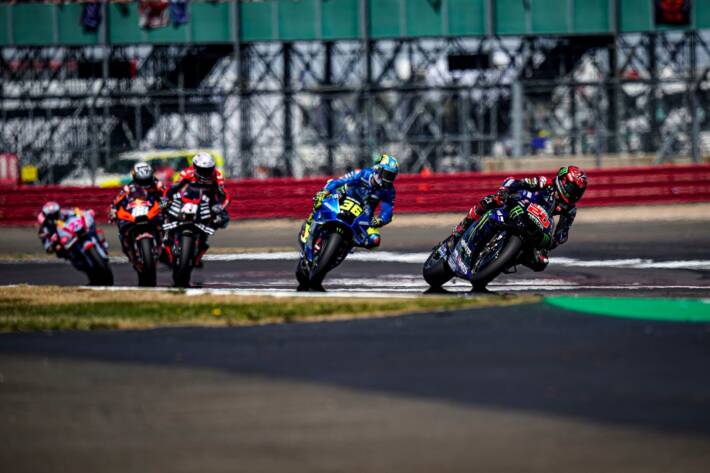 The Frenchman didn't feel comfortable trying the hard rear tyre in the morning practice sessions, which saw cooler temperatures prior to the sun getting up to heat, and so didn't have the confidence to use it in the race. He stuck with what he knew, the medium option, but never had the grip in the second half of the race to challenge.
Ultimately, he only lost one point to Espargaro but as he acknowledged afterwards, he's now looking at the threat posed by Bagnaia with some favourable tracks for the Ducati on the horizon.
Espargaro performs heroics
In any normal circumstances this season, an eighth place for Quartararo would have seen Espargaro take full advantage and significantly reduce the points gap to the leader. But Silverstone was no normal race for the Spaniard.
The weekend was going perfectly to plan for the Aprilia rider, with strong pace in all the sessions, but it all went wrong in FP4 with a monster, 115mph highside. Left in a heap, it looked like his meeting was over there and then never mind making it out for qualifying half an hour later.
Somehow though, he managed to climb back onto his bike for qualifying after being given the all-clear by the medics. And not only did he get back out on track, his first flying lap saw him break the lap record! We all know riders are cut from a different cloth to us normal humans, but this was something else.
Of course, the adrenaline played its part, and the race would be a different matter although he later admitted, the pain from his ankles, the worst-affected career, wasn't too bad. Moving about the bike was what hampered him most and he could only manage ninth although in the second closest top ten in the history of MotoGP, this meant he was only 3.9s adrift of race winner Bagnaia!
It was heroic stuff particularly as further x-rays on Monday revealed he'd fractured his right heel, but with the next round less than two weeks away, only time will tell if the crash will de-rail his championship aspirations.
Vinales gets back to his best
Maverick Vinales missed last year's race at Silverstone having sensationally quit the Monster Energy Yamaha team mid-season but having found a new home at Aprilia, he was a much happier rider this time around.
The early part of the season has seen glimpses of speed but, more often than not, results have been hindered by his qualifying performances. Being a long way down the grid has left him fighting to get into the lower part of the top ten but he broke that run at Assen in June with third place and he brought that form with him to Silverstone.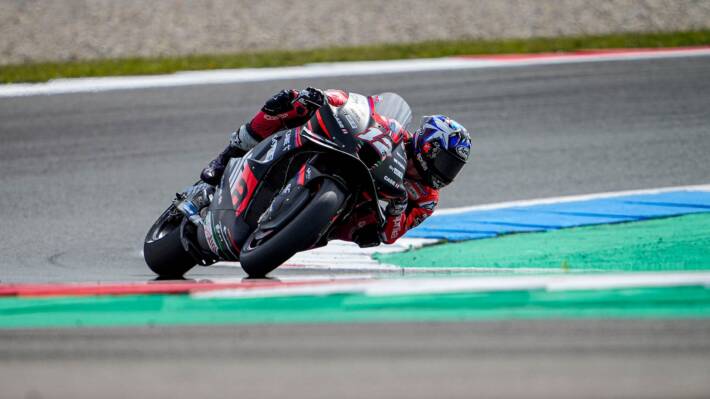 Like Espargaro, he had good pace all weekend and having qualified in second, he was able to convert that into another podium and, without doubt, it was his best race so far on the Aprilia. Despite dropping back to sixth in the early stages, his pace was as good as anyone's in the second half. This has often been the case but being mired in the pack has stopped him getting a result.
This time, he was in the right position to make the most of his pace and with another lap, he could well have won the race. Instead, he had to settle for second, less than half a second adrift of Bagnaia, but the smile on his face afterwards showed just how he happy he was, not just with the result but with life at Aprilia too. The hard work is paying dividends.
Dixon gives home fans plenty of cheer
Sam Lowes only lasted three laps before crashing in Moto2 practice and John McPhee was denied a podium in the Moto3 race when he was punted, quite literally, back to seventh in the last couple of corners.
It looked like it might be one of those weekends for the British riders, but Jake Dixon ensured there was plenty to finally cheer with a superb ride into third place in the Moto2 race, which brought the world championship action to a close on Sunday.
Fresh from a podium at the previous round at Assen, the Aspar Team rider had been fast all weekend topping FP1 and FP3 and finishing second in FP2; pole position looked a certainty, but an early crash put paid to that, and he had to settle for sixth. An average start didn't help his cause in the race, and he had to dig deep, and stay patient, as he tried to claw the leaders back.
The gap continued to ebb and flow but, as he said later, he wasn't giving up a podium at his home GP and whilst in the past he may have overdone it, this time he didn't, and he finally sealed third place in the closing stages. With a good start and/or a few more laps, the race win could well have been his.
The Ashby-based rider is in his fourth season in Moto2, and this year was probably make or break, but he's finally delivering, and he's now got three podiums for the season with more surely on their way. And one of those will, hopefully, be a maiden GP win.
Dovi bows out
There were plenty of stories to come out of the Silverstone GP but one tinged with sadness was the announcement from 2004 125cc World Champion Andrea Dovizioso that he'll be retiring after the race at Misano next month.
Twice a runner up in the 250cc class, Dovi moved into the premier MotoGP class in 2008 and spent four years with Honda, winning his first race in the wet at Donington Park, before a solitary season at Yamaha. He then joined Ducati in 2013 and it's here where he's most remembered, eight years with the Bologna manufacturer yielding 14 more victories.
Six of those came in 2017 and in that season and the two years that followed, he was the rider to challenge Marc Marquez the most. He fell agonisingly short each year, taking second overall on each occasion, but the battles between the two ensured it wasn't a one-horse race.
The Italian rider took a sabbatical at the end of 2020 but re-joined Yamaha towards the end of 2021 after Vinales left the team. It's been a far from successful comeback though and, unable to extract the most out of the M1, Dovi has been a shadow of his former self so many would agree he's made the right decision. Silverstone was his 246th MotoGP race, a tally second only to Valentino Rossi, and his contribution to the sport cannot be underestimated.
Disappointing attendance
With no Brit in MotoGP, high ticket prices and obscene parking charges (the latter of which should be free), the major disappointment of Silverstone was the attendance with just 41,000 fans said to be trackside on Sunday. Unless the organisers re-assess and adjust their prices, attendances will continue to slide.
Having started watching motorcycle races all over the world form childhood, Phil Wain has been a freelance motorcycle journalist for 15 years and is features writer for a number of publications including BikeSport News, Classic Racer and Road Racing Ireland, as well as being a regular contributor to MCN and MCN Sport. He is PR officer for a number of teams and riders at both the British Superbike Championship and International road races, including PBM Ducati, RAF Regular & Reserve Kawasaki, Dafabet Devitt Racing, John McGuinness, Lee Johnston and KMR Kawasaki. He is also heavily involved with the Isle of Man TT Races, writing official press releases and race reports as well as providing ITV4 with statistical information