The undulating, rollercoaster ride of Portimao in Portugal hosted the third round of the MotoGP World Championship at the weekend and although it was Yamaha's Fabio Quartararo who took his second successive victory, it was the return of eight-time World Champion Marc Marquez that grabbed the headlines.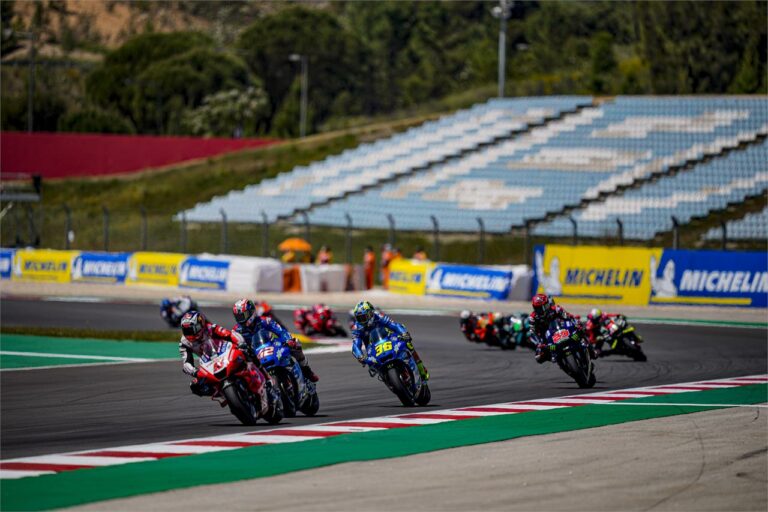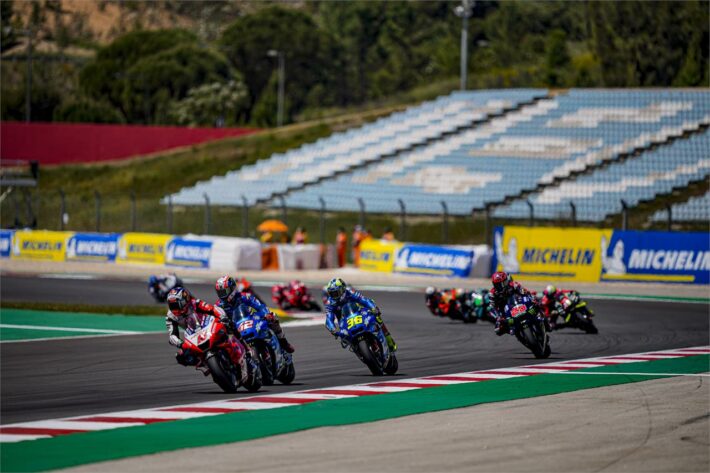 A hero returns
Some 265 days away from the sport due to a badly broken and slow-to-heal arm sustained in a crash at Jerez last July, Marquez finally returned to MotoGP action at Portimao. And what a comeback it was.
The Repsol Honda rider would have wanted to have eased his way back into the action but a damp track for FP1 put paid to that. But whilst many stayed in the garage, he didn't and third place showed he was back with the smile on his face highlighting the sheer delight at being back to doing what he does best.
As expected, the weekend got tougher as it wore on – the arm has healed but the muscles are some way off where they need to be to wrestle a 225mph MotoGP bike – but he put in the hard yards and even after dropping into Q1, he showed all the attributes that have made him one of the greatest of all time.
The tank was empty when he crossed the line in a fine seventh place and he was clearly exhausted, both physically and emotionally, when he got back to his pits to a round of applause. But the comeback has started and although the races come thick and fast, and he's still unable to train as he would do normally, he's only going to get stronger and stronger.
Quartararo shines
As expected, all the cameras followed Marquez every inch of the way at Portimao but the headlines on the track, one of the best on the calendar, were made by Quartararo who put in another measured and polished ride to take his second win in three races and ensure Yamaha maintained their 100% record to the start of the season.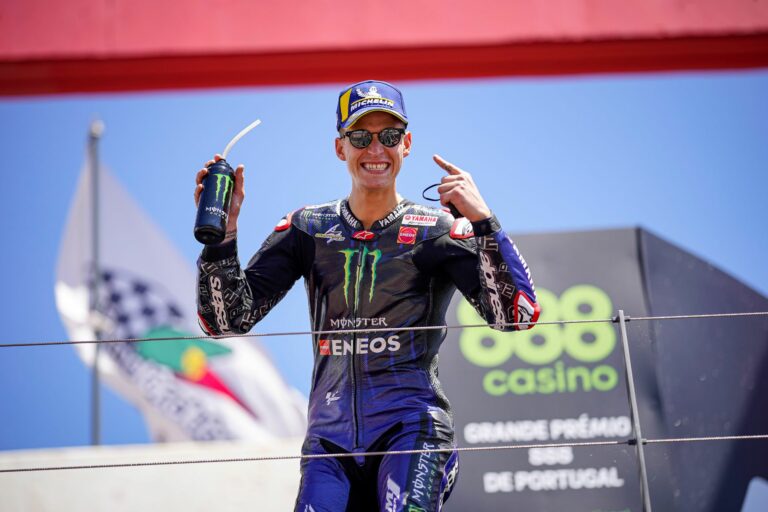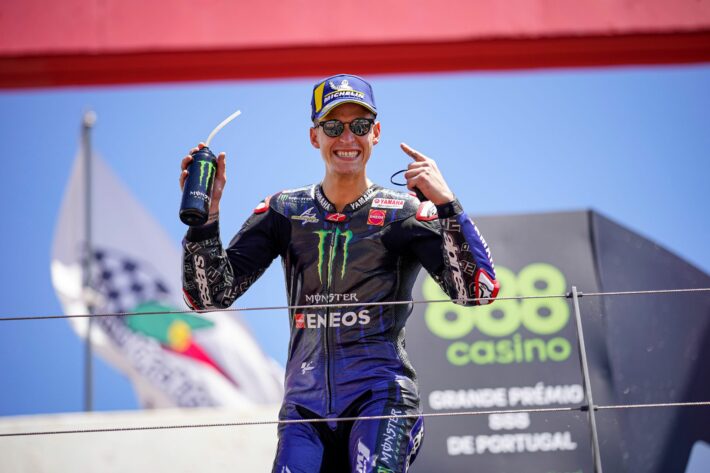 In a similar pattern to his Qatar victory, the Frenchman qualified on pole but then slipped down the pack on the opening lap and gave himself work to do. But he didn't panic and steadily worked his way through from sixth to the front, well aware of how strong his race pace was and how, if he bided his time, the lead would be his.
That's what happened but he also remained unflappable when put under extreme pressure by the Suzuki of Alex Rins. He was trying to force the mistake from Quartararo but the Monster Energy Yamaha rider knew his pace was better and more consistent and by continuing to hit all his apexes and braking markers, it proved too hot for Rins and it was he who made the mistake instead and crashed out.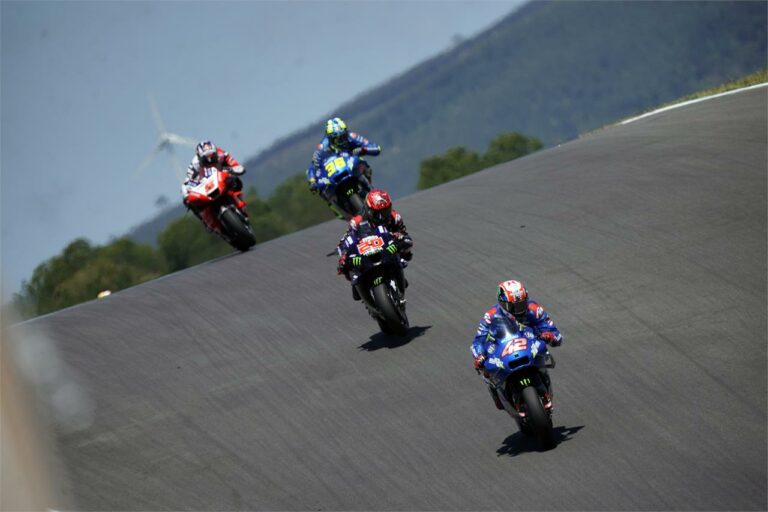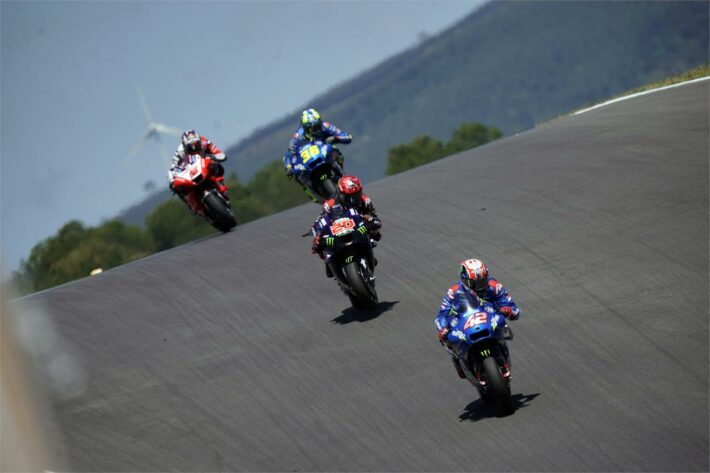 Quartararo now leads the championship by 15 points although he started last year in a similar manner before the wheels fell off his title challenge. He's maturing all the time though and has declared the Yamaha is doing what he wants it to do unlike last year when he tied himself in knots chasing the ultimate set up. It's early days but it's so far, so good.
Track limits
The subject of track limits was again a hot topic at the weekend with Maverick Vinales the latest to fall foul to the rules, the Monster Energy Yamaha rider claiming pole position only to have it snatched away seconds later after exceeding track limits.
Vinales transgressed by mere millimetres but it was enough to trigger the sensors built into the trackside kerbs. He clearly didn't gain any advantage but instead of lining up in pole after posting a stirring lap time, he was relegated to 12th place.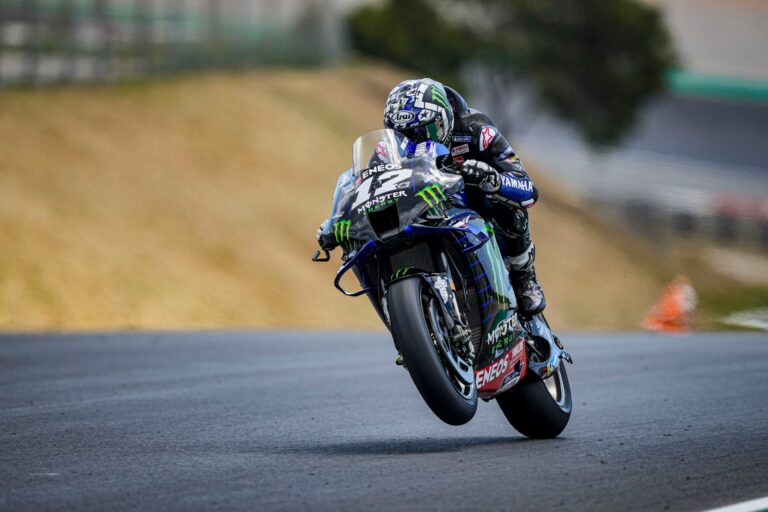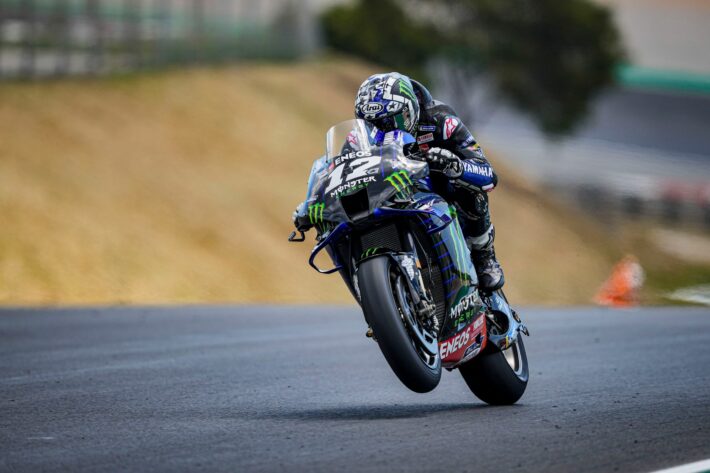 It meant his race was immediately compromised, the Yamaha working best with clear track at the head of the field and not mid-pack where increasing temperatures overheat the tyres. A good start would have helped his cause but the opposite happened and a disastrous getaway saw him complete the opening lap in 20th out of the 21 riders that started.
He only managed to work his way up to 11th but it again proved that unless he qualifies on the front two rows, he's unable to make an impression. The demotion from pole to 12th was out of his hands but a low position in qualifying will happen again so both bike and rider will need to make a better fist of things in future races when it does.
Mixed fortunes
Both Suzuki and Ducati experienced mixed fortunes at Portimao, the latter losing both Johann Zarco – championship leader after the first two rounds – and Jack Miller due to crashes during the race.
Francesco Bagnaia saved the Italian manufacturer's bacon with a brilliant ride into second. The former Moto 2 World Champion had, like Vinales, posted a time good enough for pole position during qualifying but his time was removed due to yellow flags being displayed out on the course thus making his lap null and void.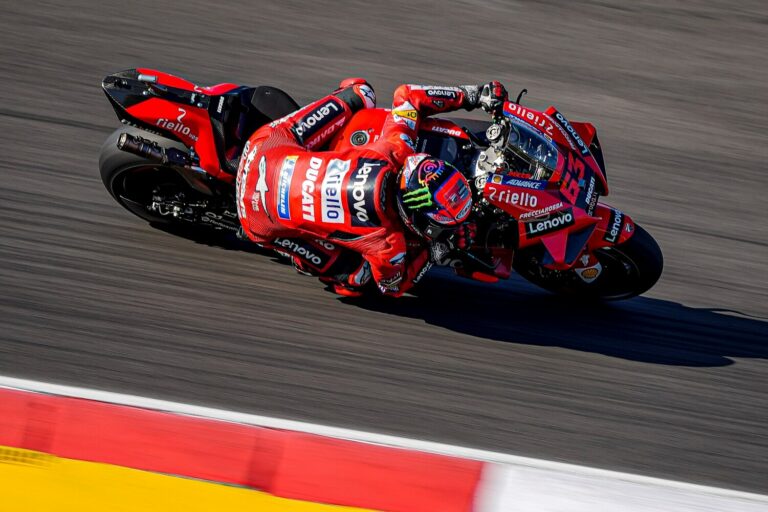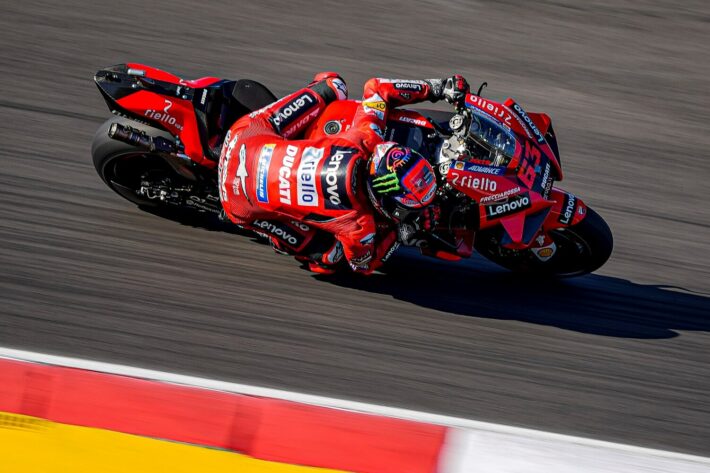 He started from 11th on the grid, one place ahead of Vinales but whilst the Spaniard went backwards, Bagnaia went forwards and fought his way through the pack to claim second place. It's still early days but he looks like he's fully vindicating Ducati's decision to promote him to the factory team.
Suzuki experienced similar fortunes to Ducati with reigning World Champion Joan Mir claiming his first podium of the season in third whilst team-mate Rins crashed out. As mentioned, he was pushing Quartararo more than anyone else and perhaps should have settled for second.
However, you have to admire his racer's instinct and belief that he'd be the one to force a mistake out of the race leader. Unfortunately, it happened to him instead and 23 points after three races doesn't show the Spaniard's real pace so far this season.
What a difference a year makes
When MotoGP made its debut at Portimao in November last year, everyone was on a level playing field and it ended up being a dream weekend for KTM and local hero Miguel Oliveira – pole position, race win and fastest lap.
Oliveira decimated the field but fast forward to April and it was a different story. Still struggling with Michelin's front tyre, both he and the team were hoping to be more competitive than what they had been in Qatar. They certainly were with the Portuguese rider a lot closer to the leading pack on the first two days.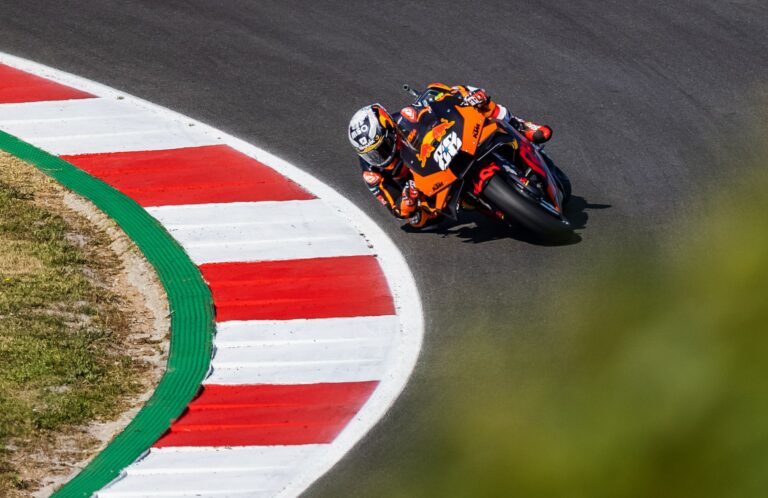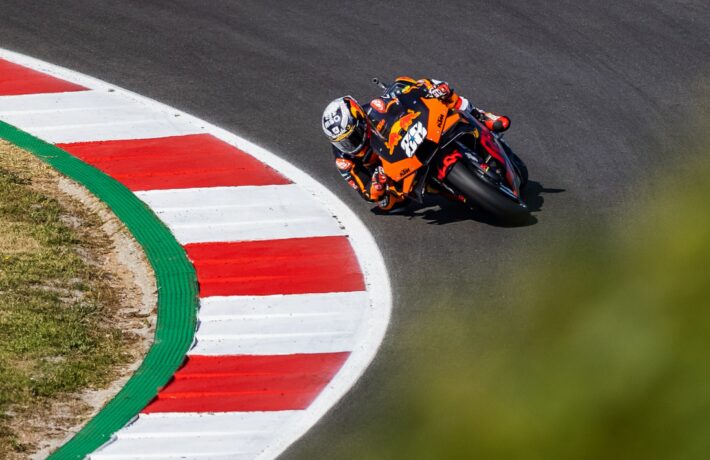 However, he was also pushing more than he would have liked to achieve the lap times and a crash in qualifying was a clear warning. And come race day, the front end again folded him on the sixth lap. He remounted but 16th was all he could manage and just four points from the first three rounds show how much work last year's double race winner has to do.
However, there was some joy at KTM and proof that it can deliver results with the current batch of Michelin tyres with Brad Binder finishing in a fine fifth place, only 6.6s adrift of Quartararo and clearly not having as many issues as team-mate Oliveira.
The South African's issues are in qualifying, rather than the race, and in both Qatar and Portugal, he's had to come from a long way back on the grid. Eleven points in Portimao added to the ten picked up in the two races at Qatar so once he sorts his one lap pace out, he could well be challenging for podium positions.
From rostrum to hospital
After the second round at Qatar, everyone was eulogising about the feats of rookie Jorge Martin – and rightly so. The Pramac Ducati rider qualified on pole and backed it up with a brilliant third place, having led for long periods of time.
But Portimao proved, if indeed it needed proving, that MotoGP bikes are formidable animals and one podium doesn't make it job done. The Spaniard fell on an out lap during FP4 and barrel-rolled through the gravel trap before being taken to hospital with hand and foot injuries.
He wasn't alone though – LCR Honda's Takaaki Nakagami and Alex Marquez also had nasty spills – and there were more crashes at Portimao than the first two rounds combined, indication not only of how punishing MotoGP can be but also how vastly more challenging, and demanding, Portimao is compared to the billiard table Losail circuit.
It was also a painful weekend for the Brits with both Sam Lowes and Jake Dixon crashing out of the Moto 2 race, championship leader Lowes at the first corner, with John McPhee finishing 23rd in Moto 3, the Scot having to start from pit lane and with a further five-second penalty after misdemeanours in Qatar.
Having started watching motorcycle races all over the world form childhood, Phil Wain has been a freelance motorcycle journalist for 15 years and is features writer for a number of publications including BikeSport News and Classic Racer, having also been a regular contributor to MCN and MCN Sport. He is PR officer for a number of teams and riders at both the British Superbike Championship and International road races, including Smiths Racing, Quattro Plant Kawasaki, RAF Regular & Reserve Kawasaki, Dafabet Devitt Racing, John McGuinness, Lee Johnston and KMR Kawasaki. He is also heavily involved with the Isle of Man TT Races, writing official press releases and race reports as well as providing ITV4 with statistical information.