Before you start accusing me of being unpatriotic, I should point out that I only started thinking about this after a comment made by former WSB champ, Neil Hodgson, in a recent interview I did with him. 'In a strange way, there's almost too many Brits in WSB now' he said. 'You don't just have one hugely popular Brit.
In Carl Fogarty's day it was all about him and then when he stopped I got a lot of attention, then it was James Toseland. But because there's so many Brits in WSB now, it feels diluted. The fans don't get so excited because they know at least one Brit's going to get a decent result and there might even be three of them on the podium. Before, it used to be one Brit against all the Americans or Australians and it seemed more exciting.'
Hodgson's words surprised me initially but, the more I thought about it, the more I reckon he's right. At the opening round of this year's championship at Phillip Island in Australia, British riders (Jonathan Rea, Leon Haslam and Chas Davies) filled all podium places in both legs.
Now, there's two ways of looking at that; either it's fantastic for British motorcycle racing and should be celebrated, or it's kind of spoiling what should be a world championship, not just British Superbikes on tour. After all, aren't we the first to moan that there's too many Spaniards in MotoGP?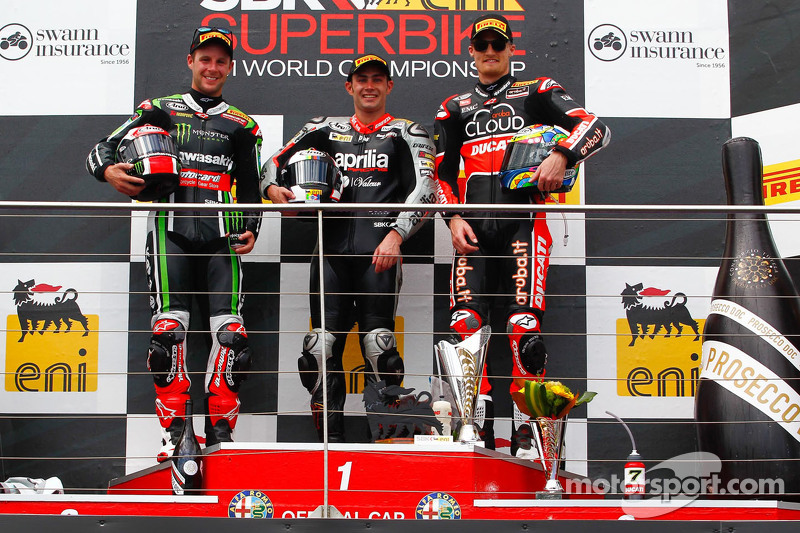 There's no denying that it's fantastic for us Brits to see so many of our home-grown lads on the world stage, all on competitive machinery, and all capable of podiums and/or race wins, But the curious thing is that the top ten of a British Superbike round is quite likely to feature more nationalities than a WSB round at the moment. Japan's Ryuichi Kiyonari will be a title challenger in BSB this year, as will Australia's Josh Brookes.
His compatriot, Broc Parkes might be a new boy but he's no mug on a motorcycle and is bound to be a podium threat once he finds his feet on the quirky British circuits. The same goes for Josh Waters and Jason O'Halloran, both Aussies. And then there's the Czech, Jakub Smrz, the Dane, Robbin Harms, Sweden's Filip Backlund, and the fast Italian Vittorio Ianuzzo, all capable of top ten results.
Compare that with the top ten in race one at Phillip Island where six out of the top ten were Brits and the international flavour that should be the hallmark of world championship racing only came from two Spaniards, one Dutchman and a Frenchman (well, Sylvain Guintoli, who's an adopted and domiciled Brit).
It's an interesting scenario, of that there's no doubt. But what really makes sense about Hodgson's remark is the effect that so many Brits have on the excitement of a race – at least from a British fan's viewpoint. If you're old enough to remember the early '90s when Carl Fogarty was just making his name in WSB, you'll remember how exciting it was to see a British rider challenging for world championship race wins on a regular basis for the first time since Barry Sheene in the 1970s.
It was like supporting a football team – if Foggy went out of the race, it almost lost all interest, even if the other riders had an epic battle. It was one Brit against the world and there was a huge and very special appeal in that. As Hodgson says, with so many Brits now in the series, we've come to expect race wins every weekend so it's nowhere near as exciting when it happens.
And that's from a British point of view – imagine how sick of the situation the rest of the world is. Attendance figures at WSB races have been falling steadily for the last few years and at least some of the blame for that must be down to having too many riders from one country doing all the winning. Since WSB started out in 1988, there's been four British champions – Carl Fogarty, Neil Hodgson, James Toseland and, most recently, Tom Sykes – and it's highly likely we'll have another one by the end of this year. In that same timescale, across all three classes in MotoGP, we haven't produced a single British world champion.
There's no shortage of British riders in MotoGP this year (Cal Crutchlow, Bradley Smith, Scott Redding and Eugene Laverty) but it remains a frustrating fact that, while they do have decent equipment at their disposal, none are in a full factory team, so none have a realistic chance of becoming world champion.
Dorna now owns both the MotoGP and WSB world championships and the Spanish firm is desperate to find ways to raise the popularity of WSB back to where it was in the 1990s and to increase Spanish interest in the series. They're also keen to promote MotoGP with the UK as it's seen as one of the core markets for the series.
Perhaps there's a way to achieve both goals at the same time: send some of the hordes of Spanish MotoGP riders over to race in WSB (does anyone really still believe that Dani Pedrosa is going to win a MotoGP title after ten years on a full factory Honda?) and give our boys some of those factory seats in MotoGP! Maybe then we could have as many home-grown MotoGP champs as we do WSB ones!
Stuart Barker is a freelance motorcycle journalist and author. A former MCN reporter and features writer, he is now editor of the Official Isle of Man TT and Classic TT programmes and has contributed to most major UK motorcycling titles including MCN, Bike, Ride, Superbike, Two Wheels Only, Fast Bikes, Classic Bike and Classic Racer. His books include biographies of Barry Sheene, Steve Hislop, Niall Mackenzie, David Jefferies and Evel Knievel as well as a centennial history of the TT races.