It's the third and final part of our exclusive chat with motorcycling legend John McGuinness. Find out what's in store for 2016 and what was really going through his head during the Classic TT…
"After not racing since the TT in June, August saw me back in the saddle. The first stop was Oschersleben for another World Endurance round and it went well. I like the circuit and I like the people so all in all it was a good meeting.
There was literally no time to stop though as I had to get straight back to the Isle of Man for the start of practice at the Classic TT where I was back on Roger Winfield's 500cc Paton for the third time.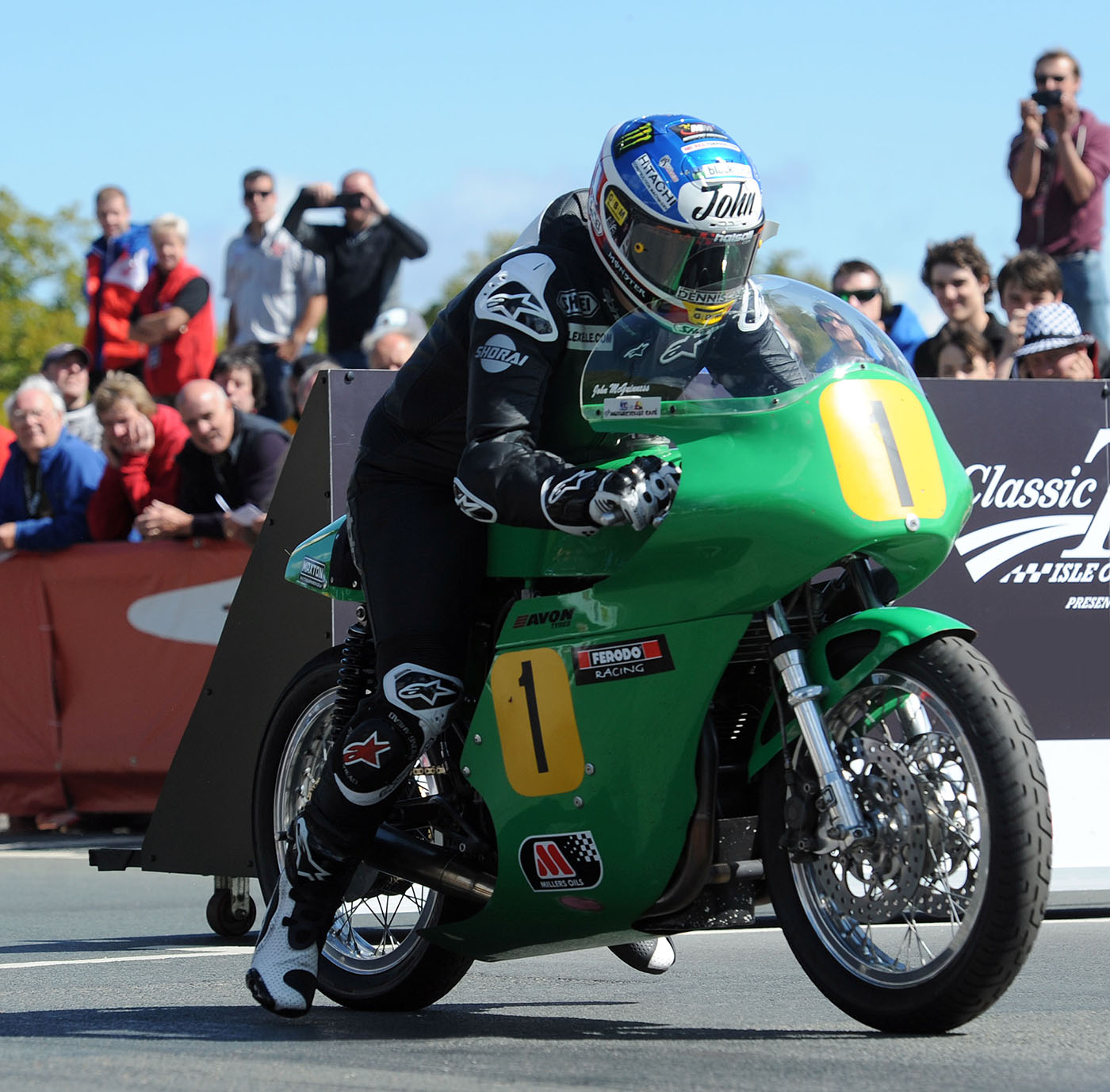 The bike never missed a beat in practice and it was flying so I felt pretty confident heading into the race especially as the weather was perfect. I did over 110mph in practice and although I'd had bad luck in the two previous races, I was hoping we'd finally crack it this time around.
Extremely frustrated…
For the third year in a row though, it was a case of what might have been when I had to retire on the opening lap. I'd got the lead at Glen Helen from my team-mate Ryan (Farquhar) albeit by only one second but I ran into a few front brake issues and had to stop at Parliament Square.
It was hugely disappointing. No-one did anything wrong and the team worked tirelessly and what made it frustrating was that bike was perfect in practice. I did four faultless laps but I started to feel a vibration along the Cronk y Voddy. I didn't know what the problem was so carried on in the hope that it would clear but it got worse and I had little option other than to stop.
There was a problem…
As a rider, it's easier to see a hole in the engine or something like that but when I stopped, I saw straightaway there was a problem with the front disc. It's not through a lack of effort on anyone's behalf and with Ryan stopping on the same lap, it was such a shame for the whole team. We'll just have to go back next year and give it another go. I'll get it one day!
Gold Cup…
After a couple of weeks off, I wheeled out my EMC2-backed Superstock Fireblad for the Gold Cup event at Scarborough. The weather was mixed to say the least and I slipped off at the Memorial in the feature race but I got a couple of top four finishes in the two Superbike races and, as always, I enjoyed my time at Oliver's Mount.
No rest for the wicked…
There was no time to relax and I was straight on the plane to the South of France for the final round of the World Endurance Championship, which was at the iconic Paul Ricard, the first time the Bol d'Or had been held there for ages. I'd never ridden the place before so it ticked another box and although it's primarily an F1 circuit with loads of run off everywhere, it was a new, and enjoyable, experience for me.
The sun was shining and it's certainly a nice bit of the world whilst the unique Mistral straight was fun. It's 1.8km long and going along it felt very North West 200-ish. The circuit's not as physical as Le Mans and we were running inside the top 10 until Dan (Stewart) slipped off sadly. It was a shame but that's Endurance racing and we were able to keep going and get a solid finish and anytime you finish a 24-Hour race it's an achievement to be proud of.
Macau…
I've just had my annual trip to Darley Moor for the annual 'Stars at Darley' meeting and I've still got Macau on the horizon so my season's not over yet. I always look forward to going Macau and I've got my TT-winning Fireblade this time so I'm hopeful of being competitive. It never gets any easier though.
After that, it's the winter season and there'll be plenty of shows to attend and then we can start looking forward to 2016. It'll soon come round again and Honda are keen so I'm sure everything will fall into place. I'm enjoying my racing as much as ever and no-ones come to repossess the TV yet so we'll keep cracking on."
Having started watching motorcycle races all over the world form childhood, Phil Wain has been a freelance motorcycle journalist for 15 years and is features writer for a number of publications including BikeSport News and Classic Racer, having also been a regular contributor to MCN and MCN Sport. He is PR officer for a number of teams and riders at both the British Superbike Championship and International road races, including Smiths Triumph, Quattro Plant Kawasaki, John McGuinness, Ryan Farquhar and Keith Amor. He is also heavily involved with the Isle of Man TT Races, writing official press releases and race reports as well as providing ITV4 with statistical information.