It's a big year for BMW Motorrad. 2023 marks 100 years since the firm's first motorbike was launched, the R32 in 1923. And in the same week it celebrates that centenary, the firm's unveiled a total revamp on probably the next-most important BMW ever made – the flagship Boxer GS model.
Up until now that was the R1250 GS – but for 2024, it's the BMW R1300 GS which will sit at the top of the adventure touring market (BMW's biggest GS has been the best-selling ADV machine for decades now).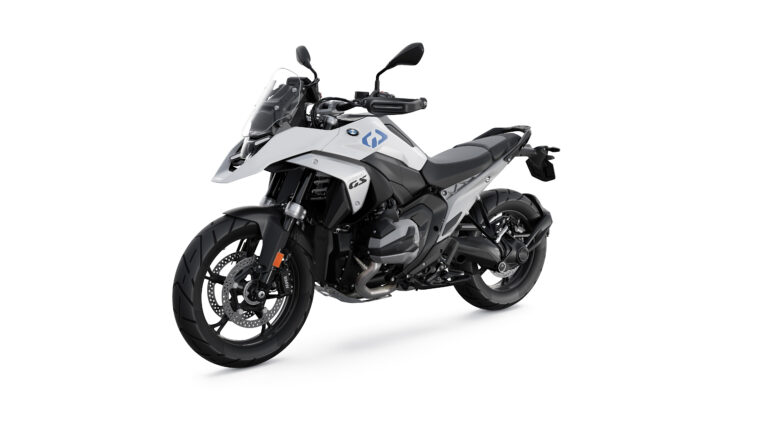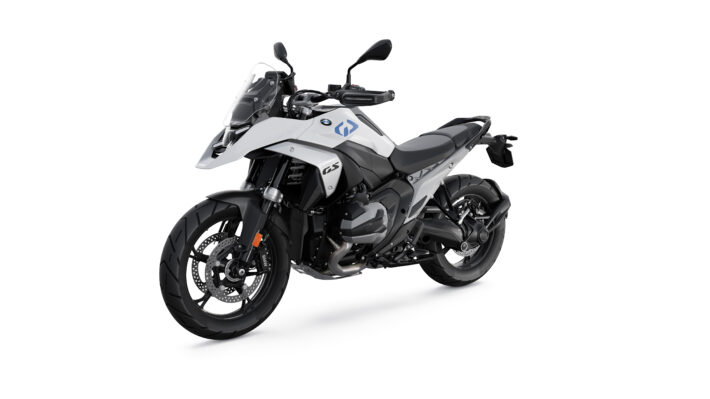 The new R1300 GS has been well trailed via some sneaky spy pics in recent years. So the new style, with a more compact look and distinctive 'X" style LED headlamps is already becoming familiar. What we didn't know was what lay underneath in terms of tech and design. And BMW's gone all-in, with yet another fresh iteration of the flat-twin Boxer engine theme that dates back to 1923.
A completely redesigned powertrain locates the gearbox in the main cases, underneath the crankshaft, rather than bolted onto the back end of the crankcase as it's been for decades. That obviously makes the motor shorter, but the revamp has also allowed BMW engineers to shave a chunk of mass off too: the engine is 6.5kg lighter overall, with 3.9kg saved on the gearbox. That helps to cut the overall weight of the bike by 12kg.
This new 1300 motor keeps the same basic layout, with liquid-cooled cylinder heads and a partial water jacket on the cylinders, and four-valve DOHC heads with chain drive. It has a bigger bore and shorter stroke, now 106.5x73mm compared with 102.5x76mm, and keeps the firm's ShiftCam variable valve system on the inlet side.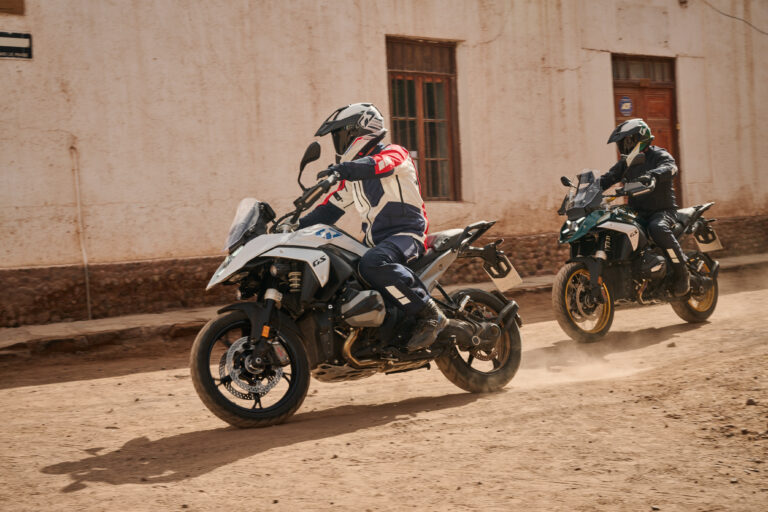 Power is up to 145bhp, around 9bhp more than before, and BMW claims that fuel consumption remains the same. Add in more torque low-down, with 130Nm available all the way through from 3,600 to 7,800rpm, and you have an impressive new motor – which we'd expect to see in the rest of the R Boxer range for next year too: the RT, RS and R models, as well as a new R1300 GS Adventure.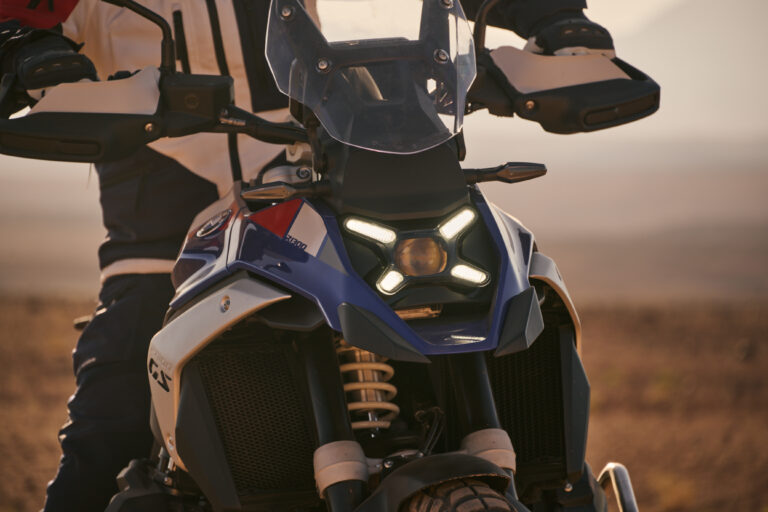 That new engine also gets a new frame, with similar design to the F900 GS recently launched. It's a fabricated steel unit, welded up using sheet components, and an aluminium rear subframe. The Paralever rear swingarm is redesigned, with a stiffer construction, and the front Telelever is all-new, with some very in-depth changes that combines the best of previous installs.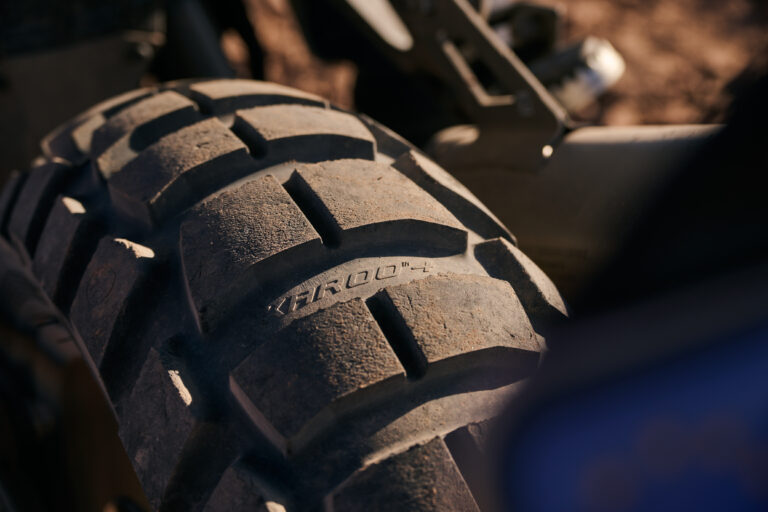 There's a new 'flex element' that replaces the flexible bearing connection between the handlebars and fork legs on the old GS model, giving a more direct, stiffer steering setup, while retaining the advantages of the Telelever system.
Long travel suspension comes with a new optional DSA Dynamic Suspension Adjustment electronic semi-active setup, which brings back the variable spring rate seen on BMW's ESA II system on the K1300 and other models. Together with control of spring preload and damping, it gives full command of the suspension characteristics, tied in with the riding modes and other electronic systems.
The new electronic suspension also provides new adaptive height control, that lets you lower the bike by 30mm when you stop, as well as keeping the bike level with different loads. There's a new optional sports suspension setup as well, which adds 20mm more travel and even better off-road performance.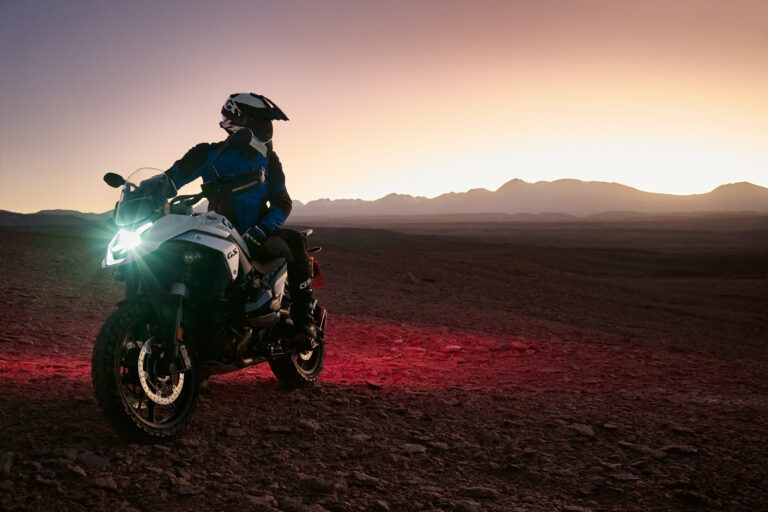 The brakes use BMW-branded calipers front and rear, with four-piston radial calipers up front and a twin piston at the back. They're operated by a fully featured smart ABS system, with hold function, integrated linked braking, and ABS Pro settings that turns off the rear anti-lock to lock the back wheel off-road. Wheels are available in cast aluminium or wire-spoked versions as you prefer, with a 19" front and 17" rear.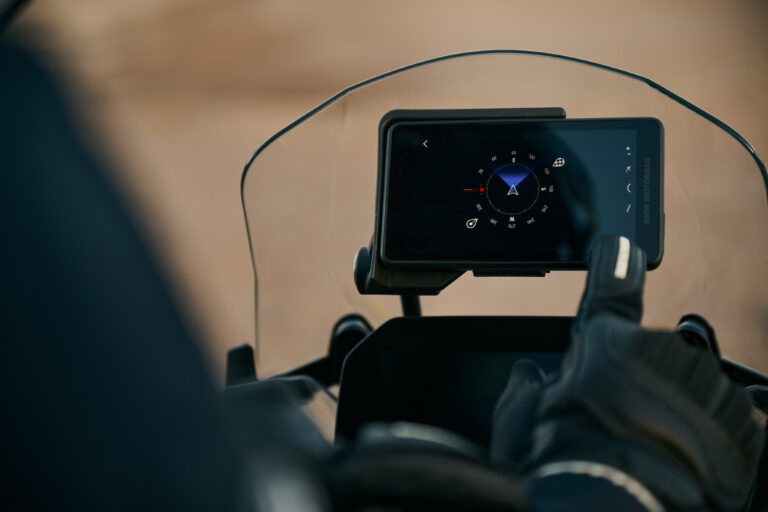 BMW has long been one of the pioneers on top electronics on its bikes, and the new 1300 GS is no exception. It comes with a full set of kit, including front and rear radar, allowing assisted active cruise control and collision avoidance warnings with brake intervention, lane change warnings.
There's obviously a top-end cornering traction control and ABS setup, with full adjustability, power modes, wheelie control, engine brake control, hill-start control and more.
There's plenty of luxury touring kit as well: heated grips and seat, cornering headlights, keyless ignition, large 6.5" colour dash with Bluetooth phone integration, a smartphone charging compartment, emergency SOS calling, service assistance, and it's all powered via a lightweight lithium ion battery.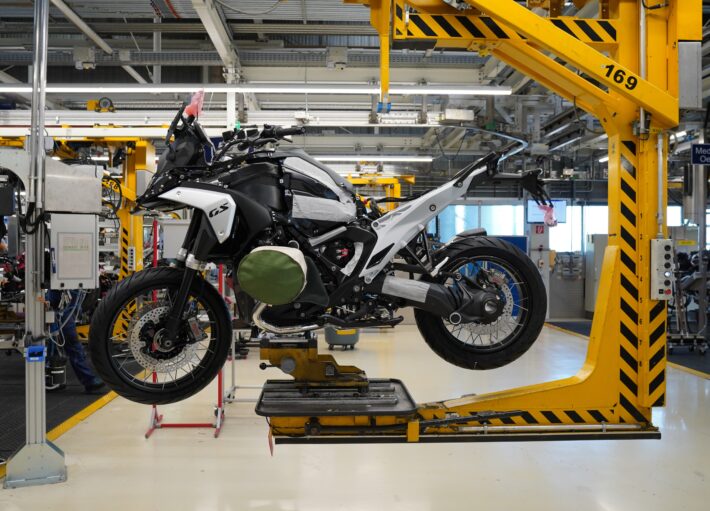 A proper update for an important bike then – and the new R1300 GS will be in the stores soon. Pricing is from £15,990, more info at www.bmw-motorrad.co.uk
BMW R1300 GS TECH HIGHLIGHTS
Completely newly designed boxer engine with bottom-mounted gearbox and BMW ShiftCam technology for varying the valve timing and valve stroke on the intake side.
Most powerful BMW boxer engine ever.
Powerful response across the entire engine speed range, exemplary fuel consumption, emission levels, running smoothness and refinement.
107 kW (145 hp) at 7 750 rpm and 149 Nm at 6 500 rpm.
Knock sensor system for optimised travel suitability.
Completely redesigned suspension with sheet metal shell main frame and die-cast aluminium rear frame. Even greater steering precision and ride stability thanks to new EVO Telelever with flex element and revised rear wheel guide EVO Paralever.
Weight reduction of 12 kg compared to the previous model.
BMW Motorrad Full Integral ABS Pro as standard.
Four riding modes as standard.
Engine Drag Torque Control (MSR), Dynamic Brake Assist (DBC) and Hill Start Control (HSC) as standard.
Riding Modes Pro with additional riding modes as optional equipment ex works.
Dynamic Traction Control DTC as standard.
Electronic Dynamic Suspension Adjustment (DSA) as optional equipment ex works, with dynamic adjustment of the damping and spring rate, and also load compensation.
Adaptive vehicle height control and sports suspension as optional equipment ex works.
New matrix LED headlamp as standard.
Headlight Pro with adaptive turning light as optional equipment ex works.
Hand protectors with integrated turn indicators as standard.
Lithium-ion battery with Battery Guard (service function via BMW Motorrad APP) as standard.
Dynamic Cruise Control (DCC) with brake function as standard.
Riding Assistant with Active Cruise Control (ACC), Front Collision Warning (FCW) and Lane Change Warning (SWW) for safe and convenient motorcycling as optional equipment.
Smartphone charging compartment with integrated USB socket and additional 12 V on-board power socket as standard.
Seat heating for rider and passenger for enhanced touring suitability as optional equipment ex works.
Handlebar riser by up to 30 mm as optional equipment ex works.
Wide range of seat height variants as optional equipment ex works.
Connectivity: multifunctional instrument cluster with 6.5-inch full-colour TFT screen and numerous features as standard.
RDC, Keyless Ride, heated grips as standard.
Intelligent Emergency Call as optional equipment ex works.
Increased range of standard equipment in the new BMW R 1300 GS compared to the previous model:
Heated grips.
Keyless Ride (steering, ignition and fuel tank lock).
RDC.
MSR.
BMW Motorrad Full Integral ABS Pro.
Cruise control DCC with brake function.
Lithium ion starter battery.
Hand protectors with integrated turn indicators.