Retro-styled roadster gets latest frame and engine tech from Yamaha's MT-09, here's your first look at the 2022 Yamaha XSR900…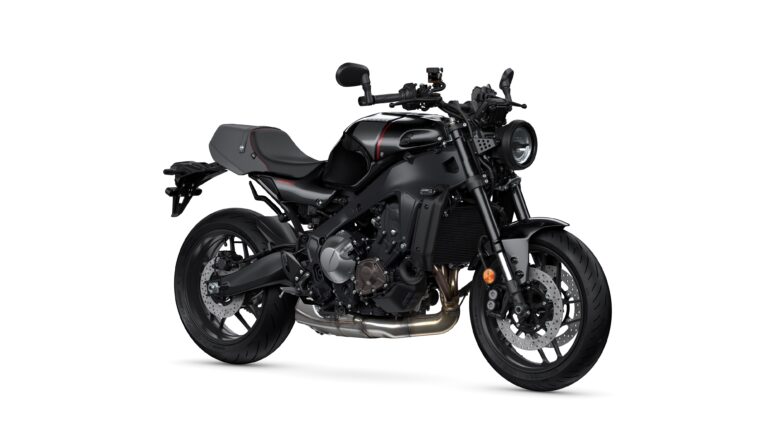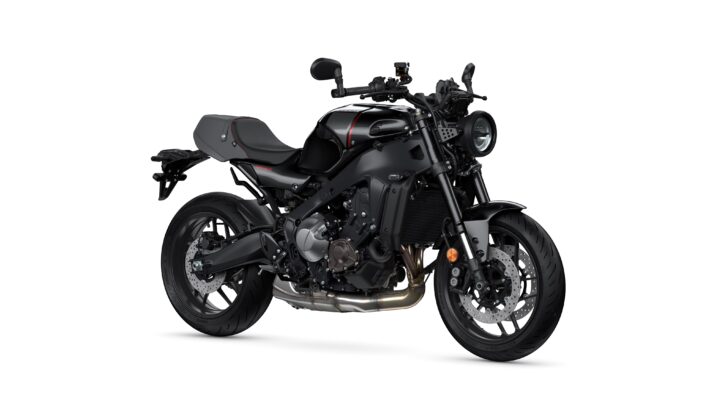 Every bike firm is making the most of its heritage these days, and it's fair to say that Yamaha has plenty to shout about there. It's built some of the most exciting road and race bikes around over the past sixty years, always pushing the cutting edge of engine and chassis tech. And with its XSR range, it offers a classic take on its current naked bike models. The XSR125, 700 and 900 retro roadsters take their foundations from the MT-125, MT-07 and MT-09 naked bikes, and add a dash of subtle classic styling. There's more than a hint of Yamaha's awesome RD two-stroke models from the 1970s and 80s in that styling, and they've been a big hit for the firm in recent years.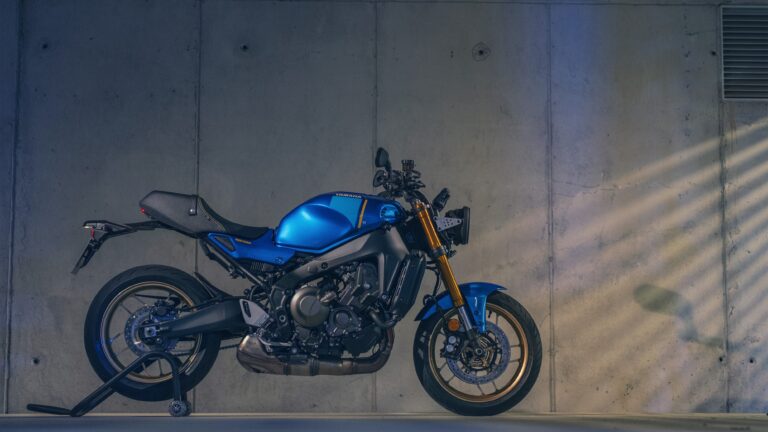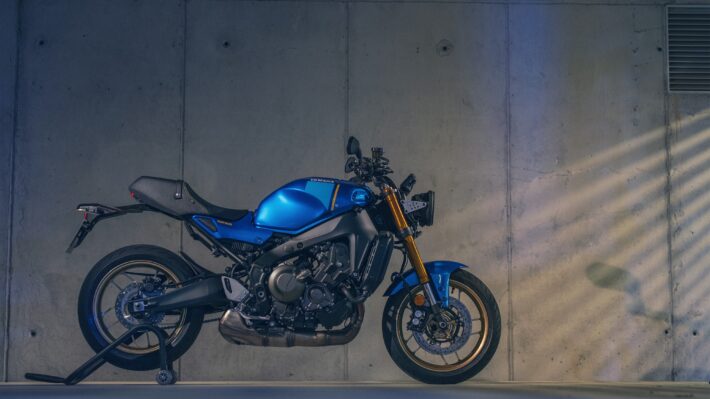 So there's a lot riding on this, the new 2022 version of the Yamaha XSR900 retro naked. It's got the same engine and chassis updates that the MT-09 had last year: a new Deltabox-style cast aluminium frame, and an EU5 update for the engine, plus larger capacity. For 2022 the XSR900 has a more powerful, larger capacity 889cc CP3 engine which features a 3mm longer stroke that gives an extra 43cc. Almost all of the internals are redesigned and lightened, including lighter pistons, and the engine is now 300g lighter than previously – while getting a 4PS increase in power, up to 87.5 kW (119 PS) at 10,000 rpm.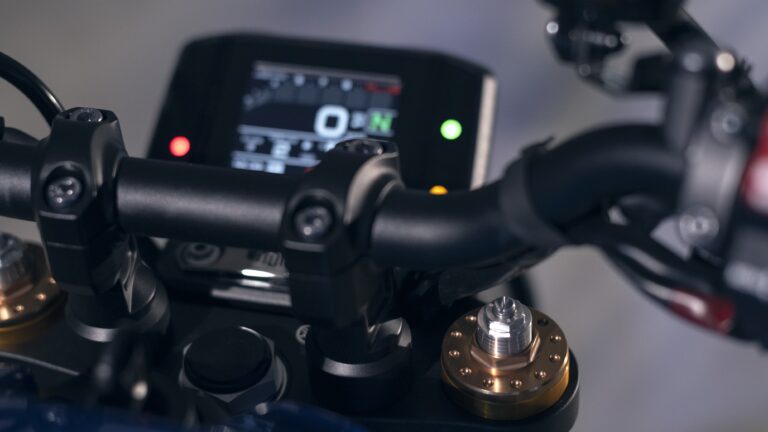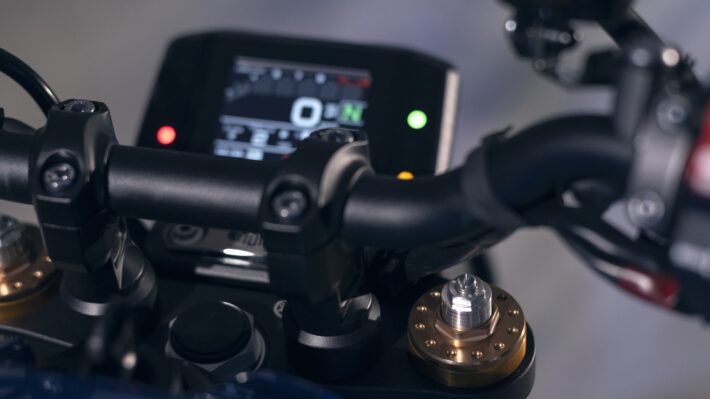 There's a new Brembo radial master cylinder for better braking up front, lighter spin-forged wheels and adjustable KYB suspension front and rear: fully adjustable gold USD forks and a preload/rebound adjustable rear KYB shock.
The electronics are top-drawer for the class: the XSR has a six-axis Inertial Measurement Unit (IMU) that uses two sensors to measure velocity and acceleration in three axes each. The unit sends data to the engine ECU that controls the three rider aids: Lean Sensitive Traction Control System, Slide Control System and front Wheel Lift Control System.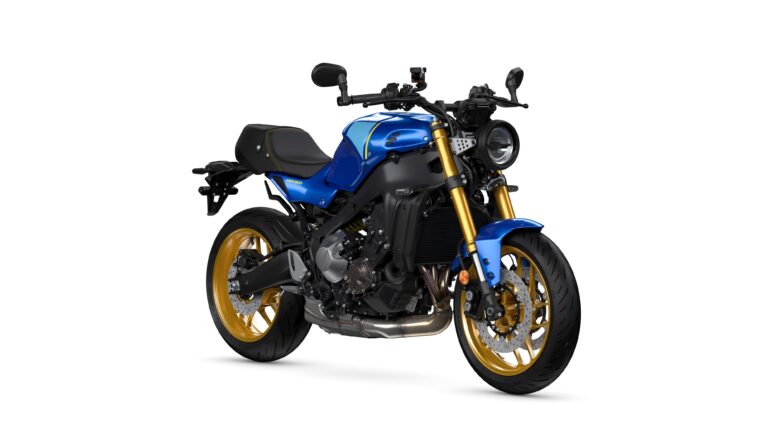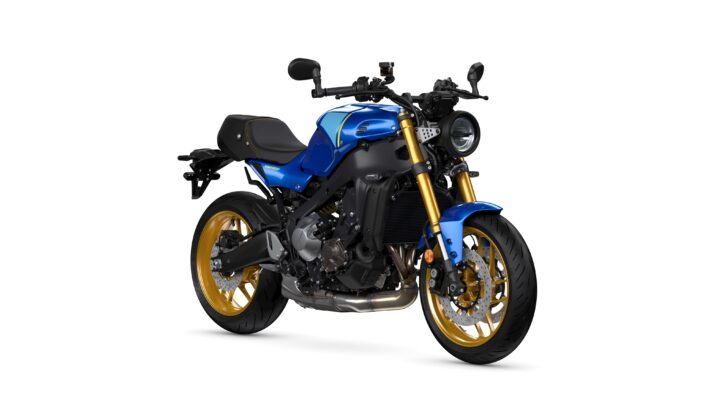 The degree of intervention of the Traction Control System is calculated by the IMU relative to the degree of lean, and the rider can select one of three intervention modes or even turn the system off completely. The Slide Control System (SCS) is an extremely valuable asset for any sports rider, and gives the highest degree of controllability. When a sideways rear wheel slide is predicted by the IMU the drive power is adjusted in order to maintain traction. As with TCS there are three intervention levels, as well as an off switch.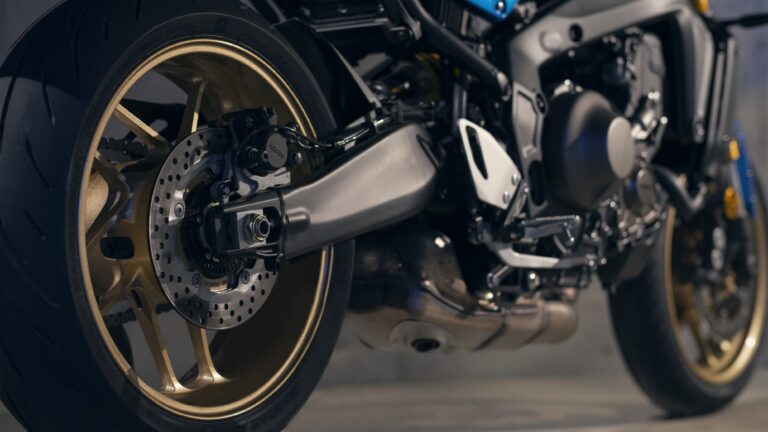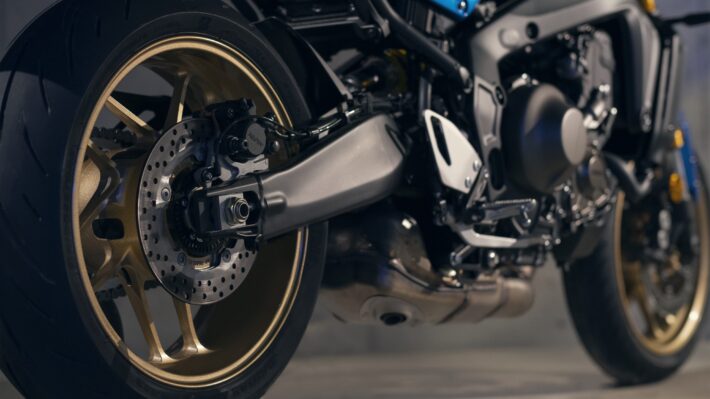 Finally, the lift control system is an anti-wheelie system that helps to smooth out machine behaviour when pulling away or accelerating hard, designed to work in harmony with the other electronic control systems.
On the brake front, the XSR900's Brake Control system independently controls and moderates the front and rear brake pressure to prevent accidental wheel lock ups. BC1 is a standard type of ABS mode that activates in upright emergency stopping situations, while BC2 is designed to maintain control if emergency braking is applied when the XSR900 is leaning in mid corner.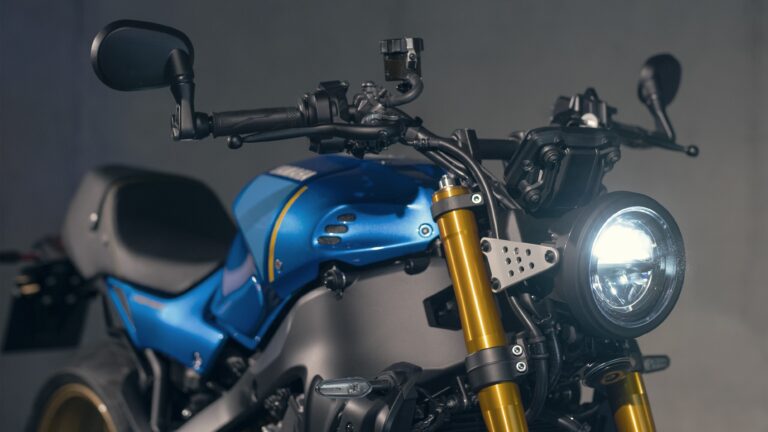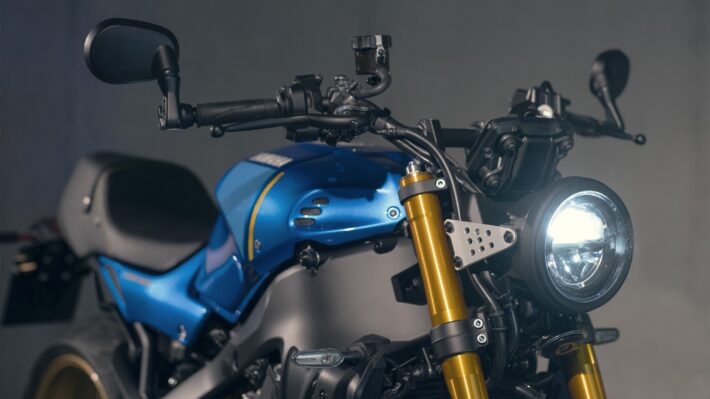 Finally, the XSR comes with a full Quick Shifter System (QSS) that allows clutchless full throttle upshifts for optimum acceleration, plus clutchless downshifts, improving stability and corner entry. There are also four D-Mode engine power modes, compared to three on the previous model. Mode 1 is the most aggressive full-power mode, while modes 2, 3 and 4 deliver progressively softer degrees of response to suit riding conditions.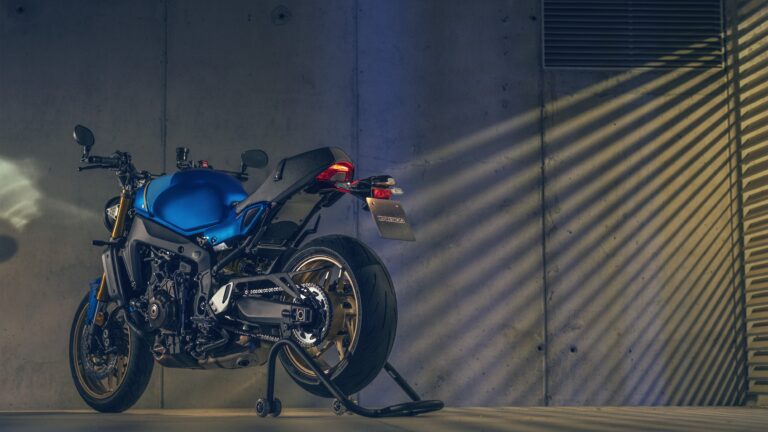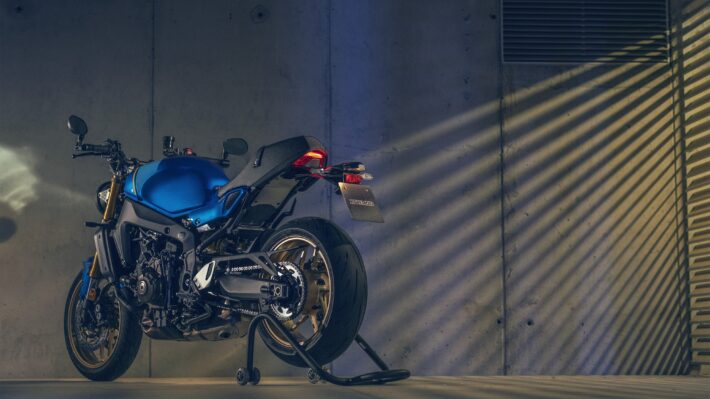 So – more power, less weight, more technology and sharper brakes. But it's the styling that really grabs us on the new XSR900 – smart split round LED headlamp, machined-style headlight brackets, an angular 80s-style 15-litre fuel tank and a minimalist rear end, with the pillion seat designed to follow the lines of the Gauloises YZR500 of Christian Sarron. We also love the blue/yellow paint scheme that also echoes Sarron's Gauloises race paint schemes, as well as the TDR250 supermoto and TZR250 pocket race-replica. Magical bikes from a magical time, and more than worthy of celebration by the new XSR900.
XSR900 Technical Highlights
Historic Yamaha Racing influenced design
High quality details and premium materials
Flexible and relaxed riding position
Signature XSR LED lighting
Hidden rear LED lighting
Modern take on historic colouring
Rider Aids Package, 6-axis IMU
Traction Control, Slide Control, Brake Control, Lift Control
Versatile high-torque EU5 889cc CP3 engine
QSS, Cruise Control and A&S clutch
Lightweight CF die-cast Deltabox-style chassis
Lightweight Spinforged wheels
High specification adjustable suspension
298 mm dual front discs with Brembo Master Cylinder
Forged aluminium foot controls
XSR900-specific low-profile subframe with foldaway passenger footrests
Full LED Indicators
Bar end mirrors
Machined top triple clamp
Race-inspired 15 litre fuel tank with race-style filler cap