Track-only 890 parallel twin points to possible road-going sports bike from KTM, here is your first look at the 2022 KTM RC8C…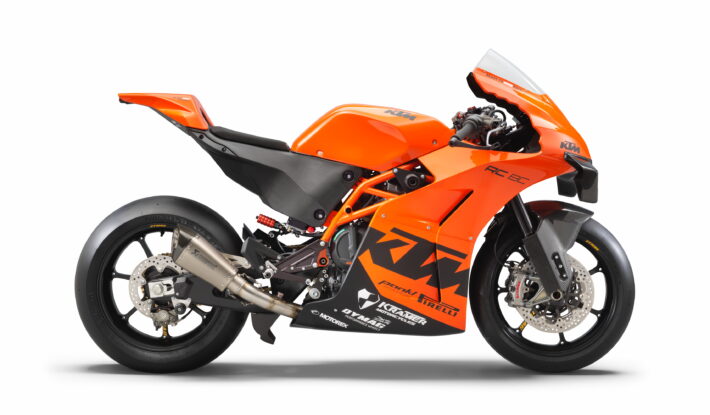 It's one of the great mysteries – why don't firms like KTM and Triumph sell proper sports bikes at the moment? Both are heavily involved in MotoGP – KTM has a full-bore factory race team which actually won four races last year on the RC16 factory machine, and Triumph supplies the engines for Moto2 of course. But they both dropped their last sportsbikes (the KTM RC8 and the Triumph Daytona) a while ago.
Sales have been falling in the sector of course, but it seems odd that they couldn't find room for even one low-volume road machine, using their hugely successful supernaked road bikes as a base. The KTM Duke and Super Duke engines, and Triumph's own 765 triple motor would all make great sportsbikes, with fairly simple bodywork changes and some mild chassis tweaks.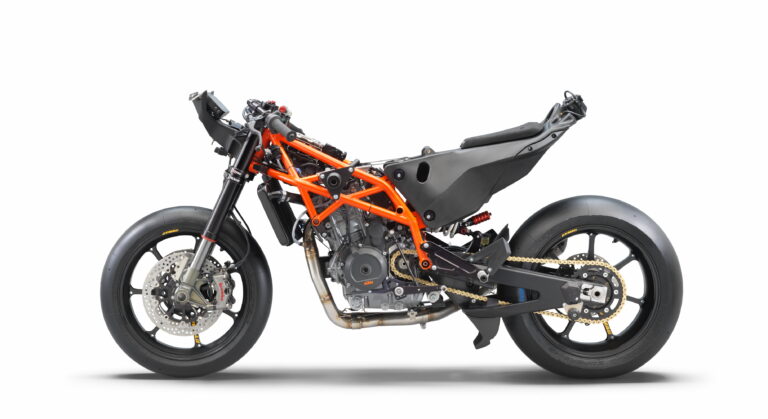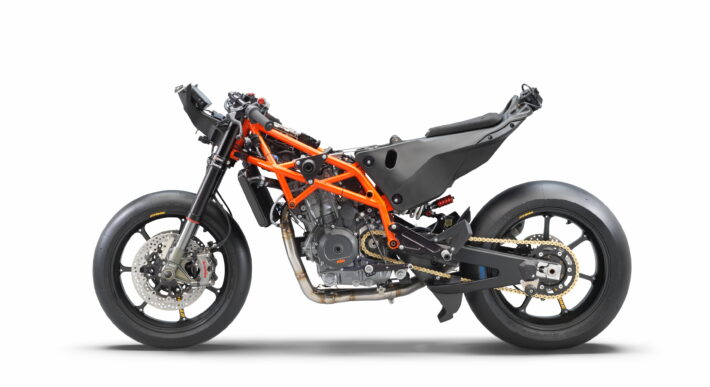 But there may be hope for fans of both orange machinery and one-piece race leathers, in the form of this very saucy track-only machine, just launched by KTM. It's built by long-time collaborator, Krämer Motorcycles, which has been making KTM-powered race bikes since 2009, and echoes the current Kramer GP2 890R. It uses a bespoke steel tube trellis frame, housing a standard version of the Duke 890 R engine that makes 128bhp thanks to intake and exhaust mods, with an overall dry weight of just 140kg.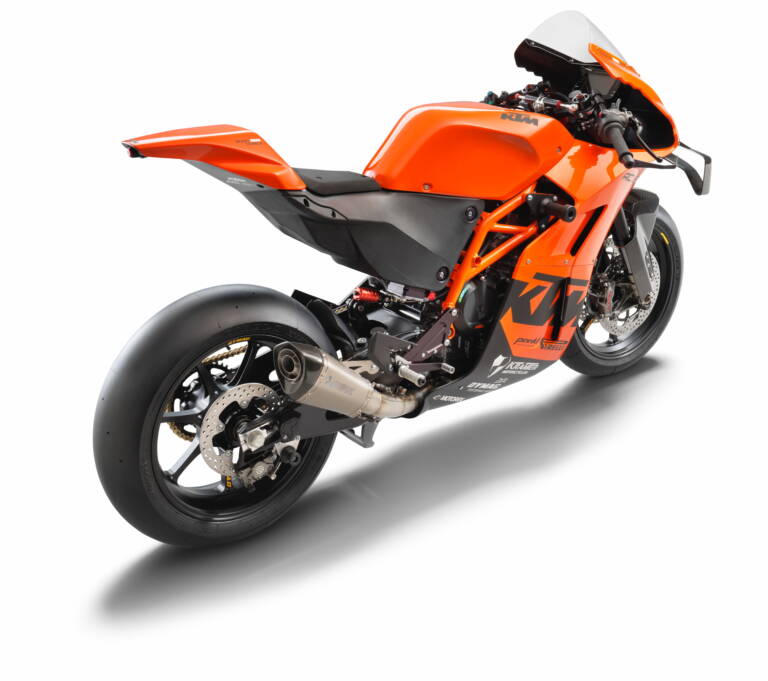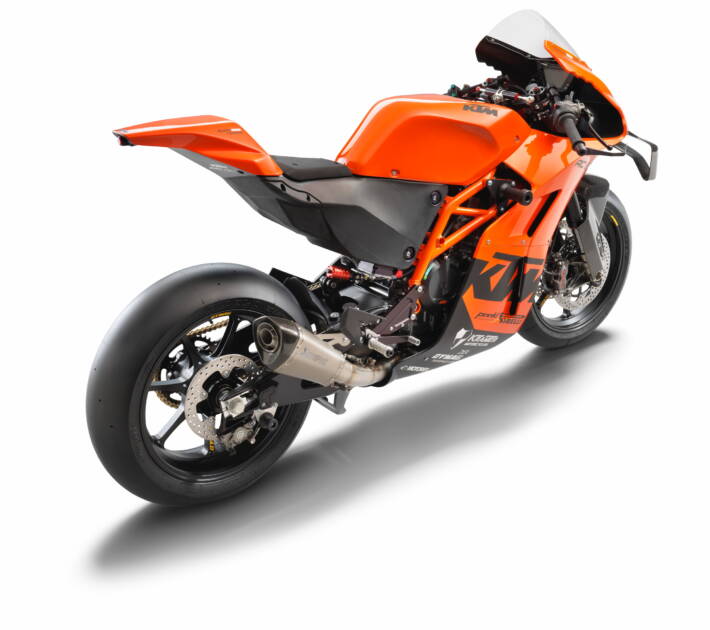 Suspension is from KTM's own in-house suspension firm WP, and is amongst the best kit the firm offers. Apex Pro 7543 forks are gas-pressurised, with a closed-cartridge design and full adjustability, while the Apex Pro 7746 rear shock is specially tuned for track use. There's also a WP Pro suspension damper keeping the front end honest.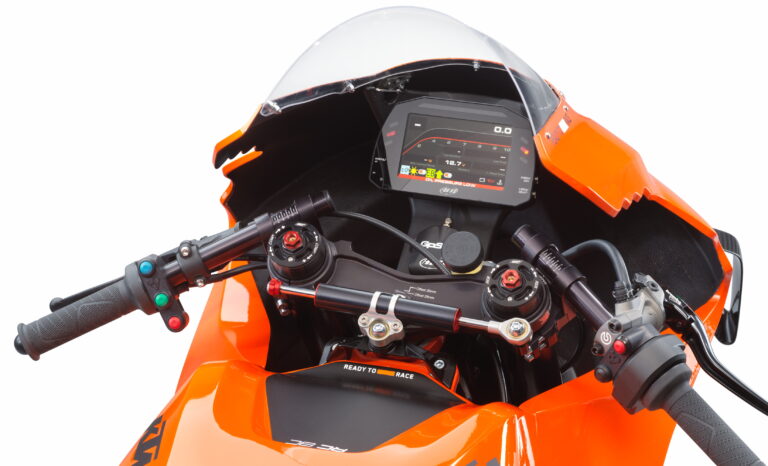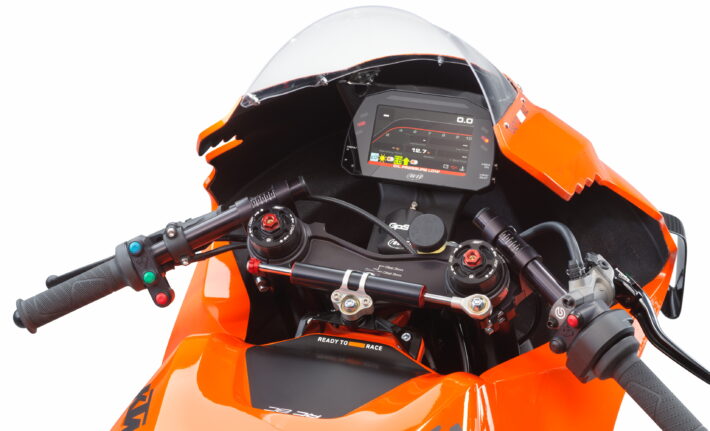 The rest of the chassis kit is similarly top-end. Wheels are superlight forged aluminium race rims from Dymag, and they wear Pirelli Diablo Superbike slicks in sizes 120/60 17 and 180/60 17 (sizes up to 200/55 rear are fine), while the brakes are full superbike Brembos – Stylema calipers and 290mm discs, with titanium mount bolts and an adjustable Brembo RCS master cylinder.
The chassis is also very adjustable: the steering head angle and fork offset can be tweaked, the handlebars and footpegs are also fully adjustable, and the rear subframe also has two positions for different seat heights. The fuel tank lives under the seat, and the dash is a proper AIM MXS 1.2 RACE unit with built-in datalogging functions.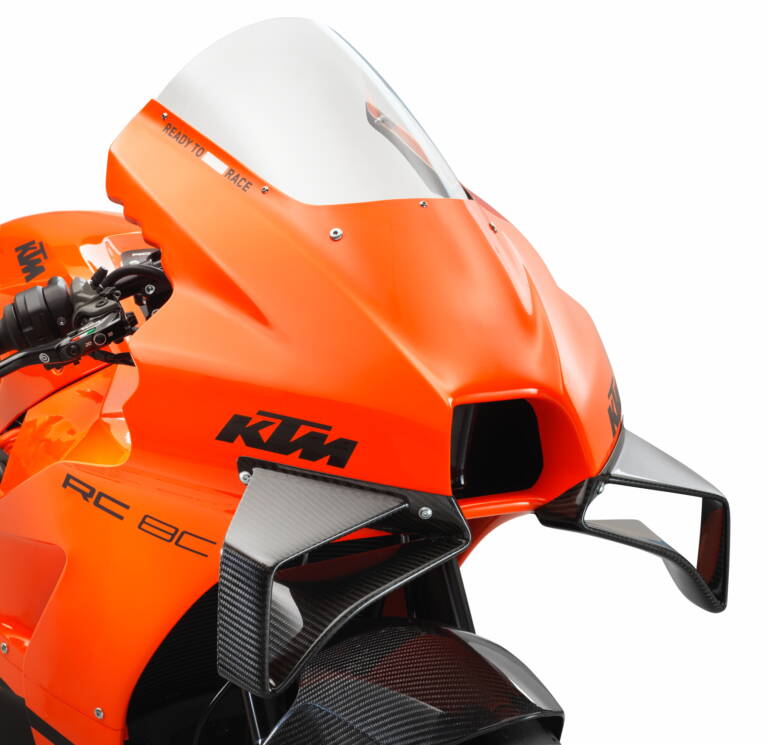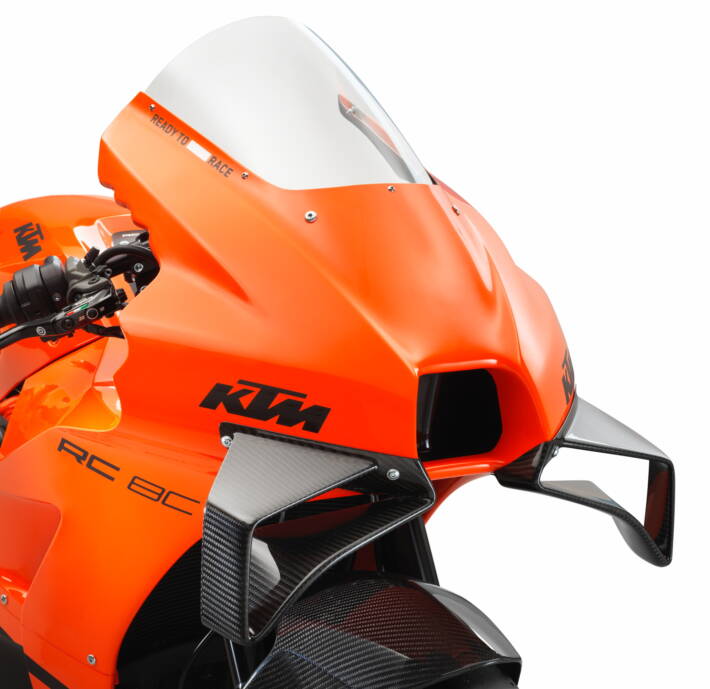 The RC8 C is limited to just 100 bikes – and they cost around £31k each. But even at that price, we reckon they'll easily sell out. And it's very tempting to see how KTM could be teased into building a few more – with less fancy chassis kit allowing a sensible price – and punting them to hungry sportsbike fans. As a trick, high-end option instead of the likes of the Ducati Panigale V2 or even the Aprilia RS660, it could make a lot of sense.
More details – and get your order in on the KTM website: www.ktm.com
KTM RC8 C FEATURES
– Max power: 128 Hp
– Dry weight: 140 kg
– Dedicated racing exhaust with Akrapovič titanium muffler – Dedicated air box and racing air filter
– Bespoke 25CrMo4 steel tubular racing frame
– WP PRO COMPONENTS Suspension
– Quick release lightweight GRP body panels for easy maintenance
– Carbon fiber front fender with quick change system
– KTM RC16-style winglets for high-speed stability
– Integrated crash protection
– Standard crash pads on frame, forks and swingarms.
– Integrated crash protection behind the footrest on the swingarm
– Crash bobbins on the rear end of swingarm
– Protectors on left and right side of fuel tank
– Adjustable 66.7° steering head angle
– 98.6 mm trail
– 1400 mm wheelbase