May hails the start of warmer and drier weather, which means more ride outs of course!
So riders, it's time to dust off your leathers and prepare your bike for the various events going on this month!
Here's a quick guide to best of them:
Charity rides
Who says motorbikes are only for bad boys and girls?  When it comes to fundraising, those on two-wheelers certainly do their bit for the community.  Not just a chance to participate in a worthwhile course, charity ride events are often family friendly and great social occasions.
Ray's Charity Ride Out – Newcastle
Date: 23rd May
Event: Ray's Charity Ride Out
This is a mototrcycle run with a fantastic cause – to raise funds for Alzheimer's Society and Auckland Park Hospital, County Durham. The ride will go from the Beacon car park to The Manor House, Ferryhill. At the end of this popular ride out bikers will be welcomed by a live band, DJ, BBQ, bouncy castle and much more! Even if you're not planning on riding this event is sure to be a fun day out for all, so why not get involved!
Venue: From Beacon car park (The Hill) to The Manor House, Ferryhill
Price: Minimum donation of £5 pp (under 16's go free)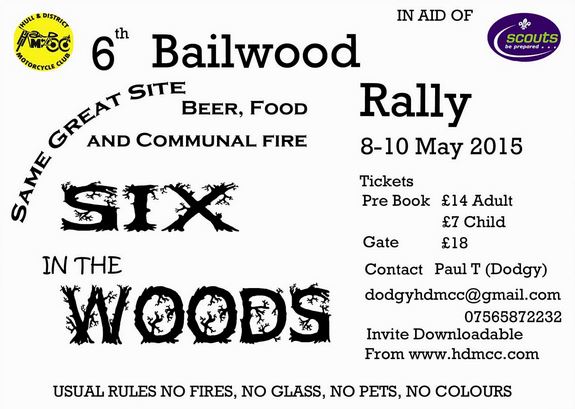 Six in the Woods – East Yorkshire
Date: 8th May
Event: HDMCC 6th Bailwood – Six in the Woods
The event is set on the edge of the woods with a communal fire and fantastic atmosphere.  Expect at least three live bands, plenty of cheap beer and scrumptious food.
Venue: Aldbrough, HU11 4 QB
Price: £14 if you pre-book, £18 at the gate.  Patch included.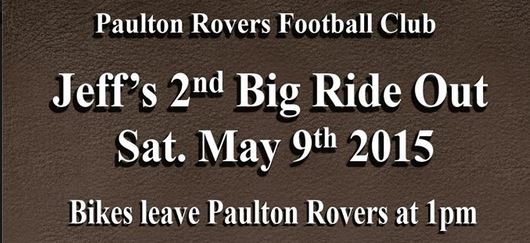 Jeff's Big Ride Out – Paulton, near Bristol
Date: 9th May
Event: Jeff's Big Ride Out
A charity fundraiser to support the continuing work of the Dorothy House Hospice Care, this event includes a ride out and afternoon/evening entertainment.  Bikes will leave at 1pm for rides to Cheddar, Weston Super Mare and much more.  Not just a great day out for riders, it also promises lots of fun for the whole family.
Venue: Paulton Rovers FC car park.  Winterfield Road, Paulton (near Bristol), Somerset.
Price: £10 per bike.  There will be free entertainment and use of club facilities.  Food is also available.
Kate's Cruise – Newcastle Under Lyme, Staffordshire
Date: 10th May
Event: Kate's Cruise
A ride out to show solidarity for 41 year old Kate, who is terminally ill with only a few more months to live.  Riders will leave the Freebird pub on Liverpool St at 1pm and ride to the Shroppie Fly pub, near Crewe.  Afterwards, all are expected to head back towards the Freebird.
Venue: The Freebird, Liverpool Road, Newcastle Under Lyme, Staffordshire ST5 2AX
The Scorched Rally – Lymington, Hampshire
Date: 15th to 17th May
Event: The Scorched Rally
If you want to combine a full weekend of entertainment and a meaningful cause, then look no further than The Scorched Rally.  All proceeds from the event will go to the PICU.  Attendees can enjoy a Rock n Roll night on the Friday, Rock disco on the Saturday with bands including These Septic Stars, Insomnia & Mary Jane.  There will be fantastic food served inside the pub and by the Bikers Burger.  There will also be a bike show and classic car show in the afternoons.  You can expect lots of silly games and raffles for amusement as well.
Venue: The Royal Oak, Christchurch Road, Downton, Lymington, Hampshire, SO41 0LA
Price: £15 for the whole weekend, Day tickets £7 at the gate.

The 2015 Kent Pet Food Run – Kent
Date: 14th June
Event: The 2015 Kent Pet Food Run
The Meldrews and Kent Riders bring you a ride out that aims to raise much needed pet food donations for the Last Chance Animal Rescue. The run will be leaving from Maidstone Services at 11:30am. This may well be the last ever Kent Pet Food Run, so if you're in the Maidstone area why not pop down for a ride!
Venue: Maidstone Services, J8 from A20, Kent, ME17 1SS
Social meet ups
Of course, one of the best things about owning a motorbike is being a part of the riding community.  You don't always need a reason like a charitable cause or a racing event to meet up; sometimes it's great just to spend the weekend with others who share the same passion.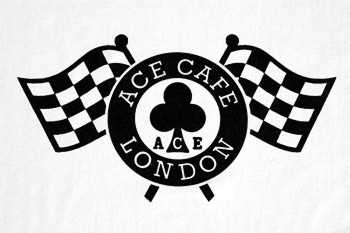 All Day BMW Bike Day – London
Date: 10th May
Event: All Day BMW Bike Day @ Ace Café
Own a BMW?  Here's your chance to let it shine.  Meet other riders with a passion for BMW bikes and compare and contrast your machines.
Venue: Ace Café, Ace Corner, North Circular Road, Stonebridge, London NW10 7UD
Aliens Infest Rally – Ashover, Derbyshire
Date: 15th to 17th May
Event: ALIENS 1NFEST Rally
Riders who want to involve their family in their passion will appreciate this family friendly event which will include four live bands, Big Jims Disco, cheap beer, great food, a variety of stalls and a Saturday ride out.
Venue: Ashover Show ground, Milken Lane, Ashover, Derbyshire, S45 0BA
Price: £12 if you pre-book, £15 at the gate. Day tickets £8.  Price includes trikes, scooters, campers, caravans etc.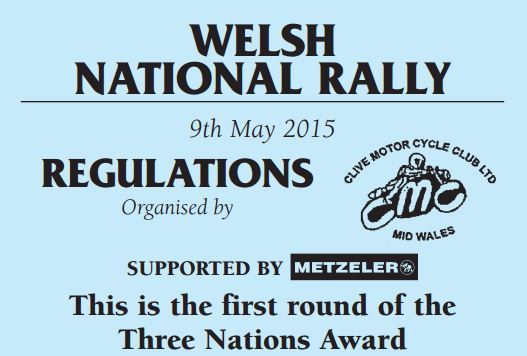 Welsh National Rally – Powys
Date: 9th May
Event: Welsh National Rally
This isn't your usual biker rally – it's a rally with a twist! On their journey from Castle Caereinion and back round to Castle Caereinion bikers will be collecting answers to clues along the way. Eventually, when all the teams have finished their travels the scores will be tallied up and the winners will then receive various awards! Think of it as a treasure hunt but on two wheels…sounds great!
Venue: 4 Maesgarmon Close, Castle Caereinion, Welshpool, Powys SY21 9BQ
Races
Whether you have a machine for competition or just want to cheer from the side line, Bike races are always fun to take part in or to watch.
Motorcycle Sprint – Lancashire
Date: 10th May
Event: Motorcycle Sprint
Bikes of all classes will take on the mighty Hoghton Tower drive.  There will be food and entertainment provided in and around the track so bring the whole family along for a fun day out.
Venue:  Hoghton Tower, Hoghton, Preston, Lancashire, PR5 0SH
Women bikers
More and more women are becoming interested in riding two-wheelers.  With this trend set to continue, there are now events specifically dedicated to female riders.

Women Bikers Skills Day – Weymouth, Dorset
Date: 16th-17th May
Event: Women Bikers Skills Day
This two-day event aims to help women who want to start riding and those wishing to refresh their skills.  Run by women bikers, the Women bikers Skills Day promises to be one that supports and celebrates motorbike riding amongst females.
Venue: 16th May: Weymouth College, Cranford Avenue, Weymouth, Dorset, DT4 7LQ
17th May: Lodmoor car park, Weymouth, Dorset DT4 7SX
Price: £10 for Saturday, free on Sunday with donations welcome.
We're sure there are hundreds of biker events taking place this year so if you know of any please feel free to add them to the comment box bellow!
With such a packed events calendar to start the riding season, do make sure that your machine is adequately insured so you can enjoy meet ups, touring or any light sporting events.
Of course, to find a cover from a motorbike specialist, you can't go past Devitt Insurance, a broker trusted by bikes since 1936.  Whether you are after a policy for your sports bike, moped, tourer or commuting two-wheeler, they can provide you with competitively priced insurance that meets all your needs.
Your insurance requirements will change as your rider experience grows.  So thoroughly review your cover regularly to ensure you have a policy that still works for you.