Another month, another array of motorcycling events to look forward to, and there's a lot going on in March…such as ride outs, bike nights, charity events and even biker breakfasts.
So, here are some of the best biker events taking place this month…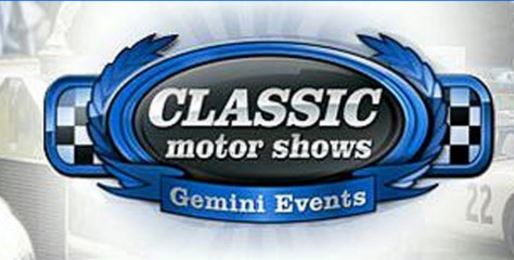 Event: Bikers Special @ The Shuttleworth Collection
When? Wednesday 1st – Friday 31st March
Where? The Shuttleworth Collection, Old Warden Aerodrome, near Biggleswade, Bedfordshire, SG18 9EP
What's on?
Enjoy a Biker's Special meal for just £6! Valid in the restaurant throughout March 2017 when you visit on 2 wheels.
Breakfast is served until 11:30am: Full English with tea or coffee. Brunch is served from 11:30am to 4pm: Bacon, sausage, fired egg, chips and beans.
Served from 12 noon: burger or hand battered fish, chips and peas or the main meal of the day (including a roast on a Sunday).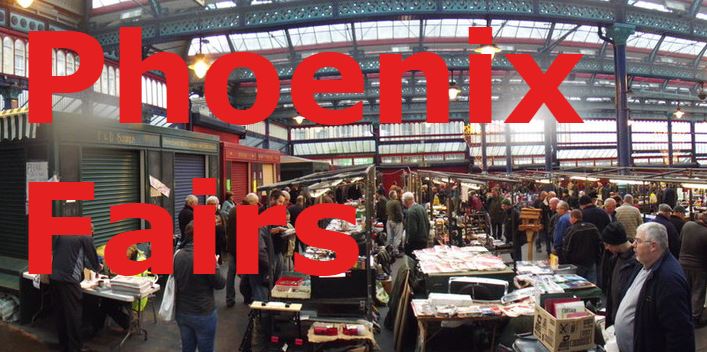 Event: Historic Huddersfield Auto Jumble
When? Sunday 5th March
Where? Old Market Building, Brook Street, Huddersfield, Yorkshire, England, HD1 1RG (next to Tesco, signed from the ring road).
What's on?
This autojumble will take place in an old Victorian fish market. Refreshments will be available on the site. Street parking only.
Admission:
£2.50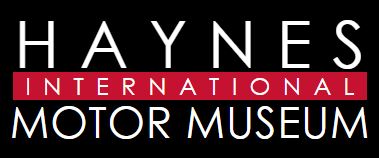 Event: Haynes Breakfast Club
When? Sunday 5th March
Where? Haynes International Motor Museum, Castle Cary Road, Sparkford, Yeovil, Somerset, BA22 7LH
What's on?
Calling all motoring enthusiasts! On the 1st Sunday of the month there will be a breakfast club open to all marques. As well as meeting other vehicle owners, participants can chat over a coffee and a hearty breakfast in Café 750. The very popular museum café will open at 9am.
Price for Museum entry:
Adult £14.50, Child £9, Concession £13.50, Family A (1 adult and 1 child) £21.50 and Family B (2 adults and up to 3 children) £48.50.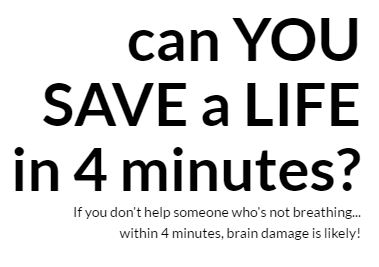 Event: First Aid Course for Motorcyclists with Free First Aid Kit
When? Saturday 11th March
Where? Four Minutes, Britannia House, Caerphilly Business Park, Van Road, Caerphilly, Cardiff, CF83 3GG
What's on?
Are you a motorcyclist? Ever suffered an accident on the road or seen others hurt? Learn how to deal effectively with injuries caused in traffic accidents.
This 4-hour course combines CPR and AED training with serious injury assessment when dealing with trauma, head and spinal injuries.
The course is split into outdoor practical scenarios and indoor theory. Students will be able after the course to provide care when an emergency arises.
Admission:
£45 includes student certificate, training equipment and first aid kit for your motorcycle.

Event: Buxton Rocks
When? Saturday 11th March
Where? The Pavilion Gardens Buxton, St. John's Road, Buxton, Derbyshire, SK17 6BE
What's on?
Tragedy (all metal tribute to the Bee Gees), Kiss UK, Small Weller, Hey Pixies, Fallen (Evanescence), Glam 45 plus the Indiana's, Monkey Harris and more. Bar and hot food stalls.
Admission:
OTG: £15
Children under 10: £6

Event: Kenley Autojumble
When? Sunday 12th March
Where? The Portcullis Club, Kenley Airfield, Victor Beamish Avenue, Caterham, Surrey, CR3 5FX (for Sat Nav use CR3 5LT), just off J6, M25E
What's on?
This open-air autojumble caters to motorcycle, car, and military enthusiasts. Both regular traders and enthusiasts having a clear-out are welcome. Pitches for trade vans cost £20 and £15 for private cars. There will be a licenced bar. Parking is free.
Admission:
£2.50
Opening hours:
9am to 4pm. Traders have access from Saturday afternoon with free overnight camping.

Event: Leather & Lace MC Bike Blessing
When? Sunday 12th March
Where? Leather & Lace MC Clubhouse, 574 Ariel Drive, Edgewater, Volusia Country, Florida, USA, 32141
What's on?
Start Daytona Bike Week out on a positive note! Join the ladies of Leather and Lace MC as they have their annual bike blessing.
Admission:
Free

Event: Leather & Lace MC Rodeo and Auction
When? Sunday 12th March
Where? Leather & Lace MC Clubhouse, 574 Ariel Drive, Edgewater, Volusia Country, Florida, USA, 32141
What's on?
Bikers compete for coveted prizes and bragging rights at this annual event! Biker games, prizes, food, vendors, music and the popular bike auction. Highest bidders walk away with some amazing items! Biker Rodeo during Daytona Bike Week! Be a part of it.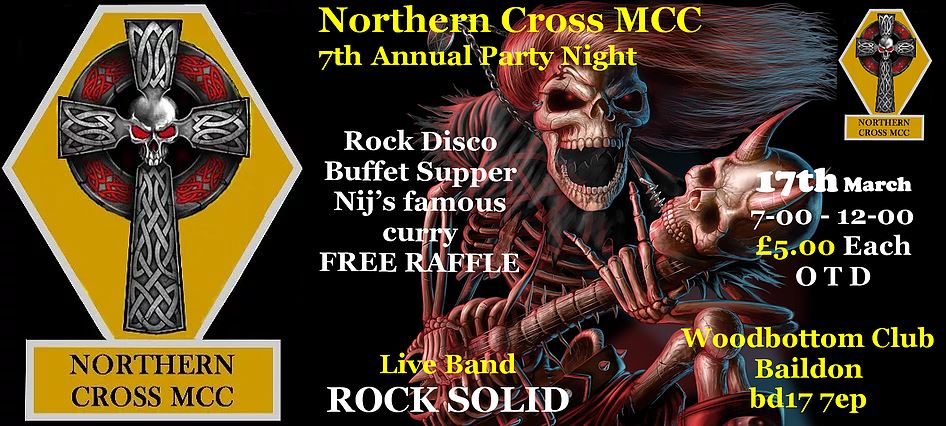 Event: 7th Annual Party Night
When? Friday 17th March
Where? Basildon Wood bottom club, Otley Road, Shipley, West Yorkshire, BD17 7EP
What's on?
For the best party night this year, join the Northern Cross MCC. Live band, buffet supper including curry. Free raffle. Rock solid play live with a rock disco too!
Admission:
£5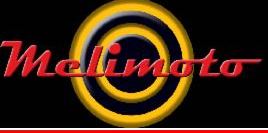 Event: Biker Breakfast
When? Sunday 19th March
Where? Melimoto Ltd., 22-23 Sapcote Trd Ctr., Powke Lane, Cradley Heath, West Midlands, B64 5QR
What's on?
In aid of the Midland Freewheelers voluntary emergency blood and medical delivery service. Join them for a free cuppa, breakfast bap and Sergio's nibble selection. All donations are to this Stirling Group of volunteers supporting the NHS. A chance to meet up and talk motorcycle over a coffee.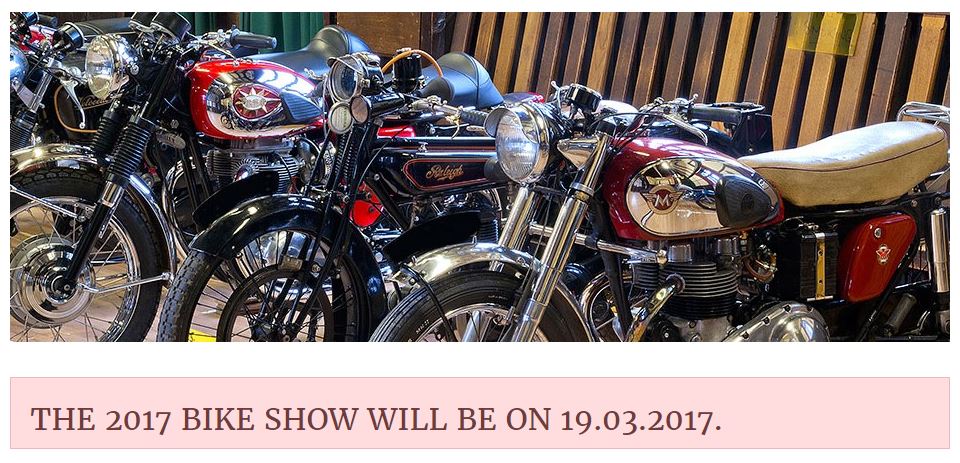 Event: The 26th Shropshire Vintage and Classic Motorcycle Show and Auto Jumble.
When? Sunday 19th – Sunday 26th March
Where? Wistanstow Village Hall, Wistanstow, Craven Arms, Shropshire, SY7 8DQ
What's on?
A well supported, friendly show set in the beautiful village of Wistanstow, South Shropshire. A varied array of display bikes and autojumbles. The Guest of honour is Peter Williams, renowned former Grand Prix motorcycle racer. A varied array of exhibitors in the vast Wistanstow Hall, auto jumblers and hot and cold refreshments available. The event is sponsored by The Woods Brewery and all proceeds go to Wistanstow Primary School.
Admission:
£3 on the day per person. Free Parking.

Event: Sunbeam MCC Pioneer Run
When? Sunday 19th March
Where?
Starts: Tottenham Corner, Epsom, Surry @ 8am
Finishes: Madeira Drive, Brighton, Sussex from 10am
What's on?
London to Brighton run for pre-1915 motorcycles.
Price on the day for paddock entry is £3
Free to just visit the event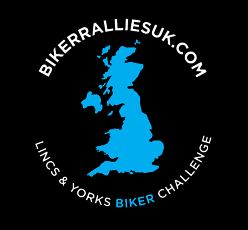 Event: The Book and the Bell – 2017 Summer Challenge
When? Friday 24th March – Tuesday 31st August
Where? The start and finish is wherever it suits you in England, Scotland and/or Wales
What's on?
Take in the fantastic countryside, see sights you might otherwise miss and ride great roads to suit all tastes. Plan your journeys for the summer and visit up to 95 places across the mainland UK and stack up your points. Choose to visit as many, or as few places as you want and design your own route from a list of places supplied…there are plenty of options to suit all rides!
Join other motorcyclists around the country in this challenge and raise money for your favourite charity. Certificates are provided to show completion. Whatever you ride, have a fantastic summer o great roads.
Admission:
£29 Rider, £15 pillion. Included in the price is an event t-shirt.
Event: Charity Auto-Jumble
When? Saturday 25th March
Where? Willoughby Village Hall, 19 Lower Street, Rugby, Warwickshire CV23 8BX (just off the A45 south of Rugby)
What's on?
This charity motorcycle jumble is organised by the REOC Mid-Shires branch and supports 'Hope against cancer' charity. Donations for the charity table are welcome. Refreshments will be available.
Opening hours:
From 9am to sellers
10am to 4pm to public
Admission:
Sellers £5 plus a donation for the charity table. Public £2 (includes a free cuppa tee/coffee.)
Email: jd.btsdf@gmail.com for more information.
Event: Lincoln Autojumble
When? Saturday 25th March
Where? Near Caenby Corner at the junction of the A15 and A631 and only 10 miles from the M180, DN21 5TJ
What's on?
This is a large autojumble for cars, motorcycles, lorries, tractors, machinery and tools.
Opening hours:
From 6.30am to sellers and 8am to 12.30pm to public
Admission:
Free
Parking:
£2 per car
Event: The Manchester Bike Show/Northern Classic Bike Show
When? Saturday 25th – 26th March
Where? Event City, Manchester, M41 7TB
What's on?
Back for its 6th year, giving the motorcycling community in the North-West a major indoor motorcycle show to be proud of…and in March, with the anticipation of a good summer to follow.
The event has various zones covering over 22,000sqm of space, making it the largest indoor motorcycle show in the North of England. Attending will be a large variety of exhibitors and traders including Ducati, Honda, Indian, Kawasaki, Yamaha, Victory, Moto Guzzi, Benelli, Herald, Bimota, Suzuki and Triumph, local and national dealers, clothing and helmets, parts and accessories, touring holiday companies and many others.
Also, see hundreds of rare, exotic, modern, classic, custom and Streetfighter machines from clubs and private individuals, music and entertainment, stunt shows, DJs, special guest stars and much more.
Admission (on the door):
Adult £17
Seniors £15
Child (5-14 years old) £4
Under 7s free
*Discounts available for pre-booking
Event: Haggs March Moto Madness UK
When? Friday 31st March – Monday 3rd April
Where? Haggs Bank Bunkhouse and Campsite, Nentsberry, Alston, Cumbria, CA9 3LH
What's on?
Be part of the world's largest adventure riding rally if Haggs bank up in the stunning North Pennines, where you can have a great time knowing you are part of a worldwide event.
With road ride-outs, big bike off-road trials, beginner's off-road trials, silly bike riding competition, good food, local beers, music, fire pits and meet ups with like-minded folk, along with world travellers who can offer advice and inspiration.
Admission:
£10 entry, plus camping or bunkhouse. Must be pre-booked by 21st March as price includes some meals.  £45 camping, £65 bunkhouse. Both options include 2 nights' accommodation, meals on Friday and Saturday night and a t-shirt.
We hope there's something in the mix that floats your boat! Have we missed an event off? If so then please comment below and we'll be sure to include it for you.