Spring is officially here, and we're certainly looking forward to some warmer days! It's the perfect time to dust off the bike and get involved in some great charity events, ride outs and other upcoming events. Find out what's happening near you now! 
Moorlanders MCC'S Egg Run 
Sunday 1st April 
On the 1st April, the Moorlanders MCC will celebrate their 20th Egg Run and over the years they've raised almost £35,000 for charity.
All bikers are welcome to join the Moorlanders MCC, with all the fun beginning at Davidstow airfield, the route is not made public before the event however it is fully marshalled.
Riders will receive a keyring souvenir and a meal voucher for a free burger at the end of the ride out. All monies raised are donated to their local children's charities including; Action for Children, Little Harbour (CHSW), the learning support units of Camelford and St Stephens, Launceston primary schools and Bowden Derra care home.
If you'd like to take part in the Egg Run then it's £5 per bike and an Easter Egg to donate.
Where? Cornwall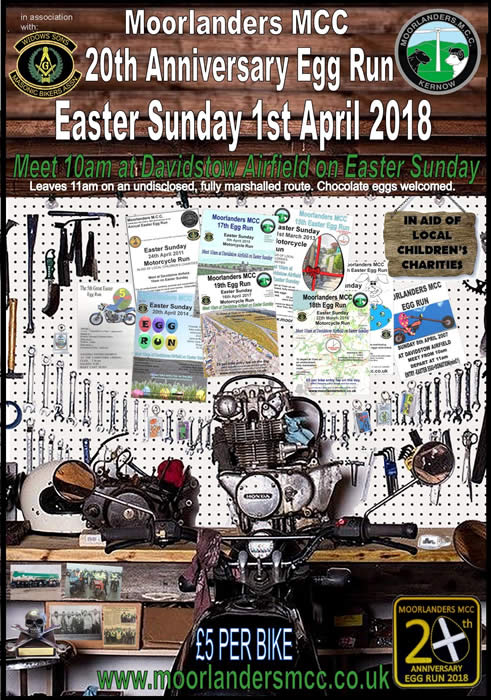 Ashford Classic Motorcycle Show & Bikejumble
Monday 2nd April 
Looking for something to do over the Easter bank holiday weekend? Why not pop down to Ashford for the Classic Motorcycle Show and Bikejumble.
The day will host a wide collection of classic motorcycles that will be on display for your viewing. Not only that, the bikejumble will be open so if you're in the market for some new parts then it's the perfect time to check it out!
The gates open at 10am, and it costs just £6 for adults with kids under 16 going free.
Where? Kent
Kickback Motorcycle Show
Saturday 7th – Sunday 8th April 
Love custom and modified machines? It's time to book a ticket to Kickback! This independent exhibition showcases the finest contemporary and modified classic machines from all over the UK.
There will be a showcase of the latest contemporary shed builds from young, emerging to experienced engineers. Thinking about entering? You can download your entry form here from one of the following 2018 categories; freestyle, young build of the year, modified classic, best modified Triumph, cafe racer style, modified superbike and old school chopper/ bobber.
Not only that, there's a range of trade stalls, a giant indoor shed jumble, vintage biker movies and plenty of food and drink on offer too!
Tickets are £12.
Where? Stoneleigh Park
MCN Scottish Motorcycle Show
Saturday 7th – Sunday 8th April 
No plans for the weekend?  Take a visit to the MCN Scottish Motorcycle Show. After the freak heavy snow storms at the beginning of March, the show was postponed until April – hopefully with some better weather!
Scotland's biggest motorcycle show takes place at Edinburgh's Royal Highland Centre with all the major motorbike manufacturer's displaying their newest models, plenty on offer at the autojumble and lots of live bike action too!
Love classic bikes? You'll find Scotland's biggest collection of motorbikes on displays spanning over an incredible 80 years.
Where? Royal Highland Centre, Edinburgh 
Bugsplatz MCC Open Day and Bike Show
Saturday 7th April 
Come and find out what Bugsplatz MCC is really all about on their annual open day and bike show this month! It costs just £1 per person but you're promised a great day full of fun with likeminded bikers.
Bring along your pride and joy to enter in their competition, categories include; Best Bike in Show, Best Japanese Bike, Best Classic Bike and Best Race Bike.
All the fun starts at 10.30am with live bands during the day.
Location? Telford
Surrey Harley Boot Sale
Sunday 8th April
Beakys Motorcycles welcome you to their Surrey Harley Boot Sale this month!
With an early opening time of 8am, you'll be able to fill your day with the wonders of the Harley Boot Sale.
Got stuff to sell? Pitches cost just £25 and you can set up from 6am. There is also a food van on site for the whole day.
Entry only costs £3.
Where? Surrey 
'Normous Newark Autojumble 
Sunday 8th April 
Still looking for that specific part? In the market for some new gear? Head down to the Normous Newark Autojumble and you'll be sure to find everything you're looking for. With thousands of stalls and trade stands in one place, there's
Make sure you pick up your free copy of the trade newspaper at the gate on your way in so you can find out exactly what's happening in the autojumble world.
Don't forget if you're an early bird then you can get admission before 8am for £10, but standard admission starts from 10am at just £7. Children and dogs go free.
Where? Newark Showground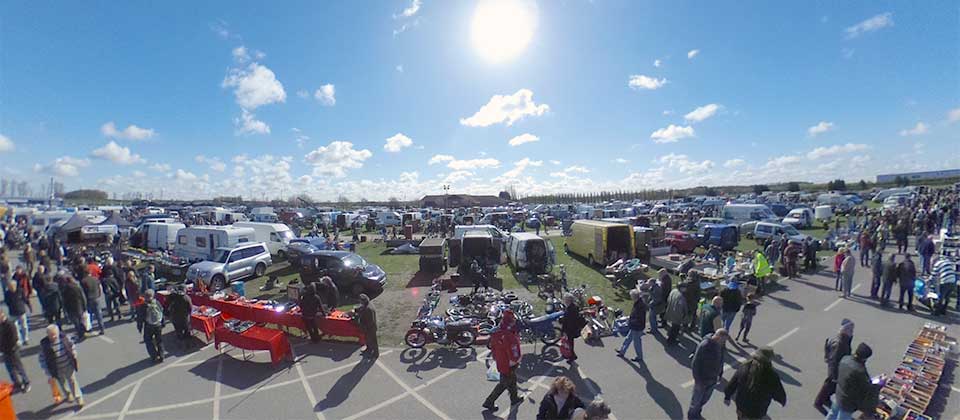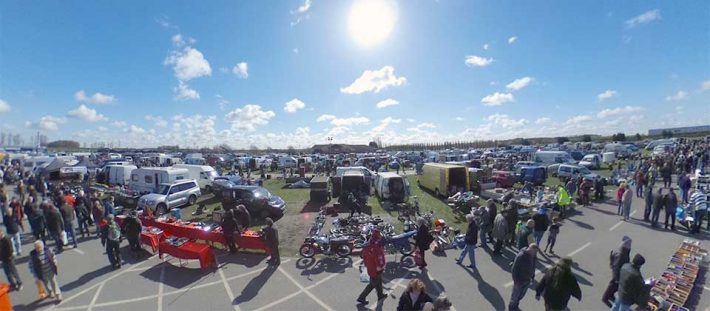 Ink & Iron Tattoo and Custom Show 
Sunday 8th April 
If you're a big fan of tattoos and motorbikes then the Ink & Iron show is the one for you. The one day show is happening in Birmingham this April and tickets are only £15 (if pre-booked).
The 2018 show promises a day you won't forget including an incredible custom show with categories including: Custom bike, scooter, truck/commercial, car and hotrod. There's £200 and a trophy for 1st prize and £100 for whoever comes in 2nd place. If you fancy entering then make sure you do it before the show!
Other features of the day include paint and pressure graffiti artists with 10 of the best local graffiti artists will be battling it out for a mystery prize. The Light and Dark exhibition is back too!
Where? Birmingham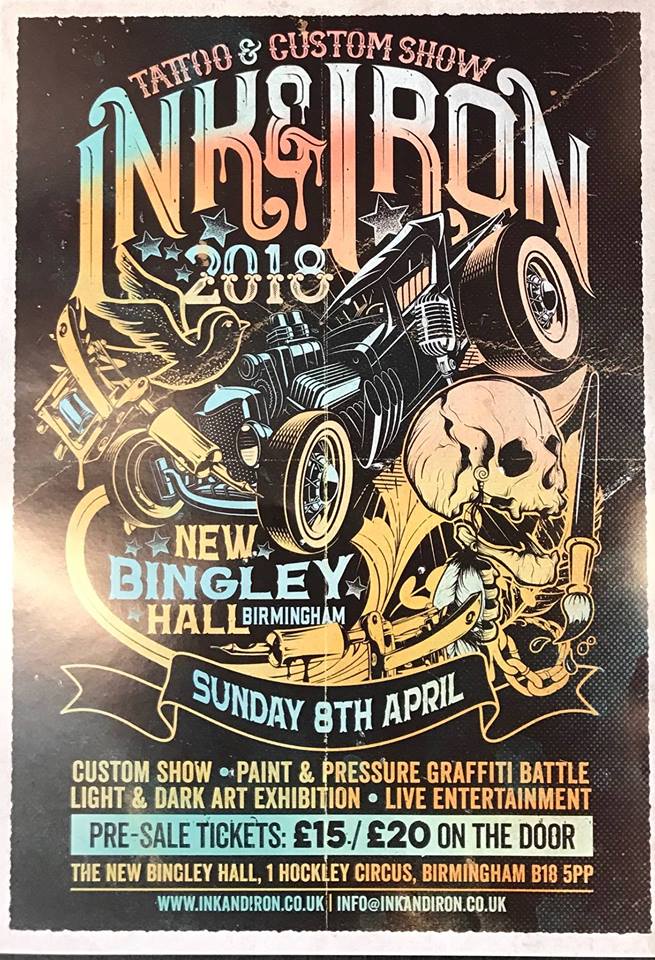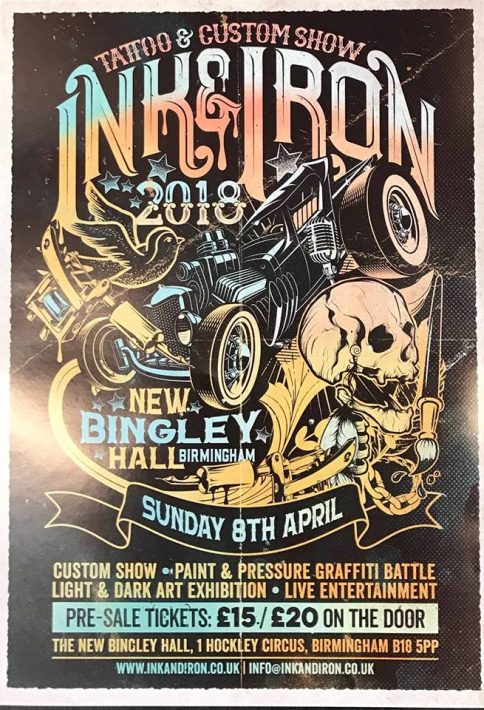 MotoGP, Round 2
Sunday 8th April
After a thrilling opening round in Qatar, the MotoGP squad are heading to Argentina for the next battle. Can Marquez keep hold of his title?
Where? Argentina
British Superbike Championship, Round 2 
Friday 13th – Sunday 15th April 
The second round of the British Superbike Championship 2018 is here! Head down to Brands Hatch for an epic weekend of racing on the Indy circuit – you won't be disappointed.
Where? Brands Hatch 
World Superbike Championship, Round 3 
Friday 13th – Sunday 15th April
With the World Superbikes heading into their third round of the championship, it's been an interesting series so far!
All the teams are facing the Pirelli Aragon round now…
Where? Spain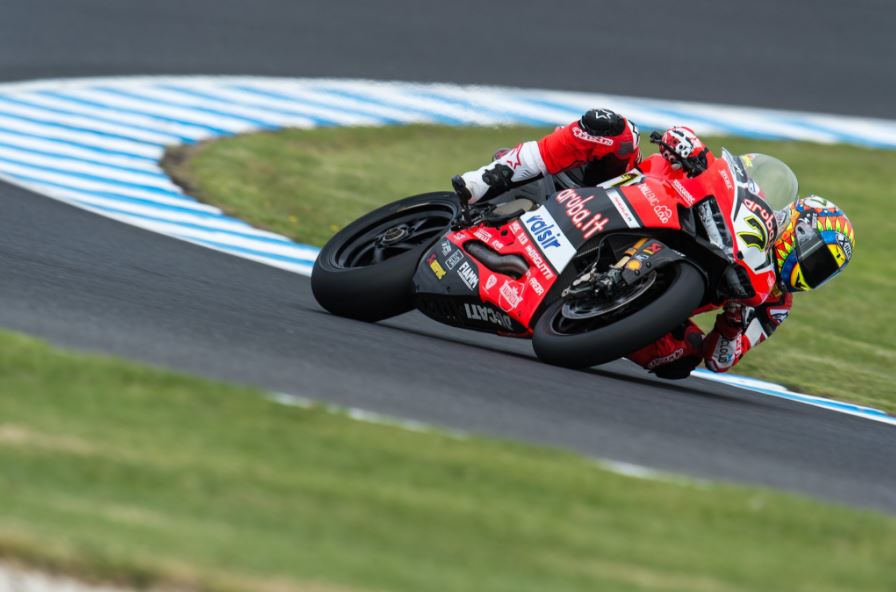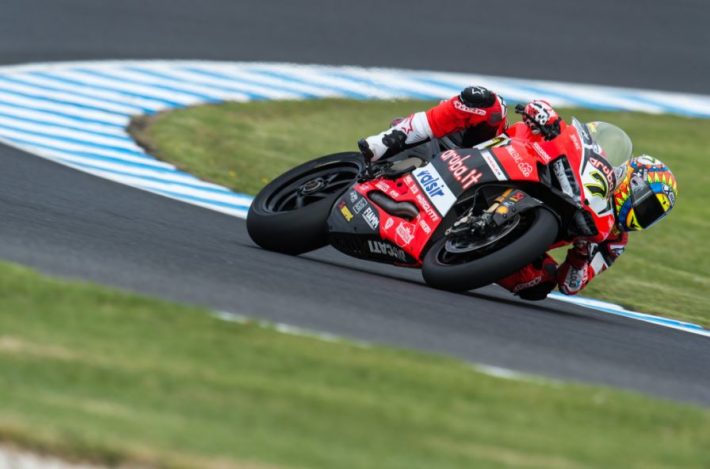 Prescott Bikefest
Saturday 14th – Sunday 15th April
*NOTE – THIS EVENT HAS BEEN POSTPONED UNTIL JUNE DUE TO ADVERSE WEATHER CONDITIONS*
If you're a bike fan, or even if you're not, there's a jam-packed weekend of fun to be had the Prescott Bikefest.
Saturday is all about being electric – from the cars to the bikes, and there's also a Gin Fest going on too! Fancy taking part in a treasure hunt with a twist? There's some top prizes to be won.
Sunday promises a day of ultimate engineering excellence with loads of track action, paddock specials, run the hill and lots of special guests too. There will also be a trader zone, kids zone and entertainment zone – there's no chance of anyone getting bored!
This is a family friendly event so bring the kids!
Where? Cheltenham 
The International Classic Motorcycle Show 
Saturday 21st – Sunday 22nd April 
The very best of classic motorcycling will be back under one roof for one weekend only. Hosted at Staffordshire Country Showground there will be rows and rows of some of the finest machines known to man. You'll be able to view them at your very own leisure, and there will also be trade stands and autojumbles too.
Special guests will be attending over the weekend too!
Where? Staffordshire Country Showground 
MotoGP, Round 3 
Sunday 22nd April
All eyes on the Red Bull Grand Prix of The Americas this weekend for the third round of the MotoGP Championship.
Where? USA
World Superbike Championship, Round 4
Friday 20th – Sunday 22nd April 
Another round of the World Superbike Championship is upon us, and this time it's the Dutch round.
Where? Holland 
Fat Skeleton Blues and Bikes Weekend
Friday 20th – Sunday 22nd April 
Looking for a great weekend away? Book your tickets for the Fat Skeleton Blues and Bikes weekend now! The festival promises a brilliant weekend with some of the biggest blues and rock acts across two stages.
The festival has been set up to raise money for the national youthbike charity.
The site has everything you need for a weekend of camping including fire pits, camping areas, toilet facilities, food and beverage suppliers.
Where? Lincolnshire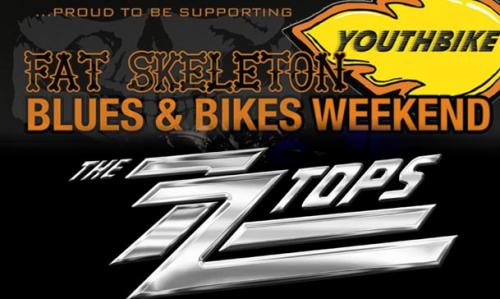 Spada Spring Cup @ Oliver's Mount
Friday 20th – Sunday 22nd April
This event has been postponed until further notice. 
The road racing season officially starts in April with the first Oliver's Mount race. The Spada Spring Cup will see the likes of Dean Harrison and Ivan Lintin warming up their tyres for the first time this year.
Tickets are now on sale!
Where? Scarborough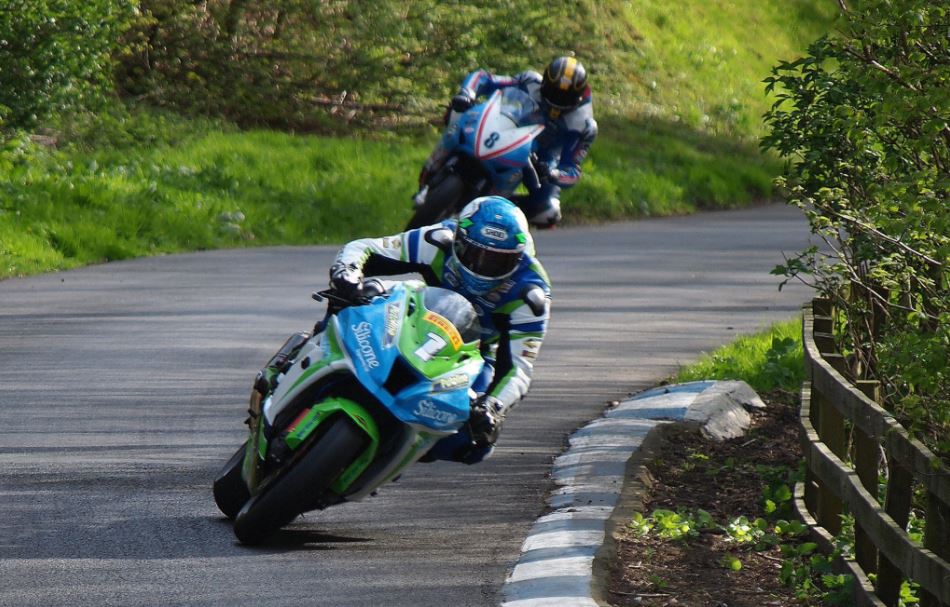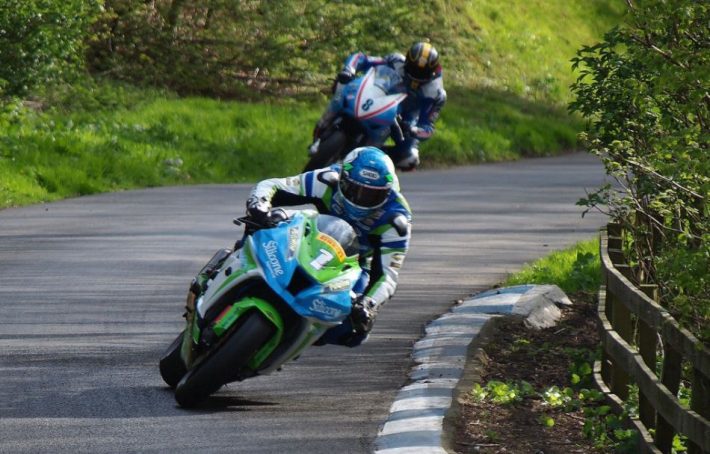 Action on Addiction 4 Supporting Clouds House 
Sunday 22nd April 
The 4th charity motorcycle run for Action on Addiction is back this year supporting Clouds House.
The run will taken place from Weymouth to West Bay, with a short pit stop, then heading off to the final leg to Exmouth. Pink is the colour them for the ride, so dress yourself and your bike to stand out from the crowd.
It's only a £5 donation per bike and all monies to go charity.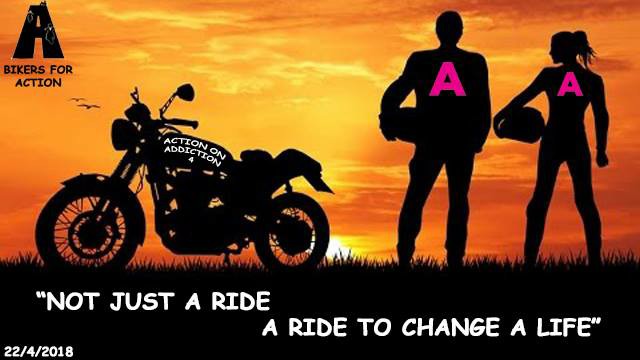 Where? Dorset
Bum in the Mud
Friday 27th – Sunday 29th April
Tickets are now on sale for Bum in the Mud 2018! If you're based in Essex or the surrounding areas then you want to head down for a great weekend.
There's plenty of bikes, bands and booze with two stages dedicated to some of the best biker music on the scene right now. All you need to do is book your tickets, turn up and have a great time.
Where? Essex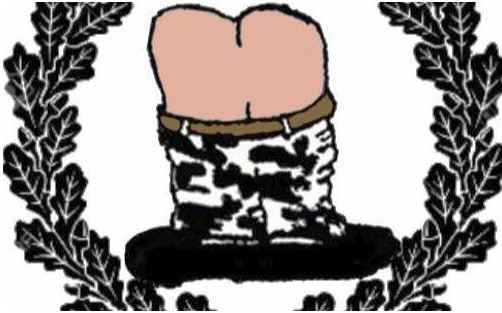 Make A Difference Charity Rally
Friday 27th – Sunday 29th April
The Make A Difference (M.A.D) Charity Rally takes place at the end of April with the purpose of raising money for Help For Heroes and Blood Bikers.
The weekend promises great entertainment, lots of live bands and a DJ, trade stalls and even a tattooist!
For just £15, you gain entrance to the event, rally patch, camping and a weekend of brilliant entertainment.
Please note that all tickets must be pre-booked!
Find out more information about the event via the Facebook page.
Where? Selby 
What event are you attending this April? Share them in the comments below!