The biggest, baddest most expensive Multistrada ever gets Panigale V4 engine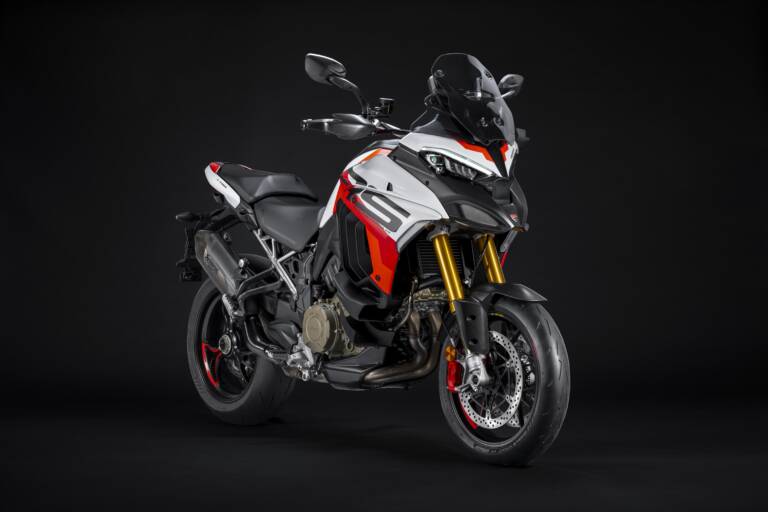 A fiver off £32k is a lot of money for any bike. Paying that sum for an adventure tourer, rather than a one-off homologation superbike seems wild. But that's just what Ducati wants you to do with the new Ducati Multistrada V4 RS.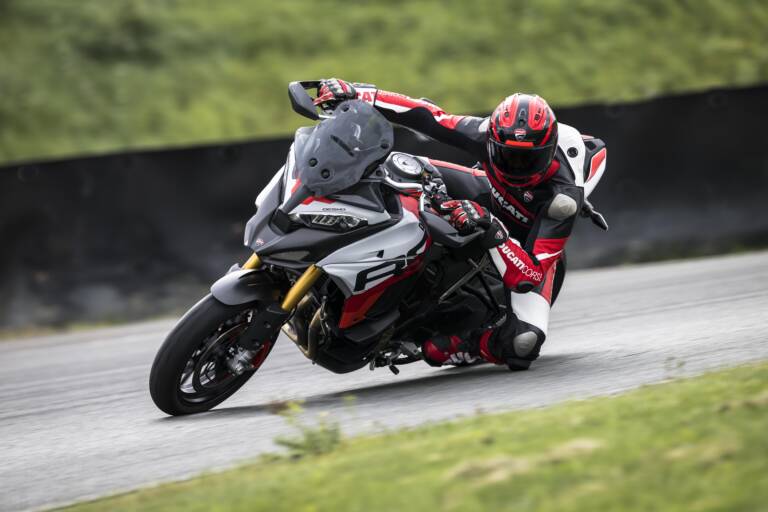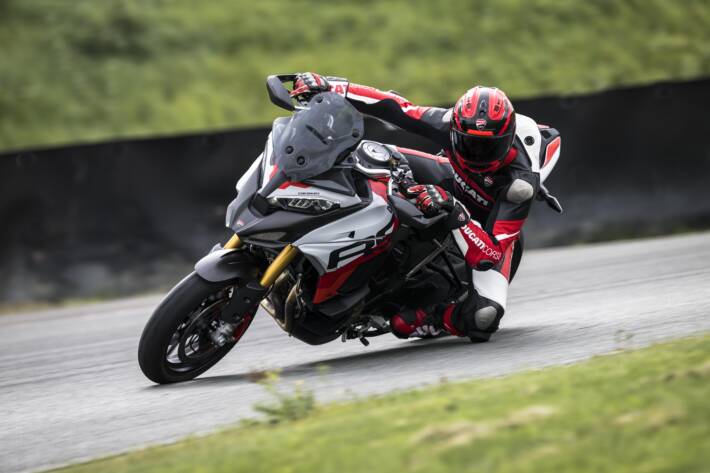 Of course, this is no normal adventure tourer. The Bologna firm has clearly seen BMW's upstart M1000 XR super-ADV prototype, and decided to get in on the action. So it's given its excellent Multistrada V4 a proper superbike motor out of the Panigale V4, single-sided rear swingarm, and chi-chi chassis jewellery like a fabricated titanium rear subframe and forged rims.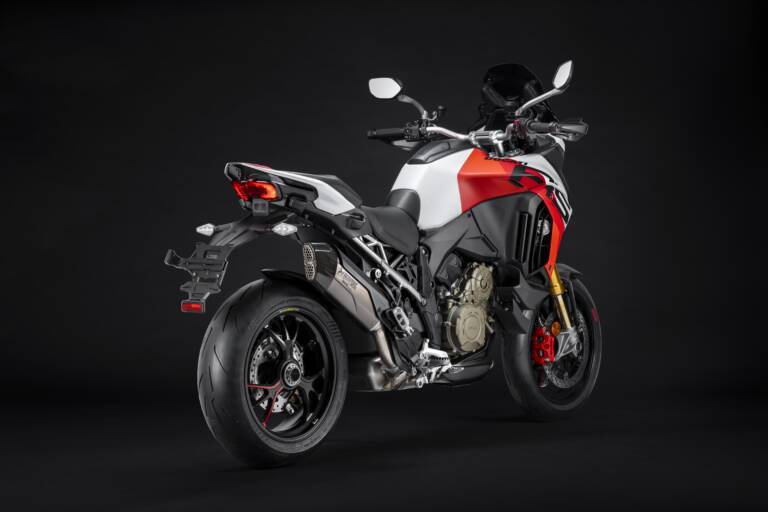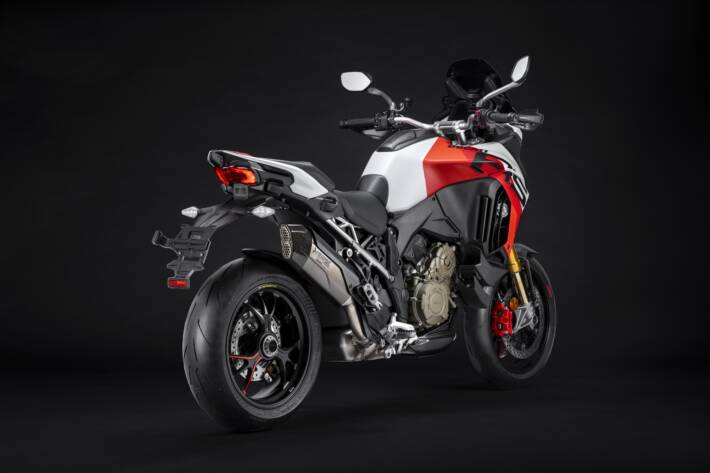 The result is the new Multistrada V4 RS: a 180bhp 211kg racebike on stilts, which ratchets up the arms race in this most popular class of bikes even higher.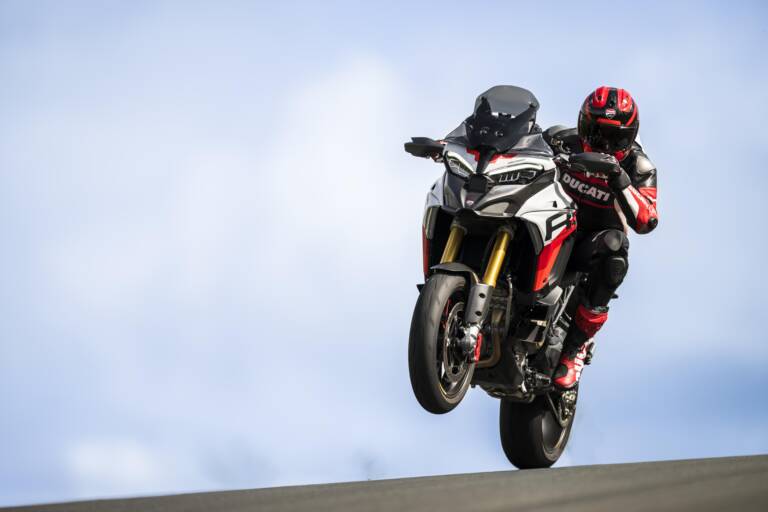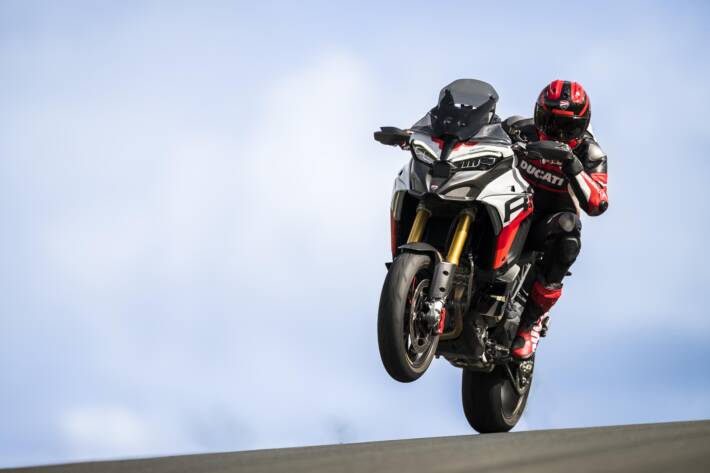 Starting with the engine, it's got a 'proper' desmodromic version of the firm's 1,103cc V4 motor rather than the 1,158cc GT touring derivative with valve springs used on the standard and Pikes Peak Multistrada V4S.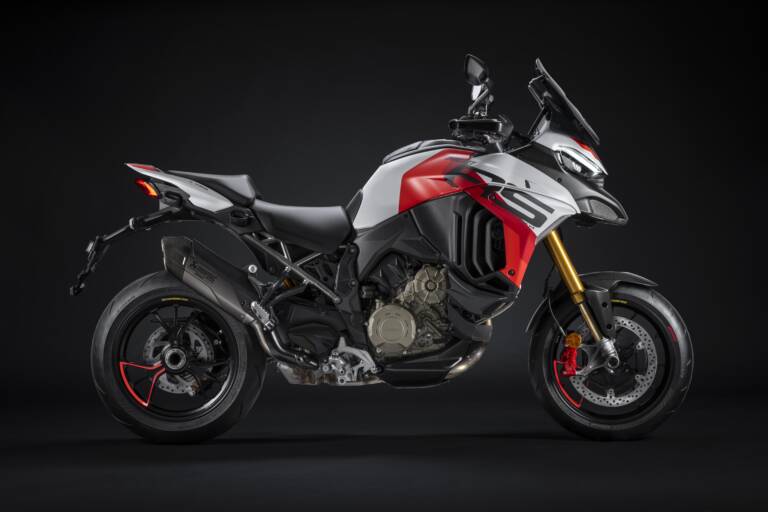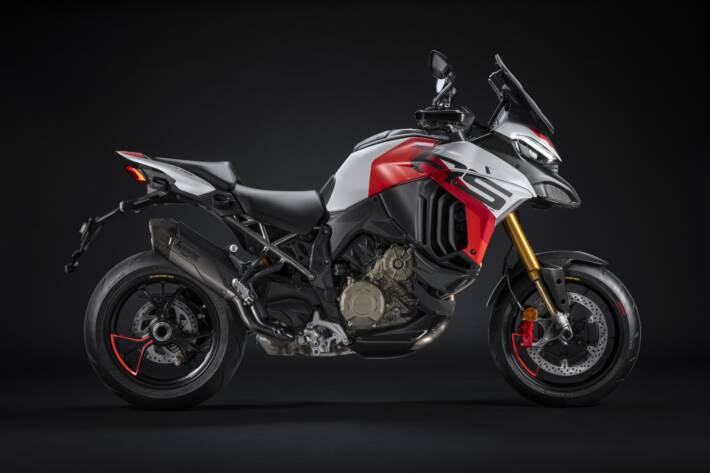 It's based on the Desmosedici Stradale engine from the Panigale V4, complete with dry clutch and 1,103cc capacity. It's been retuned from the 215bhp of the superbike, down to 180bhp, which is 10bhp more than the stock V4, with a gruntier delivery and a 13,500rpm redline.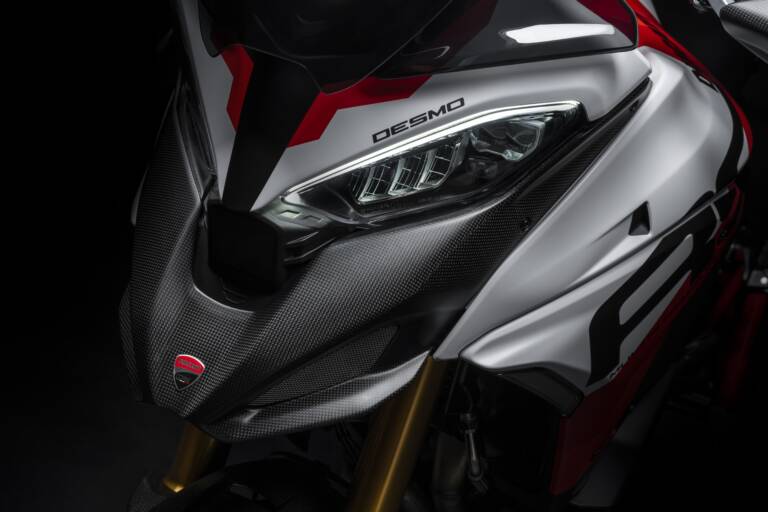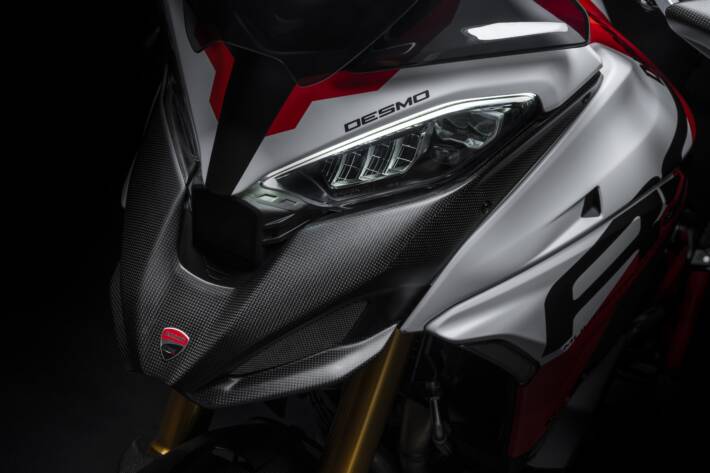 Final drive gearing is lowered but the gearbox ratios stay the same, and it keeps the rear cylinder activation system pioneered by Ducati to cut heat transfer to the rider and pillion in traffic. The desmo motor needs more regular valve checks than the GT variant, but the intervals are still a decent 30,000km.
The electronics package combines superbike performance riding aids like cornering traction control and ABS, wheelie and launch control, engine brake control and up/down quickshifter plus riding power modes, with touring aids such as radar-assisted cruise control and blind spot detection.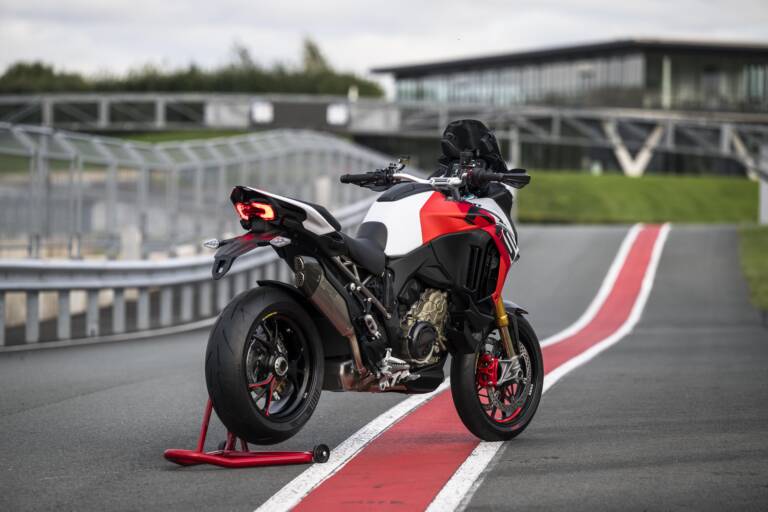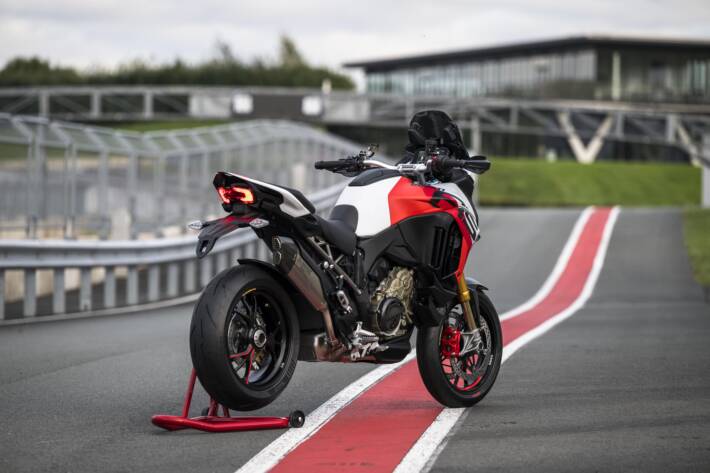 The Multistrada RS also has Öhlins electronic EC 2.0 suspension front and rear, and the operation of these semi-active units is also integrated into the electronics package.
It's all operated via a massive 6.5" TFT colour dashboard, with extensive backlit switchgear, and of course full smartphone integration, with a ventilated charging compartment for your Apple or Android unit. Ducati also says all the settings for the riding aids have been completely revamped for the RS.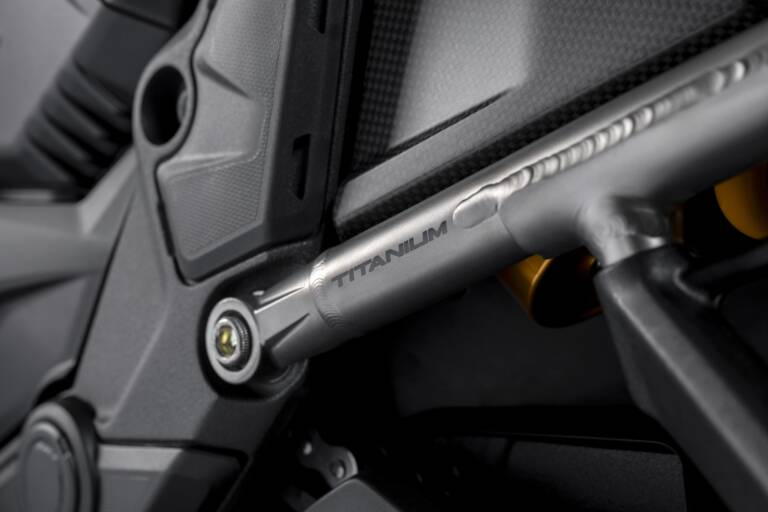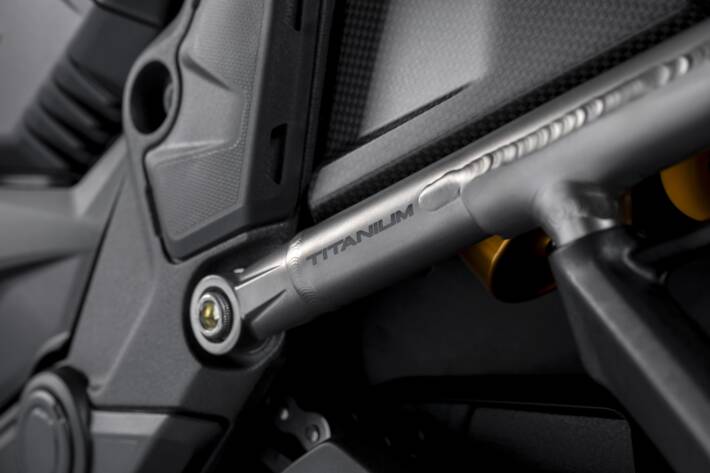 On the chassis front, we have the Öhlins Smart EC 2.0 suspension front and rear as mentioned, and a new monocoque aluminium frame, which has sportier geometry compared with the base Multistrada.
There's a 17-inch front wheel rather than a 19 or 21-incher seen on more off-road focused ADV machines, and both rims are forged aluminium Marchesinis. Those save 2.7kg over the standard V4 S wheels, and wear Pirelli Diablo Rosso IV Corsa sporty road rubber. The brakes come from the Panigale: 330mm front discs with Brembo Stylema four-piston radial mount calipers, finished in red.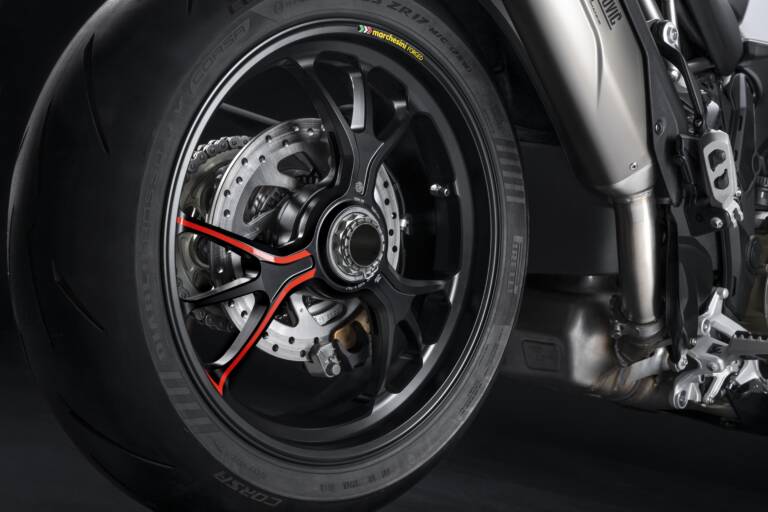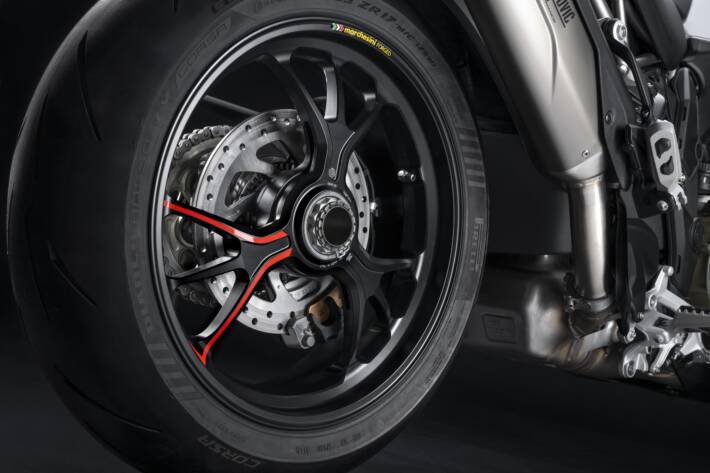 The single-sided swingarm is a super-trick aluminium part, and looks great, but probably added a bit of weight compared with a dual-sided arm. Ducati's dumped a load of mass elsewhere though, with that saucy titanium rear subframe (complete with 'TITANIUM' logo so people know the score) which saves 2.5kg and full carbon bodywork: front beak, hand guards, heat shields and front mudguard.
There's also a lightweight lithium 12v battery, and a special Akrapovic silencer.
It's an awesome-looking piece of kit – as it should be for the price of £31,995. It's a limited edition build though, and each one will have a numbered plaque – we imagine you'll not lose too much cash in depreciation. It will go on sale in January, more info at www.ducati.com