High-spec version of V4 adventure tourer is big on tech and big on size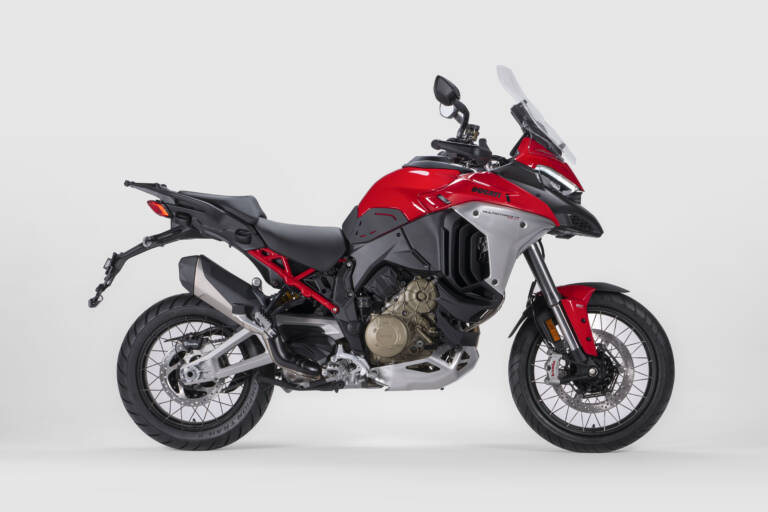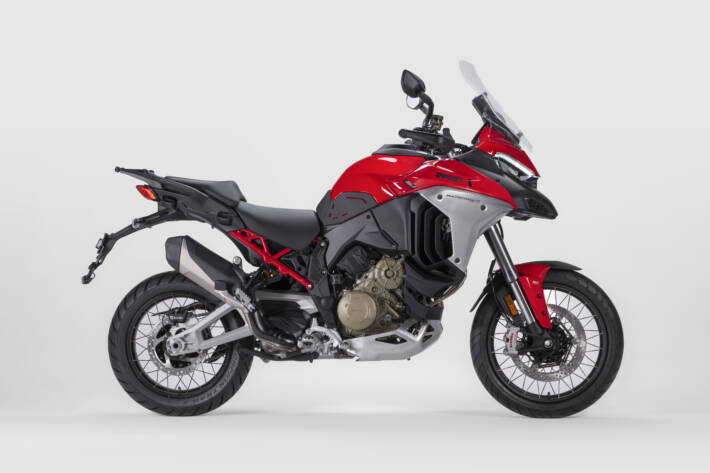 Ever since Ducati replaced the big 1260 V-twin Multistrada range with its new V-four powered machines, we've been waiting on a replacement for the hardcore Enduro 1260 Multistrada. That bike was the answer to the likes of BMW's R1200 GS Adventure, adding a bigger tank, more offroad chops and extreme styling to the basic adventure touring package. The 1260 Enduro had a dual-sided swingarm, chunky wire-spoked rims and an enormous 30 litre fuel tank, and was a serious bit of kit.
Now though, we've got the V4 version – the new Ducati Multistrada V4 Rally. It's based on the existing Multistrada V4S, but with some serious re-engineering for the more adventurous role. Like the 1260, you get a 30 litre (6.6 imp gal) fuel tank – enough to touch 300 miles at 45mpg, and there's also a tougher dual-sided swingarm replacing the standard single-sided arm. But the 1,158cc non-desmo Granturismo V4 V-four engine is more powerful than the twin – putting out 170bhp – and also has lower maintenance intervals, needing oil every 15,000km and valve servicing a wild 60,000km apart.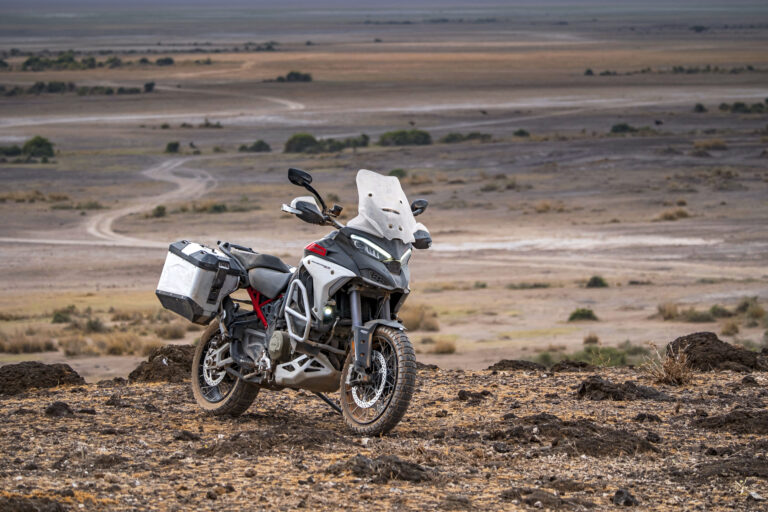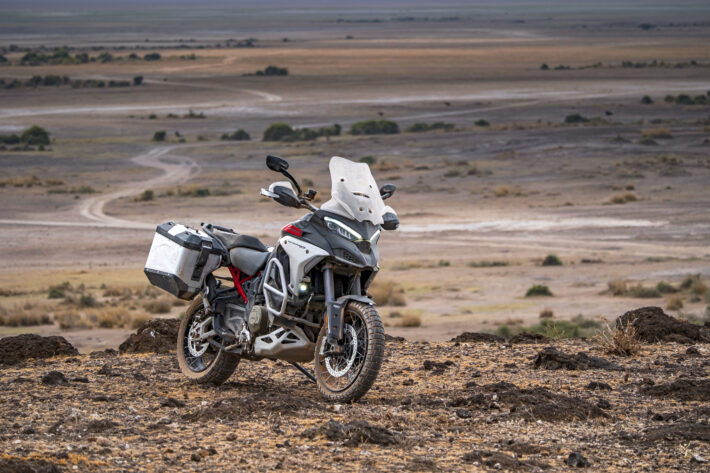 The new engine also features an advanced cylinder-de-activation program, which not only turns off the rear two cylinders when idling at rest, but can also turn them off when cruising under light loads. That's a first on a bike, but common in the car world, and another area where Ducati's Audi owners have no doubt been helping out. Turning off the rear cylinders when not needed improves fuel consumption and cuts emissions, as well as reducing the heat output from the engine, adding to rider and pillion comfort.
Speaking of rider and pillion comfort, the new Rally gives both more space: a new rear subframe sits the passenger further back, while the windscreen is wider and taller. Luggage mounts are also repositioned, giving more leg room to the pillion, and a range of optional lowered seats let even short Ducatisti enjoy the new Rally experience.
Ducati's fitted its own DSS Ducati Skyhook Suspension, a semi-active fork and shock setup with electronic adjustment. That allows constant adjustment to suit the riding modes dialled-in, but also allows some clever tricks, like automatically lowering the bike at rest to help the rider touch the ground. There's also an Easy Lift function, which stiffens the damping when the bike turns on, so it's easier to heave the bike off the sidestand.
You'll need some help here unless you've been working out mind: the new Rally weighs in at 260kg wet, a hefty beastie indeed. Wheels are fully tubeless wire-spoked rims, with a 19" front rim, and 17" rear, fitted with Pirelli Scorpion Trail II rubber, while the brakes use the excellent Brembo Stylema four-piston calipers up front.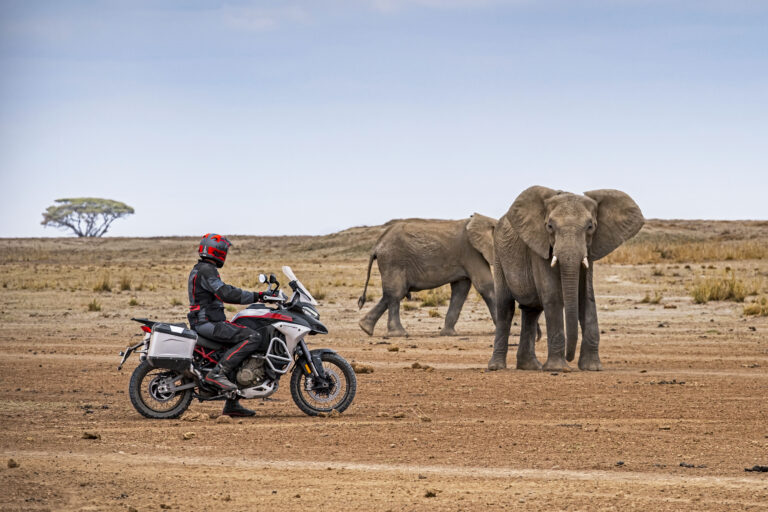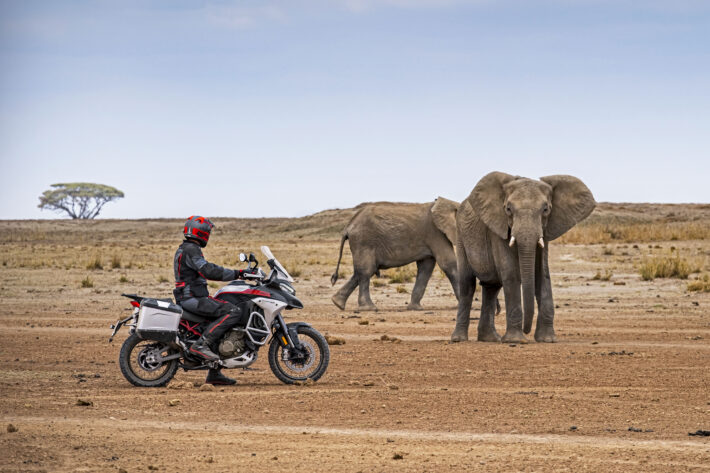 Ducati's electronics packages are amongst the best around today, and the Rally doesn't miss out. It has full IMU-assisted traction and ABS programmes, with integrated electronic suspension adjustment, as well as a up/down quickshifter, engine brake control, engine cylinder de-activation, radar-assisted cruise control, hands-free phone link, full LED lighting, and much more.
The big downside apart from the weight is, of course, the price, which starts at £23,590, rising to £27,140 for the Full Adventure version with luggage, heated grips and seat, carbon fender and Akrapovic can. More info: www.ducati.com