Hardcore offroad rally variant of the Ténéré 700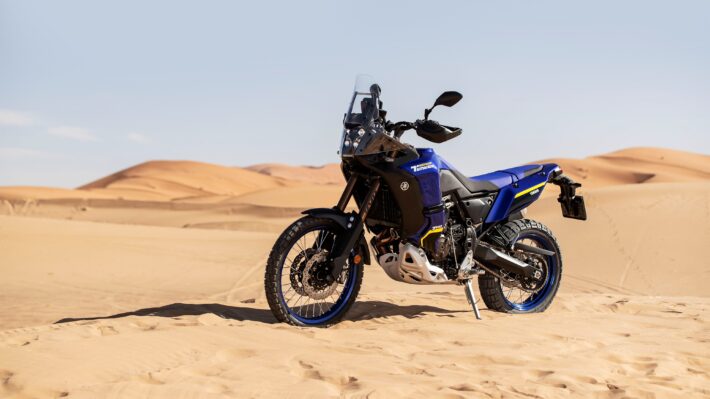 This bike was well-trailed before Christmas, with a prototype displayed at the Milan bike show, and nearly-production-ready machinery shown off online. And here it is – the 2022 Yamaha Ténéré 700 World Raid. It takes the basis of the standard 700 Ténéré – the parallel twin engine and steel tube frame, but turns the off-road kit up to eleven, with a gigantic new 23 litre fuel tank, long-travel suspension, Öhlins steering damper, new 5" colour LCD dash and much more.
The fuel tank is pretty interesting (bear with us here…). It is a double-tank layout, with twin fillers, so it can be located much lower down on the bike, sitting either side of the frame and engine rather than on top, as a conventional single tank would need to do. It cuts fuel 'sloshing' around, which can be destabilising on a big single tank and helps centralise and lower mass too.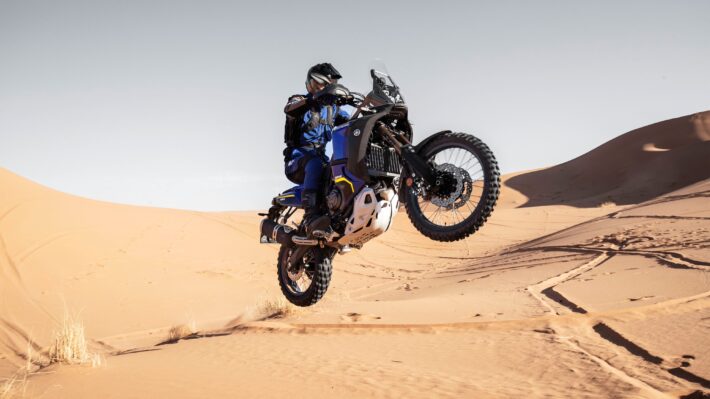 Most importantly, the twin caps give sweet hardcore rally styling, rather than a dull, commuter-bike single cap… The 23 litre capacity gives a range of around 310 miles, which is a lot of commutes from Surrey into London.
The new 43mm USD KYB front fork has a mighty 230mm of travel – 20mm more than the Ténéré, and have new lightweight internals, a tough bronze outer coating and full adjustability. The rear suspension is similarly-specced, with 220mm travel from the piggyback KYB shock, 20mm more than the Ténéré again and also fully adjustable.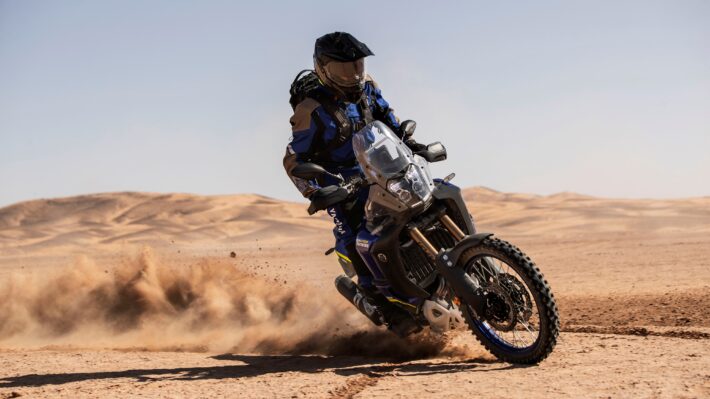 The new 5" colour dashboard has three display modes: Explorer, Street and Raid, with different layouts for each mode. It has full Bluetooth connectivity to the Yamaha app on your smartphone, and has a USB charging socket built into the dash.
Yamaha's specced a three-way adjustable and switchable ABS, for ultimate offroad performance. Mode 1 is standard road mode, Mode 2 turns off the rear channel, and Mode 3 is full off for proper dirt experts.
The standard Ténéré engine is unchanged, apart from a modified airbox to better cope with dusty and dirty offroad conditions. It keeps the 270° crankshaft layout for torquey power delivery, and is protected by a new three-piece aluminium engine guard and die-cast engine support. The windscreen is taller and more protective, and there are new quick-release side deflectors and LED indicators.
The new World Raid will cost £11,600 on the road, and will be in the shops around May this year. More info: www.yamaha-motor.eu/gb/en/#/
TECH HIGHLIGHTS
23 litre capacity dual side-mounted fuel tanks
Flat Rally inspired two-piece seat
5" colour TFT meter with mobile notification connectivity
USB type A
3-mode switchable ABS
High specification 43 mm KYB front forks, 230 mm travel
Öhlins adjustable steering damper
Aluminium piggyback rear shock, 220 mm wheel travel
High windscreen, easy to remove side deflectors and LED flashers
Fully new cockpit area and new front cowling
New larger rider footrests with easy-to-remove rubber inserts
3-piece aluminium engine guard
New aluminium die-cast engine support
New radiator grille