Lexmoto ZSX 125 Bike Overview
Lexmoto marketed the ZSX 125 as the bike which 'sets the standard of Chinese motorcycles' and it certainly appears to be the case that the ZSX 125 has many improvements and additions over previous Lexmoto models.  The single-cylinder, four stroke engine does pretty much what you would expect from a 125 and is the ideal starter bike or for those who only want to take short journeys around town.  It offers a decent level of grunt but isn't really up to par against more expensive bikes in this range.
One area in which the Lexmoto ZSX 125 finally seems to be catching up is in terms of the specifications.  Most Lexmoto bikes were wheels, frame and seat but the ZSX 125 comes equipped with modern additions such as alloy wheels and part-LCD operating systems.  The bike has also been given a stylish design and looks fairly contemporary and up to date.
For a 125 bike it's a little on the heavy side although it handles corners well and the suspension and brakes are pretty sufficient.  As with all Lexmoto models however, the real selling point is the price.  The ZSX 125 is at the more expensive end of the Lexmoto range coming in at £1499 for a new bike.  Considering that this is £1000 less than its main Japanese competitors, this is not something to be snickered at.  For that £1000 you could easily change up the tyres, adjust the brakes and buy any number of additions to bring the bike up to the specification you would like and still walk away with pocket change.
Check out the Lexmoto ZSX 125 in action…
Lexmoto ZSX 125 Bike Spec
Capacity

125cc

Weight

125kg

Top speed

69mph

Seat height

780mm

Engine

Single cylinder, four stroke, air cooled
Lexmoto ZSX 125 Bike Insurance
Lexmoto ZSX 125 Bike Gallery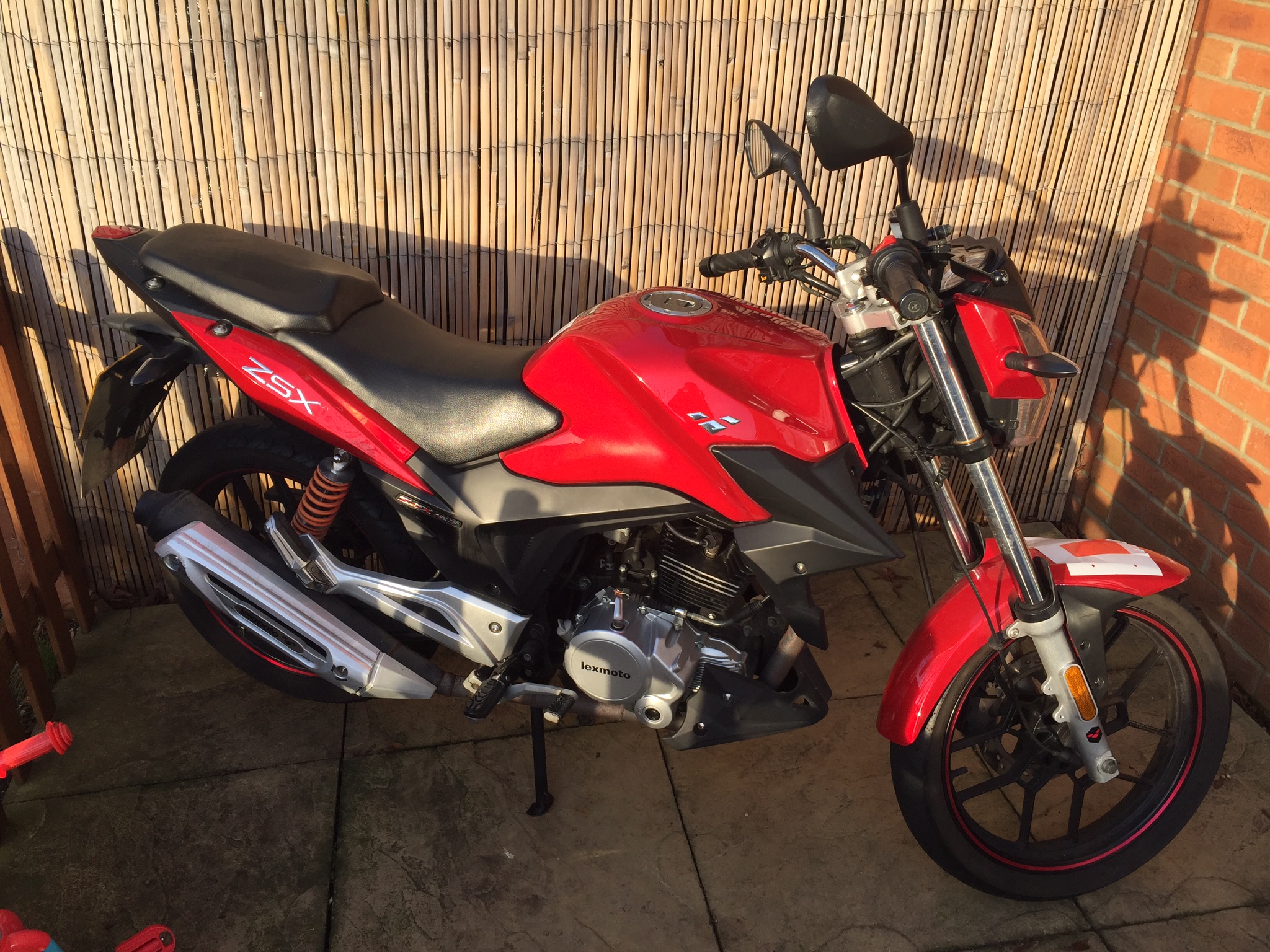 Owner Reviews
Pros
Easy to learn on for new beginners
Cons
When it reaches 50 mph it seems to start struggling have the power to go faster if your in a National speed limit cars seem to get frustrated with the speed.
Read More
Comfort5 out of 5 stars
Very comfortable
Build Quality5 out of 5 stars
If you keep on top of the maintenance then it will last
Brake5 out of 5 stars
Does what they are meant to do
Ride Quality5 out of 5 stars
Seem a good quality for the price
Engine4 out of 5 stars
It's a 125 can be a little slow but it's designed for learners in mind
Running Cost5 out of 5 stars
The running costs are very good especially the fuel.
Pros
The look and the exhaust.
Cons
The electronics could be better on the lexmotos.
Read More
Comfort5 out of 5 stars
So smooth
Build Quality5 out of 5 stars
I would have to say the electronics on the lexmoto models are particularly at fault some times.
Brake5 out of 5 stars
Can't fault them one bit!!
Ride Quality5 out of 5 stars
Handles them superbly
Engine5 out of 5 stars
Very! Sounds great also and moves quick!
Running Cost5 out of 5 stars
£12 full tank lasts a week considering how much traveled.
Pros
Having the freedom to travel where I want when I want. (Excluding motorways as I've only got a CBT not full licence.... yet)
Cons
The only 2 things I would change are, Brighter headlight in low beam, The switch on the right side of the bike does nothing at all, would be good if it could activate hazard lights as none are on the bike.
Read More
Comfort4 out of 5 stars
Comfort is fine for shorter rides, long rides can cause a bit of an uncomfortable feeling as the seat is soft, just not soft enough.
Build Quality4 out of 5 stars
Few areas on the bike look like they were not planned yet the manufacturer said Meh to it. Does look good though and I am thinking of those tiny details that you only see when looking very closely.
Brake5 out of 5 stars
Really sharp at first but soon gets to the perfect feel.
Ride Quality4 out of 5 stars
Rides well, can't fault it at all. Speed is sometimes an issue but that's what you get with a 125cc
Engine5 out of 5 stars
For a 125cc its great, fast acceleration, great brakes. Bit of a heavy bike but I'm new to riding so could be normal, I dont know.
Running Cost5 out of 5 stars
Great cost wise. I hardly have to fuel up, had it just over 1 month at the time of posting this and filled it up once. Done just under 300 miles (tank only had 4 litres when I got it and has about 8 in it now)
Pros
If on a budget these are pretty good for money definitely best of the Chinese bikes. Be prepared to learn some basic maintenance as things need adjusting now and then. Japanese is definitely the better but for the money these Chinese bike are pretty good.
Cons
Very basic and rust treatment would bring these bikes on par with Japenese bikes
Read More
Ride Quality4 out of 5 stars
Easy to ride, heavy for 125. Corners pretty well although can be lacking in front end grip once your titled over
Engine3 out of 5 stars
Good grunt for a 125 although you won't beat good Japanese 125s but for price pretty close
Running Cost5 out of 5 stars
Very basic and rust treatment would bring these bikes on par with Japenese bikes
Build Quality4 out of 5 stars
Pretty good build quality for chinese, expect rust if not looked after. Definitely advise getting steel down pipe. Pretty reliable.
Brake3 out of 5 stars
Single disc upfront and drum rear. Pretty good breaking but if you needed to stop a bit quick would definitely advise using rear brake
Pros
The lexmoto zxs 125 is a great 125cc starter motorcycle, very affordable and looks the part. The dash is simple yet stylish with digital readings of your speed and fuel gage and illuminates when riding through shade or at night so it is always clear to see. If you are looking into getting your first geared motorcycle on a provisional licence I highly recommend this motorcycle.
Cons
It could use a check engine light or oil check light on the digital dash.
Read More
Ride Quality5 out of 5 stars
Engine3 out of 5 stars
Running Cost5 out of 5 stars
Build Quality4 out of 5 stars
Brake4 out of 5 stars