BMW F700GS Bike Overview
We all love BMW's GS adventure-type machines, but the massive R1200 GS isn't ideal for everyone.
So the Munich firm has offered a variety of smaller options over the years – like this F700 GS, which first appeared in 2013.
Confusingly, it uses the same 798cc parallel twin engine as the F800 GS (and the F650 GS twin before it), but in a lower state of tune, putting out just 70-ish bhp rather than the 85bhp of the full-fat version.
The rest of the bike continues this 'lite version' theme, with more of a street feel to the chassis than the hardcore offroad abilities of the 800.
So the suspension is less capable, with shorter travel and there's a 19″ front wheel rather than the 21″ rim of the 800. That does mean the seat is lower though, which is an advantage if you're on the short side.
Brakes are decent, with a good ABS setup, and the riding position is upright and commanding, ideal for riding in city traffic.
Like all BMWs, there's a huge range of official accessories, and we'd recommend getting as many of them as you can – especially stuff like luggage, comfort seat, heated grips and taller screen.
Remember to factor that in if you're looking at a used bike – there are plenty on eBay to check out here.
BMW F700GS Bike Spec
Top speed

119mph

Weight (Dry)

186kg

Capacity

798cc

Seat height

820mm

Engine

Four stroke, parallel twin cylinder, DOHC
BMW F700GS Bike Insurance
BMW F700GS Bike Gallery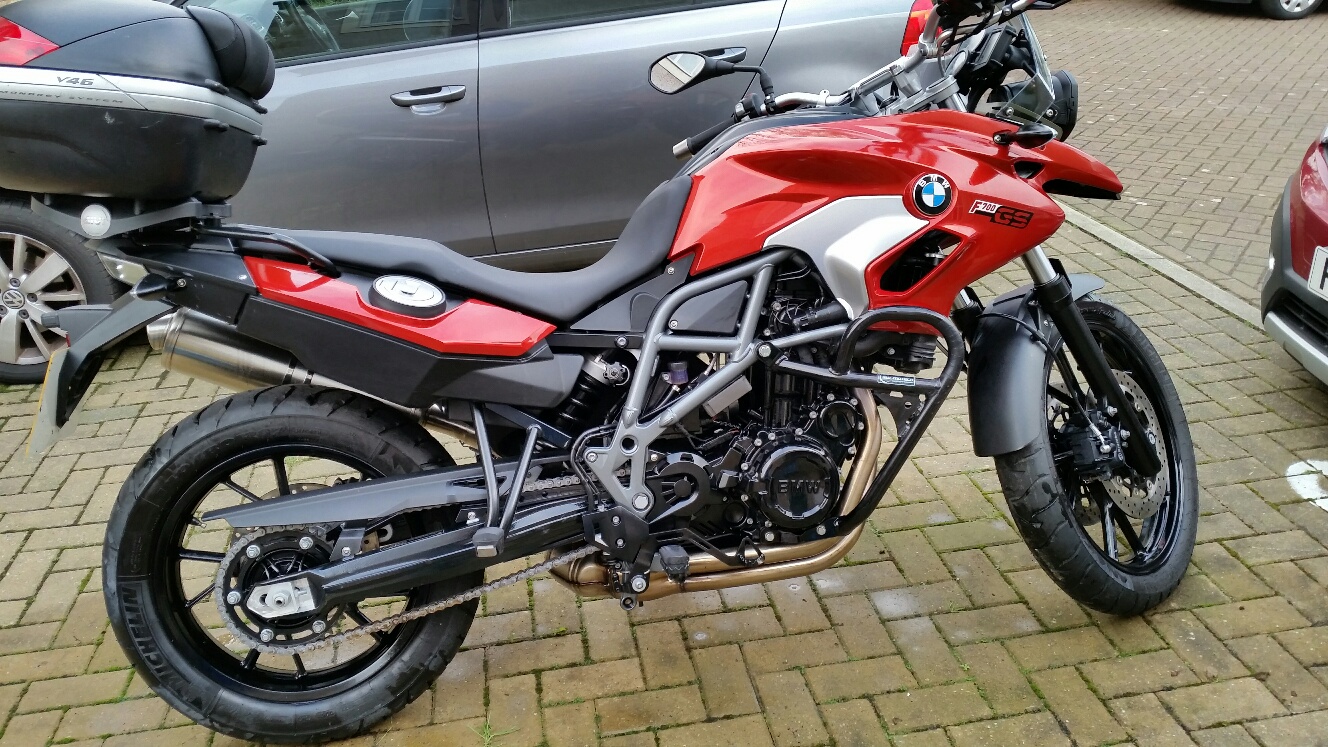 Owner Reviews
Pros
Upright position when riding. I like the 'fuel' behind me, not in front making the bike nicely balanced.
Cons
Handlebars could be nearer me!
Read More
Ride Quality5 out of 5 stars
I do struggle moving the bike though when stationary
Engine4 out of 5 stars
Running Cost5 out of 5 stars
Handlebars could be nearer me!
Build Quality5 out of 5 stars
Brake5 out of 5 stars
Pros
Load of options and drives like a dream. I love my bike and would recommend to anybody
Read More
Ride Quality5 out of 5 stars
Nice
Engine5 out of 5 stars
Oomph
Running Cost5 out of 5 stars
Cheap cheap
Build Quality5 out of 5 stars
Brilliant
Brake5 out of 5 stars
Emergency breaking is wicked