80 Awesome Motorcycle Modifications
Mainstream motorcyclists often seem to be of the opinion that the term 'custom bike' only refers to Harley choppers of the like seen in Easy Rider and the soap opera that was the Teutul's American Chopper.
The more enlightened have realised that the term refers to any motorcycle that has been changed from its standard form. Admittedly, the sort of custom bike that wins shows and gains magazine features will likely have been built from the ground up with many bespoke parts and incorporating hundreds of hours of work, but our focus here – in a vague correlation with Devitt's eightieth year celebrations – is to show you eighty different modifications that can set you on the road to understanding (or, better still, building) custom motorcycles, and what is involved therein.
From tiny, five minute changes that can transform the feel of the bike (like fitting Renthal grips), to parts that can take weeks to perfect yet only the most eagle-eyed of viewers will notice, via the time and money-consuming eye-grabbing alterations that no-one can miss – like multi-thousand pound paint schemes – any custom modification will make your bike into a cooler, more individual expression of what, and who, you are.
Even if you've never changed a single part on your bike, it's high time that you got with the programme and stopped following the masses with boring, standard production bikes. Bespoke is where it's at, even the factories have recognised this, with Yamaha, Ducati, Triumph, Harley Davidson and Indian all financing custom builds with their bikes.
Looking to modify your bike? Well, take a look at our extensive list of modifications and accessories, and the ways these could impact your insurance. Remember, when customising your bike it's extremely important to notify your insurer to make sure your correctly covered. 
So here we go, eighty modifications. Some radical, some simple, all intended to give some inspiration…
Traditional choppers are long. Really long! And nothing turns heads like a really long chopper! Innuendoes aside, a wheelbase of this length isn't as impractical as you may think, and perfectly capable of Continental touring. This FireBlade chop makes regular trips from Blighty to Spain and back.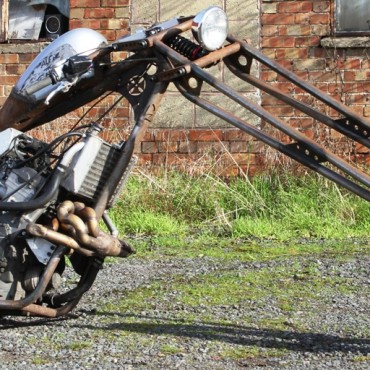 While this machine is heavily-influenced by bikes built by Bimota and Vyrus, it's still a very unique machine with some clever engineering. Guaranteed to pull a crowd at any bike meeting.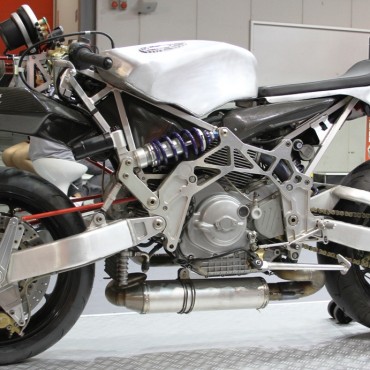 While round tubing is the traditional material to use when building custom motorcycle frames (from classic Rickman, to aluminium Spondon via Swedish-style chop), it isn't compulsory, as this Ironhead Sportster ably proves.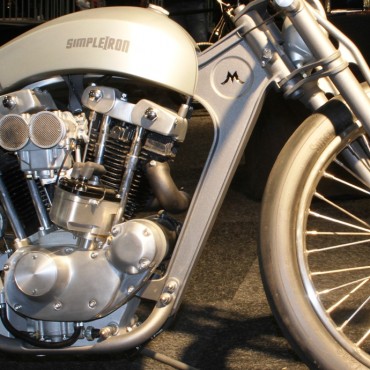 Given that the first motorcycles were just pushbikes with engines added, and that components for mountain bikes are getting stronger and more effective, then why not use modern pushbike components on a custom bike? If it's a lightweight build, they're more than suitable, such as these hydraulic disc brakes, doubled up for powered use.
Using a swinging arm originally designed for use at the rear of a bike in the construction of the front suspension may seem a bit at odds, but it works. A Harley V-Rod swinger was used to make the girders on this build by Medaza Cycles.
There's pretty much only one way to generate ridiculous levels of horsepower on a bike running on pump petrol, and that's by fitting a turbocharger. The potential for over 500bhp is there, if you have a Suzuki Hayabusa, but any bike can be fitted with a turbo. Or, in the case of this Bandit, two turbochargers!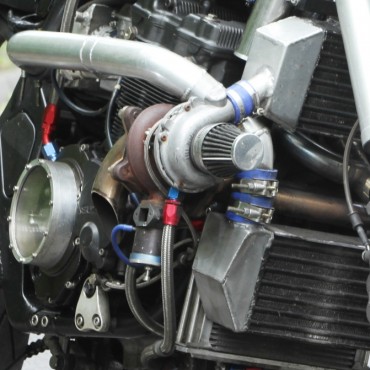 It's all rather trendy at the moment, but the mix of style, art and mechanical function does work rather well with a motorcycle, especially a customised one!
All the best paint schemes use a mix of different styles and materials, like this Ducati that has metalflake in a classic bold race pattern with 'ghosted' script and some bold pinstriping.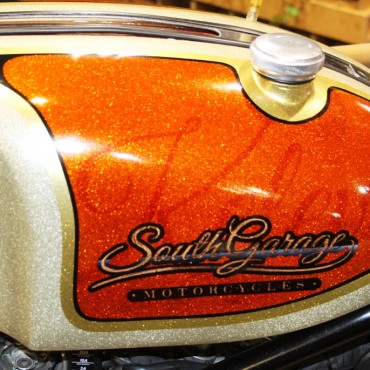 Some of the most inspiring custom bikes ever built have been created on a tight budget, using little more than cheap parts and hard graft. Much like this Honda CB550 that appears as though it was built from the bits left over after a successful autojumble trip...
By bringing two different styles of bike together in one project, you can often create a stand-out machine that looks far better than it ever should. Good examples would be fitting a large capacity two stroke motocross engines in a hardtail chopper, using a GSX-R engine in an enduro bike, or a BMW flat twin in a lightweight supermoto, as seen here.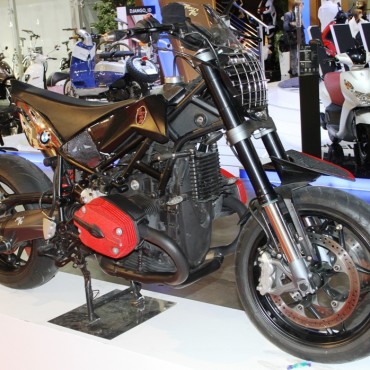 Old-fashioned style with modern performance is what many of us desire, so why not go out there and get it? Or, perhaps more to the point, make it! This set of girders is upgraded with an Öhlins shock absorber and four piston Brembo radial calipers!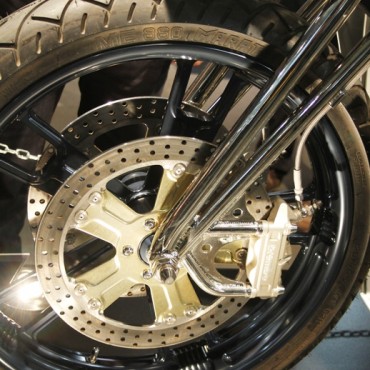 Fitting a powerplant that wasn't designed for the frame in question can either be really easy (like putting a GSX-R1100 into a 600 Bandit), or an absolute nightmare, as this XJR1300 in a Honda CB probably was. Either way, the effort is always worth the result.
Converting a motorcycle to a motortricycle was once the sole reserve of talented home merchanics, but now there are a significant number of companies making trike conversion kits such as that fitted to this Triumph. The manufactured kits tend to be a bit more 'productionised' and car-like, with flowing bodywork, as opposed to more minimal bespoke trikery.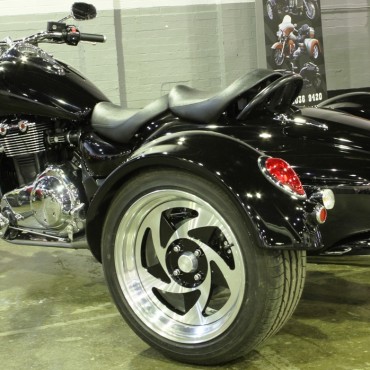 Giving the look of bigger, stronger fork legs needn't have the expense of new fork legs, which would be difficult if you already had upside-down forks of 52mm or so diameter... Fork shrouds can beef up the front end even further and, like these, can be used to give a cohesive look by matching the yokes.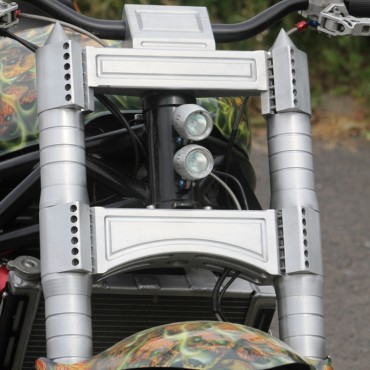 66

Reversed cylinder head
Once a regular sight on old British sprint bikes, it's not so common any more. Turning the cylinder head around is no five minute task, but having the carbs (or fuel injection) at the front and the exhausts running straight out of the back of the head looks very trick!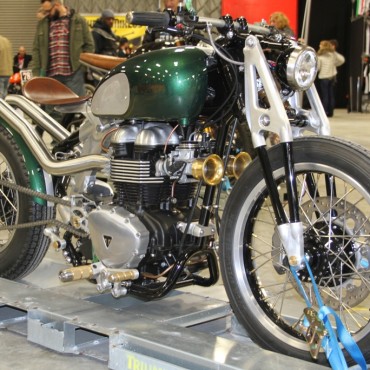 Perhaps one of the most extreme measures in custom bike building, and invariably necessitating a brand new frame. Car engines won't rev as high as a bike engine, but will have more torque. After all, they're designed to haul more weight, so they make for a superb, economical touring powerplant. They can even be made to look good, as this Volkswagen engine proves.
Girder forks were fitted to many pre-war machines, but if you want the style with performance to suit a more modern machine, then you're going to have to make your own to suit. Just as Larry Houghton at Lamb Engineering did for his Honda CBX1000.
Narrow, old school tyres are in vogue at the moment, but then so are very narrow handlebars. Ideal for cutting through rush hour traffic and slipping through narrow gaps, and looking cool at the same time. They also give a good upper body workout!
Custom bikes needn't always be all about smooth, flowing lines. Sharp and bold forms can look equally as impressive, as this lowslung Harley proves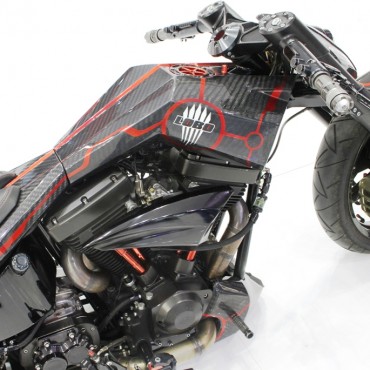 The lightest aftermarket wheels that can be bought are those made of carbon fibre. Improving handling, suspension action, acceleration and even fuel economy, they also happen to look sub zero cool.
While most people will expect to see an aluminium fuel tank on a cafe racer, bespoke, hand-formed alloy bodypanels are suitable for just about any style of machine, as this custom supermoto shows...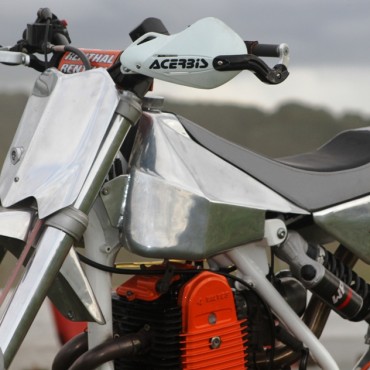 Much like chroming or extravagant paint, engraving is something of a luxury that neither changes the form nor performance of a bike. But it is fascinating, especially when it's as all-encompassing as when on a bike like Second City Custom's Harley, seen here. And it's also making something of a comeback in the 21st Century.
58

Clutch cover coolant reservoir
This is a neat idea for a water-cooled bike that needs to have an expansion tank for the coolant fluid. It also confuses bystanders who think that you've got funny-coloured and very watery oil...
Confuse onlookers and befuddle potential parts thieves by using bespoke fasteners that need their own bespoke spanner! These smooth fork bolts need an eight pin spanner to fit them.
In the world of powered two wheelers, forced induction is usually of the exhaust-driven variety, ie turbochargers. But there are a fair few superchargers around too, few more menacing or as purposeful as this Hayabusa, built for (very) high speed wheelies!
It's an age old design that has been resurrected of late, no small thanks to several big name American custom bike builders who've chosen them in their projects. Built with modern materials and fine tolerances, they can be surprisingly effective, and are particularly suitable for a replica board-track racer.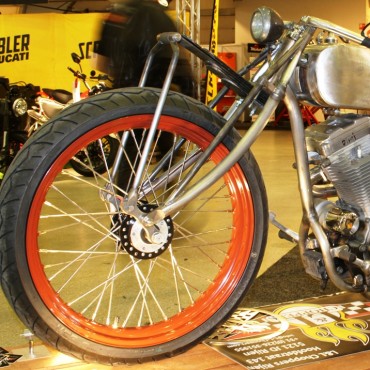 Classic spoked wheels have a style that suits many bikes, and they look all the more chunky and substantial when they're built with oversize 'fat' spokes. They're stronger and, naturally, heavier, so more suited for a bigger custom bike than a flyweight racing whippet.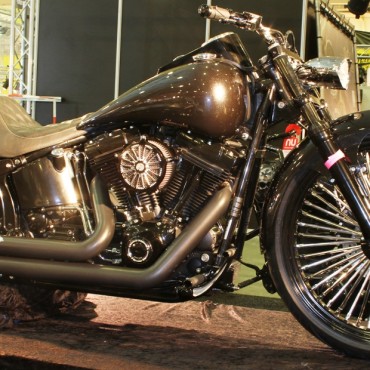 While aftermarket oil coolers are easily available, they all look the same and the rectangular form doesn't always suit a customised motorbicycle, so why not make your own?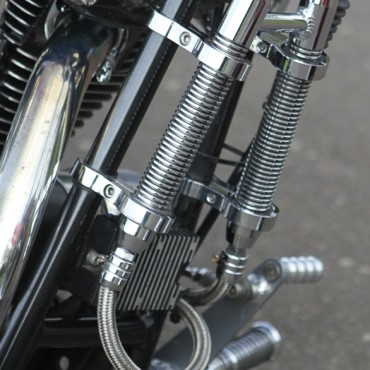 Probably the easiest way to add horsepower, 'laughing gas' is a simple way of adding more oxygen into your combustion chambers (it'll need more fuel as well, naturally). However, while you may be happy with the 20bhp or so that you start with, you'll always want more, and that bottle will run out very soon...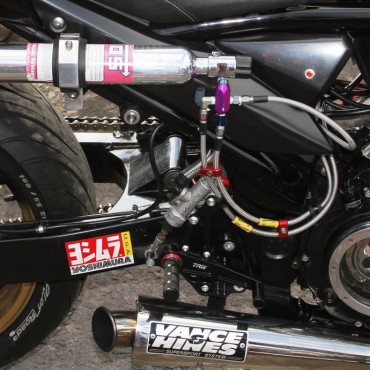 A tweak that is becoming ever more popular, as it is what American magazines would refer to as 'badass'. Loads of extra grips for your boots, at the cost of extra vibration compared to standard rubber-covered pegs.
A neat way of finishing the ends of the rear frame rails can be seen on the Twisted Spine Francis Barnett, where builder Rob Wood used 1956 half crown coins.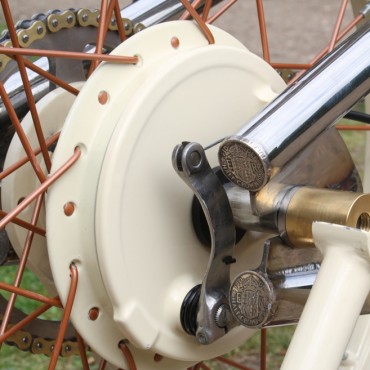 While various standard bikes have had solid wheels (Harley Fat Boy and early V-Rod, for example), they make an eye-grabbing alternative to spoked wheels.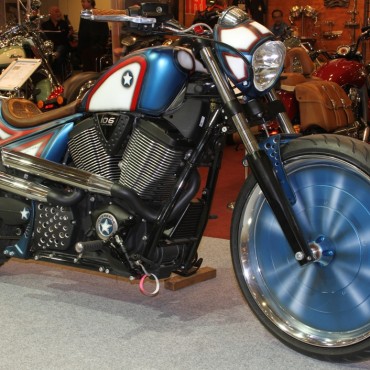 While bikes built in the early part of the Twentieth Century had hand-operated gearshifts as standard, they're also regularly seen on custom bikes. Why? Apart from the fact that they dissuade anyone from jumping on and riding off, they look neat, add an old school mechanical look to the bike and are great fun to operate.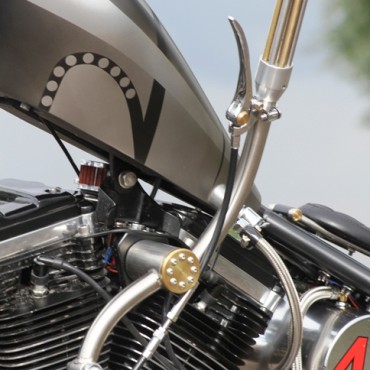 Fitting a brake caliper onto a modified sprocket frees up one side of the rear wheel, reducing weight and improving the aesthetics. Does it work as well as a normal disc? It depends on how much chain lube you use, but who really cares when it looks so good?
One of the perennial problems with a custom build is how to keep wiring and cables tidy. Plastic 'zippy ties' look messy, and Jubilee clips and lockwire are too abrasive. Rob Wood's solution is leather straps on press studs!
As long as they're used sparingly, and of are of a suitable style and humour, the simplest of modifications can add personality in a flash.
Cleaning the bars and top yoke of as much clutter as possible means minimalist clocks, and if you want to keep an eye on how your engine is performing (especially if it's a highly-tuned air or oil-cooled engine) then there's no harm in fitting an oil temperature gauge, especially if it's as neat as this!
43

One piece bars and risers
A relatively simple way of making the top yoke a lot cleaner is by using bars that're welded directly to the risers, and this can be made cleaner still if the risers are incorporated in the yoke. This example is made from stainless steel tube, including the yokes!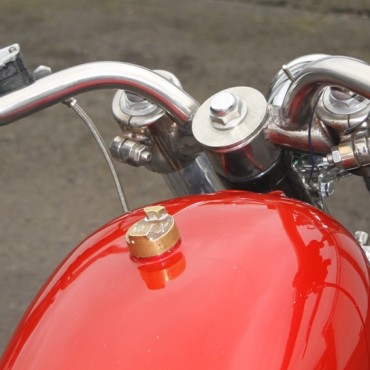 Much like windowed engine covers, an open primary drive lets bystanders see your engine actually working. Although an open primary drive does give an added hit of excitement if you're wearing flared trousers...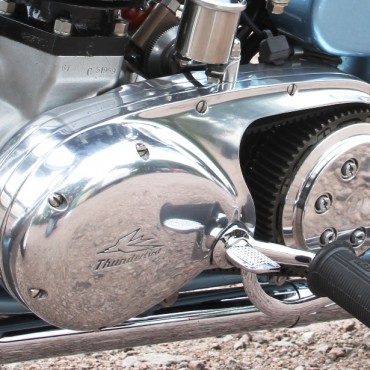 A custom bike that has an element of 'chunk' about it – such as fat tyres, thick fork legs etc – will benefit from some substantial yokes. Generally made from slabs of billet aluminium machined to suit and with four or even six allen-headed fasteners to clamp the fork legs, they give a bike lots of attitude! The yokes you see here are totally bespoke, and made from tube and billet.
The sky-high handlebars that are referred to as 'apehangers' are cool. There's no arguing the fact. It takes commitment to ride with apes, but that's the price of cool...
Although there are, quite literally, thousands of alternative exhaust end cans available on the open market, they're nowhere near as cool as making your own can that matches the bike. See how this one flows along the side of the mudguard? Perfect!
Most custom bike builders try to hide as much of the electrical system as possible but, as it's not very easy to show a picture of something that's been hidden, let's look at a way of making wiring more acceptable – by using traditional cloth-covered wires!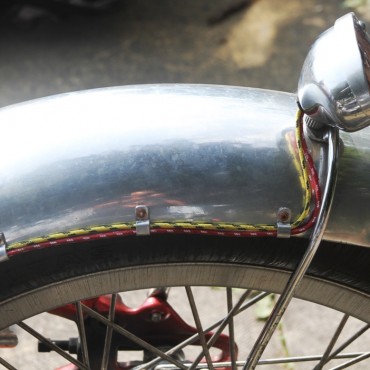 Rather than fitting a sender unit inside a custom tank, a clear hose fitted to the side of the tank will show the level of the fuel inside. Simple and effective, and no chance of it ever going wrong!
It can't be overemphasized how reducing the amount of clutter on the handlebars improves the aesthetics of any custom bike. A good start is by using smaller, aftermarket switchgear and running the wiring through the bars.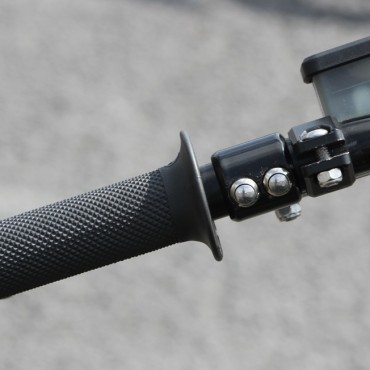 35

Sidemount number plate
Clearing clutter off the rear mudguard gives smoother lines, and fitting the number plate and (usually) the rear light at the side is a neat solution. And here, it also provides a use for some 'piston broke' engine spares...
Tidying up the top yoke and handlebars is a big part of a decent build, and moving the ignition switch can also help in cutting down the amount of wiring on a bike.
Usually a term that applies to armoured clothing but, in this case, it's for the zombie apocalypse!
While most custom bikes will never be taken off road, a sump guard suits the styling of a street tracker, supermoto or street scrambler, and what bike never has to be ridden off the edge of a pavement? This cool Zed was built by Dave at Oily Rag Clothing.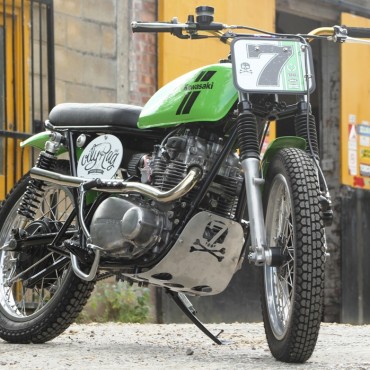 Keeping the rear end of the bike clear of clutter isn't easy, but fitting LED lights along the lip of the rear mudguard is a very tidy solution!
While the Ducati range of sportsbikes, and the MV Agusta F4 and various Yamaha R1 and Honda VFR models have all had underseat exhaust cans, there are neater ways of doing it on a custom bike. And it needn't always be on a monoshock'd sportsbike, as this very cool Triumph twin proves.
29

Windowed engine casings
Sometimes seen as being a bit naff and 'showy, windowed engine casings can also be seen as being rather cool. After all, what's better than watch the internal workings of your engine whizzing around on tickover?
We're listing this separately to custom paint, simply because flames have a life of their own in the custom vehicle world, both with choppers and hot rods. Whether it's paint (like this subtle paint scheme) or in engraving or even seat stitching, flames are timeless.
27

Custom leather seat work
Leather is a popular material to cover a custom seat, and also gives the opportunity for it to be matched to any theme in the paint or design of the bike.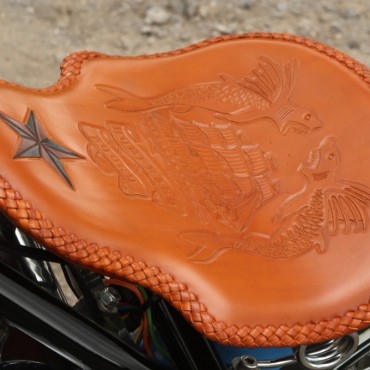 Aside from the obvious improvement in braking, fitting an aftermarket or later model caliper can also reduce unsprung weight and look far better than standard too. Here, a four piston Yamaha caliper sits on a bespoke mounting bracket.
Some hardtail frame designs are limited on the clearance they give for the chain around the lower rear frame stays, and a chain idler wheel can aid in reducing chain clatter and open up the options for sprocket size.
The speedo / revcounter units get smaller and slimmer on modern bikes each year, but the top yoke still looks better if they're moved somewhere less obtrusive. A neat solution with sportsbikes that have plastic tank covers is to french the clocks into the cover.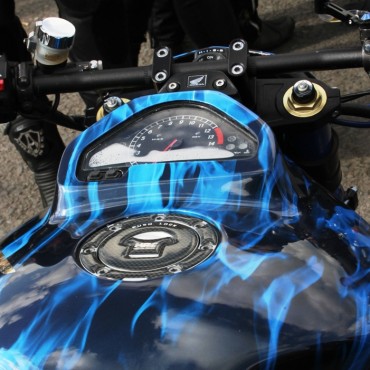 23

Classic Vincent tail light
There are few factory-fitted parts that are deemed to be sufficiently cool to be used on a custom bike without modification, but the Vincent 'Stop' tail light is one. Although, to be fair, most are replicas rather than an actual original...
Many Harley-based customs use a classic bicycle pedal style kickstart peg, and there's no reason why this can't be expanded on, both by using it on other models, or by making a totally unique pedal, like this wooden one!
Just because it's a custom bike, it doesn't mean that it can't have a fairing... shades of landspeed racer and drag bike with this 'Holy Freedom' Harley.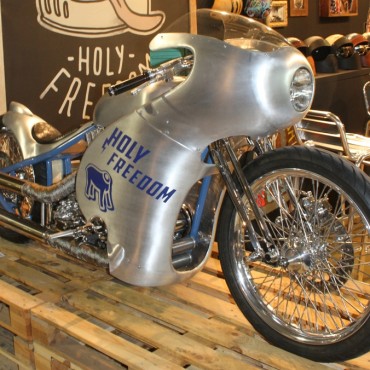 One of the hardest things to get right on a custom bike is, amazingly, the sidestand. So it's little surprise that so many people use the standard item. But a bespoke one is far cooler...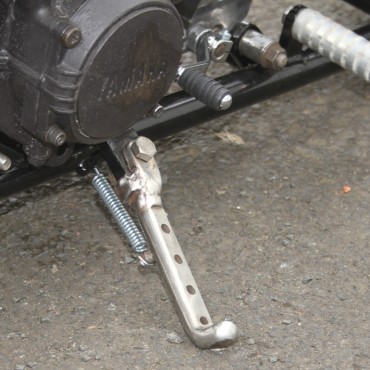 Minimalist bodywork and the legal requirement for a number plate do not make for easy bedfellows. Yet there are options, such as the use of the numberplate as a rear mudguard-come-hugger affair.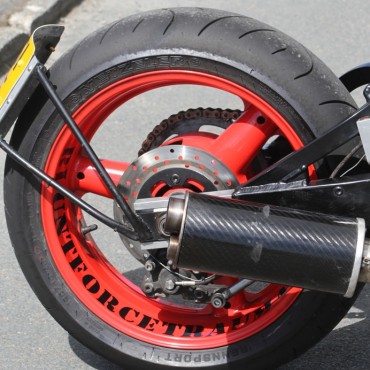 18

Billet fluid reservoirs
Replacing the standard, usually oversized, plastic brake and clutch fluid reservoirs with billet aluminium alternatives not only gives you something else to polish (or have anodised) but also looks much neater and can often forego the need for an adjoining ugly hose.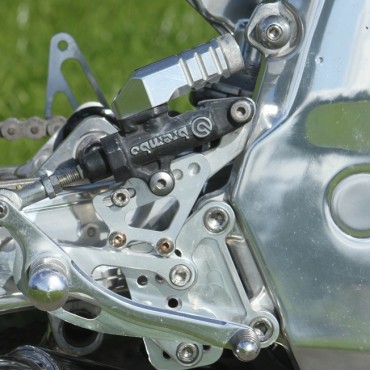 Fitting a set of knobbly tyres on a road bike can totally transform the look, as seen here on Paul's CB900 street tracker. But be aware, the handling will also be changed!
Fitting a number board to a road bike to give a race style isn't a new thing, but the current glut of street trackers and street scramblers could certainly benefit, as this Lamb Engineering Honda proves. Making it from see-through perspex is just genius!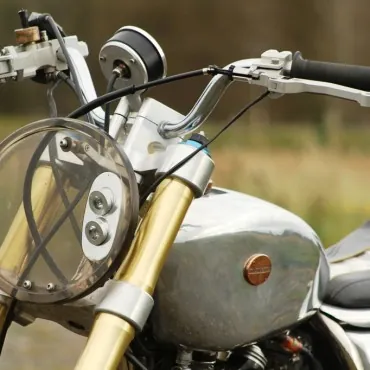 15

Underbelly exhaust can
It's not something that can be applied to the lowest of belly-scraping choppers and lowriders, but a streetfighter or cafe racer can benefit in terms of looks and mass centralisation, as shown on Jon Hughes' Yoshi GSX-R.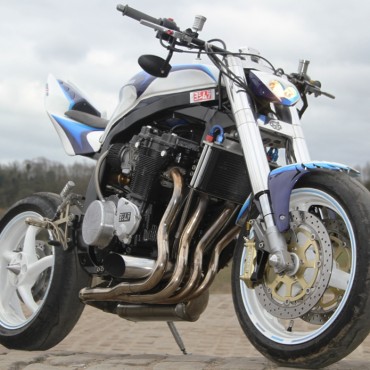 Sometimes seen as a way to hide poorly-made exhausts, that is rarely the case, as it's invariably for style reasons, or to prevent the rider's legs from burning, that exhaust wrap is used. When bound on correctly, it looks fab (as shown here), but if done poorly it can look very shabby, very quickly.
Many hardtailed custom bikes use sprung saddles that have to be made to fit, but a neat and easy solution is to use sprung bicycle seats, like this original Brookes item.
Even if they're generic aftermarket parts, bar end indicators can improve aesthetics, essentially because they remove an ugly standard part and replace it with a more pleasing example that takes up less space, especially as bar end indicators can replace both the front and rear turn signals. Even better if they're further modified to the owner's discretion, such as the beer bottle tops fitted on the example here.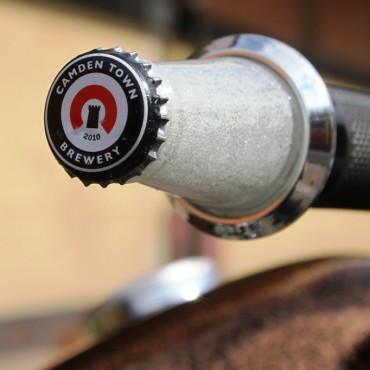 Easy to machine, and with a classic gleam, brass is ideal for making one-off footpegs, pedal tips, spindle covers and fluid reservoirs, as this Thunderbird shows.
Much like number seven, a cohesive look can be achieved by painting the engine cases as well as the bodywork.
Binning the standard item and replacing it with a home-brewed example can bring about great aesthetic improvement, and often give a much stronger part!
An oft-forgotten area where it comes to detailing, the wheel rims are usually just polished or powder-coated. Yet they can be tied in to an overall design quite easily, just as on this Lamb Engineering 'tracker.
While some may see them as the preserve of boy racers in hopped-up Vauxhall Novas, if chosen carefully and 'in theme' with the rest of the bike, valve caps can look exceedingly cool. Aside from these 'Peace-effoff' caps, dice and pool ball designs are popular.
Sometimes seen as a cheap option to painting, hydrodipping is a process whereby the part in question is dipped into a tank with the film on the surface becoming the 'paint' finish, and there are literally hundreds of different finishes available, like skulls, carbon fibre effect or, as shown here, wood! Hydrodip does, however, require the same meticulous preparation as a good paint job, so is not a way of hiding defects!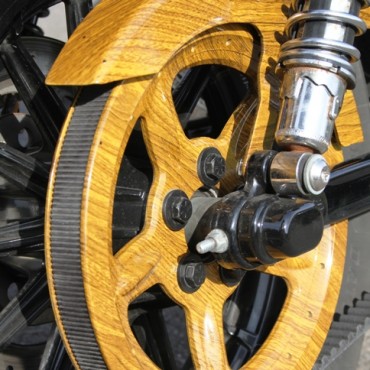 First seen on standard models built in the early Twentieth Century, there is something timeless about the styling of fishtail exhausts, especially when used on a classically-styled chopper such as this.
And their custom contemporary, forward controls, are a necessity in just about any build, in order to tailor the ergonomics to the rider of the bike in question. Some, like these, are adjustable, others need to be made (or fitted) to suit.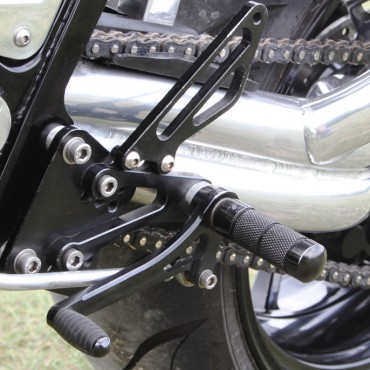 An easy bolt-on aftermarket part that doesn't really make sense. It reduces the security (your fuel can be nicked), and the cap isn't hinged so it too can be stolen. But it looks far better than the standard, mass-produced effort!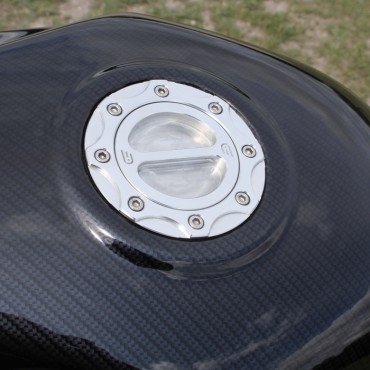 Easy to do, and you'll notice the change straight away. Swap your standard grips for ones that you feel are more comfortable (ie grippier, fatter, smoother, more knurled) and some clutch and brake levers that you can reach easily. It's not a radical change, but one that'll start you on the road to customising...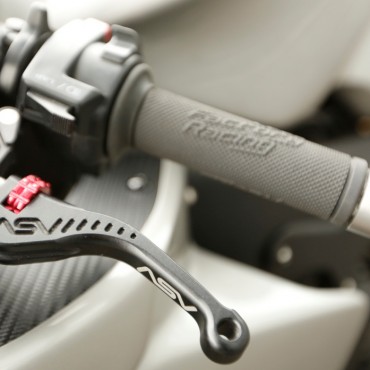 Perhaps the most important thing to remember about custom motorcycling is that there are no boundaries. There is no limit, only your imagination. Just get out there and build!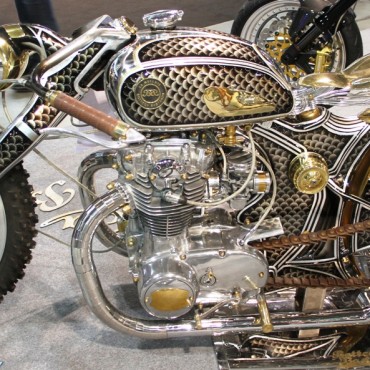 So what do you think? Any modifications we haven't mentioned that think should be on our list? Let us know in the comments below…
Have you entered our Biker Bundle competition?
Remember to always consult an expert when making modifications. Performance enhancing modifications can also increase your insurance premium, so always check your policy implications with your insurance company before you go ahead.
IMPORTANT NOTE: It's essential to speak to your insurer before you make any modifications to your motorcycle so you can understand the policy implications. Some modifications will dramatically increase your premium, and other modifications might make it very difficult for you to find a company that will insure you at all. Failure to disclose any modifications can also result in your insurer refusing to pay out on a claim, especially if the modification contributes to the claim.
Always do your research properly, consult an expert, speak to your insurer and make sure you're fully informed of the risks involved of your proposed modification. Modifications should always be done to a professional standard and maintained appropriately.