Experts reveal the best – and worst – ways to beat the thieves
If there's one thing that strikes fear into the heart of a biker, it's the prospect of returning to where you carefully parked your pride and joy, only to find a big, empty space.
But is motorcycle theft as bad as the headlines suggest? Should you let the threat deter you from running your dream bike? And what can you do to beat the odds?
One authoritative report – by the National Criminal Intelligence Service – revealed that more performance bikes were stolen each month in the UK, than were bought new. It said that around £3 million of bikes were being stolen each month.
Fortunately, those statistics are old hat – dating back to 2001. The odds have improved significantly since then for motorcyclists and things are looking much more positive.
While bike sales have been increasing again (year to date figures are up by over 70 per cent in February 2022 compared to February 2021), thefts have, thankfully, been falling fast.
National police figures provided by West Mercia Police, show that while 16,649 motorcycles were stolen in 2017, this fell to 14,258 in 2018, tumbling again in 2019 to 12,478. There was another drop, to 8,968 in 2020, before a rise, to 9,611 last year.
There are a number of reasons for the falling trend. According to one expert, dyed-in-the-wool rider Dave Luscombe, Strategic Alliance Manager for Datatag, it's down to a combination of increased awareness of theft and more investment in security by riders, including in tracking and security marking.
More new motorcycles are also now sold with better security measures than before, including immobilisers, alarms and trackers. Motorcyclists are – usually – becoming more canny too.
There's never a good time to be casual about security however and it might be too soon to breathe too big a sigh of relief over those falling crime figures.
Justin Freeman, Technical Manager at the Master Locksmiths Association, says that 'inactivity' during lockdown and the wider pandemic may have distorted the true crime picture. He says that riders should brace themselves for a possible rise in thefts when the next batch of figures are released. He should know – the Association owns Sold Secure, the independent organisation that rigorously assesses and rates a wide range of security devices not just for motorcycles, but for agricultural equipment, cycling, cars, domestic buildings, gun cabinets and much more.
So what steps should you be taking in 2022 to increase your chances of riding home on your bike – instead of the bus?
Top 10 security actions you can take to secure your bike
Lock it before you leave it 
Always use what the experts dub 'hard' security. Depending on circumstances this can be a disc lock or chain, the latter in combination with a ground or wall anchor, if one is available. If not, consider chaining your bike to another bike (perhaps if touring with friends), or to a lamp post or other similar, solid, immovable object.
Police say it can take as little as 20 seconds to steal a motorcycle – but it can take much longer if the thieves have to hack through a tough chain or disc lock. That means they run a higher risk of being caught. There's also a greater likelihood that they'll ignore your bike and walk onto the next – unprotected – bike, instead.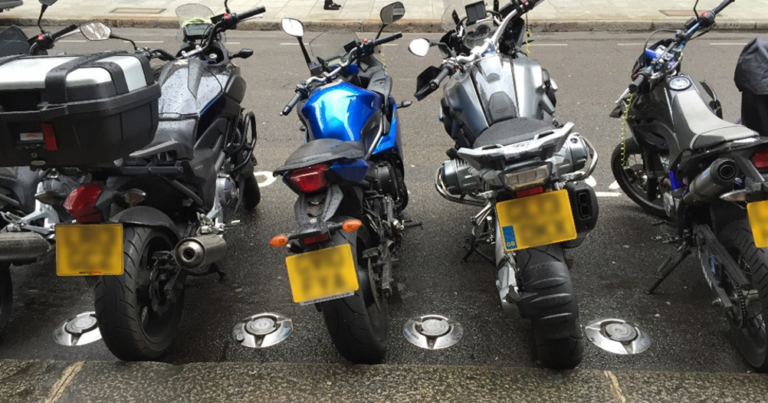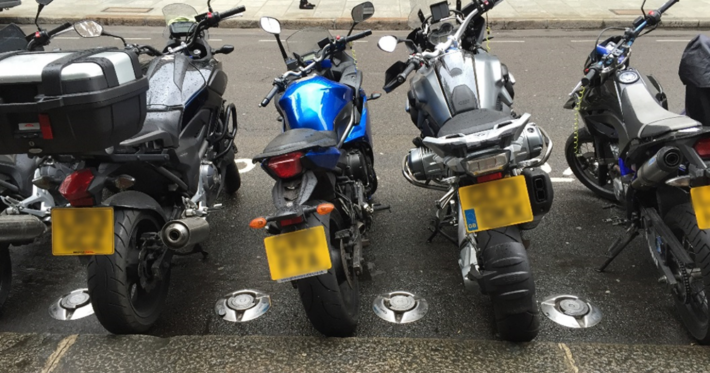 Suggests Bill Taylor of Biketrac: "If possible, fix your disc lock onto the rear sprocket, instead of the front disc. They can cut through the disc, and still ride the bike, but that's not true of the rear sprocket."
Adds Dr Ken German, retired head of the Met Stolen Vehicle Squad and motorcycle industry advisor: "Basic disc locks may be a simple form of security but they make your motorcycle three times less likely to be stolen. Using a heavy chain and ground anchor can make your bike less likely to be stolen than a car."
Cover it up
Experts say that while 'out of sight out of mind' isn't a fool proof approach to combating motorcycle theft, it can certainly help. Advises Luscombe: "Many riders use a cover when they park at home, if they don't have a garage. But consider a lighter-weight cover, too, that can be stashed on the bike and used if you park up away from home. It's an extra layer of protection."
Adds Freeman, of Sold Secure: "The more actions you take, the better. A cover won't always stop a thief but it looks suspicious if they start lifting it to see what's underneath. It might put them off." Says German: "Police and rider clubs confirm that motorcycle covers have been effective in preventing theft."
Go Public
Think very carefully about where you park. If you park your bike somewhere dark and hidden away, it's going to be more vulnerable; it makes it easier for thieves to move in without being seen. "Try to choose somewhere very busy, open and well-lit," says Taylor. "It's not fool proof, but it helps." Adds Freeman: "Don't 'hide' your bike down a dark alley. That might be what a thief prefers.
Leave it where there's lots of human traffic, where it's busy." Warns German: "Some more ruthless, often weaponised gangs, don't care if they attract an audience. If you are unlucky to have one messing with your bike, don't challenge them. More often than not it has proved to be not worth the risk."
Use your head 
Do you really want to leave your helmet on your bike, when it's parked? "Apart from the risk of losing your expensive helmet, what if someone opportunistically wants to steal a bike but they can't easily ride it away because they haven't got a helmet?" says Luscombe. "Suddenly, you've provided them with a helmet – and a bike. You're making their job easier! It's best to take your helmet with you if you can."
Luscombe says that at race meetings, for instance, when thieves want to steal a bike, they'll go 'ready dressed' in biking gear. Not only do they blend in better but they're all prepared for a quick getaway. Don't play into their hands.
Use it or lose it 
If your bike doesn't have an alarm, consider fitting one. If it does have an alarm, don't forget to use it. It's not the ultimate defence because car, bike and even house alarms are now a common sound in cities and are routinely ignored. But it might deter the casual thief, while giving you extra peace of mind.
Advises German: "An alarm can be a deterrent and a Thatcham-rated 1 or 2 alarm system with tracking, immobilisation, anti-grab and movement sensors can help protect and trace your vehicle. It could also reduce your insurance premiums."
Top marks 
Luscombe says that getting your bike, and all of its major components, indelibly and professionally marked not only deters thieves, it can help lead to them being prosecuted if your pride and joy is recovered, later on. And that helps crack down on bike theft for everyone. "Hard security, parts marking and tracking are the holy trinity of security," says Luscombe.
"Thieves definitely like to avoid marked bikes. They often steal so that they can sell on the parts, but this becomes much harder when they are marked. Unfortunately, only around 35 per cent of stolen motorcycles are recovered (rising as high as 90 per cent for tracked bikes), but riders should always try to stack the odds in their favour." German: "For every five motorcycles & scooters stolen in the UK only two are expected to be recovered. It's believed it could be at least three out of five if more bikes were marked in some way."
Buy high
Buy the very best security you can afford. A great starting point is the Sold Secure website (https://www.soldsecure.com/), which rates a huge range of security products, with their effectiveness awarded one of four categories, ranging from Bronze to Diamond.
They rate chains, ground and wall anchors, disc locks, padlocks and more. Says Freeman: "It is not mandatory for a supplier to get their products rated. Some suppliers give us a selection of cheaply-made devices and they might just fall to bits so we don't rate them, but there's nothing stopping the importer to go on and sell them to motorcyclists, so beware.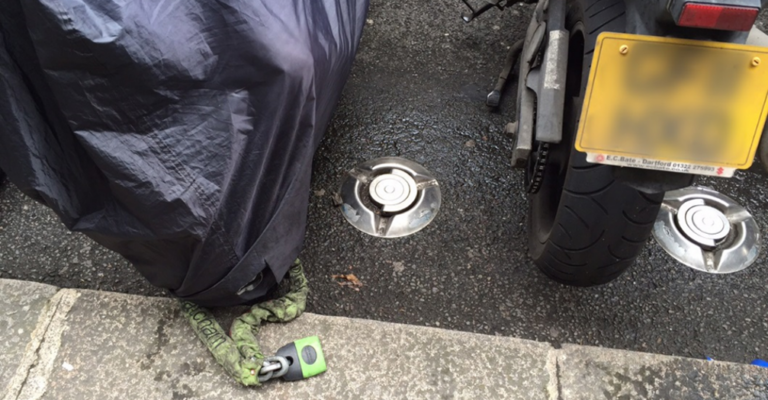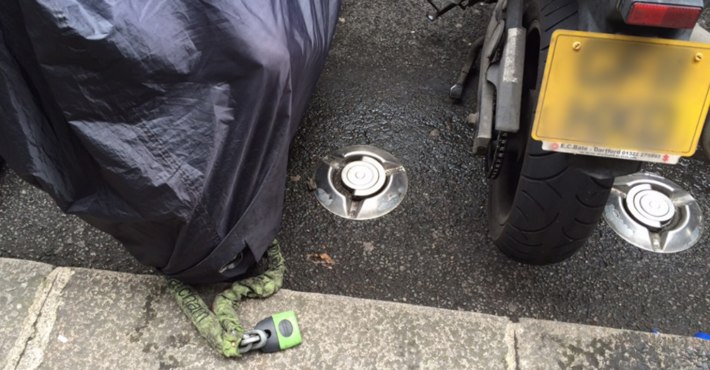 Price isn't always a guide but generally, if there's a device for £25 and a similar one for £100, by and large the £100 will perform better." Adds German: "If you cannot afford the best, still buy something."
Grounded 
Always use a ground or wall anchor if at all possible. "I can't believe it when I go into London, the theft hotspot for motorcycle theft," says Luscombe. "Every single time I see bikes parked with no locks – or sometimes with a chain but they haven't even bothered to use the anchoring point provided by the local authority – I can't believe it. It's madness!. If your bike isn't chained to something, it can be targeted by thieves and lifted into a van in seconds." Freeman says that research from the Motorcycle Crime Reduction Group suggests that only half of motorcycles that are parked are locked at all – providing an open invitation to crooks.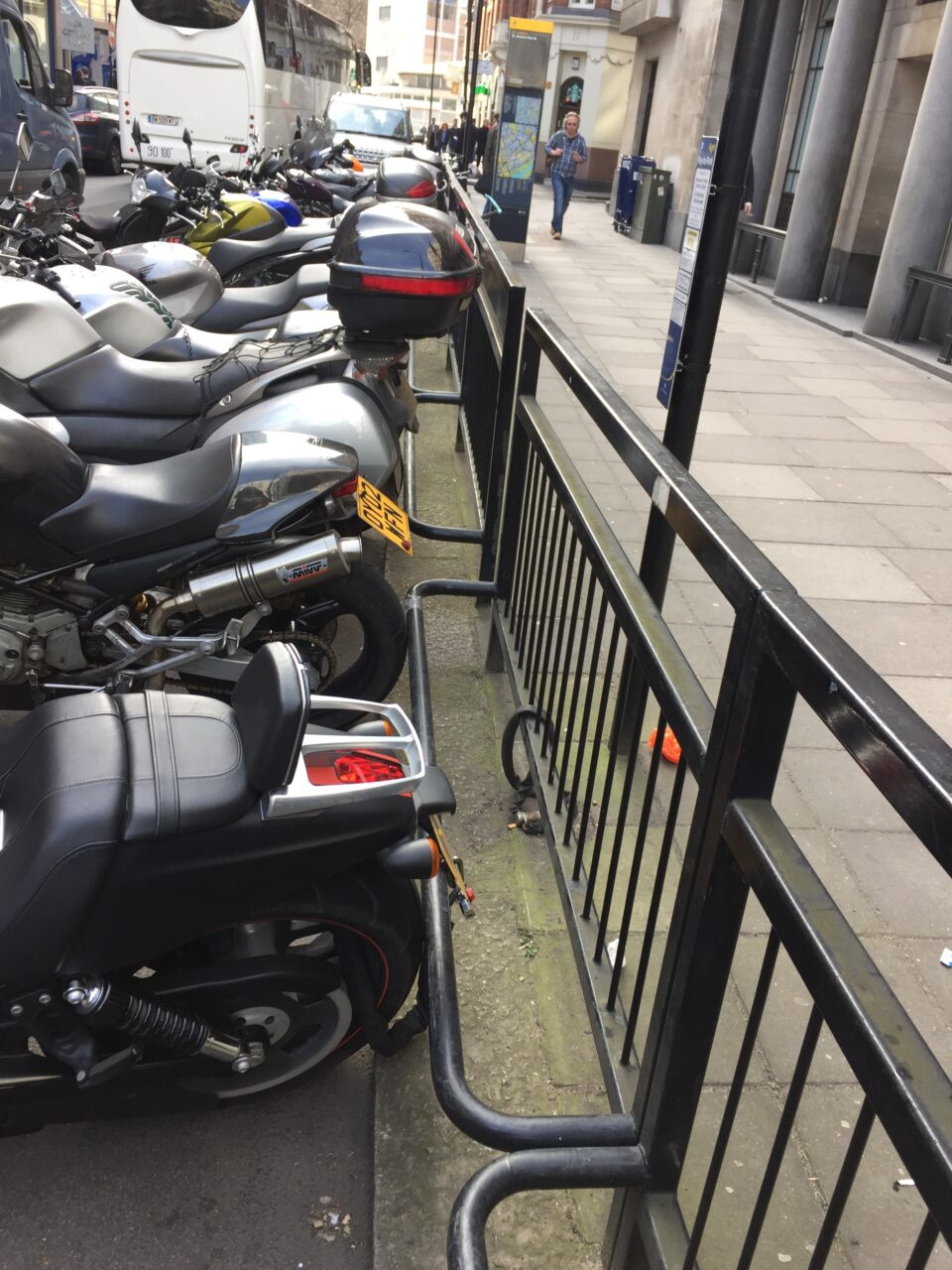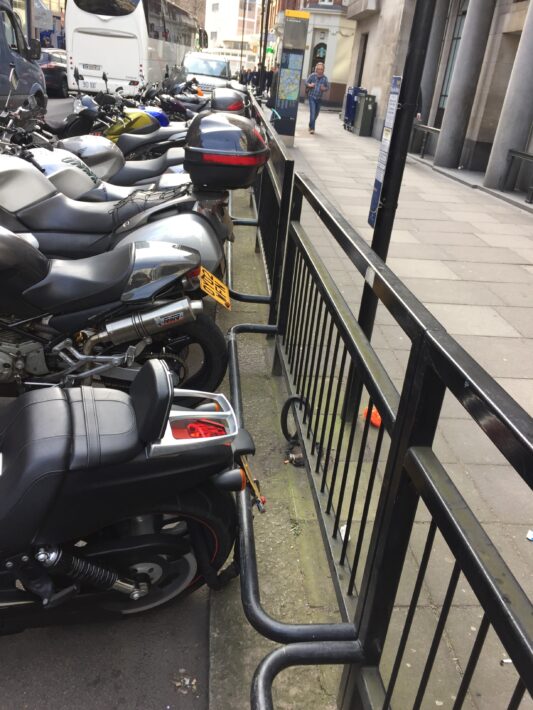 German cites another, grimmer survey: "A recent survey showed that 70 per cent of machines parked in big city motorcycle bays had no visible signs of secondary security fitted. Unsurprisingly 75 per cent of machines stolen in towns and cities were taken from commuter parking bays."
Steering clear
Use the steering lock – it's there for a reason. Opinion is divided here; some riders don't use them in the belief that they offer little deterrence, and that the thief will simply cause more damage by overcoming the lock. "Generally, it's better to use every possible deterrent at your disposal – and that includes your bike's steering lock," believes Freeman. According to German: "These have not got a good press at all and thieves have been seen overcoming them in seconds. That said it is all part of the necessary process you need to perform when securing your machine."
More tips from the top – What do the Experts say? 
Bill Taylor, Sales and Marketing Director, Biketrac
"Riders should always aim to tip the balance in their favour. Make it as hard for the thieves as you can by 'layering up'… use proper security measures, use marking, and tracking – and a cover.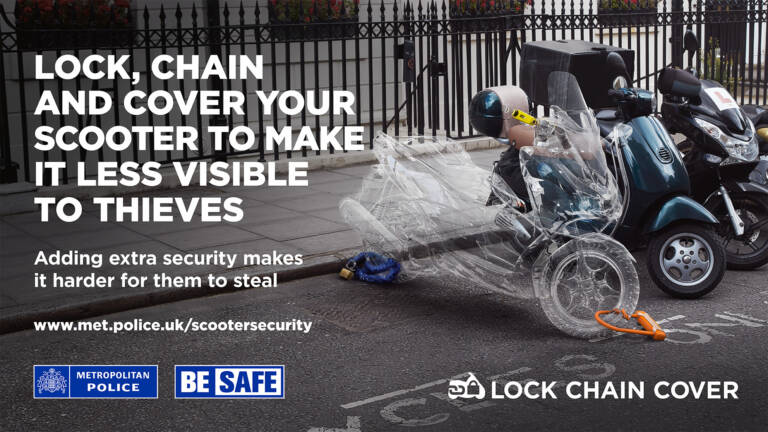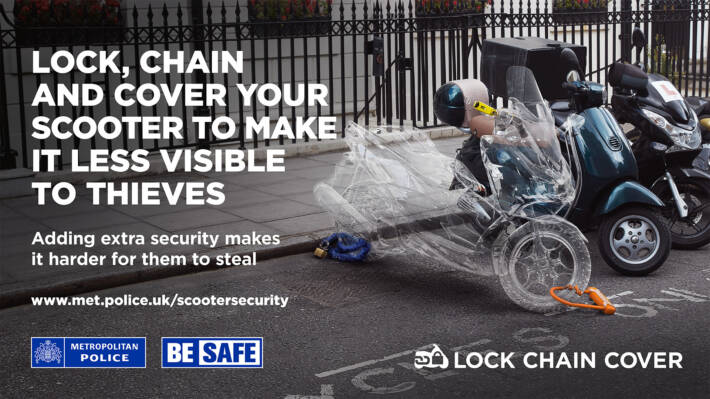 "If you use an anchor, try to put it on a wall, not the floor as it can be harder to attack. Raise the padlock off the ground too if possible. When you get a chain, buy an expensive one; try to spend at least £100."
Dave Luscombe, Strategic Alliance Manager, Datatag
"For most organised crime groups, motorcycles are just one of their many areas of business.  They also will take an interest in cars, drugs, farm machinery – anything that can be easily turned into cash.  A motorcycle is just a commodity.
"Motorcycle theft is not the big monster people think it is. If you take sensible precautions, you can reduce your risk significantly. But when we do checks at motorcycle meetings we always find at least four keys left in the ignition, or the pannier. Every little thing you can do makes a difference to your own security."
Ken German,
"A large proportion of stolen motorcycles not recovered are stripped down to feed the ever growing demand for second-hand spare parts. An investigation by the Motorcycle Action Group (MAG) confirmed that the national average for motorcycle thefts is 22 in 1000, making them the most likely vehicle type to be stolen in the UK."
German says the good news is that electronic security including tracking systems has not only been responsible for the return of many stolen machines, it has also offered the police opportunities to capture the criminals involved.
"While the total value of thefts expected in the UK this year is £13.5 million, the true cost to the public, police, insurance industry, manufacturers, dealers and the credit and finance industry will be a staggering £182 million pounds. And that's without the personal pain of walking back to your bike and realising it's gone.
"Understandably, organised crime gangs not just from the UK but those syndicated with others in Europe are very interested in stealing good quality, high value motorcycle and scooters and delivering them to where the money is. To them it's a relatively easy crime which supports their other illegal businesses.
"What bikes are stolen? Simply those that sell well, such as one and two year-old Honda, Yamaha, Suzuki, Kawasaki, Ducati & BMW superbikes. Vespa and Piaggio scooters are also key targets for professional bike thieves."
Justin Freeman, Technical Manager, Master Locksmiths Association 
"Police share very sensitive information on thieves' techniques, with us, so that we can be as up to date as possible when testing security devices. It helps us enormously.
"Some riders don't bother to lock up if it's raining and they don't want to get wet – or if they don't want to get dirty. A lot of bike security just comes down to common sense…
"Always make sure that the lock you use on your chain is off the ground – it makes it much harder to attack.
"Think about double locking – so use a lock and chain, but use a good disc lock too. That still won't prevent four big guys picking your bike up and running away with it though, so lock it to something solid.
"There was a good campaign a while ago, urging riders to lock their bikes together, by looping their chains together, in the absence of a solid ground anchor or rail. Not everyone liked it. Some riders didn't realise they could simply un-loop their own chain from the chain attached to the next bike, and thought they had to wait there for the other motorcyclist to turn up…"
Craig Carey-Clinch, Executive Director of the National Motorcyclists Council 
"Motorcycle theft remains a prevailing and serious issue for motorcycling, which impacts not just on riders, but on the wider economy and society.
"The NMC endorses all the expert advice and views that are covered here, but calls on Government to engage with riders and the industry to create a broader based anti theft strategy which can build upon work already being done by riders groups, the industry and other experts organisations in partnership with each other."
David Williams is a freelance journalist who specialises in road safety, transport and travel. He's been the London Evening Standard's motoring correspondent for 26 years, also contributing to the Daily and Sunday Telegraph, Sunday Times and various magazines. He is a Prince Michael of Kent International Road Safety Awards judge. 
By David Williams – @djrwilliams