Name: Daley Mathison
Date of Birth: July 20th, 1991
Place of Birth: Doncaster
Nationality: British
Races competed: Isle of Man TT, Ulster GP, North West 200, Southern 100 & British Superstock 1000
Twitter: @DaleyMathison
Facebook: Daley Mathison
Instagram: daleymathison104
Website: www.daleymathisonracing.co.uk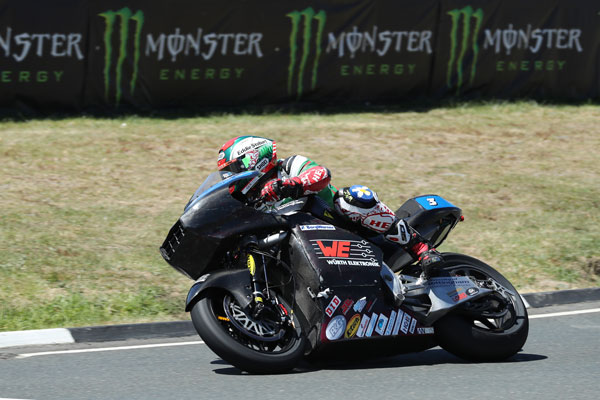 Credit iomtt.com
Getting into biking:
Daley was brought up around airplanes and parachutes, however, when his father moved on to club racing he was at an influential age. Watching young kids racing, Daley naturally wanted to get involved; it wasn't until later that he developed an obsession with road racing.
At the age of 12 Daley got into motorcycle racing, immediately turning heads and gaining a reputation as a future star. Starting in the Junior Championships Daley has gone from strength to strength and is certainly one to watch!
Racing Icon:
Carl Fogarty
First bike:
Daley's first bike was an Aprilia RS125.
Favourite course/track:
Isle of Man TT
Career Highlights (pre-2018):
After so much success at such a young age, Daley said it's "hard to single one out, my podiums at the TT would be well up there."
2010 was the year Daley really started to make a name for himself both at his local event, Oliver's Mount, Scarborough and further afield with an excellent fourth place coming in the 250cc Ulster Grand Prix. 2013 saw him make a successful debut on the Isle of Man Mountain Course with a top six finish taken in the Senior Newcomers Manx Grand Prix race and a year later he made his TT debut winning two bronze replicas.
That year also saw him win the 125cc Ultra-Lightweight race at the Ulster Grand Prix as well as becoming Welsh Champion at Aberdare Park. From there it was back-to-back European MotoE Championships in 2015 and 2016 that really got heads turning.
His first podium finish at the TT came in 2016 in the SES TT Zero race in which he finished third. It could be argued that this is Daley's biggest achievement to date; given it was only his third TT meeting of his career. At 37.73 miles long, the Mountain Course is extremely challenging and difficult to learn and also extremely competitive, therefore it has been known that for the first few years no podiums are expected, racers are just getting to know the course.
The third place finish was unexpected given some of the vastly larger budgets other teams had but proving this was not a one off, Daley finished third for his second podium finish again the following year whilst he also took 13th in the Senior.
At the Ulster GP Daley achieved two top 10 finishes with tenth the outcome in both the Superbike and Superstock races  and he joined the exclusive '130mph Club' with a lap of 130.481mph.
Improvements can constantly be seen in Daley's Oliver's Mount results too, each year improving both his results and lap times and closing in on Dean Harrison a little more. In 2016, Daley took his first podium in the Cock o' the North race finishing third and he went one better in 2017 with second also becoming the second quickest rider ever to have lapped the 2.43-mile circuit.
2018 season:
Daley will be pleased with his performance at the 2018 Isle of Man TT, with some personal best finishes and getting on the podium being the highlights. Despite having to retire from the Superbike Race 1 and Supersport Race 2 due to mechanical issues, it turned out to be a successful year for the man from Doncaster.
Daley managed to take 2nd place in the TT Zero Race 1 which was watched by none other than the Duke of Cambridge. Finishing behind Michael Rutter, Mathison caught the eye on the University of Nottingham machine and got a personal best finish and time while he was at it. Indeed, his lap of 119.294mph bettered the old lap record and is currently the second quickest lap ever by an electric-powered machine
Other than that, the TT saw Daley finish 11th in the Superstock 1 race, 13th in the Senior TT and 23rd in the Supersport race 1 with his four race finishes seeing him earn two silver and two bronze replicas. He also improved his personal best lap to an impressive 128.054mph which puts him currently the 34th fastest rider of all-time!
2018 was the year Daley made his Macau debut, where he placed 21st in his first outing.
2019 update:
After a strong start in the 2019 season, tragedy struck at the Isle of Man TT and Mathison sadly lost his life on the 3rd June during the RST Superbike race.
Aspirations:
We asked Daley what his aspirations are for the future, to which he responded, "To stand on the top step of the podium in a Senior TT". With three TT podium finishes at the age of 26, it's inevitable we will see Daley make further improvements around the Mountain Course in the forthcoming years as he looks to challenge the factory-backed riders in the feature races. As well as this, with race positions and times improving at Oliver's Mount each year, Daley is one of the favourites to knock Dean Harrison off the top spot.
Career Achievements – at a glance:
Three TT podiums – second in the 2018 TT Zero race and third in both the 2016 and 2017 TT Zero races
11th 2018 Superstock TT with a new personal best lap of 128.054mph
13th in both the 2017 and 2018 Senior TT races
In four years of competing at the TT, six silver and eight bronze replicas have been won
2014 winner of the Ultra-Lightweight 125cc Ulster Grand Prix
Sixth, 2014 Ulster Grand Prix Superbike race
Tenth, 2017 Ulster Grand Prix Superbike and Superstock races
11th, 2017 North West 200 Superbike race
Regular podium finisher at Oliver's Mount, Scarborough – second fastest rider ever to have lapped the 2.43-mile circuit