The 2021 Flat Track Nationals have been a whirlwind for the Vanoni x Devitt team and its rider Jack Bell, with the 18-year-old rookie more than proving his talent by winning the championship title in his maiden year.
As the US-born sport continues to grow in popularity on this side of the pond (if you don't know much about it, read our definitive guide here), we talked to the people at the heart of the nail-biting discipline about how it came to these shores, where it is today and the hopes for the future of the Flat Track.
From Humble Beginnings
The introduction of Flat Track racing in the UK can be credited to one man, Lincolnshire-born motorcycle racer, Peter Boast AKA 'The Godfather Flat Track.' Boast is as down-to-earth as they come, displaying humility that belies the fact that without him, it's unlikely the sport would ever have taken off in this country.
Like many motorcyclists of his generation, Boast was inspired by the classic Steve McQueen movie On Any Sunday, in which Flat Track racing features prominently.
Having recently retired from road racing and in search of a new challenge, Flat Track looked like a sport he could get on board with, but to do so, he'd need to head to the States.
In the pre-internet mid-90s when Googling how to do something was not an option, Boast placed an ad in the US magazine Cycle News, appealing for help with his ambition.
He got one reply and on the back of that, managed to persuade someone to lend him a bike. With a flight to the US booked, his love affair with Flat Track began.
Boast found himself thrown in at the deep end. Being the first non-American to ever compete in Flat Track in the US was, in his own words, "pretty cool" but he is also the first to admit that he wasn't very good.
While his off-road riding experience was plenty, it did not prepare him for competing with over 100 professional, highly experienced Flat Track racers.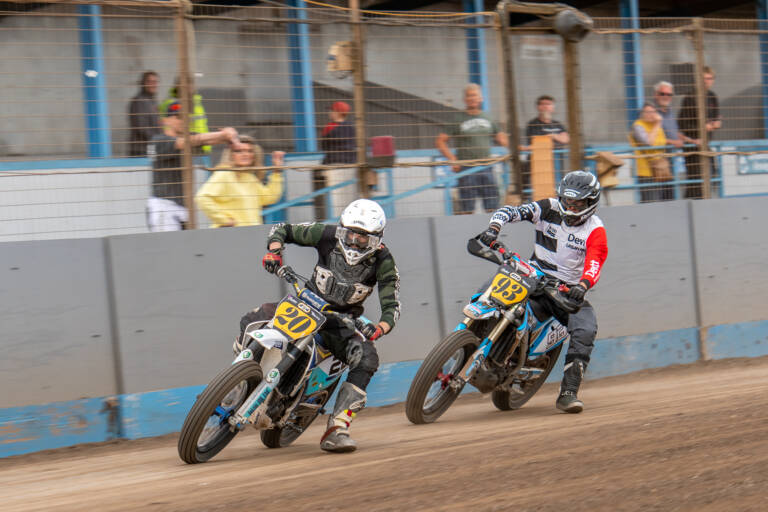 After nine tough events, Boast headed for home, but he had seen enough to know that this was a sport he wanted to keep doing. Back on UK soil, he began taking part in Speedway races as it was the closest he could get to Flat Track. As it turned out, he had a talent for the sport and ended up competing at various levels for seven years.
By this point it was early 2005 and Boast was still harbouring a desire to finish what he'd started in Flat Track.
He flew back to America to give it another go, and with the seven years of Speedway under his belt, his riding had vastly improved. He started winning races in the amateur classes and enjoyed every minute, but what he really wanted to do was bring the discipline to the UK.
Boast flew home and immediately approached the ACU to ask if they could help in introducing the sport. The answer was a firm "no", followed by "if you want to do it, you need to do it yourself." So that's exactly what Boast did.
With the support of his wife and despite having no experience in running a race series, by April of 2005 he had booked a track, advertised it and "bullied his mates" into taking part.
Twenty-seven riders turned up to the first event on an array of different machines, from motocrossers to sand racing bikes.
Anything went and anyone could take part. Using his contacts in the Speedway, Boast planned more events, but attendance was patchy. People didn't know what Flat Track was and it was a tough sell to get them involved.
Boast decided to make things more official, turning it into a championship with ACU approval under the name Short Track UK (STUK).
He also knew that for it to be a success, he couldn't rely on people coming to the sport, he had to take the sport to the people. He set about persuading motorcycle event organisers to include Flat Track racing at their existing events.
The first showcase at the BMF Show got the ball rolling and with each event, more people began turning up to the STUK's own events.
With a helping hand from Italian Flat Track racer, Marco Belli (who later taught Valentino Rossi how to race Flat Track), interest continued to grow and within two to three years the championship was attracting riders not just from the UK, but Italy, Germany and Holland too.
By 2013, the Flat Track championship was in a strong position. There were more than 60 riders involved and it was being taken more seriously, but Boast was ready for a change of pace. He'd set up his Champions Flat Track training school and was keen to get back into road racing so, unable to give STUK 100% of his time, he knew that something had to give.
A New Era
Boast confided in two of his close friends and fellow racers, Anthony Brown and Gary Iman (the editor of Flat Track magazine, Sideburn).
They sat down and hatched a plan for Brown to take the reins, forming a club and taking the pressure off Boast. This was a turning point for the championship, and Boast is quick to credit Brown for the way in which he has evolved the sport upon the solid foundation he had laid.
Under Brown's chairmanship, the club became a not-for-profit organisation and was renamed the Dirt Track Riders Association (DTRA).
The championship got a new look, with punk rock-style branding that gave it its own identity and moved it away from its former Speedway feel.
Big changes have been made to the entry classes over the years, with the introduction of the Rookie, Minibike, Vintage and Hooligan classes amongst others.
Some are based on skill, while others are based on bike type, allowing for vast breadth in the experiences and age of riders, as well as the machinery. In 2015, Indian Motorcycles came on board as title sponsor of the championship.
Flat Track was riding a wave, further boosted by Sideburn magazine's annual 'run what you brung' DirtQuake festival, which has been instrumental in introducing new people to the sport.
The Superprestigio Dirt Track series was revived and headlined by Marc Marquez; the newly-opened Rossi's Ranch featured a flat track; and Roland Sands' Super Hooligans series began. All of this brought Flat Track to the attention of the motorcycling masses.
The DTRA now runs 12 classes in the Flat Track Nationals and has over 200 riders taking part. At Pro level, there are the serious riders on serious machines, built to race with specialist tyres and modified suspension.
The more informal classes remain however, so anyone can still come along with any bike and have a good go "like in the olden days", as Boast puts it.
Flat Track and the Future
Flat Track racing may still be relatively low profile in comparison to other disciplines, but the work that Boast, Brown and Inman have put in to raise awareness is undeniable.
Brown's efforts have gone a long way to encourage riders from abroad and the DTRA continues in its quest to bring the sport to new audiences. The organisation is heavily reliant on people willing to give it a go having seen the sport showcased at another event, via a training school or through an experience day.
In a neat circle of events, Boast's own training school is now one of the biggest "feeders" into the sport and has seen some impressive talent progress through the ranks, including Jack Bell and 2021 National Superstock champion Tom Neave.
Children as young as six can take part and it serves as brilliant grass roots training for progression to other disciplines thanks to the incredibly high level of skill required.
Brown describes Flat Track in well-practised verse: "It looks like the simplest form of motorcycle sport, but it's actually one of the most complicated.
It looks like something you can learn very easily, but to get really good at it takes a lot of time and determination on the bike. It's very rewarding but it's also very, very accessible." Much of the appeal for the riders that take part also lies in the camaraderie in the paddock, the lack of big egos and the inclusive nature of the set-up.
Interestingly, Flat Track is one of the most forward-thinking sports when it comes to female riders, and Brown cites women in motorsport as the DTRA's biggest area of growth.
He and his partner, Anna, have worked hard to encourage women to join the club, running female-only events to generate racing sign-ups.
They purposefully do not run a female-only class, instead promoting female participation on a level playing field. The ambition is to follow the US model, in which women are more than capable of competing with their male competitors.
Twenty-three women took part in the 2021 UK Flat Track Nationals, with stand-out rider Leah Tokelove finishing the season inside the top ten despite being injured in a late-season crash.
The DTRA's overall goal is to involve as many people in motorsport as possible, whether that's riders or spectators, and to run high quality, club level events.
The Flat Track Nationals are free to watch and provide edge-of-your-seat racing with a vantage point across the entire track, so you don't miss a single bit of the action.
It's also well known as one of the friendliest paddocks and welcomes newcomers with open arms, as Vanoni x Devitt's Max Vanoni can attest. Vanoni set up the team in 2019 with the support of Devitt alongside Peter Boast and built the bike on which Jack Bell competes, oringally whilst working with Death Machines of London
He is a great example of how quickly and easily new teams and riders can become involved in Flat Track. Within just two seasons in the series, he's gone from a relative outsider with no experience of the sport to feeling like he has "been there forever."
While the Covid-19 pandemic put a stop to the 2020 Flat Track Nationals, the DTRA ran a five-round national season in 2021 and will be running both a UK and a European series in 2022.
This year has also seen the first-ever full season of the official FIM Flat Track World Championship, which is a big step forward for the sport and provides another goal for the more serious racers at grass roots level to aim towards. The future for Flat Racing in the UK and beyond certainly looks bright.
For more information on how to get involved in Flat Track, visit https://www.dirttrackriders.co.uk/