Welcome to the fifth instalment in our safety feature campaign series: Devitt Rider Safety with road safety journalist  @djrwilliams.
We're on a mission to create heightened awareness and debate around vital rider safety topics, initiatives and campaigns. Riders love to talk about all the latest safety and riding skills and here, at Devitt, we aim to be at the very forefront of that discussion.
Join the debate today on social media at #DevittRiderSafety
THE story behind mystery road signs and markings that appeared alongside some of Scotland's best biking routes – and that have been intriguing motorcyclists over the past year – has been revealed by research scientists.
It turns out that the features – on roadside poles and on the road surface – are part of a trailblazing new experiment into motorcycle casualty reduction, launched by Transport Scotland.
The eye-catching new 'user information' – devised by a research team including road safety specialists at Open Road Simulation Limited (ORS) – uses 'applied' or 'nudge' psychology to influence bikers on their choice of speed, positioning and braking as they approach challenging bends.
So far the signs and markings, dubbed PRIMEs, or 'Perceptual Rider Information to Maximise Expertise/Enjoyment', have appeared at four sites on three different roads frequently singled out by riders seeking a mix of challenging bends, fast straights – and stunning scenery.
Located on the A828 A82 and A85 – roads linking famous West Highlands beauty spots including Glencoe, Fort William and Oban – they first appeared in 2020 and will continue to be trialled until 2022 thanks to funding from the Road Safety Trust to extend the research. If – as scientists hope – they have a marked effect on rider behaviour, the radical new approach could be rolled out across other challenging locations.
Something new – and secret
So what's the big idea? Professor Alex Stedmon of ORS, says motorcyclists are often 'difficult to reach and engage with' on matters of road safety. In addition, they tend to adapt to conventional road safety messages so that their effect wears off over time. "We wanted to try something new and engaging," says Prof Stedmon, (the world's first Professor of Motorcycling).
Intriguingly, the precise way in which these radical new PRIMEs influence riders can't be revealed – in case it affects the scientific trials and research data. What scientists will reveal, however, is that the mystery PRIMEs consist of upright sign posts at the roadside, and markings painted directly on the road surface, on the approach to bends, to 'prime' riders' behaviour.
The blue roadside signs display an image of a motorcycle, above which is an arrow pointing in the direction of travel. Above that are short, slanting white lines. The white lines are repeated at set intervals on the approach to the bends on the actual road surface.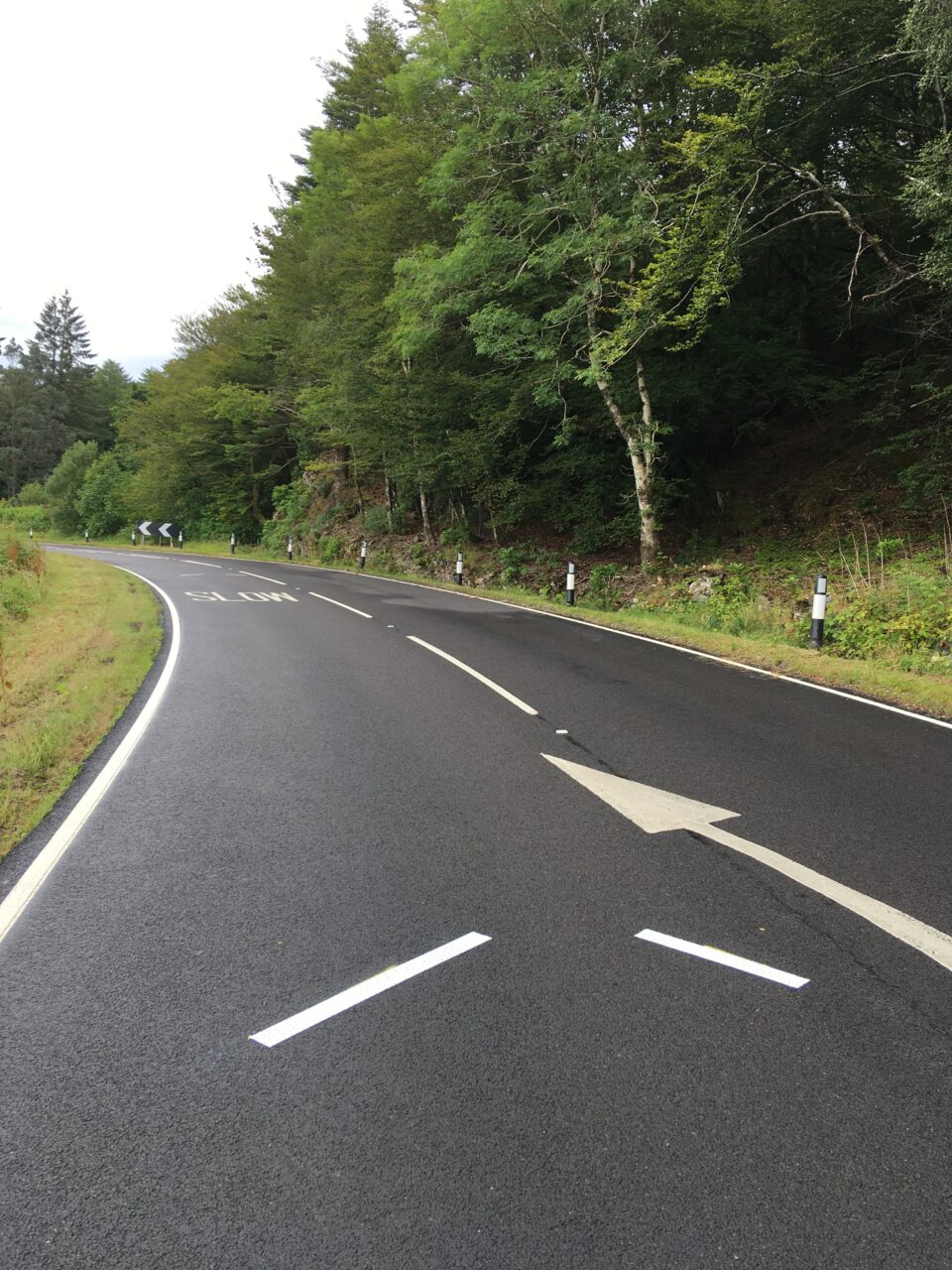 The bends were chosen for a variety of reasons; they're technically demanding because of factors including limited vision, offset cambers, damp surfaces, walls running alongside, tricky lighting conditions, and unpredictable geometry.
Encouraging results
The results of the experiment have been encouraging, say researchers. Using on-site cameras, almost 13,000 motorcyclists were analysed last summer.  Around a third of these were analysed in more detail.
After studying the data, it became apparent that riders are changing their speed and positioning on approach to a number of bends, potentially making them safer. And all without any explicit instructions or nagging. The effect of PRIMEs on braking was less evident. Crucially, there was no evidence of any negative effects on rider behaviour.
Overall, says Professor Stedmon, there's 'strong evidence for a range of beneficial effects'. In other words, PRIMEs are helping riders judge speed, position and braking, in ways that are yet to be explained.
Professor Stedmon reveals that of the 13,000 riders, approximately 10 per cent were carrying a pillion and around two-thirds of riders were part of a larger group, highlighting the sociable nature of motorcycling. Which is why many of us ride in the first place.
New skills
The ultimate goal, says Professor Stedmon, is to reduce casualties, develop a new approach to road safety and devise guidelines for installing PRIMEs in additional locations. "Our aim is that PRIMEs are intuitive and require little thought," says Professor Stedmon.  "Anything that a motorcyclist has to think about too deeply could affect their riding."
If the scheme is rolled out further afield, it can't come soon enough. In Scotland, motorcyclists make up just 2.2 per cent of road users but are involved in 14 per cent of what experts call 'KSIs' – 'killed and seriously injured' figures. UK-wide, motorcyclists typically represent less than one per cent of the total vehicle miles on roads but account for 21 per cent of all road fatalities and are around 51 times more likely to be killed than car drivers.
Expert research shows that rider error is often the cause for loss of control on bends due to 'inappropriate' speed, poor positioning and failing to steer correctly. There can't be a single rider who hasn't – on occasion – tensed up, or worse, after misjudging a bend and going in a little (or a lot) too fast…
The PRIMEs research is the biggest scheme of its type ever tackled in Scotland and possibly the UK. Watch this space to discover what happens next – and whether the 'mystery' markings will be coming to a bend near you, any time soon.
WHY DO RIDERS HAVE ACCIDENTS ON BENDS?
Some of the dangers – including restricted vision, slippery surfaces and inexperience – are obvious. Experts say that accidents more likely happen on sharp bends rather than on gentle bends and that left-hand bends are more dangerous for those riding on the left-hand side of the road. That's because it's harder to gauge the bend's curvature when riding on the inside 'lane' of a bend. Other challenges include problems with judging correct 'vanishing points' and difficulties with identifying safe braking distances.
As experienced riders know, in order to safely ride round a bend you have to be at a suitable speed for the conditions, your lane position has to be correct on entering the bend, and you have to have slowed down enough first – so you don't need to brake while going around the bend. But it's trickier than it sounds, especially for novices.
WHAT'S WRONG WITH EXISTING ROAD SIGNS?
Their effect can 'wear off' through familiarity. Current road signs are also generic; they tend to apply to all types of transport.  PRIMEs are designed specifically for motorcyclists by motorcyclists, based on research into the unique needs and requirements riders have when approaching demanding bends.
The mystery of the PRIMEs signs was revealed at Road Safety GB's online PTW event, 'PTW Riders: improving safety and reducing collisions and casualties', sponsored by Devitt.
David Williams is a freelance journalist who specialises in road safety, transport and travel. He's been the London Evening Standard's motoring correspondent for 26 years, also contributing to the Daily and Sunday Telegraph, Sunday Times and various magazines. He is a Prince Michael of Kent International Road Safety Awards judge.