Ponderosa Cafe
Wales offers the perfect territory to explore on a bike. It is a biker's haven with plenty of lovely routes that dot the stunning Welsh landscape. Set atop the beautiful Welsh town of Llangollen at the summit of the Horseshoe pass, lies the famous Ponderosa Cafe. It is a family run business and is celebrating its 31st year of being in business. The Ponderosa is one of the most well-known and popular cafes in North Wales.
Situated at a height of 1,400 ft above sea level, it offers the most spectacular views of the countryside and has some lovely spots to explore on a trip there. To its north lies the Clwydian Mountain range, which looks enchanting on a clear day. If the weather is good visitors can also catch a glimpse of the three peaks of Snowdon.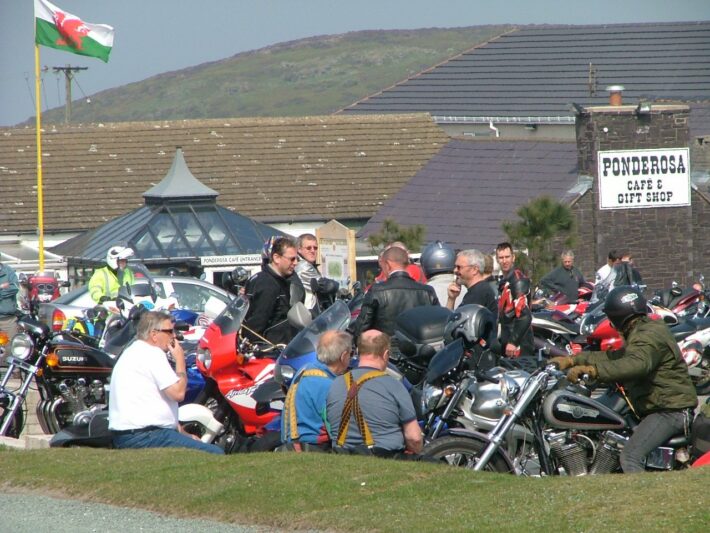 The Ponderosa Cafe is a well-known venue and meeting spot for motorcycle enthusiasts.  There are some fabulous roads to ride and you will find a wide variety of bikers frequent the place. From newbie riding enthusiasts to veterans, you will find them on all sorts of bikes, ranging from the vintage to the latest models. Just a few of the classic bikes you can expect to see on a visit are the Triumph, BSA, Vincent and AJS to name a few. In summer the place is abuzz with hordes of bikers descending to the cafe.
With great attractions to explore and wonderful open country roads to ride, it makes for a great biking experience. With extensive parking facilities, good food and a large refurbished cafe, it is the ideal stopover for a trip when in the area.
Important Ponderosa Cafe information:
Opening times: 9 am – 4.45 pm weekdays, 8 am – 5.30 pm weekends
Telephone: 01978 790307
Location: The Horseshoe Pass, Llangollen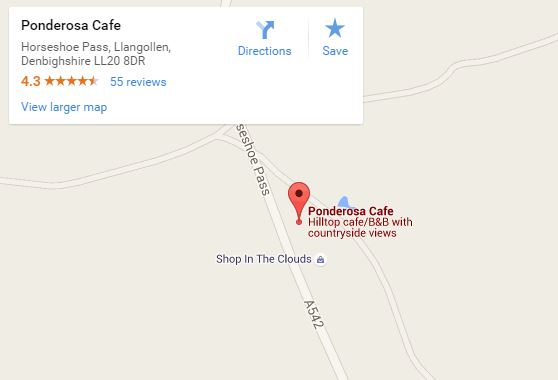 Ponderosa in action
Just a standard Sunday at Ponderosa…
Ponderosa Cafe Gallery
Gallery