Penny Garth Cafe
If you're looking for a big biker breakfast before heading out on a ride around the Yorkshire Dales or you're looking for a pit stop on the way home then check out Penny Garth Cafe. It's not surprise that Penny Garth is one of Yorkshire's most popular cafes for bikers due to its fantastic location and sizeable parking area.
The cafe is often frequented by motorcyclists, cyclists, walkers, families and tourists alike which means there is always a lively atmosphere inside and out. There's always a wide selection on the menu including hot meals, sandwiches and snacks.
Penny Garth is open daily, however opening hours may vary due to the weather (long in the summer and shorter in the winter). The cafe also hosts a number of regular events including Pizza nights on weekends, weekly bike night and other events organised by local clubs.
Want to check out all the action from the cafe? They've got a live streaming webcam set up so you can see how busy the cafe is, what the weather is like and what's going on before you set off on your trip!
With Penny Garth being situated just off the A648 in Hawes it is surrounded by some of the best biking roads and within easy reach of Leyburn, Leeds, Devils Bridge, Manchester and the Lake District, just to name a few.
Important Penny Garth information 
Telephone: 01969 667066
Opening hours: Monday to Thursday 10am – 4pm, Friday 10am – 9pm, Saturday and Sunday 9am – 9pm
Location: Penny Garth Cafe, Market Place, Hawes, Wensleydale, DL8 3RD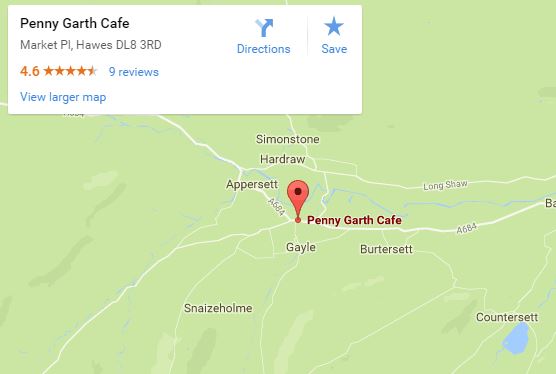 Penny Garth in action…
Check out the surrounding roads to the Penny Garth cafe and plan your next ride!
Penny Garth Gallery
Gallery