The Filling Station 
Hidden on the outskirts of the Lake District, you'll find the tiny café that is The Filling Station; it's the perfect pit stop during those long rides around the Keswick roads.
The Filling Station opened in 2011, in what was a former petrol station and car dealership dating back to the 1950's, today it stands proud as a very popular café for bikers.
The Filling Station prides themselves on their freshly made-to-order food with locally sourced ingredients making sure each meal is truly delicious. The menu offers a wide range of food from breakfast snacks to the finest Lakeland beef burgers, delicious sandwiches and much more. Not to worry if you're a vegetarian, there are plenty of options for everyone!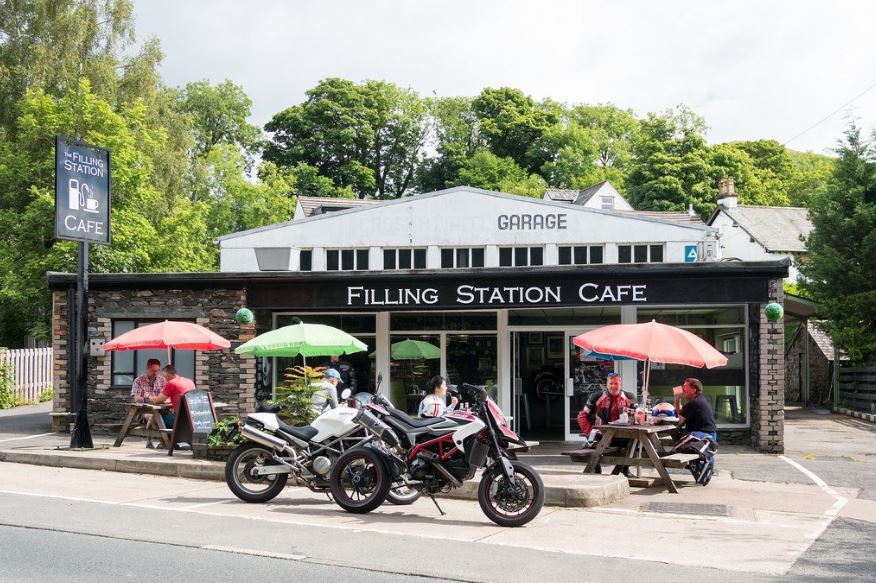 If you're a lover of coffee then The Filling Station is the place to grab a cup with the coffee beans roasted locally by John Watts of Carlisle who has over 175 years of experience, so grab a coffee and a slice of one of the famous Filling Station fresh cakes.
Situated from the A66 (2nd Keswick turnoff), there is ample parking for your bikes and also the opportunity to wonder round the local town that is just down the road.
During the summer season The Filling Station host live acoustic music nights that started at 8.30pm.
Bikers are always welcome!
Important Filling Station information:
Telephone: 01768 772103
Location: Crosthwaite Road, Keswick, CA12 5PR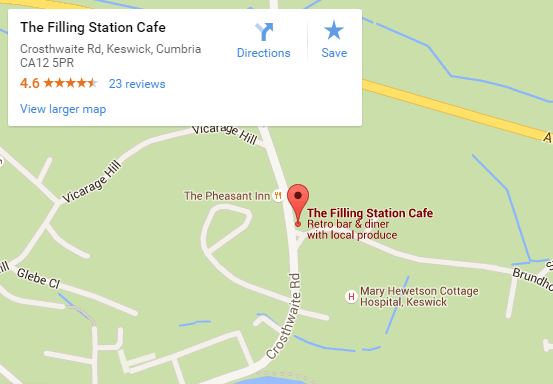 Key Filling Station Events 
Event: Live music nights
The Filling Station host late night acoustic music nights during the summer months, food orders are taken until 8pm with the music starting at 8.30pm. These events happen on mostly a weekly basis but head down to the café or give them a call for more information!
Event: Classic and Custom meetings
Most summer months will see The Filling Station host a classic and custom meet for both bike and car enthusiasts on Sunday afternoons. You can find out more information about the meets on their Facebook page.
The Filling Station Gallery
Gallery