Now here's a debate that's sure to get you talking. We all know it's illegal to ride a motorcycle on the road without wearing a helmet but what really baffles Devitt blogger Ray is the none existent laws regarding wearing other protective clothing. After all, it's not just the head that can be seriously damaged in an accident. Should there be a change in the law? Read on to hear Ray's views on the matter.
Isn't it amazing how a little sunshine and the warm weather brings out the 'Free-spirit' in everyone?
There I was sat at the side of my bike, parked at the side of my tent talking to Graham a fellow camper.  We were discussing the presentations we'd attended the previous night at the HUBBUK 2014 meeting, when we both stopped to watch a couple of guys on BMW GSA1200's ride past.
The road through the camp site was bone dry and strewn with rocks the size of your fist. Both riders were stood up on the pegs, leaning forward over the bars with elbows at almost right angle 'Nick Plumb Style'. I had to smile, coating us both in a fine layer of dust as they passed. The GSA's were fully loaded with all the adventure gear, both riders wearing huge motocross style boots, heavily armed trousers, vests and ………no helmets! Not that it was a problem being on private land & away from the public highway.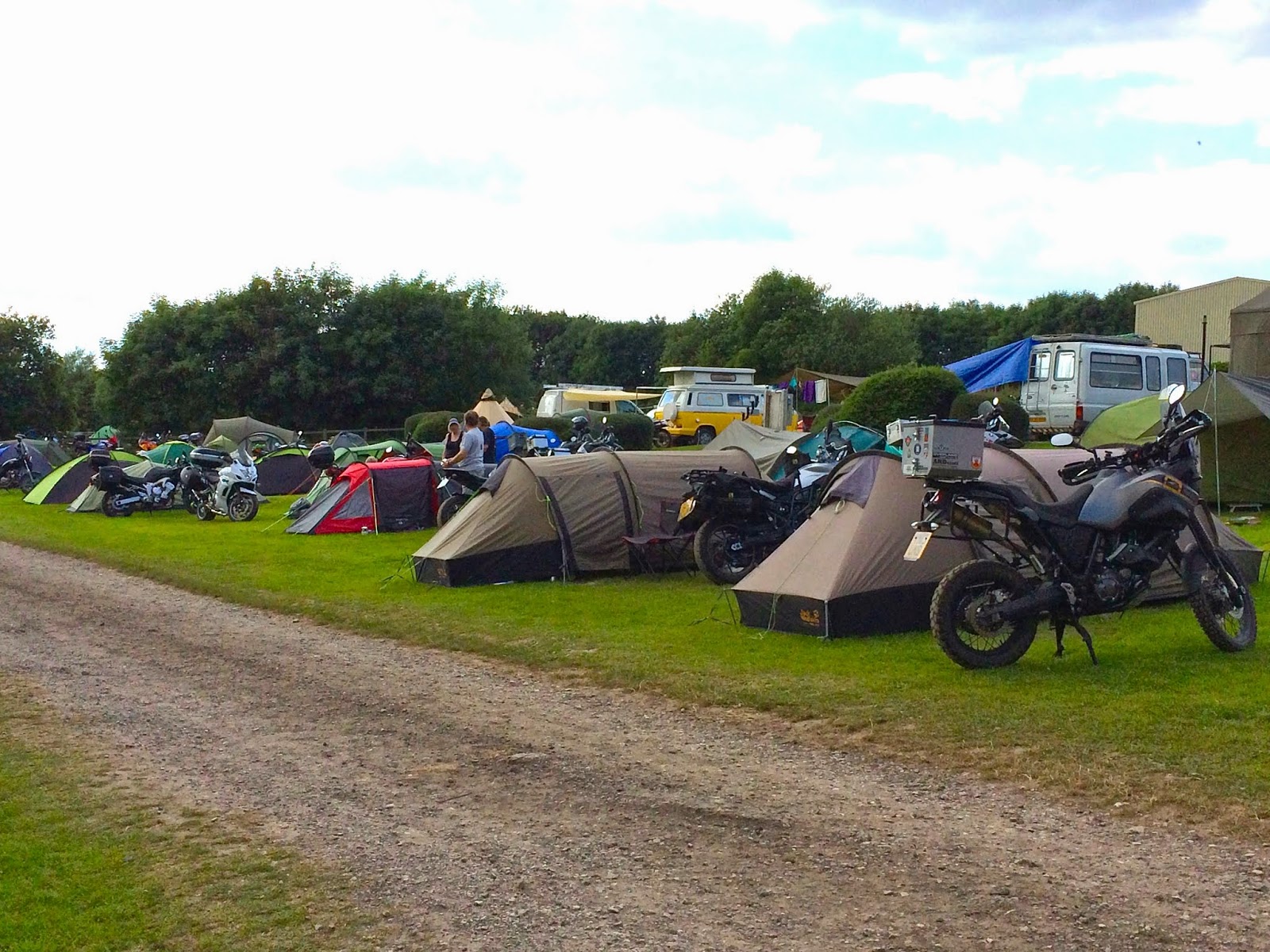 "I'd hate to think what damage they would do if they came off" I commented to Alan who had just walked over to join the conversation.
"The cost of fixing the bikes would have them in tears well before the pain of the grazed arms kicked in" came the comical reply.
However it was not their attire that made me smile as free-spirited as it may have been. No, it was an article I'd read very recently about the proposed increase in the fine for not wearing a helmet from £30 to £2000!
Now correct me if I'm wrong, but I was always lead to believe that it was against the law to ride on a public highway without a helmet! One thing is for sure I would never ride my bike anywhere without my trusty lid well and truly fastened on my head.
What confuses me even more is the fact that there are no laws governing the compulsory wearing of safety clothing!
How many of us have seen the proverbial free-spirited holidaymaker flying around the local resort with the full-face helmet perched on the top of their head? Blasting around unfamiliar roads on hired scooters wearing nothing but shorts and flip-flops. The vision only being made worse when both the rider wearing trunks and his female pillion in the inevitable bikini fly past at full tilt.
Only today I saw one of my neighbours riding home from work on his L-plated Honda CB125 wearing armoured jacket, work boots, biking gloves and helmet plus a nice pair of Puma shorts. I just hate to think what would happen if he went down the road at 30 miles an hour in those.
My question is not about increasing the fine for not wearing a helmet but "should the fine also include the compulsory wearing of safety clothing?"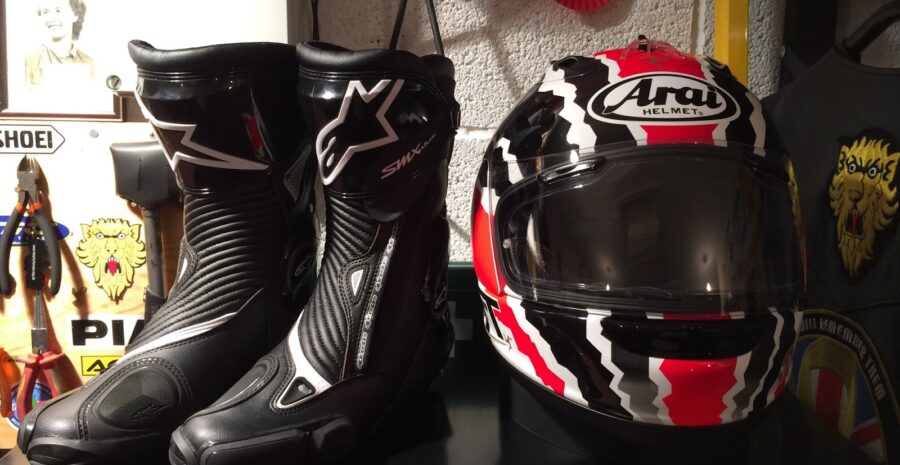 A reporter gave an example of some one being fined £30 for riding to the local shop without a helmet. However the rider was wearing all the other protective clothing along with a good set of biking gloves. "Where is the logic in that?" I ask you?
I understand that 'freedom of choice' is paramount to many riders and the introduction of such a law would be classed at yet another 'unnecessary' (in some peoples opinion, mine not being one of them) evil but what a difference it would make to road safety. The wearing of safety approved motorcycle helmets has been compulsory since 1st June 1973 when the Motorcycle Crash Helmet Act came into force. The law was introduced to great dismay by numerous motorcycle organisations stating it was removing the free-spirited riders freedoms of choice. All arguments were met with statistics of increased life expectancy if a rider was wearing an approved safety helmet.
So if you planning on increasing a fine for not wearing one piece of essential safety equipment that you 'must wear by law' then why not change the law to include protective clothing too? Surely that make more sense don't you think?
The amazing industry that has sprung up since the Motor Cycle Crash Helmet Act came into force is now a multi billion pound industry. Followed very closely by the 'safety attire' industry producing everything from, gloves to back protectors to Kevlar jeans and full leather suits. Would it not make sense to enforce the wearing of such safety attire and include it under the same legal requirement as the crash helmet?
Having been over the handlebars a few times the first thing to hit the ground is always my head, (which many will say accounts for my ramblings). It certainly accounts for my pro-safety gear opinions!
Back in '82 I remember a white mini bus I was following in atrocious conditions pulling out to overtake a couple of parked cars, only to stop dead mid overtake. I hit the brakes on the old Suzuki GT380 but slid on the wet road straight into the back of the mini bus leaving a perfect ' i ' imprint in the back door.
The next thing I remember was the foot peg sticking into my left leg, the scar from which I still carry to this day.  The driver did no more, he started taking a statement from a passer-by whilst the workmen on the bus jumped out and lifted the bike off my leg. It turned out to be the bus driver's third accident in as many weeks!
Now if I had not had my helmet on I'd hate to think what damage I could have done to the bus, let alone my head. Plus if protective clothing had been a legal requirement I'd probably not have a dint in my left leg.
It's not up to me to decide if the wearing of protective clothing should be made a legal requirement, but how can one piece of equipment be legal, and the rest of the riding gear be optional?
You decide.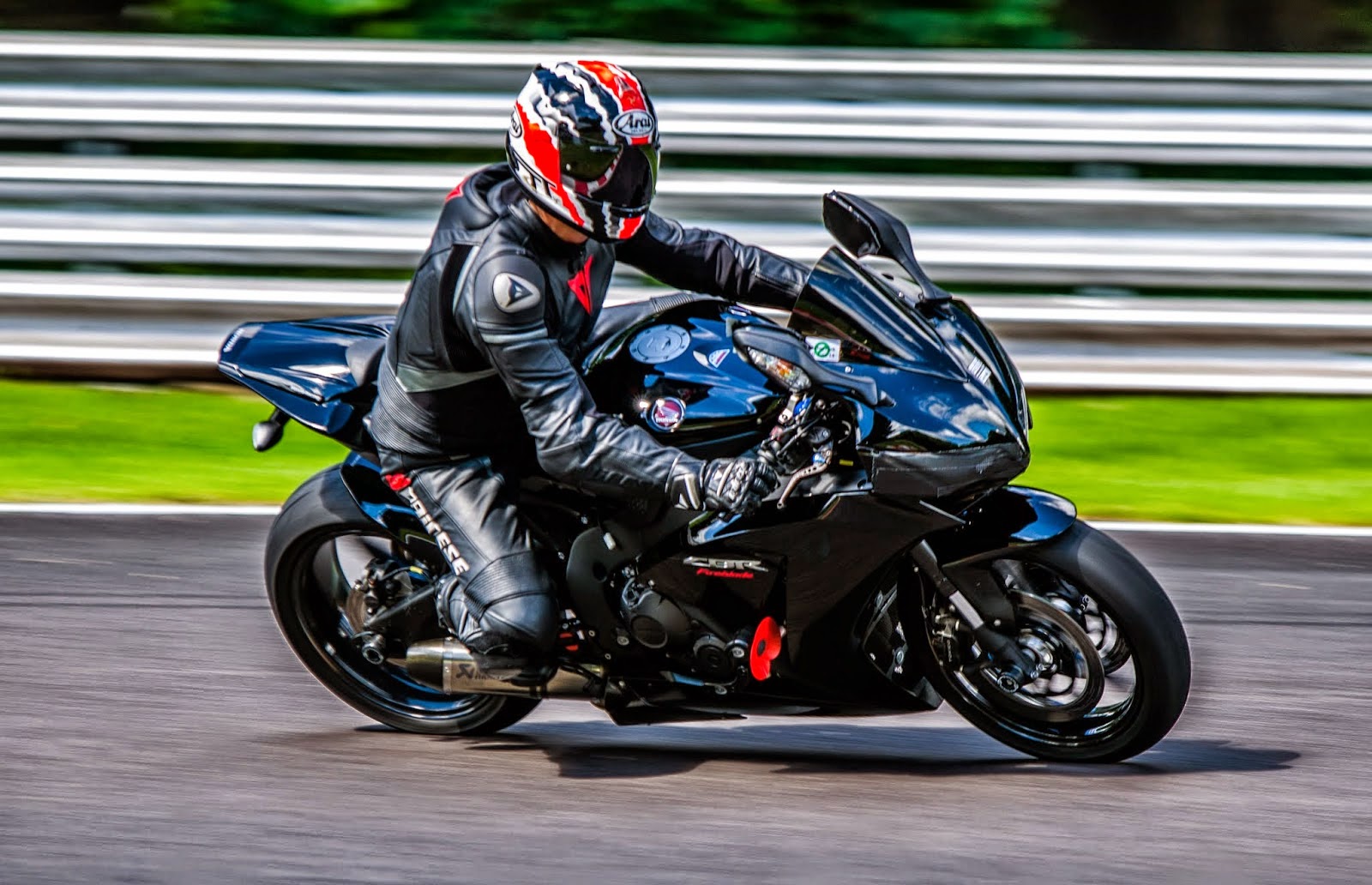 Raymondo
The Wandering Walton