With over one hundred years of history and being one of only two American motorcycle manufacturers to survive the Great Depression, a "Harley" is as iconic as an American motorcycle can get.
The mention of a Harley often conjures up the image of heavyweight motorcycles designed for highway cruising.  This chopper style has in fact been the only type of Harley-Davidson motorcycle to be made available to the public from 1977 to 2014.  Apart from VRSC and Street models, current Harley motorcycles reflect its classic traditional designs.
Despite the success of the brand and its popularity with motorcycle enthusiasts, Harley-Davidson suffered a recent financial crisis which demanded complete restructuring.  The brand also failed in its attempts to gain a foothold in the light motorcycle market.  However, its re-entrance to the middleweight market in 2015 with its Street series has been promising.
A Brief History
In 1901, at the age of 21, William S. Harley completed a blueprint drawing of an engine designed to fit into a bicycle.  Working in a 10 x 15 foot wooden shed, he and Arthur Davidson successfully brought out the first Harley-Davidson motorcycle onto the market by 1903.  This racer bike featured a 3-1/8 inch bore and 3-1/2 inch stroke.
Much progress was made in the next few years – the first Harley-Davidson Dealer, C.H. Lang of Chicago, opened up its doors, Arthur Davidson's brothers Walter and William joined the team and Harley-Davidson had six full time employees.
The big break for the brand came in 1908 when Walter Davidson scored a perfect 1,000 points at the 7th Annual Federation of American Motorcyclists Endurance and Reliability Contest.  His efforts propelled Harley-Davidson motorcycles into the public eye and soon sales began to soar.
In the same year, the company began supplying motorcycles for police duty to the Police Department in Detroit.  It went from strength to strength and became the largest motorcycle manufacturer in the world by 1920.
Subsequently, World War I, the Great Depression and World War II all had an impact on the company.  It managed to survive and even started producing smaller Harleys – Hummers and Aermacchis post WWII.  However, its reputation became tarnished in 1952 when it was charged with restrictive practices by the US Government.  It was bought by American Machine and Foundry in 1969 and then sold to a group of thirteen investors led by Vaughn Beals and Willie G. Davidson.  Today, it is a public company with its shares traded on the New York Stock Exchange.
Popular models
Harley-Davidson Sportstar XL1200, 2014:  A mid-size vehicle with 1,200cc 4v V-twin engine and 5 gears, the XL1200 has classic Harley looks, a spacious feel without the weight of its heavier models and a top speed of 110mph.
Price new: £9,495
Price used: £6,995
Licence type required:  A
Harley-Davidson Softail, 2014:  A heavy vehicle with hidden rear suspension which makes it looks like an unsprung 'hardtail', the Softail features 1,449cc 4v V-twin engine and 5 gears, classic 50s styling, a weight of 305kg and a top speed of 110mph.
Price new: £16,495
Price used: £12,995
Licence type required:  A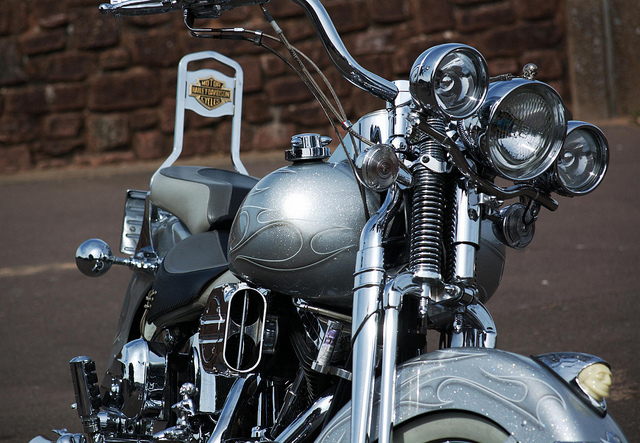 Sponsorships
The Harley-Davidson Foundation operates in communities where it has a presence.  It provides grants for underserved population in areas of Education, Environment and Health.
The company also operates a Harley-Davidson Day of Service Program where employee volunteers venture into local communities to help those in need.
Reviews
In 2014, Harley-Davidson India won an award for Operational Excellence in Manufacturing at the 10th Indo-American Trade Excellence Awards.  This is an important achievement as the company had suffered a period of poor quality control.