It's been a busy couple of weeks in the motorcycle racing world with MotoGP heading to the wonderful Mugello circuit in the Tuscany hills, the World Superbike Championship getting underway and road racing, and spectators, heading to Oliver's Mount, Scarborough.
But the highs of the meetings was outweighed by the lows when we were all reminded of the dark side of the sport at Mugello where 19-year old Jason Dupasquier sadly lost his life after a crash during Moto3 qualifying.
Tragedy hits
Motorsport, whether two wheels or four, is a tremendous spectacle and has been for more than a century. The highs are incredible, whether for the competitors, the team owners or the trackside fans. But it's also incredibly dangerous; it always has and it always will and that's why it can also be an incredibly cruel sport.
Mugello was a stark reminder of that and no matter what measures are put in place with regards to run off, safety and protective barriers, no one can predict the direction in which a rider or machine may go when they part company.
One of the worst fears for a motorcycle rider is falling in middle of a group of riders and being hit by another machine. That's what happened on Saturday afternoon and despite the rapid and substantial medical treatment Dupasquier received, the magnitude of what had occurred was clear and he sadly succumbed to his injuries on Sunday morning.
The news was announced just before the start of the Moto2 race and prior to the MotoGP race, the riders assembled at the head of the grid for a minutes silence where they were joined by the PrustelGP team for whom the young Swiss rider, who was making a strong impression in his second GP season, rode for.
Opinion was split afterwards as to whether this should have taken place moments before a race; indeed, opinion was split as to whether the race should even have gone ahead. All of the riders stated concentrating was difficult, and understandably so. Some said the race should have been called off out of respect; others felt going racing was the right thing to do and the best way of showing that respect.
Motorsport is full of passion and emotion as people pursue their dreams. It's full of immense satisfaction and enjoyment too. For the riders, there's no greater feeling in the world from when they pull on the helmet and head out on to the track, feelings that only a few get to experience at Grand Prix level.
Dupasquier paid the ultimate price for doing what he loved and what he enjoyed the most. That's a well used cliché in racing but one that's true. May he rest in peace.
Dominance from Quartararo
Frenchman Fabio Quartararo got back to winning ways at Mugello and did so in dominant fashion. The Monster Energy Yamaha rider claimed pole position and backed it up with a near lights-to-flag win.
Headed briefly in the first couple of laps, Quartararo knew that if he could overtake countryman Johann Zarco in the first corners of the lap, he could pull away through the technical sections in order to have a big enough lead not to be outgunned by the Ducati's horsepower along the long start and finish straight. The tactic worked to perfection.
Once in the lead, he extended his lead to more than three seconds and controlled it from there to the end. The win was never in question although Quartararo later admitted it was hard, understandably, to control his emotions during the race.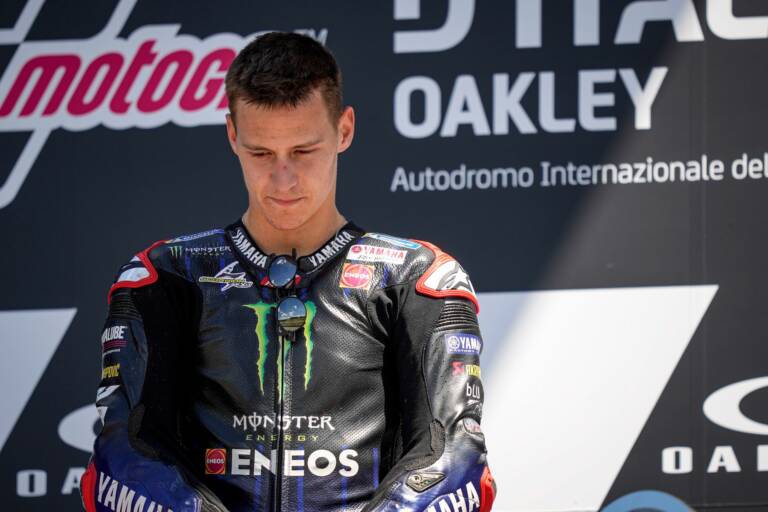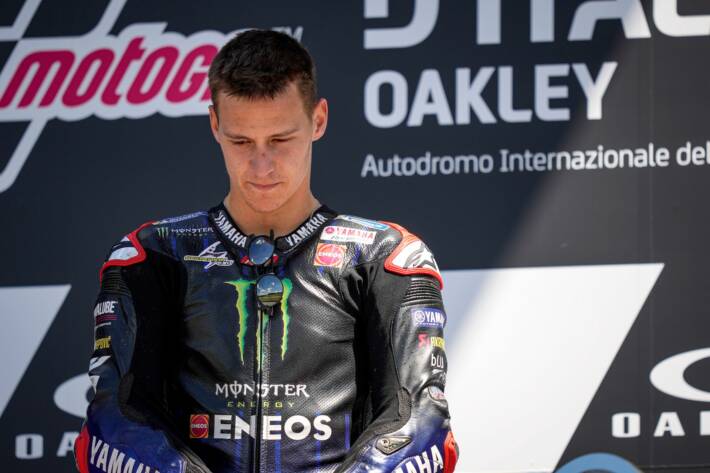 A rider who displays emotion more than most, and in all situations, the 22-year old paid the perfect tribute to Dupasquier not only by winning but also by stopping at the scene of the accident and pointing to the heavens and again in parc ferme and on the podium when he held aloft the Swiss flag.
With closest rival Pecco Bagnaia crashing out early, Quartararo now leads the championship by 24 points with Zarco up to second.
KTM fight back
After three wins in 2020, their first in the class, KTM were expected to be firm contenders for the MotoGP title this year but it's been anything but. To say they've struggled would be an understatement, the Michelin front tyre their main Achilles heel.
However, if the Mugello race is anything to go by, it looks like they may have turned the corner. Possibly one of the hardest working manufacturers, the Austrian giant has worked tirelessly since they joined the MotoGP fray full time in 2017 and they arrived in Italy with a new frame for the RC16.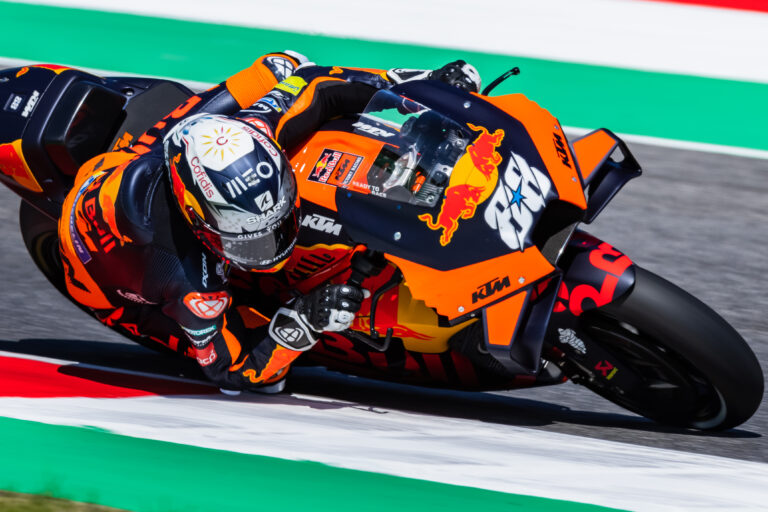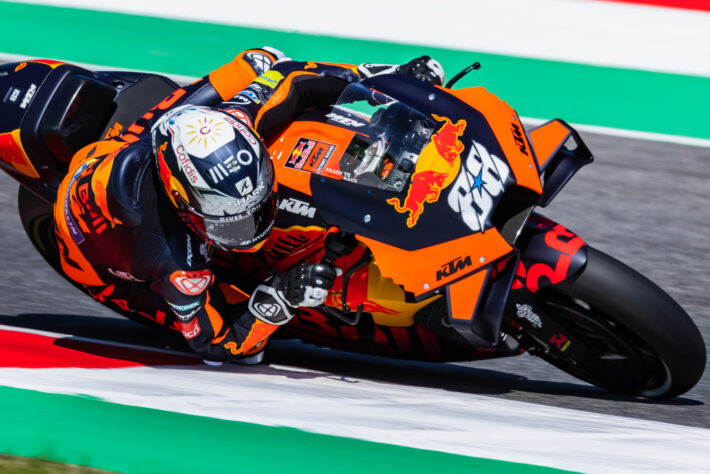 That, together with the front tyre specification they've been asking for all season saw both of their main riders, Miguel Oliveira and Brad Binder, on the pace. Oliveira rode a faultless race to finish in second – his previous best finish in 2021 had been 11th – with Binder taking his second fifth place of the season. Let's hope their fight back continues at Catalunya this weekend.
A century of wins
Away from MotoGP, the World Superbike Championship has finally got underway with back to back rounds in Aragon, Spain and Estoril, Portugal. And after the six races, reigning champion Jonathan Rea has not only opened up a 35-point lead already, he's also notched up his 100th series win. He's added three more since then too!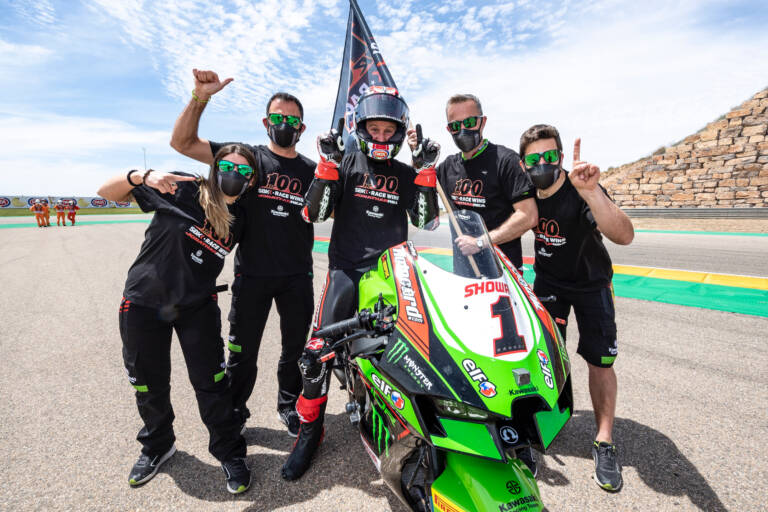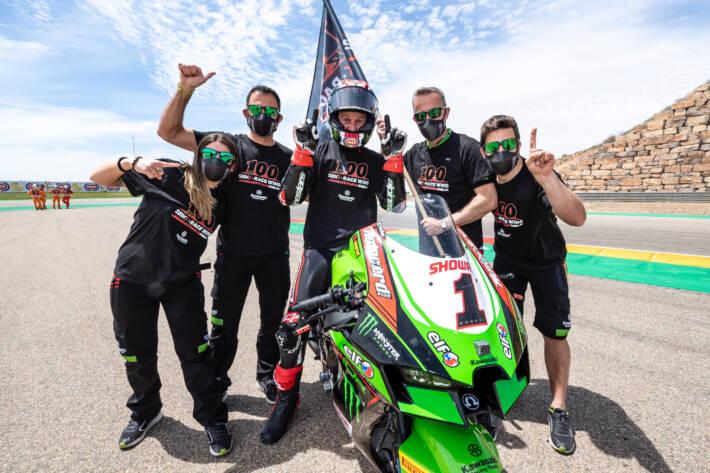 The magical century was attained in the opening race of the season and he's been on the podium in all six of the races to take place with further wins coming in both Sprint races and the second race in Portugal.
The Estoril circuit was one place where Rea 'struggled' in 2020 but that wasn't the case this weekend on the new ZX-10RR and it's a formidable looking lead he's opened up. There's clearly a long way to go but beating Rea is always an issue and with a healthy advantage already, he's already in the driving seat to make it seven titles in a row.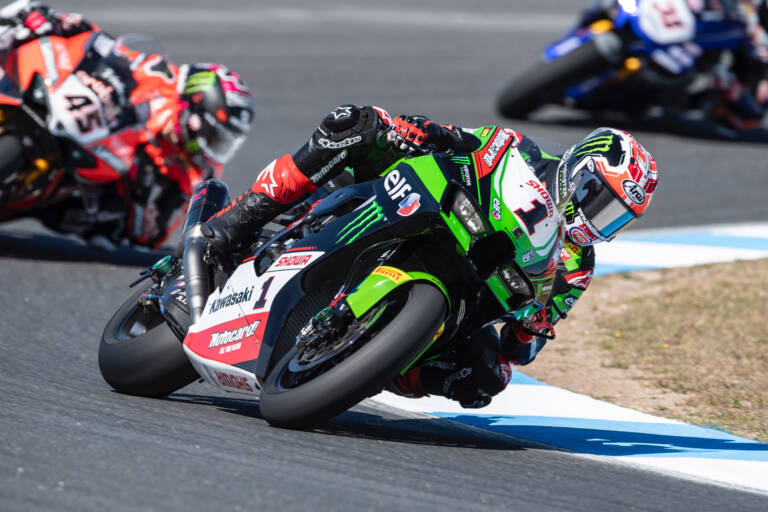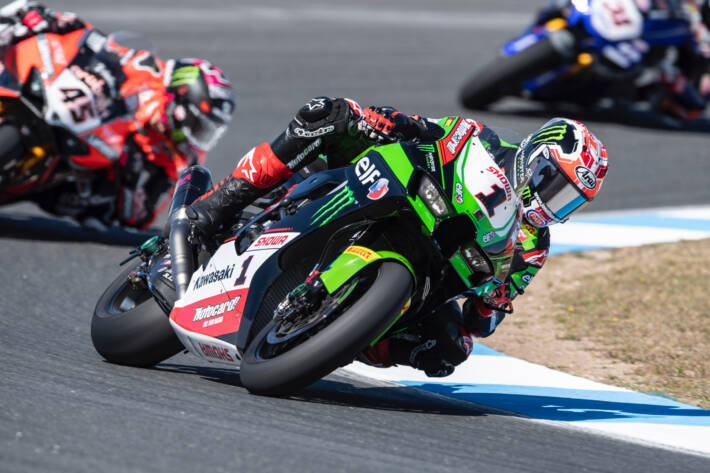 Mistakes
Despite only two rounds having taken place, it's already looking ominous for Rea's rivals. As well as the aforementioned four wins giving him a clear advantage, his main competition have all assisted him by making mistakes.
Scott Redding is seen as the man most likely to deny Rea a sixth straight title but a poor tyre choice cost him in the second race at Aragon. The Ducati rider then clawed back some of that gap with back to back victories but he undid all his hard work with a crash in the third race at Estoril, eventually remounting for 14th and two points.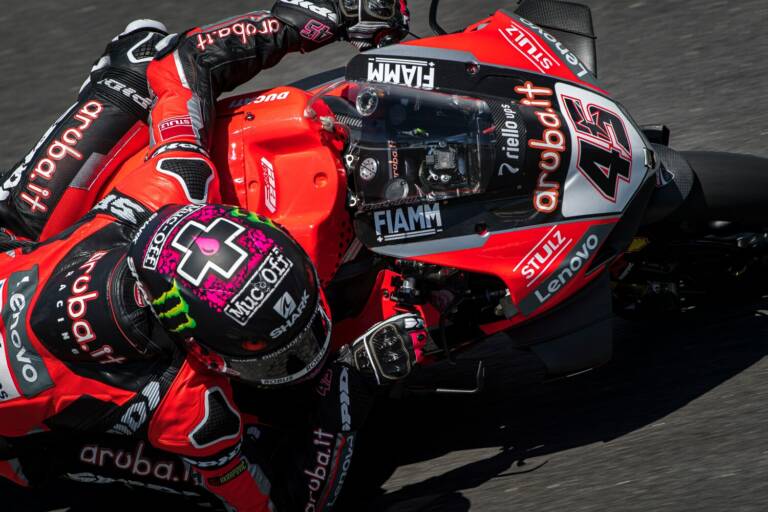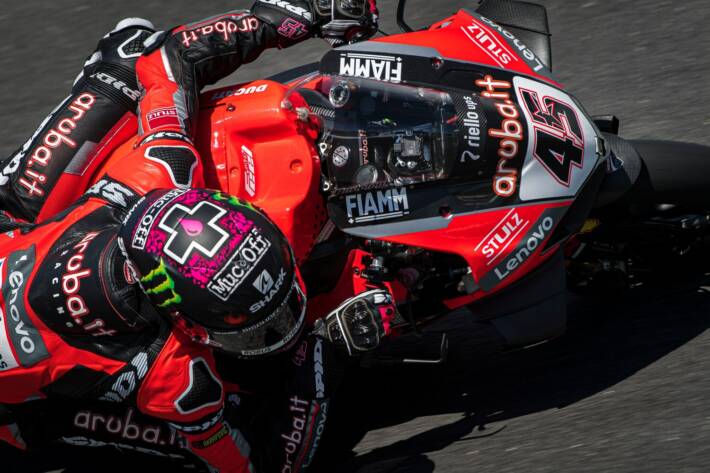 Yamaha's Toprak Razgatlioglu struggled at Aragon, as he had done in previous years, and although he finished on the podium in all three races in Estoril, a jump start in the final race saw him given a long lap penalty.
It cost him any chance of the victory and here lies the key difference between Rea and the opposition – he doesn't make mistakes but they do. An off day for the Northern Irishman is third place and that's part of the reason he's such a tough nut to crack.
Work to do
Both BMW and Honda were expected to step up their challenge in WSB this year but already the signs are there's plenty of work to do, especially for Honda who are in their second year with the Honda Fireblade.
They've regularly topped the speed trap figures this year so speed clearly isn't an issue but race circuits also have corners and it's here where they're struggling. Alvaro Bautista has managed a number of top eight finishes but team-mate Leon Haslam was a long way off the pace on Portugal taking a best finish of just 12th.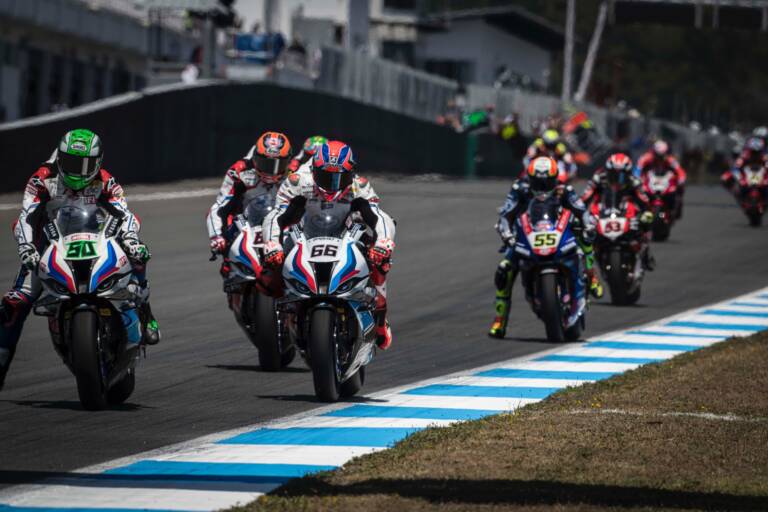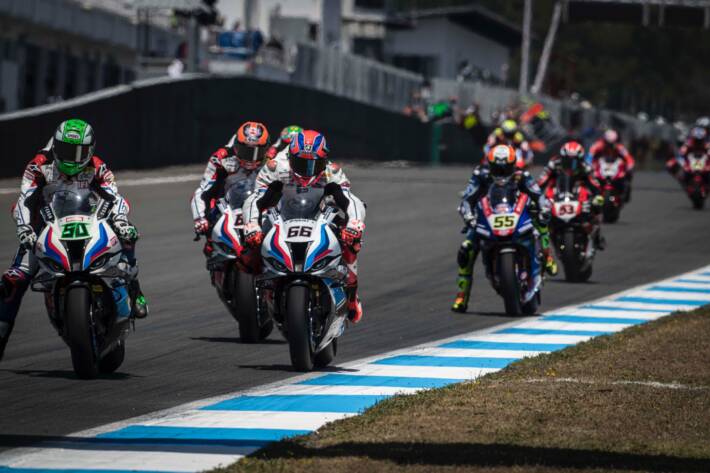 For BMW, it's a different challenge as they contest the season with the all-new M1000RR. There's been glimpses of their potential, particularly in the final race at Aragon where Tom Sykes took fourth, whilst Michael van der Mark is definitely getting to grips with the BMW after five seasons with Yamaha.
The Dutchman has stated the new bike has tremendous power but they're finding it difficult to get it through the rear tyre and onto the tarmac. Like Honda, they were more than 15s adrift of Rea at the chequered flag which equates to almost three-seconds a lap. That's an advantage you can't afford to give away and there'll be working hard to bridge that gap at the next round.
And finally
There may be no Isle of Man TT or North West 200 this year but the first road race of 2021 took place just over a week ago with the Bob Smith Spring Cup races at Oliver's Mount, Scarbrough.
With a healthy number of race fans in attendance on both days, they were treated to as good a line up as can be expected at the North Yorkshire venue with TT winners Dean Harrison and Lee Johnston joined by Davey Todd, Jamie Coward and a number of up and coming road racers including Dominic Herbertson, Mike Norbury, Paul Jordan, Mike Browne and Joey Thompson.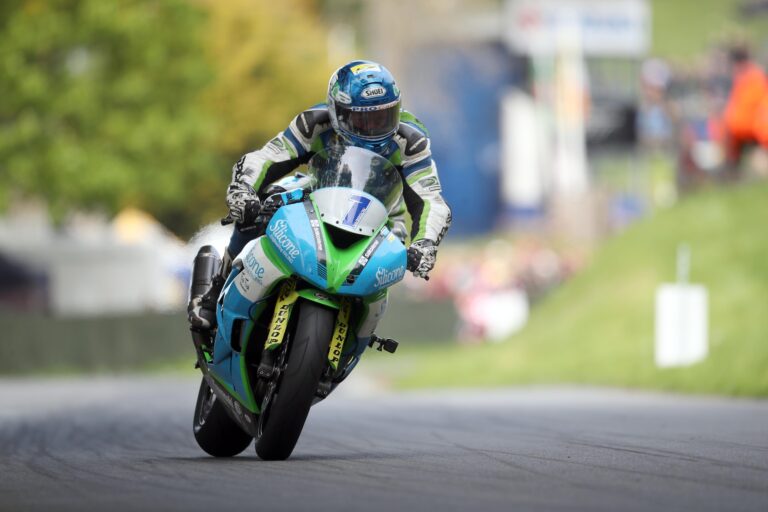 Johnston took the opening Supersport race of the weekend but after that it was Harrison who dominated with four wins including the feature race where Johnston was a non-starter after experiencing an issue with his front brake calliper.
Three more meetings are set to take place at Oliver's Mount this year with Armoy and Cookstown playing host to road races in Northern Ireland.
Having started watching motorcycle races all over the world form childhood, Phil Wain has been a freelance motorcycle journalist for 15 years and is features writer for a number of publications including BikeSport News and Classic Racer, having also been a regular contributor to MCN and MCN Sport. He is PR officer for a number of teams and riders at both the British Superbike Championship and International road races, including Smiths Racing, Quattro Plant Kawasaki, RAF Regular & Reserve Kawasaki, Dafabet Devitt Racing, John McGuinness, Lee Johnston and KMR Kawasaki. He is also heavily involved with the Isle of Man TT Races, writing official press releases and race reports as well as providing ITV4 with statistical information.