The MotoGP Championship exploded back into our lives at the weekend with its new format certainly delivering plenty of action, especially in Saturday's Sprint race at Portimao. It also threw up plenty of talking points and controversy and with 20 rounds and 40 races ahead of us, it promises to be the hectic season everyone thought it would be.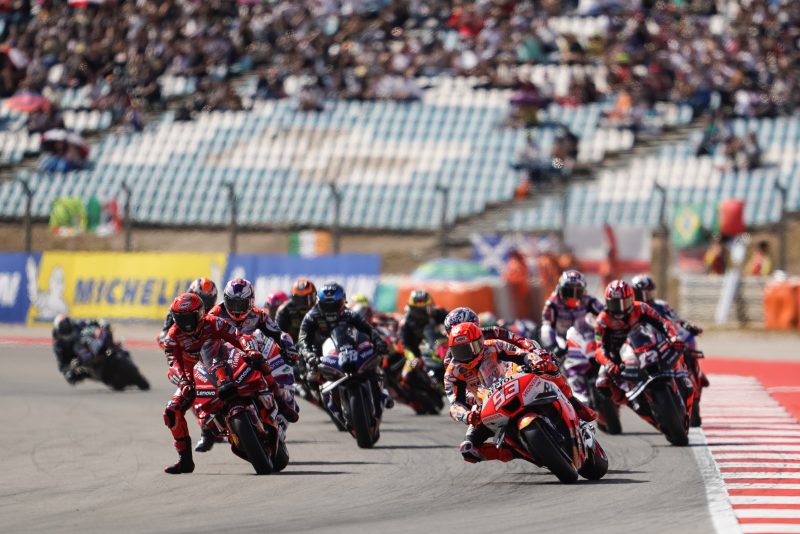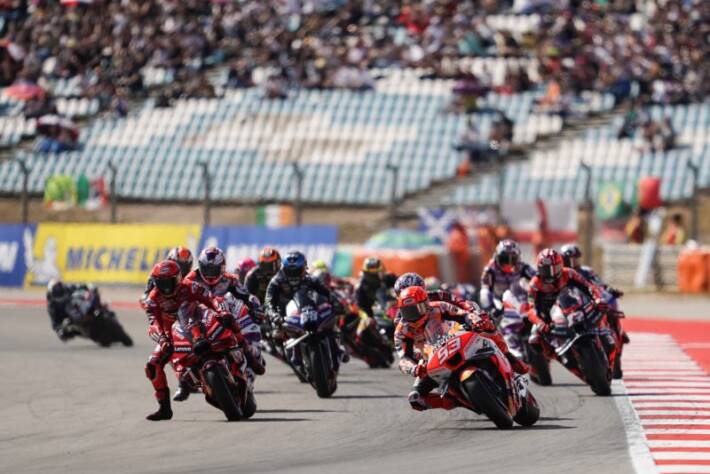 Impeccable Pecco
What wasn't in doubt was who the standout rider was – reigning champion Francesco 'Pecco' Bagnaia. With the number one proudly adorning his Ducati, Bagnaia was faultless across the two races in Portugal to leave with an immediate championship lead.
Pre-season had indicated the combination of Bagnaia and Ducati would be strong, and he certainly arrived at the opening round as the early favourite. And whether it was the cut and thrust 12 laps of the Sprint race or the more tactical 24 lap feature race, the 26-year old had all the answers and left the spectacular Portimao venue with a 12-point lead.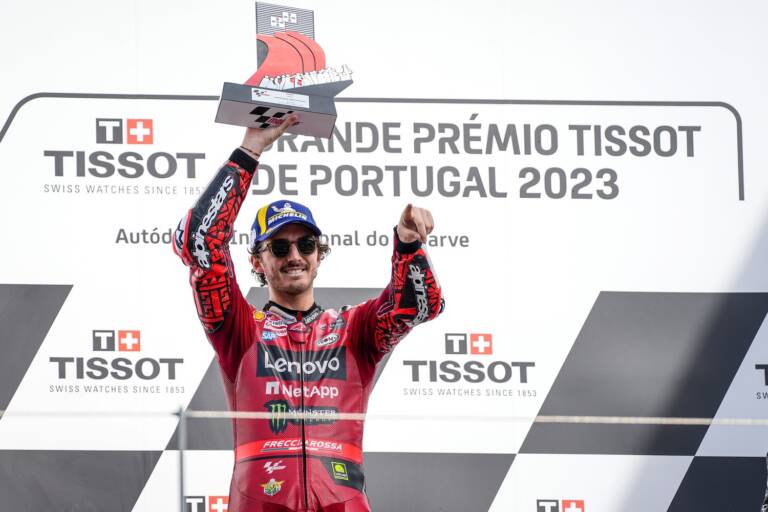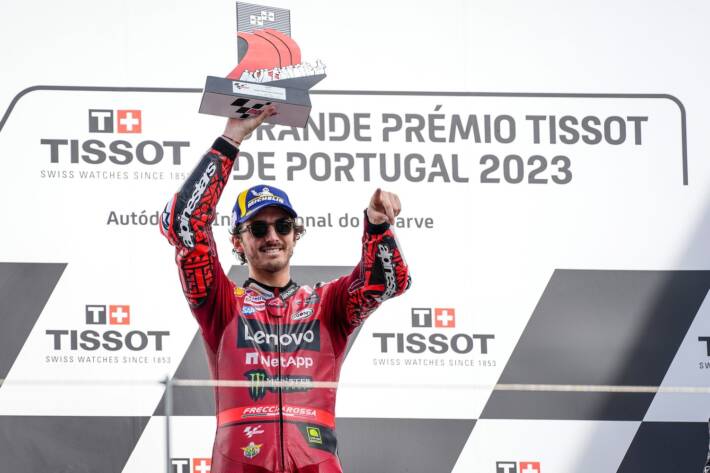 Whilst victory on Sunday was expected – as much as it could have been – Saturday's shorter Sprint race was, in theory, wider open but whilst there were plenty of battles throughout the 12 laps, Bagnaia seemingly had it all under control. He was never out of the top three and made the pass stick on fellow Ducati rider Jorge Martin when it mattered most.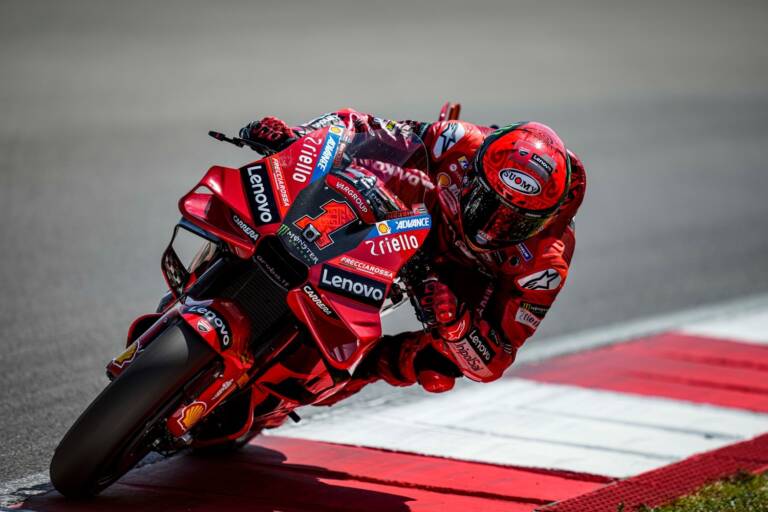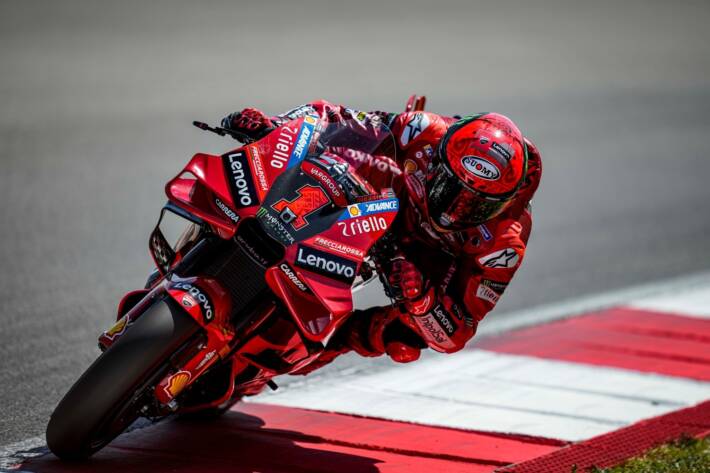 Of course, it was only round one and results at the undulating Portimao circuit don't always transfer over to other circuits on the calendar, but it was equally a good indicator of where everyone stood, at present at least. The world title appears to have elevated Bagnaia's confidence and with a number of his rivals already on the back foot (see below), he's well placed to take advantage and forge an early season lead.
Crashes and controversy
Whilst Bagnaia's opening round couldn't have gone any better, the same couldn't be said for two of his main rivals, team-mate Enea Bastianini and eight-time world champion Marc Marquez with both leaving with broken bones and out of round two in Argentina this weekend.
Bastianini's first few months as a factory Ducati have been relatively low key, overshadowed by both his team-mate and some of the satellite Ducati riders in the timesheets at least. However, he was confident that come the races he'd be there or thereabouts.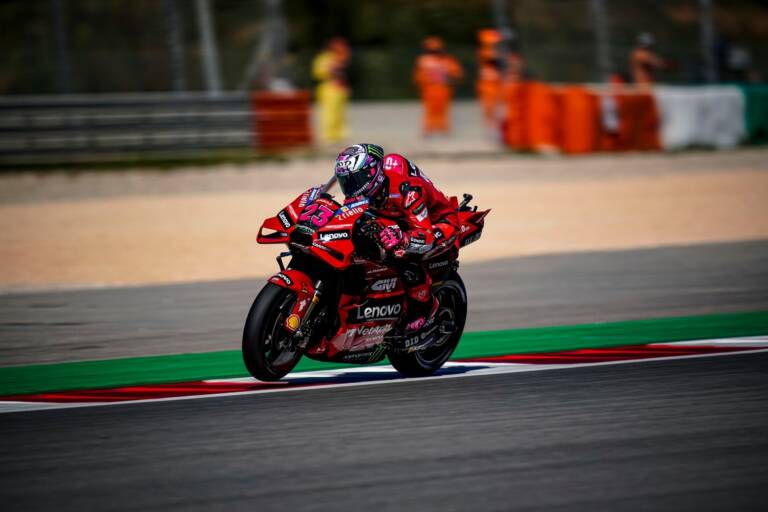 As it was, his race was over half way round the second lap of the Sprint race when he got skittled into the gravel trap by a wayward Luca Marini on the Mooney VR46 Ducati. The latter escaped uninjured and, strangely, unpunished (especially when Repsol Honda's Joan Mir was penalised for a lesser misdemeanour) but Bastianini wasn't so fortunate and a broken shoulder put him on the side-lines for the rest of the weekend and also out of the second round. It also means he's going to be a long way adrift of the championship leader, whoever that may be, at the conclusion of round two.
Marquez, meanwhile, put his struggles with the under-performing Repsol Honda behind him on Saturday with firstly pole position and then third in the Sprint race after pulling off a superb overtaking manoeuvre on Jack Miller and Miguel Oliveira at the same time.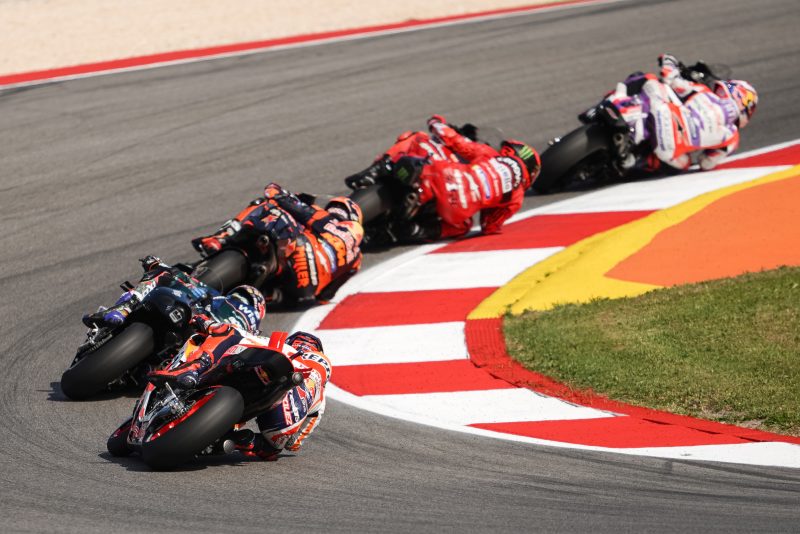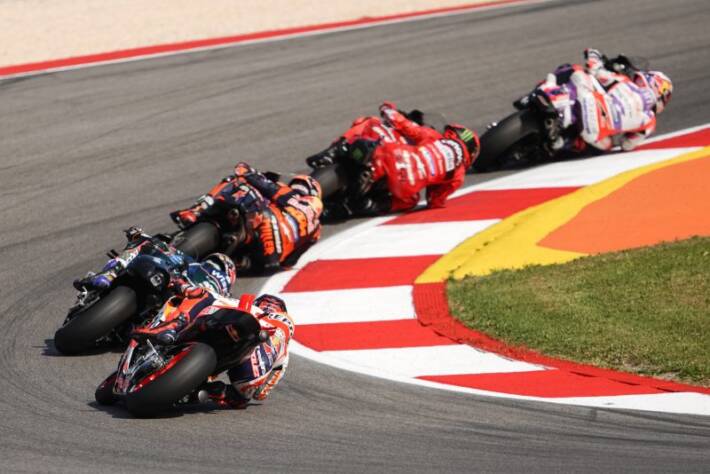 However, it all went wrong the following day when he wiped out Oliveira after locking the front wheel. He just about avoided Martin but hit Oliveira with a sickening impact the net result being both have been ruled out of the Argentinean round, Marquez with broken bones in his hand and the Portuguese with a bruised leg.
Marquez, who recognised his mistake and apologised immediately, was also hit with a double long lap penalty which will need to be served at his next race. Some, including fellow riders, were demanding more but no rider goes out to hit, let alone injure, a fellow rider and some sense needed to be shown.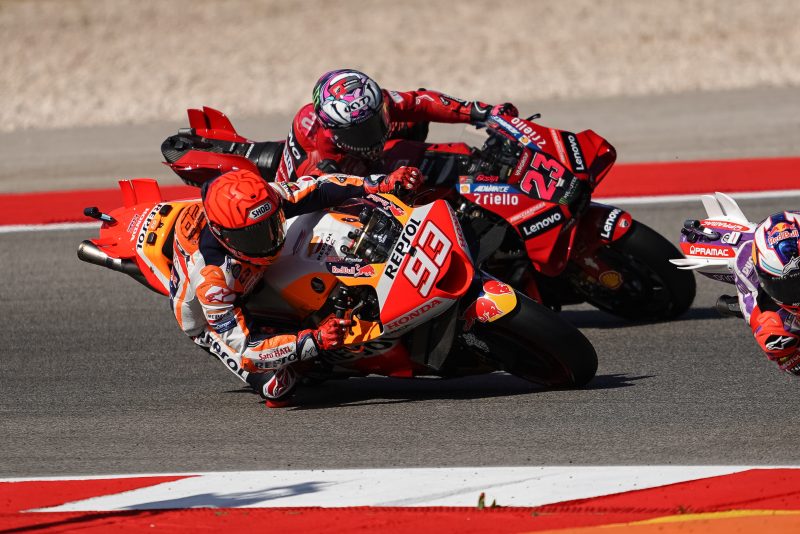 Banning Marquez at this stage would have been a punishment too far but its clear he's having to over-ride the Honda and mistakes may continue to occur; if they do, the punishments may need to be stronger. Every rider wants to win, no matter what the odds, especially Marquez but whilst he's more than ready and able to win, it seems at this moment in time that the Honda isn't.
Vinales leads Aprilia attack
It's widely acknowledged that the best two bikes on the grid at present are Ducati and Aprilia with the latter having improved their aerodynamics, especially with their front wings, and made the bike more narrow. Aleix Espargaro led the championship last year, eventually finishing fourth, but it was team-mate Maverick Vinales who shone the most at Portimao.
Third overall in both 2017 and 2019, the Spaniard has been rebuilding his career ever since his acrimonious split from Yamaha midway through the 2021 season, maintaining the more time he spends on the bike, the better he'll be. That thought process is now coming to fruition.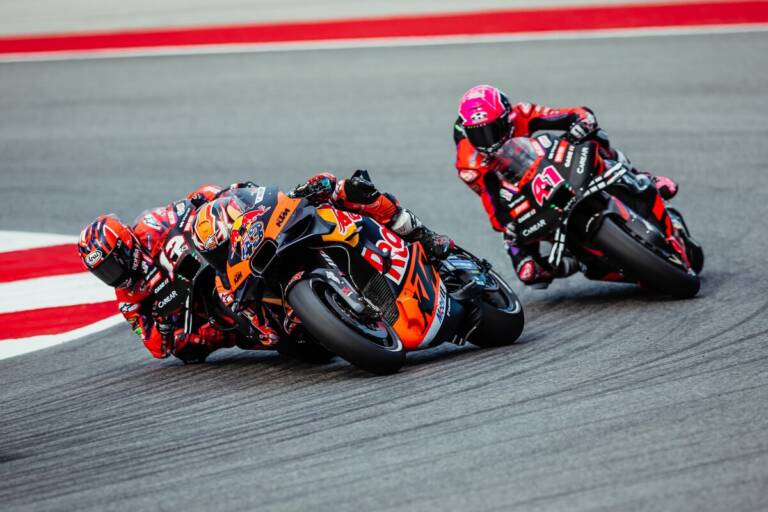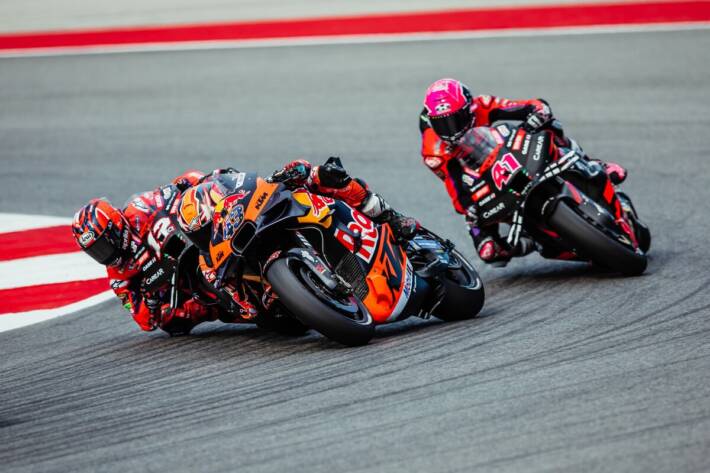 Three podiums were taken last year and after finishing fifth in the Sprint race, it was he who took the fight to Bagnaia in the main race ultimately finishing second and just 0.687s adrift. And although he never quite looked like he could make a pass on Bagnaia, it was an extremely strong ride.
Indeed, it was a strong weekend all round so now it's all about consistency and maintaining his impressive start. The 27-year old's talent is without question and he was significantly better than Espargaro in Portugal so perhaps it's now his turn to make a title challenge for the Noale factory.
There's strength in depth now at Aprilia too having expanded their effort from two riders to four and Oliveira's efforts deserved more than the solitary seventh place he recorded. Once fully fit, there's no reason why he won't be a regular front runner either.
KTM impress
As well as Honda, the manufacturer who looked to be struggling the most in pre-season testing was KTM with both Brad Binder and new signing Miller off the pace and languishing towards the bottom of the timesheets.
Their cause wasn't aided on the eve of Portimao when a training accident left Binder with a damaged neck and, at one time, considering withdrawal from the meeting. However, both would go on to have more than encouraging weekends.
Miller, who moved to KTM after five years at Ducati and brought some of his former team members with him, stunned the paddock when he went quickest in the second free practice session and proved it was no fluke when he qualified fourth.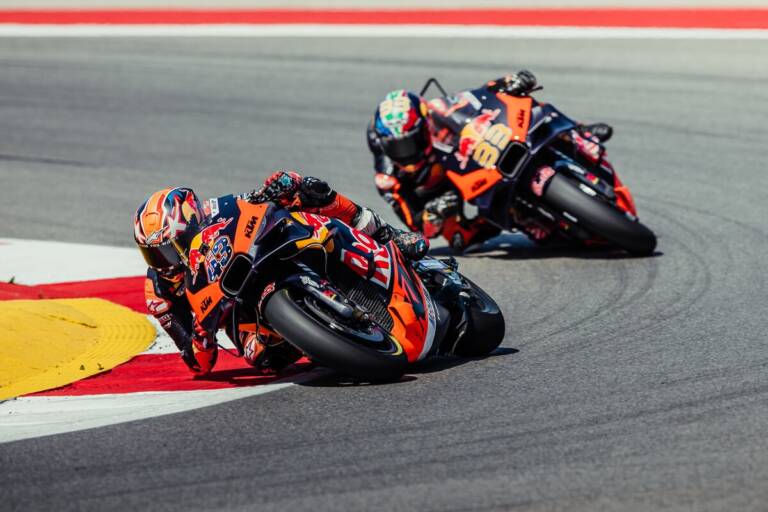 The two races would go on to see him finish fourth and seventh and the Australian was just a tad pleased to have proved his doubters wrong. Confident with both the front end of the RC16 and the new aerodynamic package, Miller had utilised testing for exactly that – to understand the bike after a long stint at Ducati and bring that experience to the race.
He's also brought with him the experience of riding the best bike on the grid and whilst the KTM will never replicate the Ducati, there's elements that can be transferred. Ultimately, he knows what works and what doesn't on the Ducati and will be able to transfer some of that to the Austrian machine.
Binder, meanwhile, put in his usual race day heroics and although he couldn't make an impression in the shorter Sprint race from his 15th place on the grid, finishing 12th, he did in the 24-lap affair where he came through to sixth, one place ahead of Miller. It's the best combination of riders KTM have had so whilst one race won't define their season, maybe now they can become consistent challengers.
Yamaha struggle
Whilst KTM's trajectory went upwards over the course of the weekend at Portmao, the opposite happened for Yamaha and their inline-four, and 2021 world champion Fabio Quartararo left Portugal both scratching his head and disheartened.
The Frenchman was quite vocal in how far off the pace Yamaha are right now and whilst winter development has helped minimise their speed disadvantage, getting traction out of the corners – and getting the power down – is where he's struggling now. And Yamaha's long term problem of the front tyre overheating when in close proximity to other riders – which also affects other manufacturers to an extent – hasn't gone away.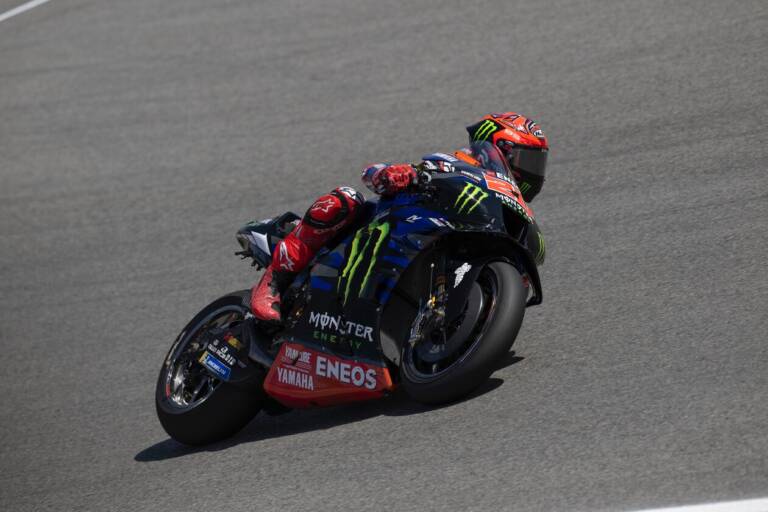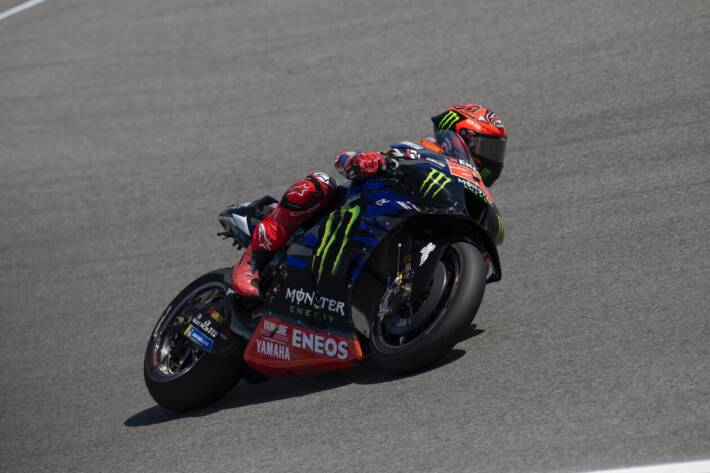 Quartararo's pace on his own remains as strong as ever – and more than a match for anyone – but in a race situation he simply cannot run that same pace or the lines he wishes. Ultimately, his race is being compromised and, subsequently, his results.
And with Yamaha having cut their effort back to two riders and Quartararo's team-mate Franco Morbidelli continuing to massively underperform (he finished last in the main race at the weekend), it looks like Quartararo is going to have to do it all by himself if he's to get back to winning ways.
Having started watching motorcycle races all over the world form childhood, Phil Wain has been a freelance motorcycle journalist for 15 years and is features writer for a number of publications including BikeSport News, Classic Racer and Road Racing Ireland, as well as being a regular contributor to MCN and MCN Sport. He is PR officer for a number of teams and riders at both the British Superbike Championship and International road races, including PBM Ducati, RAF Regular & Reserve Kawasaki, Dafabet Devitt Racing, John McGuinness, Lee Johnston and KMR Kawasaki. He is also heavily involved with the Isle of Man TT Races, writing official press releases and race reports as well as providing ITV4 with statistical information