The Dutch Grand Prix marked the final MotoGP round ahead of the five-week summer break but whilst reigning champion Francesco Bagnaia extended his championship lead courtesy of his fourth win, it was Brit Jake Dixon who grabbed all the headlines.
Dixon conquers Assen
Having previously stood on the podium nine times, all of them third place finishes, Dixon joined the list of Grand Prix winners from Great Britain as finally got to stand on the top step of the podium with victory in the Moto 2 race at Assen coming in his 73rd start.
It's fair to say the victory has been a long time coming and it's only in the last two seasons that the former British Superbike Championship runner-up has really proved his worth. Only seven points were scored in his maiden season in 2019, illustration, if it was needed, of how big a jump the move was and how tough the class is.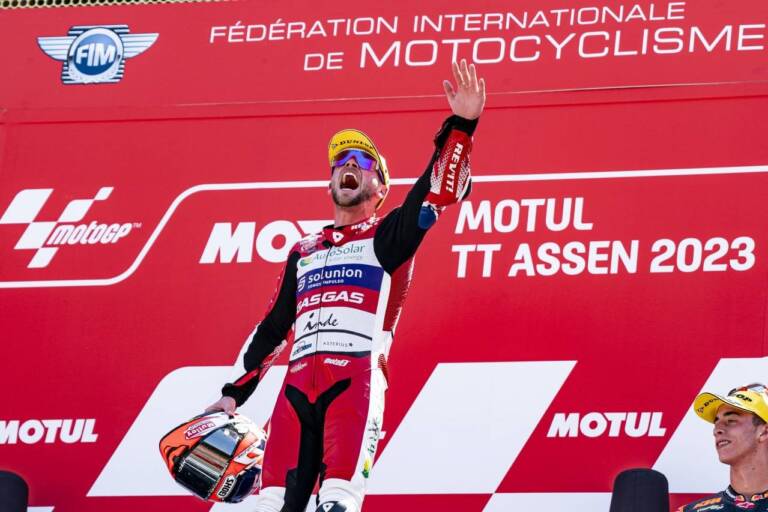 However, both 2020 and 2021 showed fleeting glimpses of what he was capable of with several top ten finishes, the second of those two years particularly challenging as he recovered from a serious hand and wrist injury. Fully fit and back with the Aspar Team in 2022, with whom he rode for in his debut season, all the pieces of the jigsaw fell into place.
Dixon's an emotional character and always wears his heart on his sleeve – which can be his downfall on occasion – but the mistakes are now fewer and after all those third places, he was fully deserving of his win. Up to third overall in the championship, there are still 12 rounds to go and whilst Pedro Acosta and Tony Arbolino are tough nuts to crack, who knows what he can go on to achieve?
His pace at the beginning of the races still needs to be addressed as dropping back to eighth or ninth makes it extremely difficult to come through the pack but the debut win may well be the watershed moment. The challenge now is to repeat the success.
Bagnaia leads the way
With a first and a second at Assen, victory coming in the main race with full points, Bagnaia extended his lead over Jorge Martin to 35 points and with four wins at the first eight rounds, the signs are looking ominous for the rest of the field.
Aside from a couple of wobbles early in the season in Argentina and the USA, Bagnaia and his Ducati have looked a formidable combination, finishing in first or second in eight of the last ten races. Both Martin and the Mooney VR46 Ducati of Marco Bezzecchi have beaten him on occasion but neither are able, at present, to match his consistency.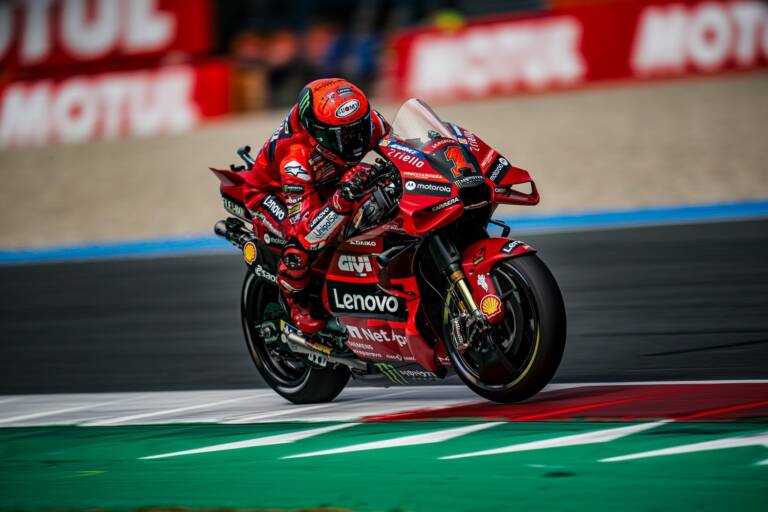 Now in his third year as a Ducati factory rider, Bagnaia has grown into his role of team leader and looks more comfortable than he perhaps did a year ago. Lifting the title last year has clearly enhanced his belief – as it would for anyone coming back from being 91 points adrift – and if, and when, mistakes are made, he's now able to deal with them more rationally and bounce straight back.
The break has maybe come at the wrong time for the 26-year old given the roll he's on but looking more relaxed in the Ducati garage than ever before, he'll no doubt return refreshed and ready to do it all over again.
Ducati domination
With Bagnaia sitting pretty at the top of the championship table, Ducati are sitting pretty at the top of the manufacturers standings too and with more bikes on the grid than anyone else, their policy of having strength in numbers is clearly paying off.
As well as Bagnaia and Bezzecchi, the Pramac Racing pairing of Martin and Johann Zarco have also been regular front runners as has Bezzecchi's team-mate Luca Marini. All of them have finished on the podium this season with Martin currently second overall in the standings, 35 points behind Bagnaia.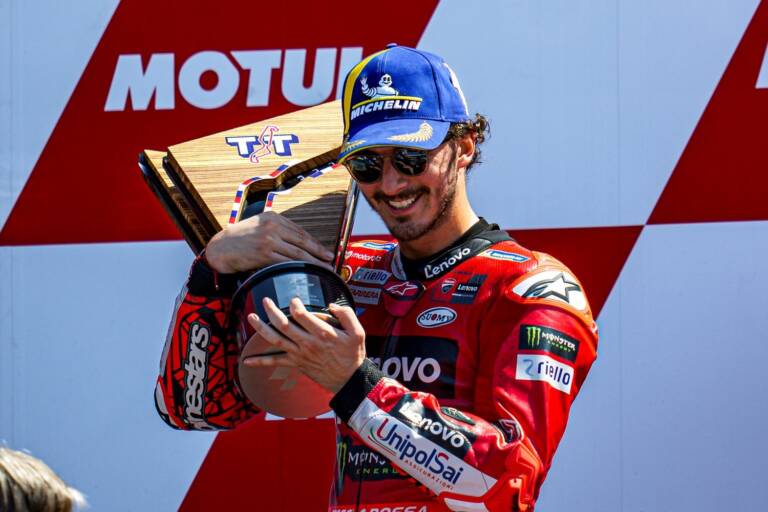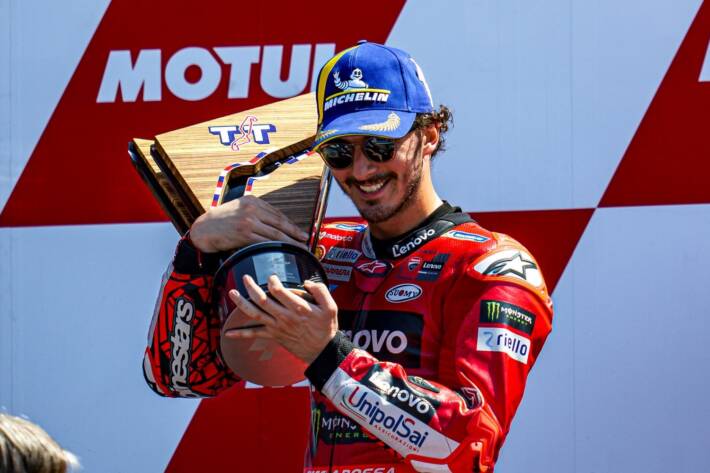 Two Sprint race victories have already come the Spaniard's way whilst he took a deserved Feature race win in Germany when he got the better of Bagnaia in a last lap thriller. Had it not been for a poor qualifying performance in Holland, which severely compromised his race results – fifth was his best finish – the gap could well be smaller.
The five named riders currently occupy five of the top six positions in the points table with only the dogged Brad Binder and his KTM (see below) getting in amongst them on a regular basis. With twice as many bikes than any other manufacturer, flooding the grid is a tactic that's been used to great effect several times before. Honda have done so on a regular basis with the 1990s seeing up to six factory NSR500cc machines on the grid with only the odd Yamaha or Suzuki spoiling their party.
Ducati are now doing the same and they're reaping the rewards especially as some of their rivals have either slimmed their effort down, Yamaha going from four bikes to two, or pulled out as has been the case with Suzuki. It may have taken longer than they would have liked to dominate MotoGP but that's certainly what they're doing now.
Binder continues to excite
Binder and the KTM RC16 have been a shining light in the opening eight rounds and prevented, on more than one occasion, a clean sweep of Ducatis on the podium and what's appealed to the neutrals is not just his results but the manner in which he's achieved them.
The 2016 Moto 3 World Champion is in his fourth season in MotoGP and his all-action style has helped propel him to the front and whilst he's shown pace in previous seasons, he's doing it now on a much more regular basis.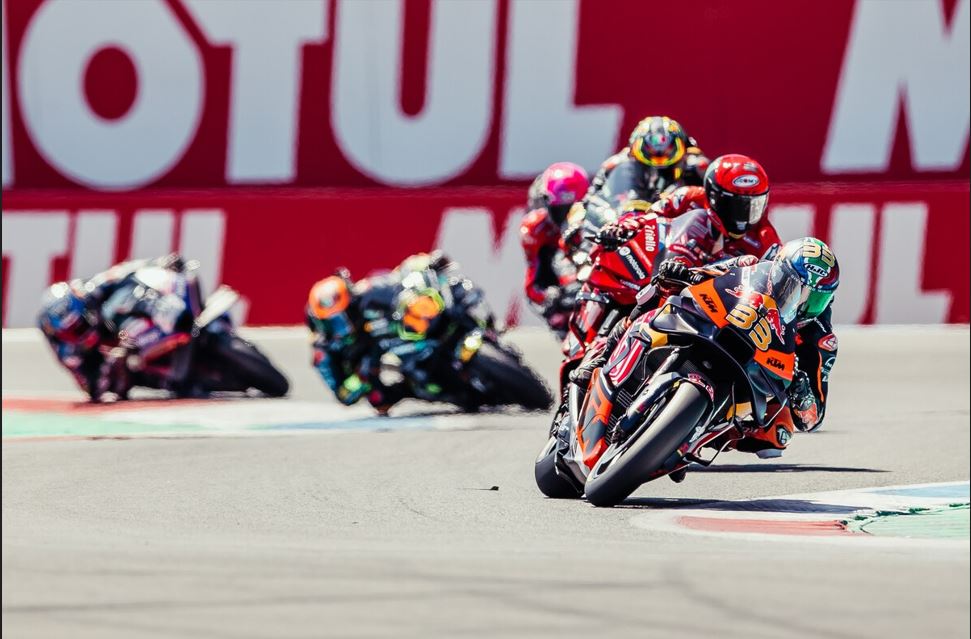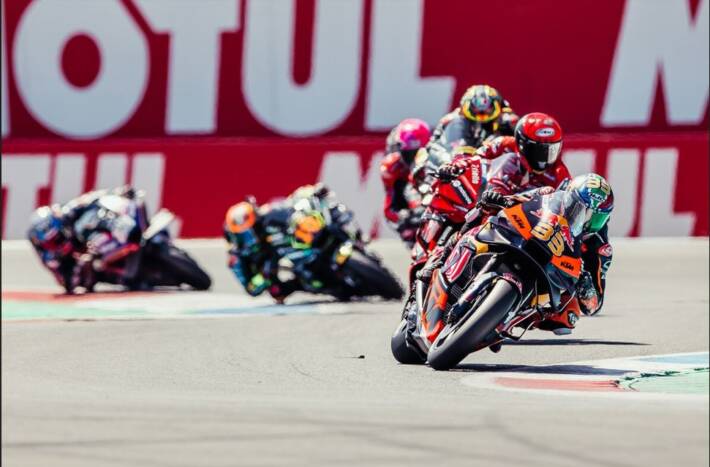 Two Sprint race wins have been backed up by five top-six finishes in the eight Feature races, second place in Spain the highlight. He 'finished' third in each race at Assen as well but fell victim to the last lap ruling that sees a rider docked a position if they exceed track limits and it's fair to say the South African was unbelievably unlucky with his rear wheel only millimetres over the line.
The indiscretion happened at the same place and Binder took the penalties on the chin, blaming himself rather than the ruling which many don't agree with especially as no advantage was gained when he made such small contact with the green paint. Many would argue he beat Aprilia's Aleix Espargaro to the line fair and square.
Despite his hard riding where he pushed the KTM to its maximum, Binder was also able to extract the most life out of the soft rear tyre. There was no drop in performance in the second half of the race and if the first eight GP's are anything to go by, he's going to be a thorn in Ducati's side for the rest of the season.
Quartaro returns to the podium
Champion in 2021 and second overall last year, it's been a difficult eight rounds for Yamaha's Fabio Quartararo but, despite nursing an injury, he made a welcome a return to the podium in Holland, his first since Malaysia last year.
In truth, the second half of last year wasn't the smoothest for the Frenchman as he saw his substantial lead disappear and his riding papered over the cracks of the shortfalls of the Yamaha M1. Down on speed to its rivals, mistakes came as Quartararo rode over the limit.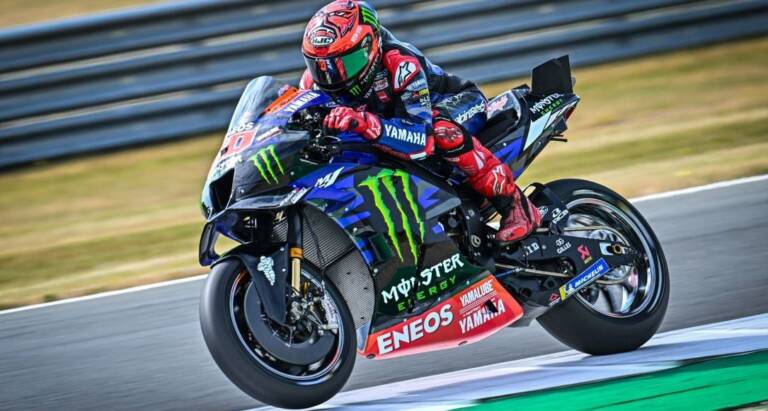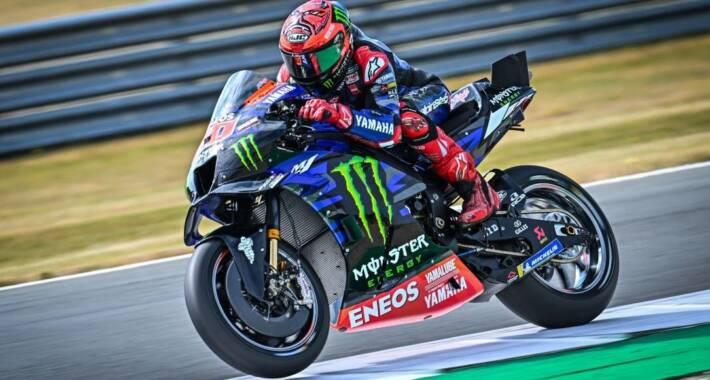 That's been even more the case this year and of late, it's been a battle just to get into the top ten with Yamaha clearly paying for a lack of development with the bike and the lack of a second team to shoulder some of the burden. The rest of the field has moved on in comparison and Quartararo has suffered numerous crashes, something which has been rare the previous two years, just trying to keep up.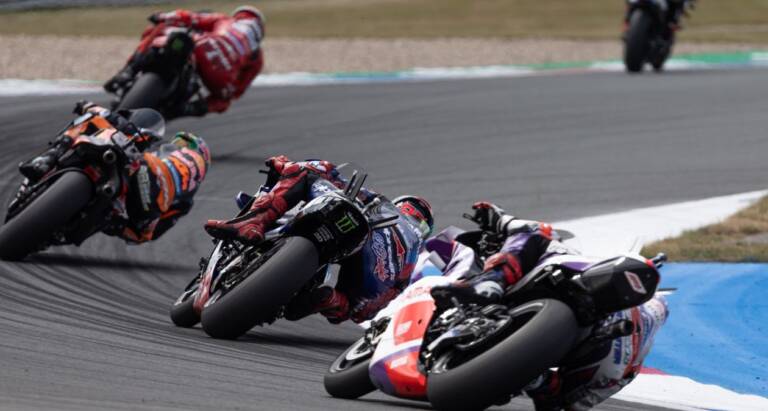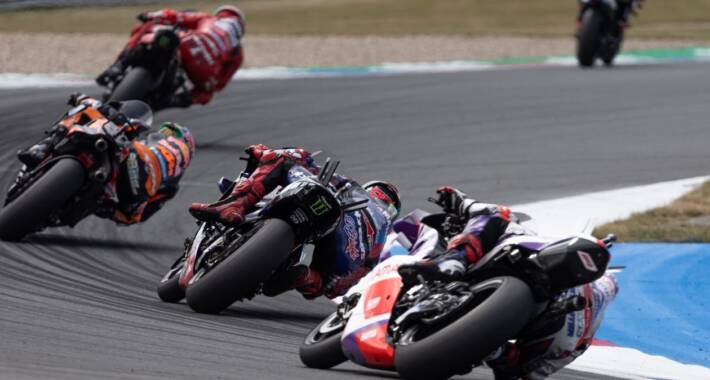 He looked more like his old self at Assen and the third place saw him in contention throughout, battling with the likes of Bagnaia, Binder and Martin who he's rarely seen all season. Sadly, a bad start in the second race saw him mired in the pack and another crash resulted in further injury but, hopefully, the podium will give him the boost both he and Yamaha needed.
Honda woes continue
To say Honda's season – and Marc Marquez' – has been a disaster would be an understatement to say the least. With only one win all season, Alex Rins' success at the Circuit of Americas at round three, their only other podium came when Marquez took third in the opening Sprint race back at Portimao in March.
Rins is the highest placed in the overall standings in 13th with 47 points but is currently out with a broken tibia and fibia sustained at Mugello whilst former Suzuki team-mate and 2020 champion Joan Mir, now alongside Marquez at Repsol Honda, has suffered crash after crash and injury after injury. 11th at the opening round is his only points finish of the season.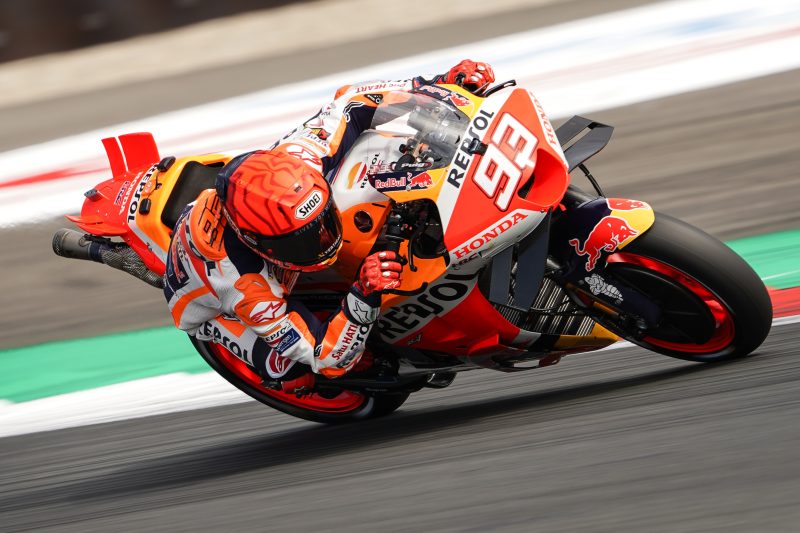 Marquez, meanwhile, has only scored 15 points with the six-time MotoGP champion yet to finish a single Feature GP race all year.  He's crashed repeatedly, suffering five alone in two days at the Sachsenring in Germany before being withdrawn, rightfully so, from the rest of the meeting.
With a battered and bruised body, his confidence is shattered, and the mental and physical pain is clear to see as he seriously contemplates his future. Every time he pushes for a lap time, he crashes, and he simply cannot fight for a podium, let alone a race win, with the tools at his disposal.
For the Japanese giant, more accustomed to winning races and titles in the premier class, these are unprecedented times in their history of racing. The chances of their fortunes improving look slim as the motorcycle is clearly not working so if anyone needs the five-week break to re-group and re-build, it's them.
Having started watching motorcycle races all over the world form childhood, Phil Wain has been a freelance motorcycle journalist for almost 20 years and is features writer for a number of publications including BikeSport News, Classic Racer and Road Racing Ireland, as well as being a regular contributor to MCN and MCN Sport. He is PR officer for a number of teams and riders at both the British Superbike Championship and International road races, including PBM Ducati, John McGuinness, KTS Racing and Jackson Racing. He is also heavily involved with the Isle of Man TT Races working with the race organisation, writing official press releases and race reports as well as providing the TV and radio broadcasting teams with statistical information.