Hickman dominates in Far East
The curtain came down on the International road racing season at the weekend with the traditional mid-November date seeing the Macau GP take place once more and with many of the stars returning for the first time since 2019, it was Peter Hickman who dominated with a victory of almost half a minute.
Win number four for Hickman
With the 2020 and 2021 meetings being cancelled due to the Covid-19 pandemic, Hickman, like the majority of the leading road racers missed last year's event due to the strict quarantine rules that remained in place.
But the FHO Racing BMW rider returned this time around along with other star names that included team-mates Michael Rutter and Josh Brookes, Davey Todd and David Johnson.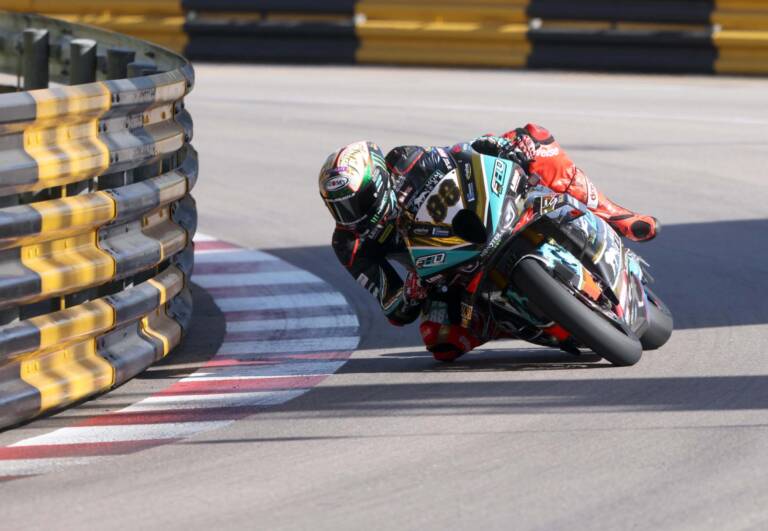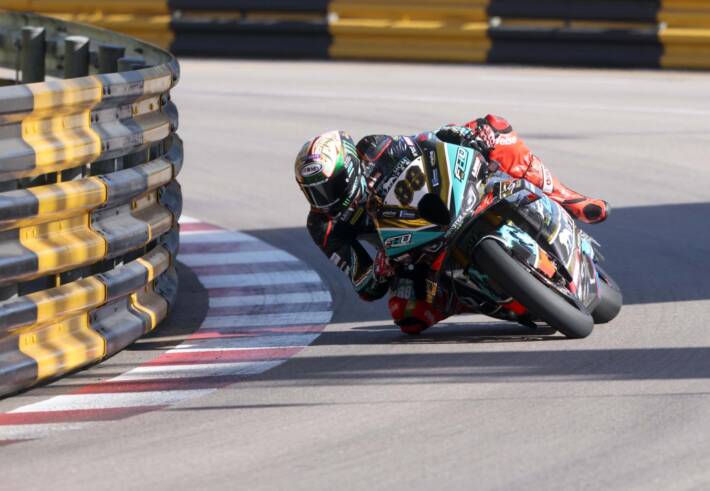 Riding for the team owned by Macau native Faye Ho – the first time her team had competed at the event – Hickman was the clear favourite for honours having previously won around the 3.8-mile Guia circuit in 2015, 2016 and 2018. He also finished second in 2017 and would, most likely, have won in 2019 too, had it not been stopped and declared a result after just a solitary lap.
With such an effort and outlay put into the event by Ho, there was undoubtedly pressure on Hickman to perform but he delivered in spades as he topped every practice and qualifying session. He proceeded to lead the 12-lap race from start to finish, pulling clear of early challenger Davey Todd to win by an unprecedented 28.969s. It further cemented his status as the best rider currently plying his trade on the roads.
Closest threat
As soon as he started to contest the International road races in 2018, Todd has been earmarked to go all the way and having already taken wins and podiums at the North West 200 and made rostrum appearances at the TT and Ulster Grand Prix, he graced the top three at Macau for the first time at the weekend.
Having already signed for Philip and Hector Neill's Milwaukee BMW team for 2024, Todd lined up at Macau for the Burrows Engineering/RK Racing Team for whom he rode for in 2018 and it was clear he would pose Hickman's greatest threat.
Second in every practice and qualifying session, the 27-year old briefly held pole in the second and final qualifying session and that forced Hickman to go back out on track in the final minutes where he reclaimed top spot by half a second.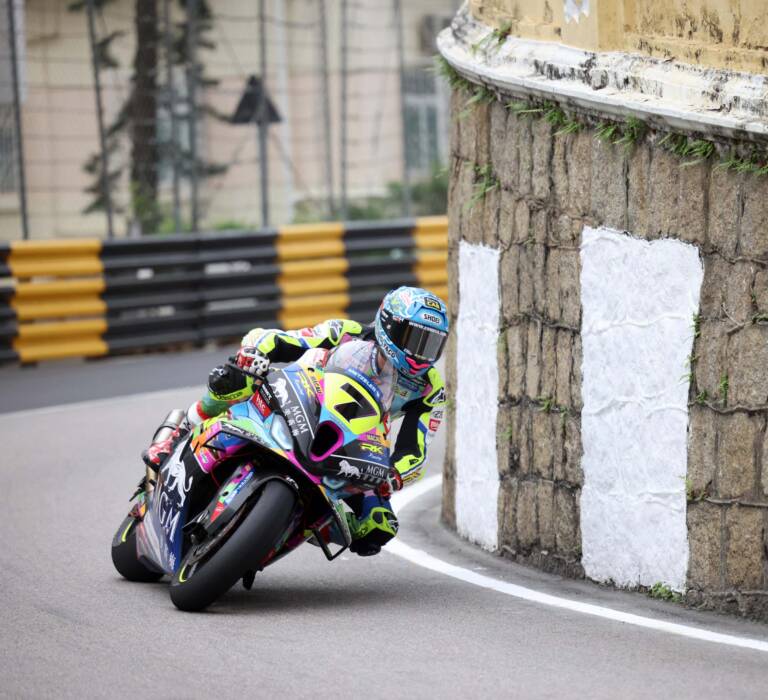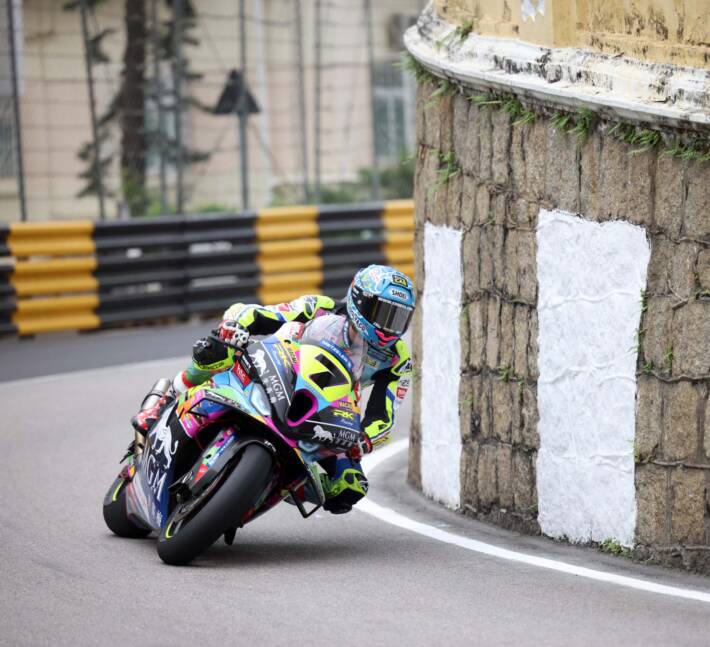 Fortune smiled upon Todd on race day as he was wheeled off the grid with a technical issue before the race got underway. However, the race was stopped early after Brian McCormack and Nadieh Schoots crashed out and it handed him, and the team, a reprieve. He took full advantage and although he would have liked to have been a lot closer to Hickman over the 12 laps, second was nonetheless a fine effort.
After spending the last two years on the Padgetts Honda's, Todd will clearly be a threat at all road races next year but there's still a gap to bridge to the dominant Hickman.
Datzer and Kostamo impress once more
Germany's David Datzer and Finland's Erno Kostamo were the star performers at last year's Macau GP with Kostamo becoming the first rider from mainland Europe to win the event since Andreas Hoffman in 1997. Datzer took second and the duo showed their success wasn't all down to the lack of British stars as they impressed again this year.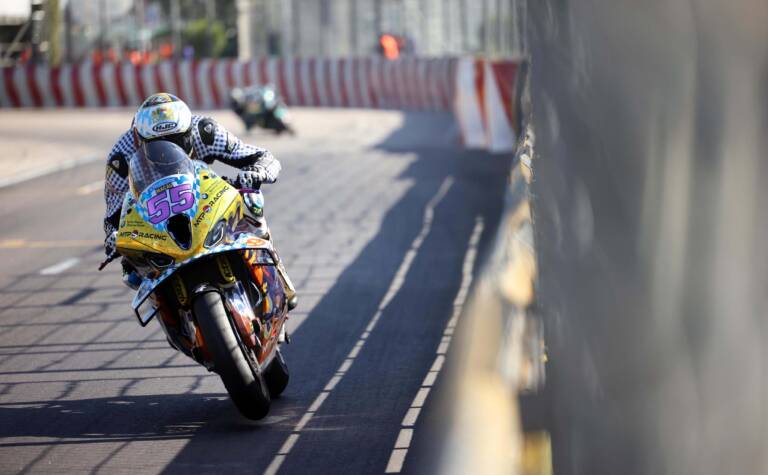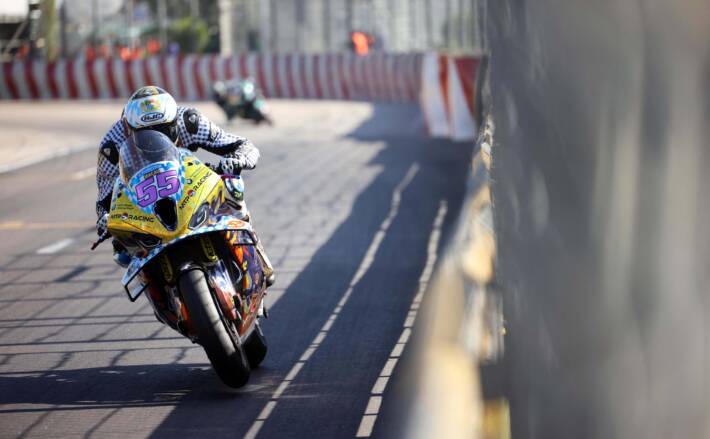 Lapping quicker than ever before in qualifying, Kostamo and Datzer placed third and fourth respectively and ahead of the likes of record nine-time winner Rutter, Phil Crowe. Paul Jordan and McCormack to show they belonged at the top table of road racing. Kostamo was, unfortunately, forced to retire from third on the fourth lap but eventually claimed the position after coming through from a bad start and duly joined Hickman and Todd on the podium.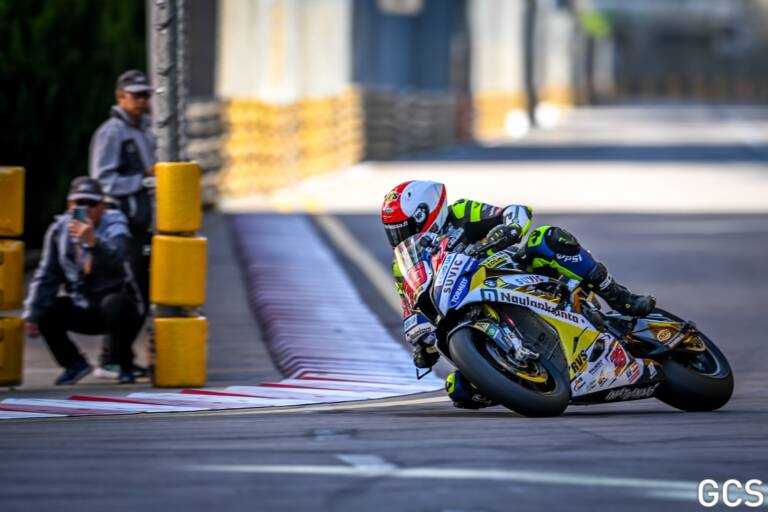 Both riders are already multiple race winners in the International Road Racing Championship, which sees them compete on the European road circuits which includes Imatra (Finland), Horice (Czech Republic) and Chimay (Belgium) and are now bringing that form to the big road races.
They're already top ten finishers at the North West 200 with Datzer lapping at close to 127mph at this year's TT so it's great to have at International flavour at the top of the results sheets on a regular basis once more.
Brookes shines on debut
Double British Superbike Champion and podium finisher at the Isle of Man TT and North West 200 Brookes was head and shoulders the best of the newcomers at this year's event and as expected, he shone on his debut.
His first appearance was largely due to riding both this season and next for FHO Racing having previously not registered an interest in competing at the event. It wasn't straightforward for the Aussie though and admitted during qualifying that he was finding the circuit extremely difficult to learn.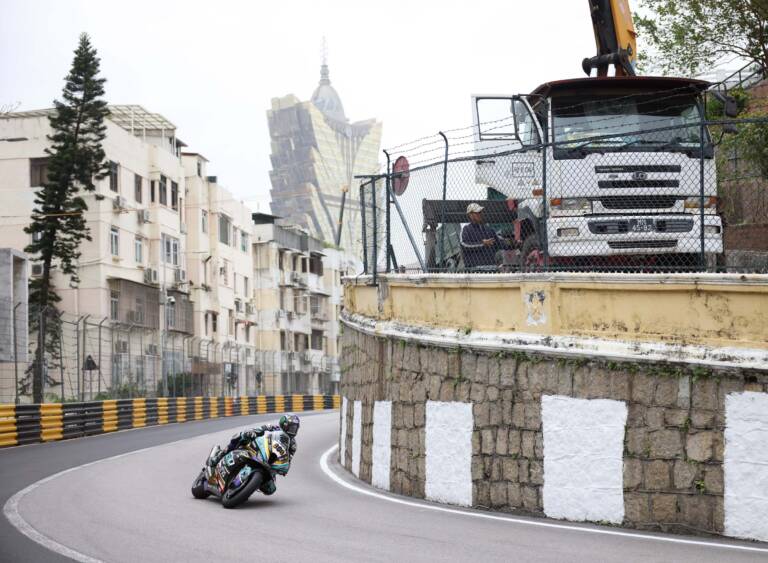 His cause wasn't helped by missing a chunk of time in the opening qualifying session due to a gearbox issue, but he ultimately placed 13th on the grid.
The race saw him at his best though as he shaved almost five seconds off his previous best time and that, combined with a great start and a couple of quicker riders retiring, helped him finish in an excellent fourth place.
Already the fastest Australian ever to have lapped the circuit, it proved once more what an excellent road racer he is so it will be interesting to see if he returns to the event in future years.
Out of luck
Having first competed at the Macau GP in 1994, Rutter was back for another attempt as he looked to extend his status as the most successful rider of all time around the challenging Armco-lined circuit.
Such his status at the Far East venue, a waxwork of him was made for the Macau museum, standing alongside a statue of none other than three-time World Formula One Champion Ayrton Senna.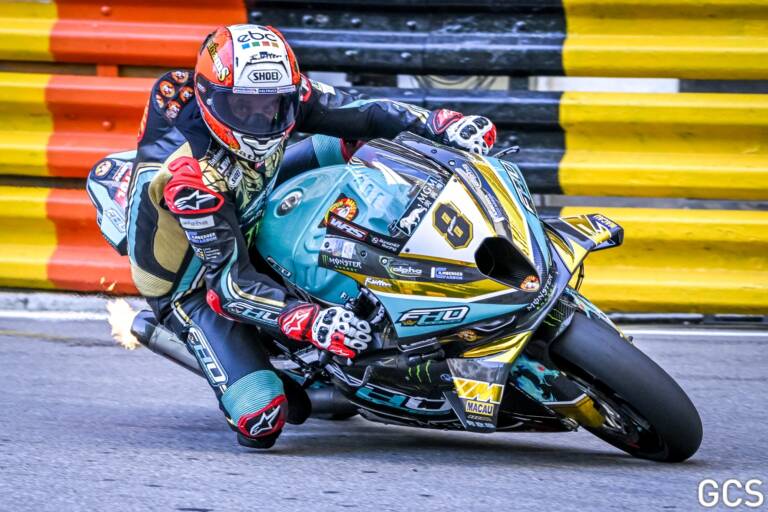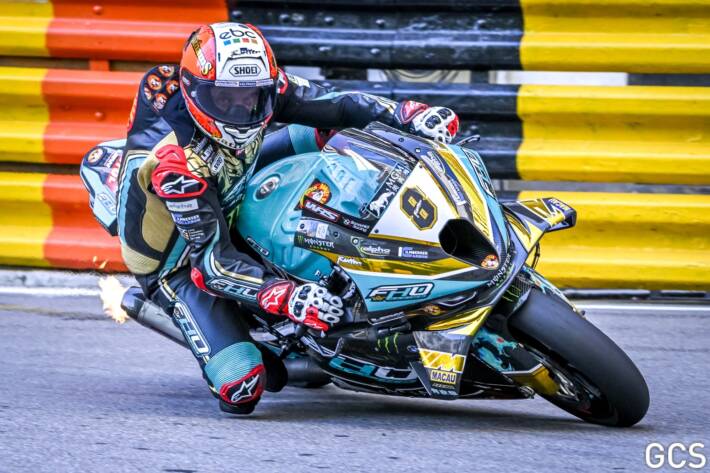 However, unlike the Superstock-spec Bathams Racing BMW or Honda RC213V-S he rode at the North West 200 and TT, he lined up on a full-blown Superbike for FHO Racing.
The Midlands rider had only had a brief test session on the bike at Donington Park in late October and ultimately struggled to find the ultimate set-up on the M1000RR. He also experienced brake issues throughout and although he qualified in fifth place, he knew his pace wasn't where it needed to be to challenge for the podium positions let alone the win.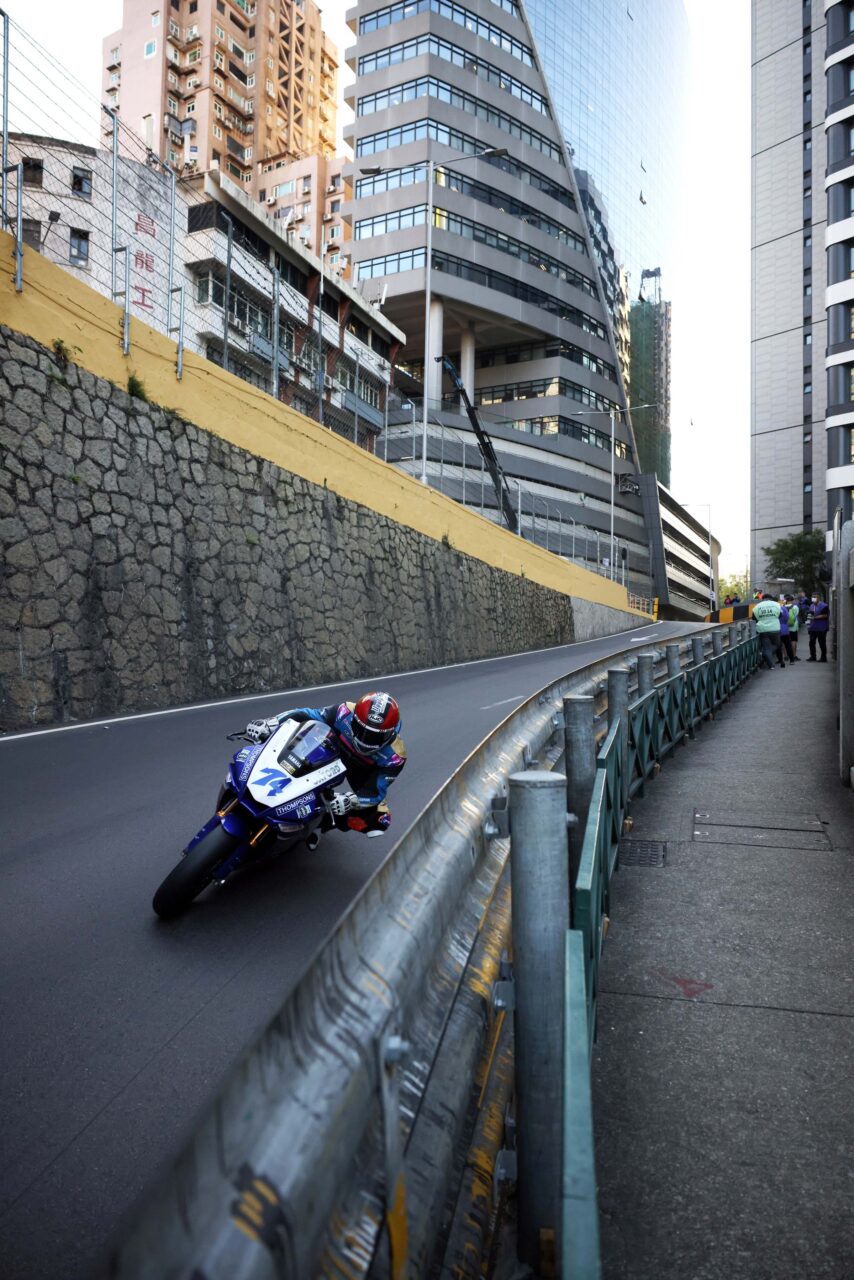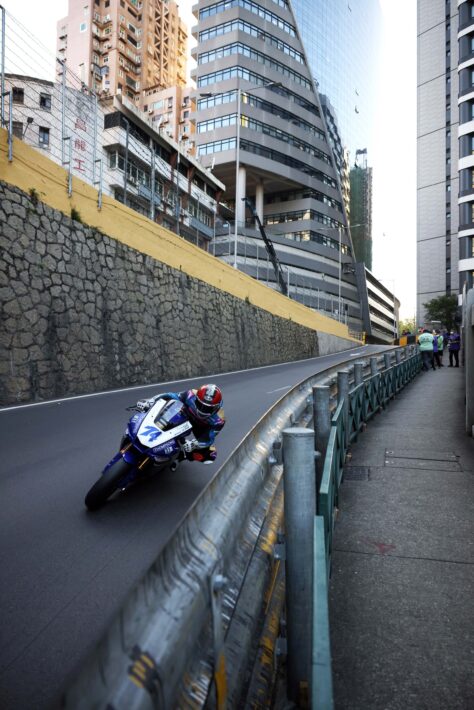 Nevertheless, a good start put him into second place, but it proved to be short lived as luck deserted him with the brake issues rearing their head once more. It spelt a third lap retirement for the now 51-year old but he'll no doubt be back for another go in 2024.
Leading Honda
BMW dominated proceedings at Macau and, indeed, had the first seven places in qualifying. That left Honda's Rob Hodson and the Kawasaki's of Swiss rider Lucas Maurer and the Anglo-Aussie pairing of Dominic Herbertson and David Johnson battling it out to be the best of the rest and it was Hodson who came out on top.
Riding the Superstock-spec SMT Racing Honda, Hodson, one of the few British riders to attend the event in 2022, qualified in eighth and improved to a fine fifth in the race, impressively lapping in the 2'28 bracket.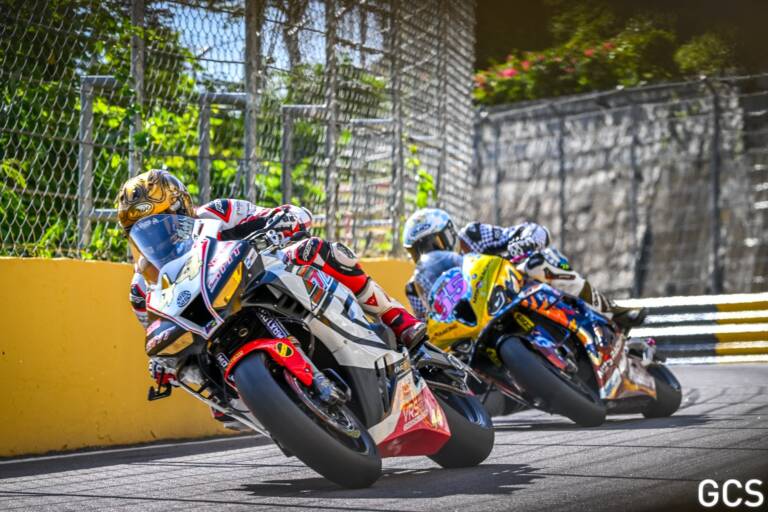 It wrapped up an impressive season for the Wigan rider, which saw him join the exclusive 130mph Club at the Isle of Man TT Races and take four top ten finishes around the Mountain Course. He also finished third in the Classic Superbike race at the Manx Grand Prix and has now established himself as one of the leading privateers in road racing.
Maurer claimed a good sixth with Paul Jordan (Northern Ireland), Dominic Herbertson (England), Michael Evans (Isle of Man) and Sam West (England) completing the top ten. Evans was the second-best placed newcomer after Brookes.
Verdict
After the 2022 event saw just 14 starters, which included only three British riders, it was good to see the Macau Grand Prix get back somewhere close to its previous heights. However, it still has some way to go get back to its best as many star names were again absent.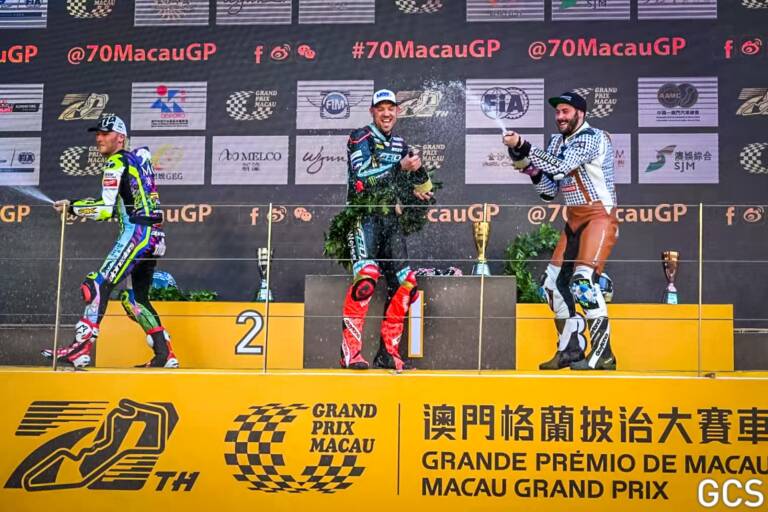 The Armco and stone-lined circuit isn't everyone's cup of tea, but Michael Dunlop had requested an entry only to be, amazingly, refused whilst John McGuinness would also have been present had he been granted an invite.
The almost ever-present Paul Bird Motorsport team were also missing so its clear the organisers have some work to do in 2024 to attract the bets line up they possibly can.
Having started watching motorcycle races all over the world form childhood, Phil Wain has been a freelance motorcycle journalist for almost 20 years and is features writer for a number of publications including BikeSport News, Classic Racer and Road Racing Ireland, as well as being a regular contributor to MCN and MCN Sport. He is PR officer for a number of teams and riders at both the British Superbike Championship and International road races, including PBM Ducati, John McGuinness, KTS Racing and Jackson Racing. He is also heavily involved with the Isle of Man TT Races working with the race organisation, writing official press releases and race reports as well as providing the TV and radio broadcasting teams with statistical information.