Retro styled scramblers have been all the rage for quite a while now. So we should probably be giving Honda a bit of grief for taking so long to get on the 60s-dirtbike style bus. But we'll let them off, since they've made such a sweet job of it when they got here with this – the new Honda CL500. It harks back to the firm's very first scramblers – the CL range of machinery from the early 1960s. Back then, dirtbikes were, basically, roadbikes with a high-level exhaust, and some modest upgrades to tyres and suspension. So the CL72 from 1962 used a gently tweaked 250 SOHC engine from the CA72 Dream, with a tougher offroad steel tube frame, high-level exhaust silencer and longer travel suspension. The later CL77 used a more capable 305cc engine, and it's these bikes which the new CL500 pays homage to. The new CL is, like the originals, based on streetbike foundations, this time the parallel twin motor and steel tube frame as used on the CMX500 Rebel cruiser. The engine is tested and true: it's used on all of Honda's CB500 twin range, and is a solid, reliable, economical and capable unit, which is also A2-licence compliant. It makes 46bhp from a 471cc capacity, and features DOHC head with four valves per cylinder and PGM-FI fuel injection. On the new CL, it lives in what looks like a tweaked Rebel frame, with taller seat rails and the mounts needed for the high-level silencer which echoes the original CL72 styling. There are plenty of other sweet styling cues, from the rubber fork gaiters up front to the rounded fuel tank, rubber knee pads, drilled heat shield on the silencer, shorty front fender and simple round headlamp. The headlamp is full LED of course, and the little CL also boasts an LCD dashboard, and two-channel ABS setup.
Like the originals, the new CL's chassis is basically road-going fare, and you won't be taking on any remotely serious dirt work. There's a 19 inch cast front wheel with a single 310mm brake disc and faux-chunky rubber and the 41mm right-way-up forks have 150mm of travel, but that's about it. It's not even particularly light, weighing in at 192kg ready to ride – though the original CLs were a bit on the chunky side for dirt work too.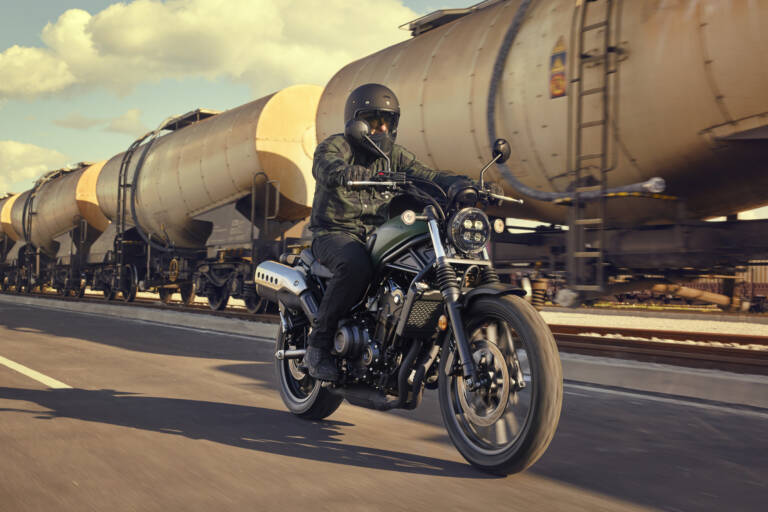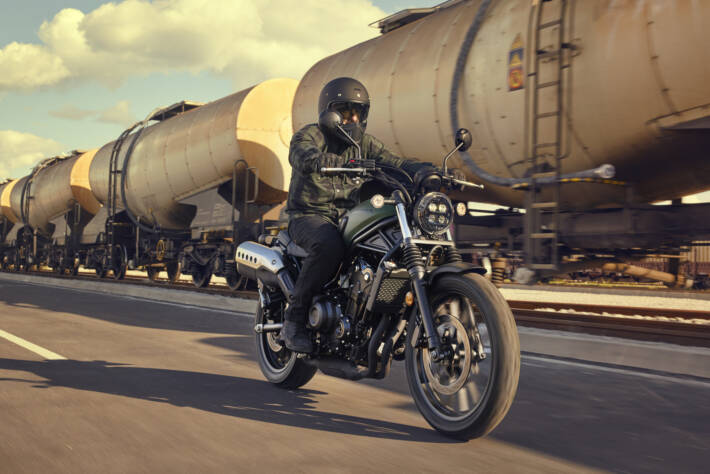 No, while the CL takes on the style and mantle of its forebears, it won't be used off-road in anything like the way the old CL72 and CL77 were. Rather, it will make an excellent, stylish, commuter, perfect for both fresh-faced novices and experienced hands looking for something that's easy to ride. The minimal 790mm seat height and low-slung mass distribution will appeal to many, and it will slot in nicely below something like the Triumph 900 Street Scrambler models as a first dirt-styled retro roadster.
No word on price as yet – but the new CL500 will be available in the spring. More info: www.honda.co.uk/motorcycles