Crazy name for a crazy bike
This hardcore piece of nonsense slipped out during the Misano MotoGP round at the weekend, and it's a cracker. Aprilia launched a new hyperbike version of its RSV4 superbike, dubbed the XTRENTA, to mark thirty years since its first world GP title back in 1992 (trenta is Italian for thirty of course). It's a track-only machine, with production limited to just 100 bikes, and makes 230bhp while weighing in at just 166kg dry. It also costs €50,000 (plus the VAT…)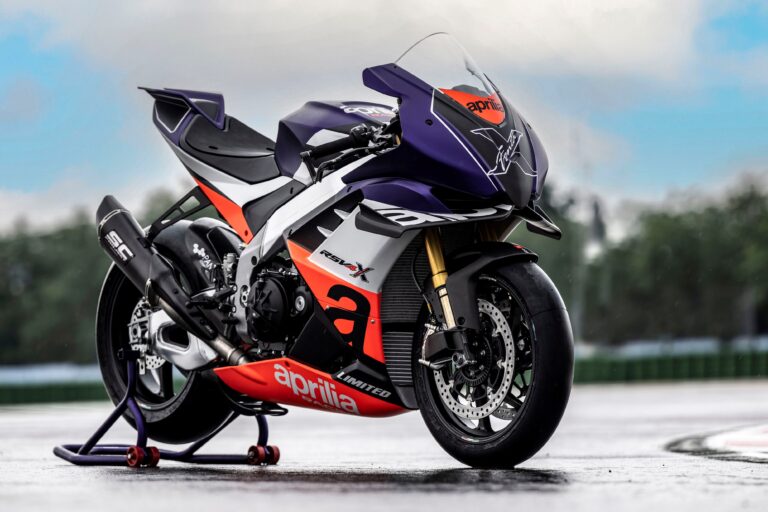 For that cash you get a V-four engine tuned by the firm's world superbike engineers, putting out 13bhp more than the stock 1100 motor, thanks to higher compression and a special SC-Project titanium/carbon race exhaust. Engine management is by a one-off Magneti Marelli ECU controlled by JetPrime switchgear, the air filter is a Sprint part as used in MotoGP, and the oil and water radiators are full race parts, built by Taleo Tecnoracing. There's also a first in the final drive department – a super light titanium rear sprocket from PBR.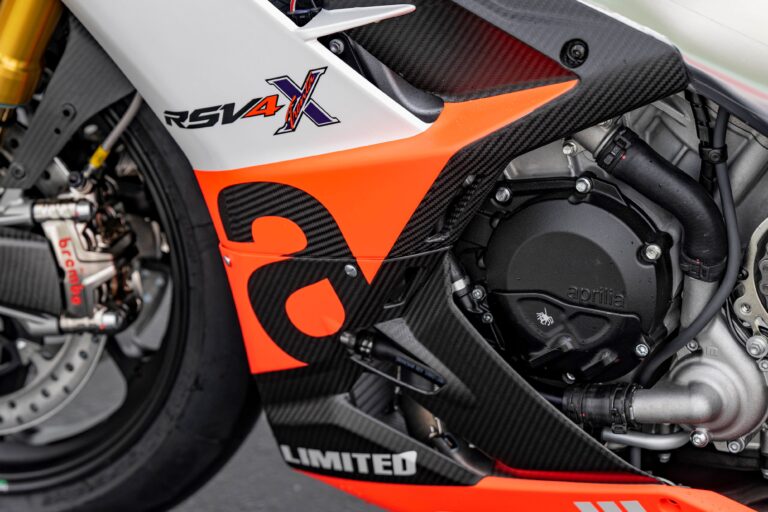 Some powerplant then – but the bodywork and chassis are arguably even more special. The carbon fibre fairing has all the aerodynamic bells and whistles of the firm's best current race bikes, including the classic top fairing wings and new tail unit fins, plus an 'under wing' on the swingarm. The firm claims 25 per cent more downforce with four per cent less drag from the setup. Suspension is top-end Öhlins kit, modified by the Andreani firm and set up by the firm's MotoGP technicians, while the brakes are proper racing Brembos: nickel-plated GP4-MS billet monoblocs and 330mm T-drive discs.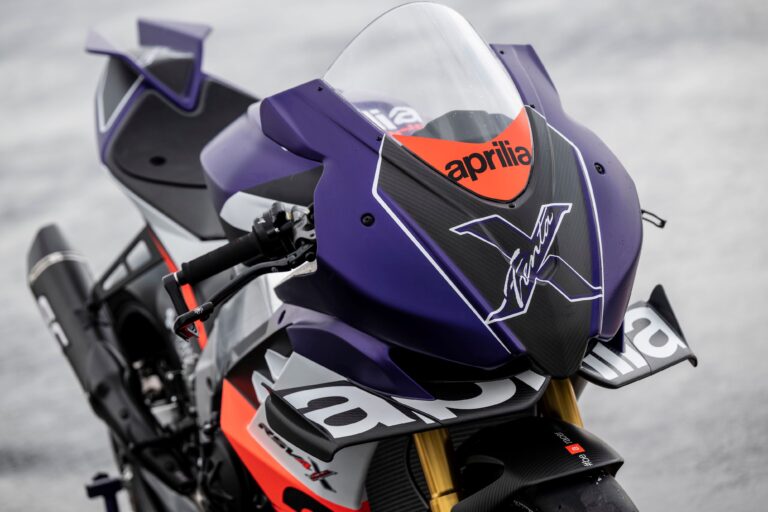 There's also an unusual sight in terms of the wheels: proper forged magnesium Marchesini parts, which are the lightest and poshest metal rims around. The M7R GENESI wheels wear Pirelli Diablo slicks in sizes 120/70 and 200/65, with SC-1 compound front and SC-X compound rear. The super-trick wheels save a healthy 2kg over the stock RSV4 Factory parts and will sharpen up acceleration and braking, while reducing steering effort for extra agility. It's no exaggeration to say that the chassis would easily fit in on any Superbike racing grid round the world…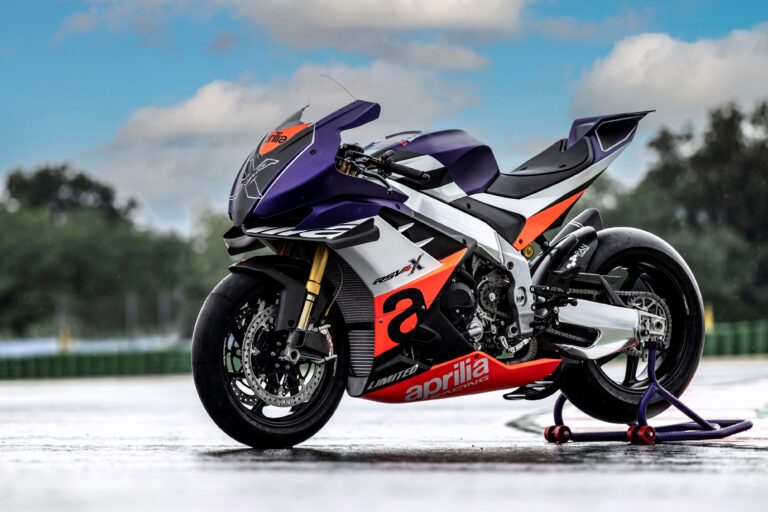 The XTRENTA celebrates the 1992 125GP title, which was the first of the firm's 54 titles (so far), won by Alessandro Gramigni. So the paint job on the XTRENTA – which was also used on Lorenzo Savadori's MotoGP bike at the Austrian MotoGP last month – pays homage to the deep purple, red and white scheme used back then. Gramigni himself was at the bike launch in Misano at the MotoGP round – a fitting tribute to a great rider.
The super-exotic trackday tool goes on sale tomorrow (Sept 6) online at the factoryworks.aprilia.com website. Lucky buyers will also have the chance to collect their model from Aprilia Racing, with an exclusive visit to the Noale racing department at the same time, and will receive not only the limited and numbered version of the RSV4 but also a dedicated bike cover and mat. Good luck getting hold of one!