There's no doubt that winter is rubbish for UK bike race fans, with no track action on site or on TV, whilst off-road events are a muddy morass.
However, there is a way for petrolheads to get a great night's entertainment …. at the 2023 Arenacross series!
We're delighted to announce that we've become the insurance partner for Arenacross!
So what is Arenacross?
It's a high-octane mix of indoor Motocross racing and Freestyle MX carefully choreographed into a three-hour live performance that includes lasers, pyrotechnics and unscripted racing all performed to a heart-pumping soundtrack. It may sound crazy…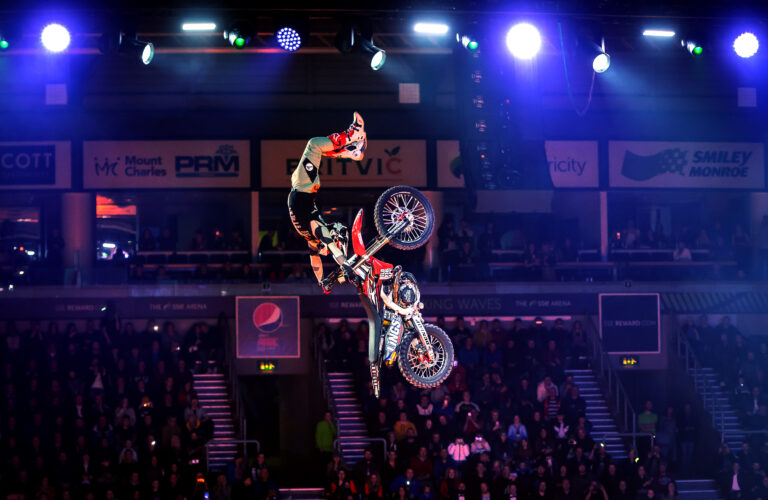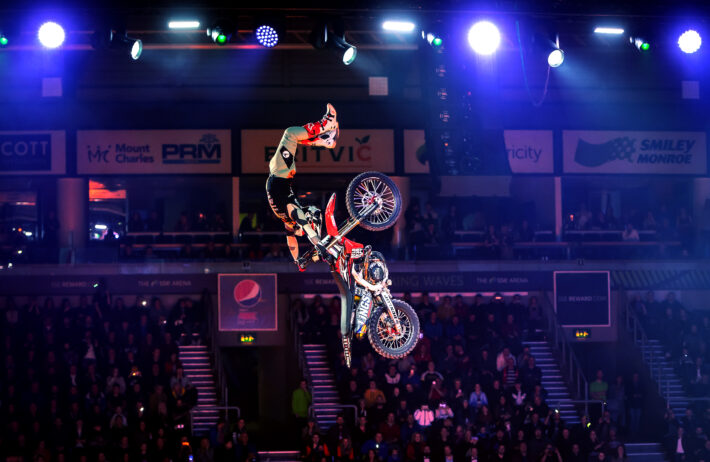 Guess what? It is!
But more than anything, it's a brilliant family night out that's suitable for all ages.
You may even come away wanting to have your own (less crazy!) attempt at off-road riding …. in which case we've put together a guide to Going off road here.
What can I expect to see at Arenacross?
You'll see twenty of the most insanely fast professional Motocross racers in the world compete in a selection of races that qualify to a twelve-rider Main Event (the final race of the night) where they score points towards their six-round Arenacross Championship that takes place across the UK's leading Arena venues.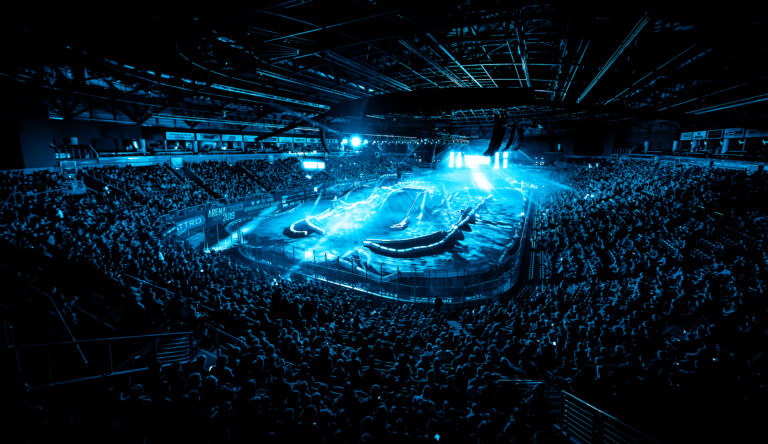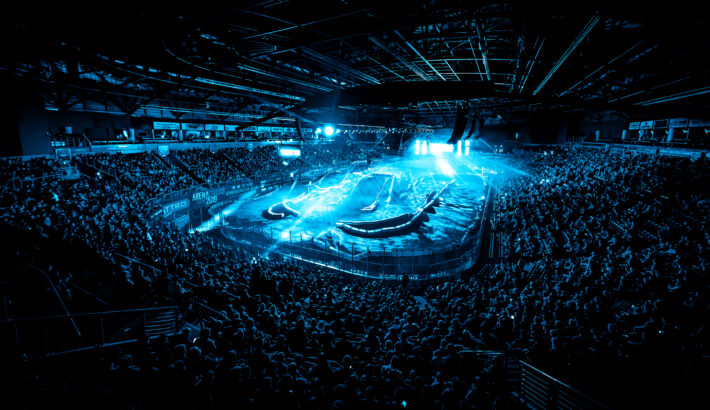 There's huge prize money up for grabs and they'll lay anything on the line to win – get ready for race action at it's most insane!
What else goes on?
As soon as the doors open, the show is on, with vendors and games and rider signings in the foyer.
Once seated, a t-shirt cannon and Mexican Wave gets the audience engaged and ready for the introduction of the riders.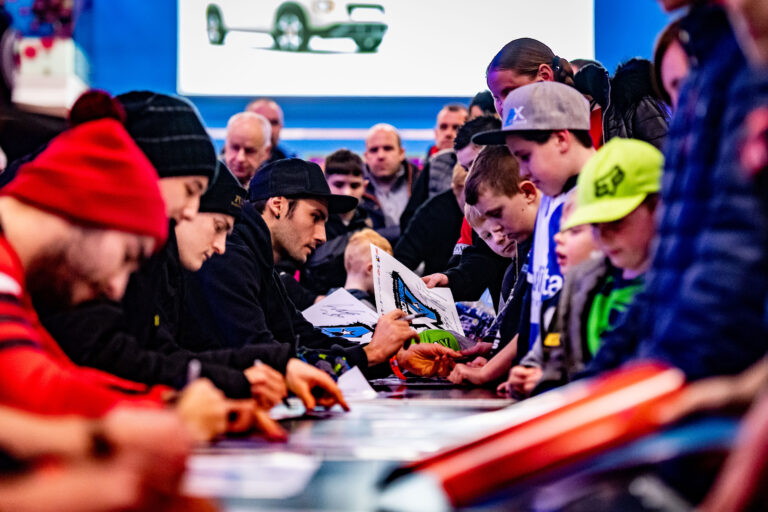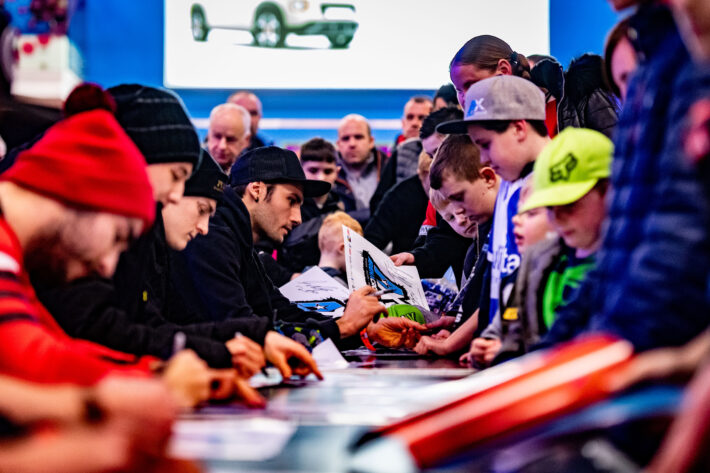 Then it's non-stop action with fearless youth riders, some as young as seven-years, semi-pro and pro racers ready to battle to the finish line.
Throw in some tense head-to-head eliminators and you'll be hollering for more!
What's freestyle motorcross?
Freestyle MX is the most dangerously spectacular art form of Motocross that takes place on a huge take off and landing ramp that sits in the centre of the Arena.
Don't be surprised to see rider's 60ft in the air, upside-down and holding on with just one hand!
There are three Freestyle MX shows throughout the night, so expect to see plenty of action and be prepared to stand up and scream!
How can you build motocross indoors?
It's not easy, but Arenacross are the worlds' best at it!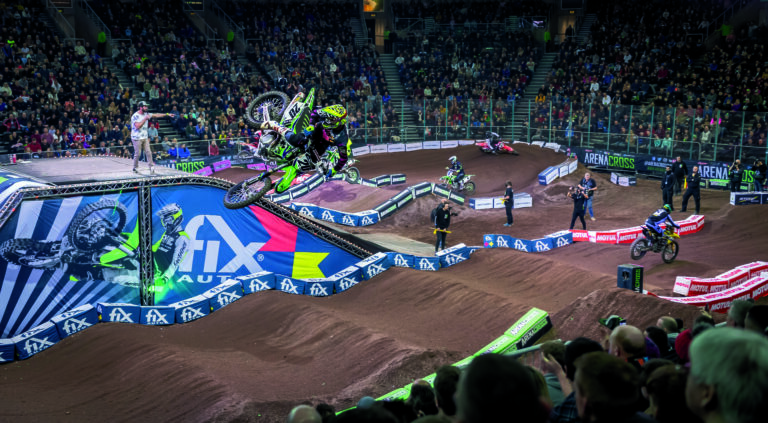 With over 2,500 tons of dirt being moved into each Arena in a 24hr period during the week before the event, their team of dirt-sculpting experts creates the ultimate racetrack playground that tests the skill of any world-class Motocross racer.
What's the event schedule?
The doors to each Arena open at 6pm and the opening show starts at 7.30pm, and that's an opening performance not to be missed!
From then on its sensory feast of non-stop races, jump action and choreographed action-sports performances like no other.
By 9:45 pm all the riders have qualified to the Main Event with the final start gate dropping at 10 pm – by 10:15 pm the winner is crowned, champagne is spraying and the event draws to a spectacular crescendo of pyrotechnics, fire, and music – you'll just be wondering where can I see Arenacross next!
The 2023 Arenacross tour dates
Round 1: Friday 20th January – SSE Arena, Belfast, Northern Ireland
Round 2: Saturday 21st January – SSE Arena, Belfast, Northern Ireland
Round 3: Saturday 28th January – P&J Live, Aberdeen, Scotland
Round 4: Sunday 29th January – P&J Live, Aberdeen, Scotland
Round 5: Saturday 4th February – The Resorts World Arena, Birmingham NEC, England
Round 6: Saturday 18th February – The OVO Arena, Wembley, London, England.