It's Milan show time, and the home companies like to bring out something a little special for the EICMA show. And this year, it's the new 2022 Ducati Panigale V4 and V4S, which have had a fairly serious mid-life facelift, with changes to the engine, chassis, aerodynamics and ergonomics packages.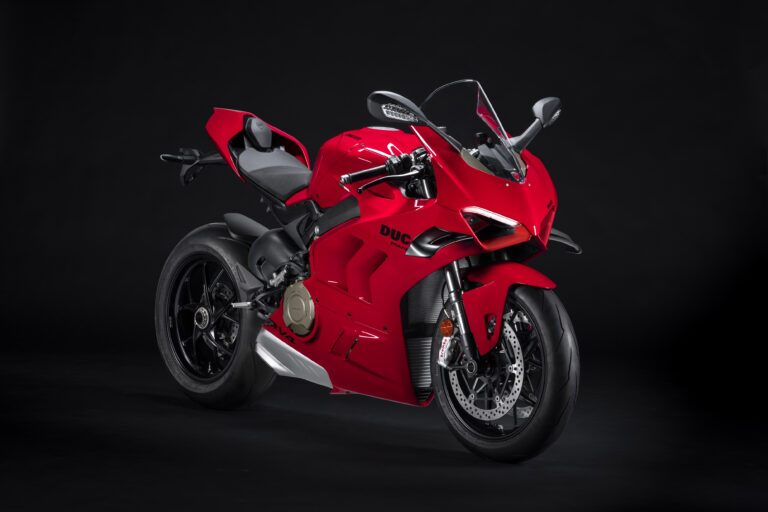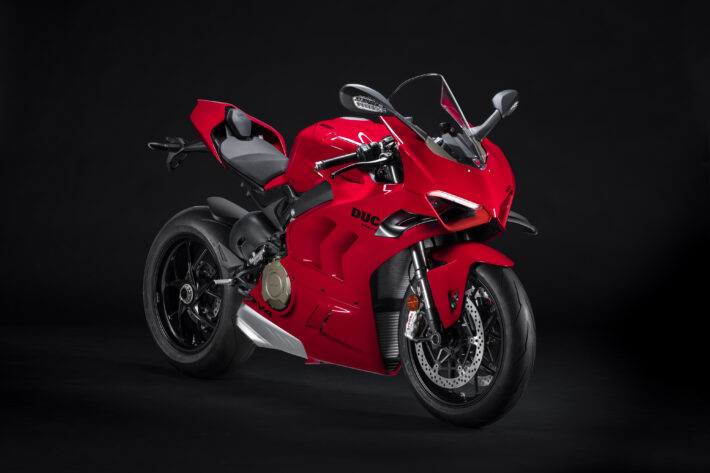 Starting with perhaps the biggest change, the new V4S gets a fork upgrade, with new Öhlins NX25/30 gas pressurised forks incorporated into the S model's electronic semi-active suspension system. The NX25/30 is a rare beast, only seen so far on the exotic Panigale V4R. It has the 25/30 moniker because it has two different sized pistons, one in each leg, with one leg dedicated to compression and one for rebound damping.
Now, that high-end gas-pressurised fork has been paired with the Öhlins Smart EC suspension system, together with a TTX36 rear shock and Öhlins steering damper. The rear swingarm pivot point has been raised 4mm as well, to reduce 'squat' under acceleration, keep the front end down and boosting stability out of corners.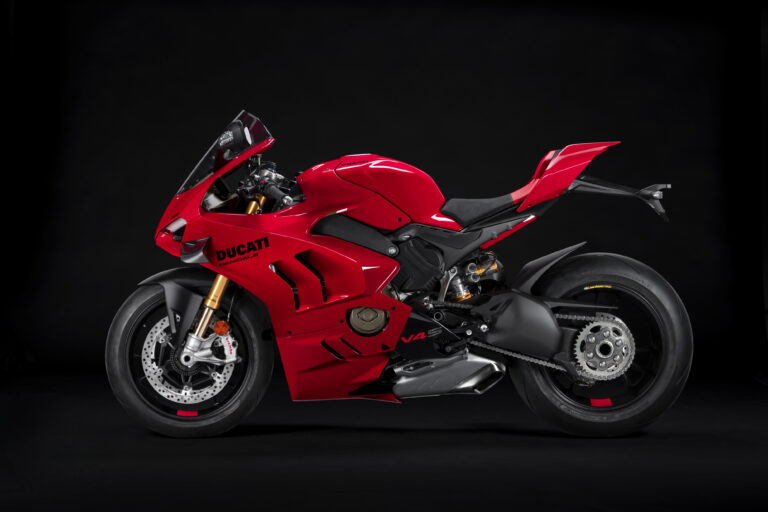 On the powertrain front, the 1,103cc V4 engine has had some detail upgrades to the lubrication system and exhaust, which reduces friction and back pressure, increasing peak power by 1.5bhp, now up to 215.5bhp, with more midrange drive. The gearbox is also revised, with longer ratios in first, second and sixth, to give better performance on track, and allow more slower corners to be taken in first gear.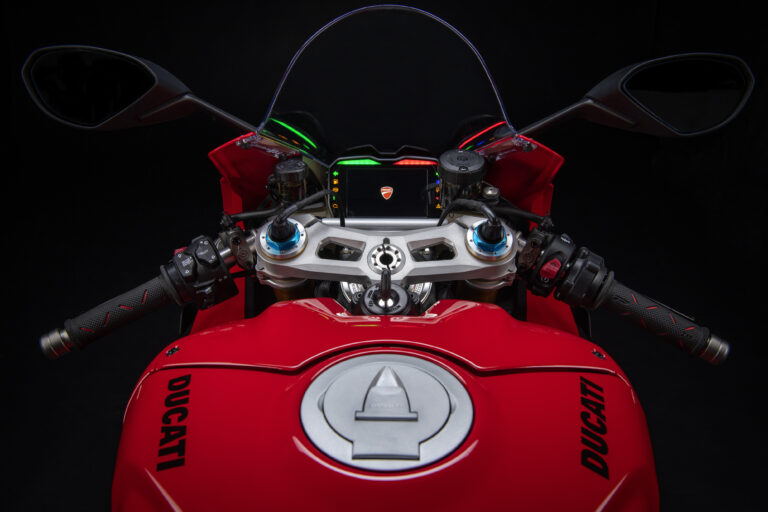 The bodywork is all new too, with revised aerodynamic winglet panels that claims to give the same 37kg downforce at 300kph with more efficient air flow. There are also more vents in the lower fairing to improve cooling performance on hot days.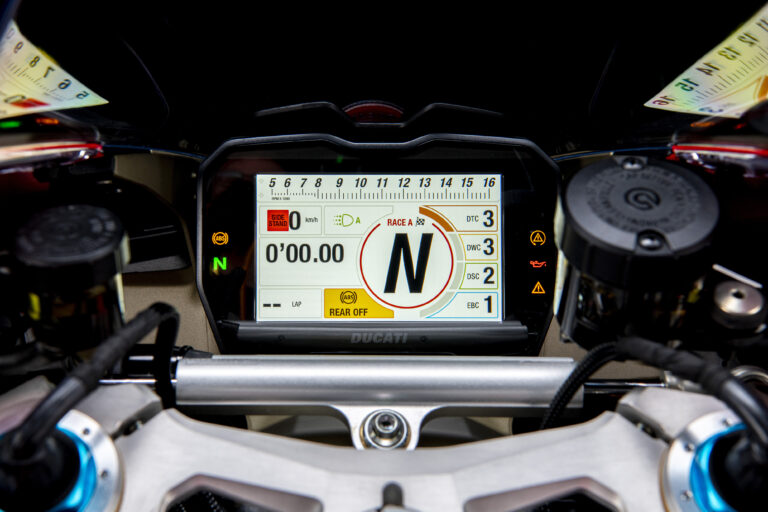 The fuel tank and seat area have also been tweaked for better control on track. The rider can lock into the Panigale V4 better under braking, and also gives better grip with the arms mid-corner.
The Panigale has always had an electronics package from the top drawer, and it's been upgraded again for 2022. According to the firm, "A new Power Modes logic has been implemented, which provides for four engine configurations: Full, High, Medium, Low. The Full and Low configurations are newly designed while the High and Medium configurations use a new strategy. Power Mode Full is the sportiest ever adopted by a Panigale V4 and allows the engine to express its full potential with torque curves without electronic filters, except for first gear.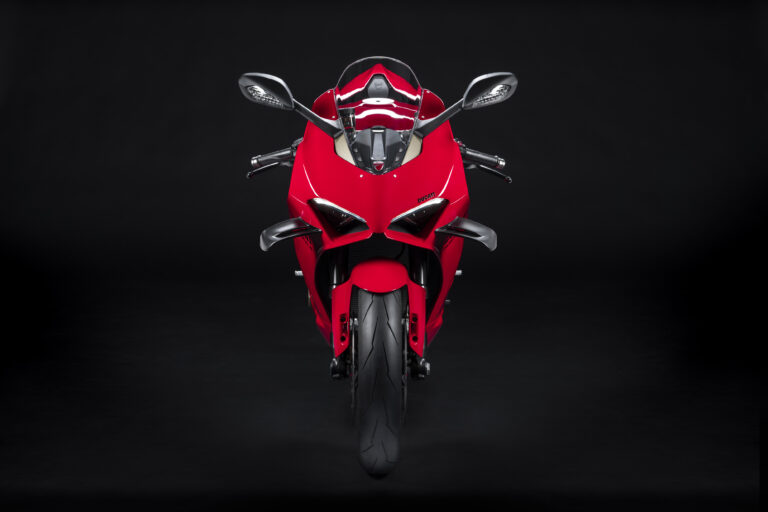 A new Ride by Wire map management system has been developed for the High and Medium Power Modes; now dedicated to each of the six gears, which guarantees the rider the possibility of always having the optimal thrust when opening the throttle.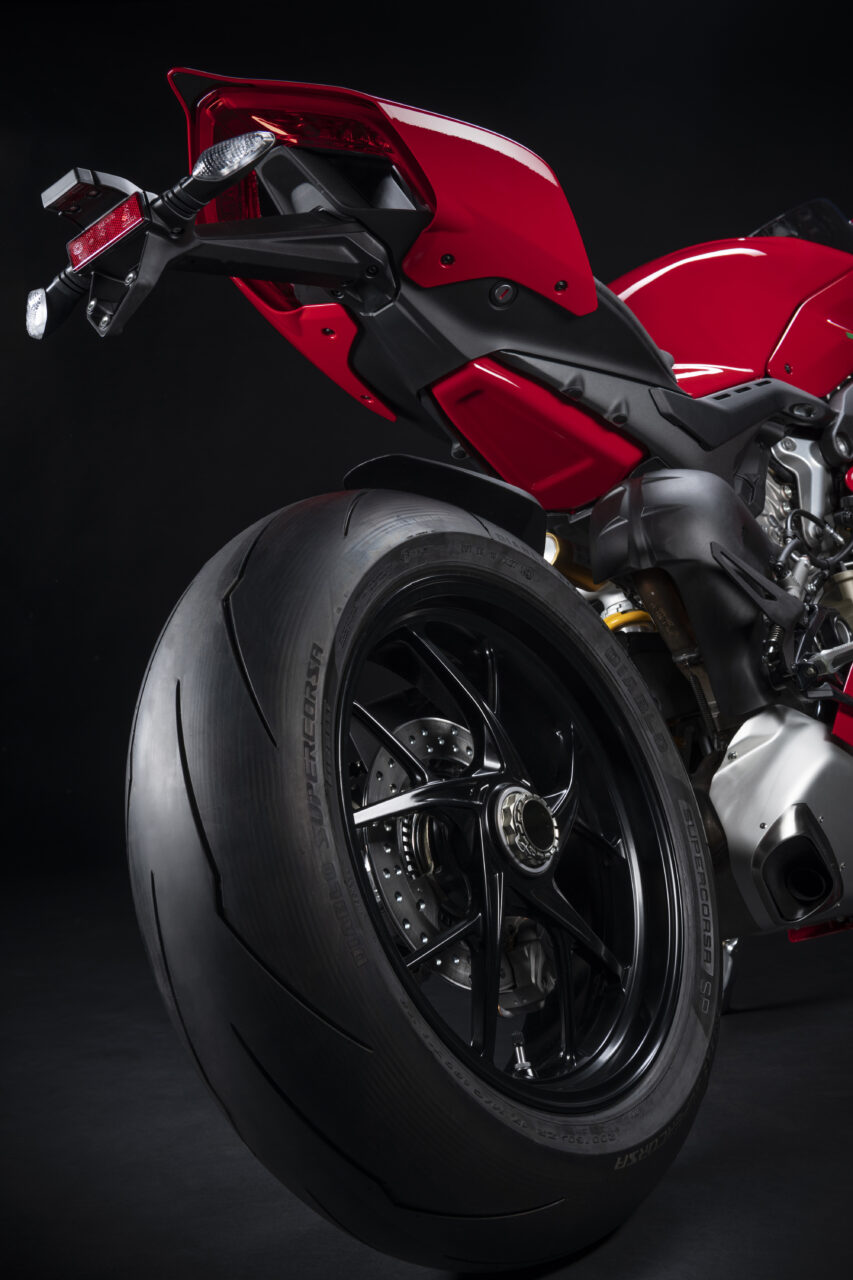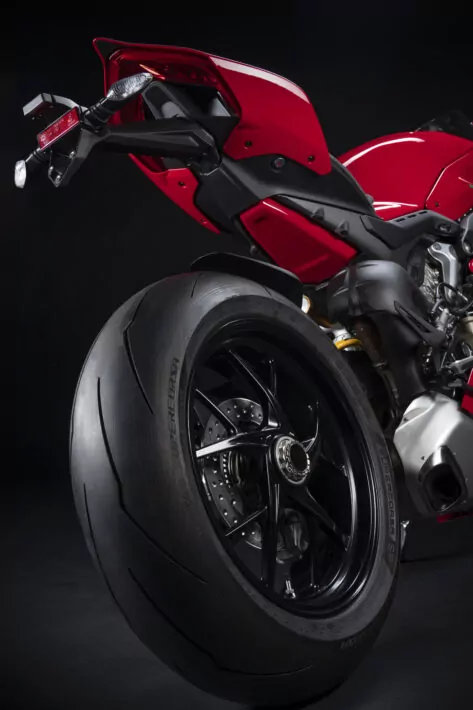 The Power Mode Low, on the other hand, has been conceived to make road riding even more enjoyable, limiting the maximum power of the bike to 150 hp and offering a particularly manageable throttle response.' So there you have it – new rider power modes with more control of just how mad the performance will be when you twist the throttle.
The dashboard now has an extra display mode, called Track Evo, in addition to the Road and Track modes. It gives even more information about how the electronic aids are working, in a large, clear format. There's also a new separate LED gear indicator display, in bright green, to make it even easier to see what gear you're in when pushing hard on track.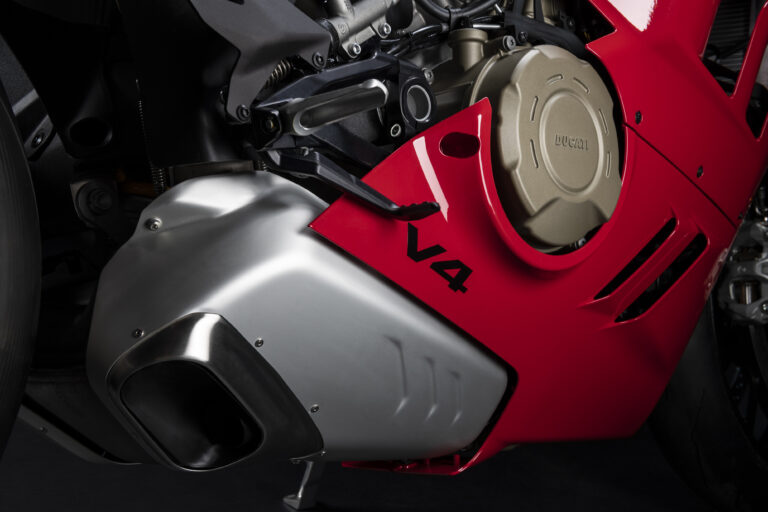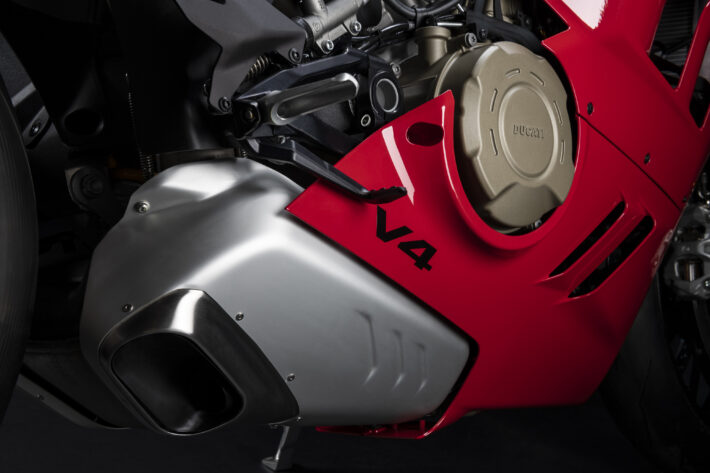 An impressive makeover then, and one that Ducati claims makes the Panigale both faster on track, and easier to ride. The firm did some back-to-back testing on the Vallelunga race track in Italy with the 2021 and 2022 Panigale V4 S, fitted with Pirelli SC1 tyres, and ridden by two testers plus Ducati's official test rider, Michele Pirro.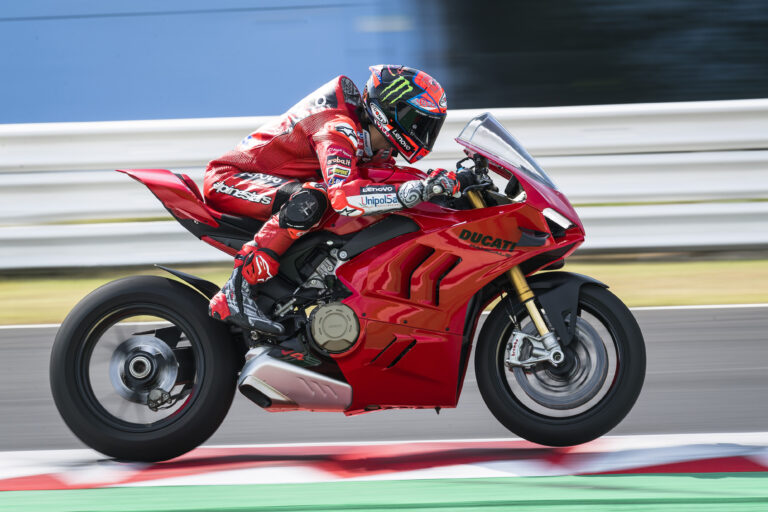 According to the firm, the first tester improved his best lap on the new Panigale V4 S 2022 by 0.9 seconds, the second by 1.2 second, while Pirro was faster by half a second, lapping just three seconds from his best time at Vallelunga, in the Italian Superbike Championship this year (on race rubber).
2022 Ducati Panigale v4 release date
The new Panigale V4 and V4S will be in the dealerships next month (December). UK prices are to be confirmed, more as we get it.
2022 Ducati Panigale v4 price
Price is obviously dependent on many different factors based on mileage and condition but you can find a 2022 Ducati Panigale v4 based on around 4000 miles for about £22,000.
Ducati Panigale v4 2022 top speed and horsepower 
The top speed clocked on a 2022 Ducati Panigale v4 is in the region of around 186mph and according to Ducati "The engine can deliver 215.5 hp at 13,000 rpm and a torque of 12.6 kgm at 10,000 rpm."
More info: www.ducati.com
We provide motorbike insurance for Ducati bikes and you can get your Devitt motorbike insurance quote for many different models and manufactures too.