Buell M2 Cyclone Bike Overview
The Buell M2 Cyclone is a funky bike full of character.  It often gets given a hard time, especially when comparing it with its Japanese counterparts but the truth is that despite its 90s concept and pushrod v-twin engine, there is much to like about this bike particularly if you are interested in more retro-style rides.
The M2 Cyclone is a naked roadster motorcycle which comes with very few additional items.  The chassis may look fairly sparse but in many ways this is also one of the bikes main selling points; you get what you get and there are no fancy and unnecessary additions to encumber your ride.  It is a bike which is easy to ride, cheap to insurance and run, reliable and lots of fun to take out on the open road.  You might not get the same level of power and torque as with some competitors but if you are even considering a Buell bike then it is fair to assume that this isn't your first priority anyway.
The M2 Cyclone has a decent riding position with a medium seat height; it handles itself well with light steering and is very capable of coping with sharp turns on twisty roads.  There are surprisingly few Buell M2 Cyclone bikes on the road in the UK so finding a second hand bargain may prove tricky but if you can get your hands on any M2 Cyclone bike then you are sure to find it a very enjoyable bike to take out onto the open road.
Check out the M2 Cyclone in action… 
Buell M2 Cyclone Bike Spec
Capacity

1203cc

Top speed

135mph

Weight

197kg

Average fuel consumption

40mpg

Seat height

749mm

Engine

V Twin, four stroke, air cooled
Buell M2 Cyclone Bike Insurance
Buell M2 Cyclone Bike Gallery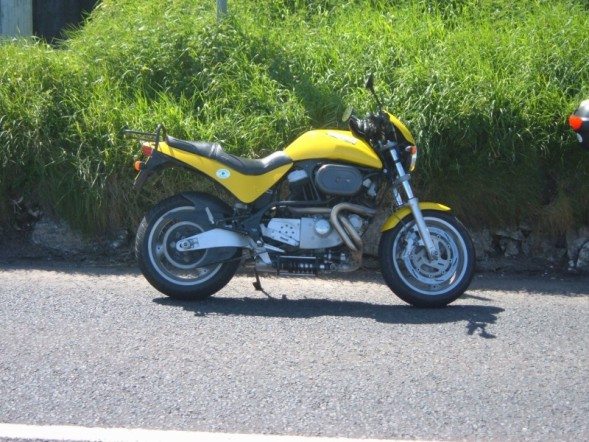 Owner Reviews
Pros
Reliable, cheap to run and fun to ride! The one bike I have bought and kept for nearly 15 years now, which says a lot!
Read More
Ride Quality5 out of 5 stars
The Erik Buell design gives the bike excellent cornering ability and positive steering
Engine4 out of 5 stars
The tuned 1200 Harley engine is not the most powerful at 95bhp but more than adequate for me
Running Cost5 out of 5 stars
Vibration!
Build Quality5 out of 5 stars
Never experienced anything major going wrong. Like all machinery, as long as you keep on top of maintenance it is fine
Brake5 out of 5 stars
Front is good, back does the job