Discovering Britain's best biker cafes…
Britain is known for its love of greasy spoons, you just have to take a trip to your local town or village and there, gleaming away with the smell of sausages and bacon sizzle away, you'll be lured in with the promises of a good cup of tea and some proper grub.
Along with pubs, cafes have become a hangout spot of the British biking community. Usually equipped with large car parks, outdoor seating and a good old fashion brew – it's no surprise they've become a place of congregation.
Just think back to the opening of Ace Cafe, London, it may be situated on the North Circular (one of the worst roads in the UK) but it's become a shrine location for bikers to meet up. From then, biker cafes are scattered all around the country, on some of the best riding routes out there; it would be rude not to stop for a hot drink and a chat!
So whether you're a lover of a weekend ride or looking for the next best place to meet for a bike night, we've picked some of our favourite biker cafes on the map.
Let's dig in… 
Gallery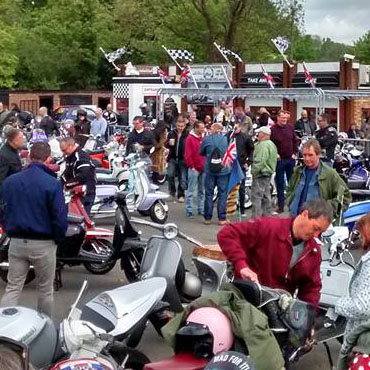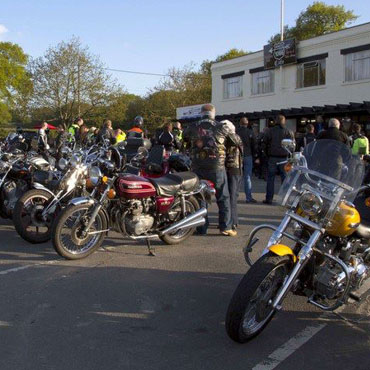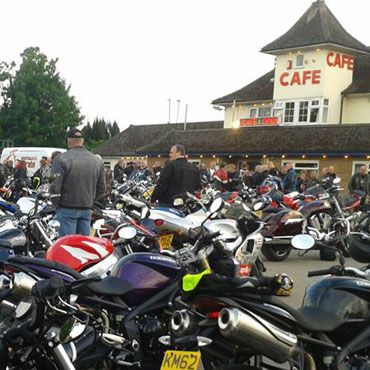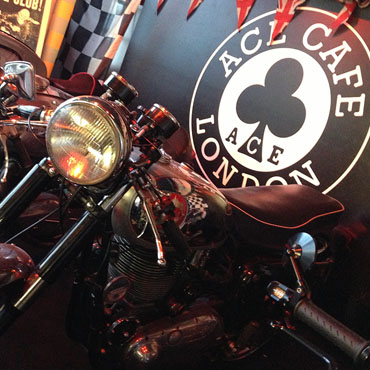 SQUIRES CAFE
North Yorkshire
Squires Cafe is the hub for Yorkshire bikers to meet, eat drink and talk all things motorcycling. Located in Sherburn-in-Elmet, the team at Squires are constantly organising events, bike nights and charity do's for the biking community.
Not only do they host their annual Egg Run (Easter) and Toy Run (Christmas) to raise money for local charities and hospices, arranging for bikers in the surrounding areas to take part in an organised run. They also host manufacturer events, music gigs and much more. If that's not your cup of tea, then you can just simply pop in for a cup of tea!
Rumbling along since 1954, there's more than a few regular faces that turn out to the weekly bike night.
Address:  Squires Cafe Sherburn-in-Elmet North Yorkshire LS25 5LX
Gallery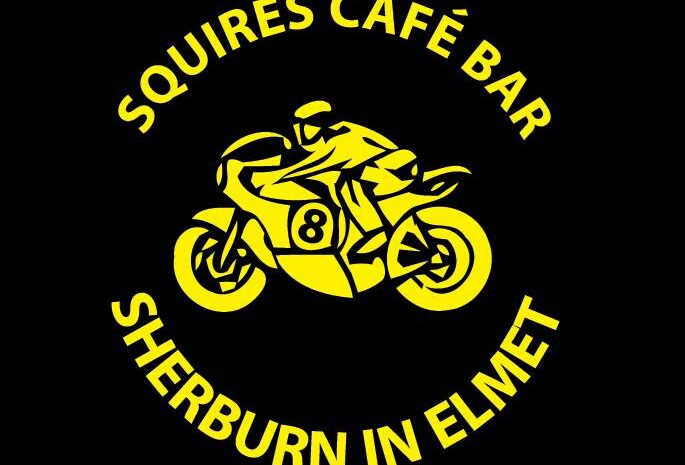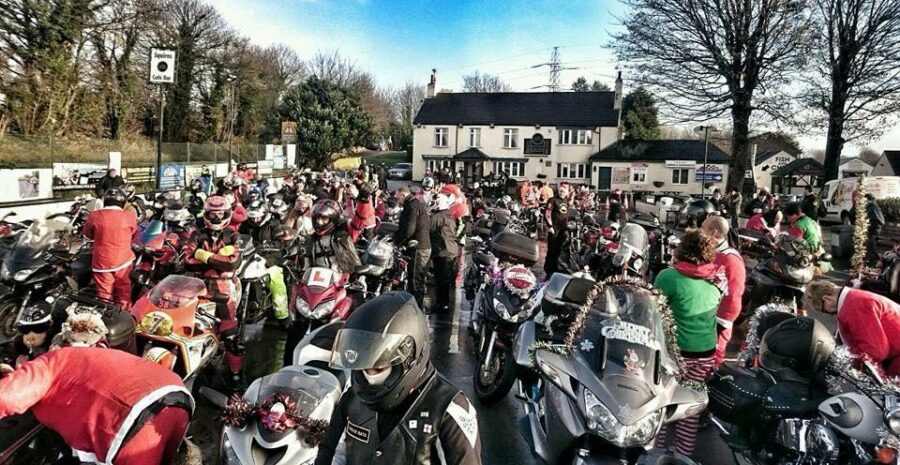 RYKA'S CAFE
Surrey
In the sticks of Surrey you'll find Ryka's Cafe tucked away in Box Hill. Surrounded by great routes to ride, Ryka's Cafe is the perfect pit stop location. It's been open since the early 1920's and growing in popularity year on year, it's time to get yourself a ride to Ryka's!
The large car park means it's quite the meeting spot for walkers, cyclists and bikers alike, but the owners go above and beyond to make sure there's plenty of events and test days on for their customers. All the old favourites are available here, including burgers, chips and milkshakes.
However, the main event here is certainly bikes, bikes and more bikes! Grab yourself a snack from the cafe along with a cup of tea and make the most of the outdoor seating areas, there's ample room for you and your ride, and check out the bikes.
Address:  Ryka's Cafe Old London Road, Box Hill, Mickleham, Dorking, RH5 6BY
Gallery
ACE CAFE
London
Just off the North Circular, you'll find the Ace Café. When you pull up outside, it's clear to see Ace is passionate about two things: engines and rock n' roll. If you're a biker, a bike enthusiast or simply a lover of all things petrol, you'll certainly be welcome at the Ace Café where great food, motorcycles and music all combine to create a unique atmosphere.
Filled with lovers of cars, bikes and engines, you're sure to leave here after some fascinating discussions with a new perspective. For bikers and bike fanatics in London, it's the go-to place. If you're one for big bike meets and ride outs then Ace Cafe know how to do them in style.
Address: Ace Corner North Circular Road London NW10 7UD
Gallery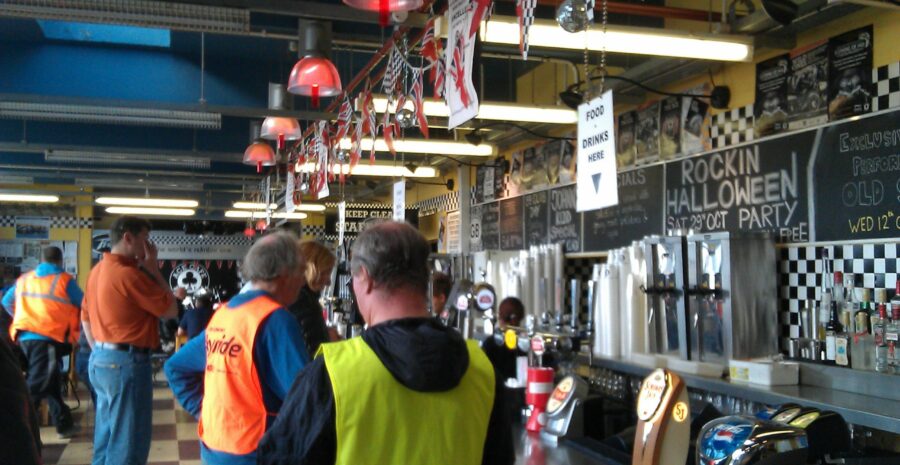 PONDEROSA CAFE
Wales
This very friendly bikers' café in Llangollen, North Wales, is a fantastic stopping point for those exploring the wild Welsh countryside. Open country roads make for great biking, with a few sheep serving as moving obstacles on the way!
With a full B&B service, the Ponderosa is great as a stopover during a long trip, and the great food on offer will keep you going for the next leg of your journey. You'll see some stunning sights of Wales from the cafe as it's tucked in the mountainside.
Be warned that the winter months are harsh and can cause lots of riding issues so it's best to check the weather before you head out – opening times do vary throughout the year, due to the weather.
Address: Ponderosa Cafe Horseshoe Pass Llangollen LL20 8DR
Gallery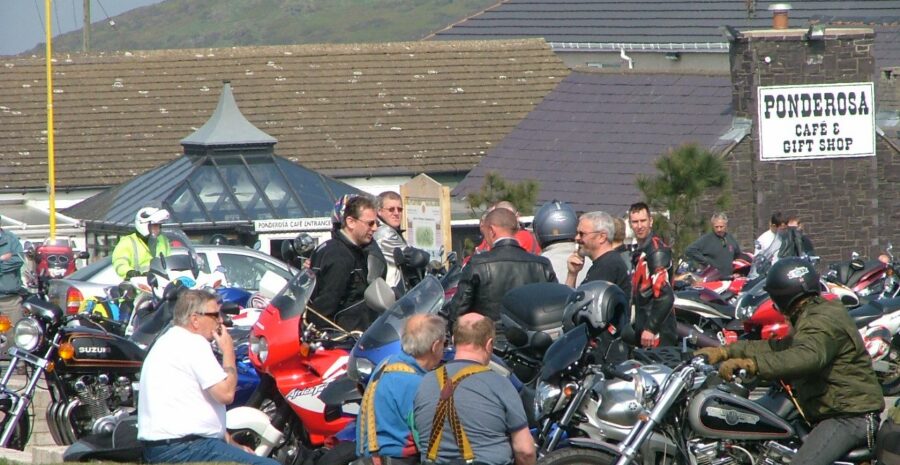 THE FILLING STATION
Cumbria
The Filling Station is a must visit for bikers in the Cumbria area, located just of the A66 it's a great place to stop for a bite to eat and enjoy the view of the surrounding Lake District.
Opened in 2011, The Filling Station have always aimed to bring the best local produce to your plate, freshly prepared and cooked to order – so we suggest you turn up hungry.
The menu alone will keep you returning to the Filling Station, but the large outdoor parking area, great atmosphere and really friendly staff also help.
There's often events held at The Filling Station throughout the year including music nights with live bands and charity events. Keep up-to-date with their Facebook page to find out about upcoming events.
Address:  The Filling Station Crosthwaite Road, Keswick, CA12 5PR
Gallery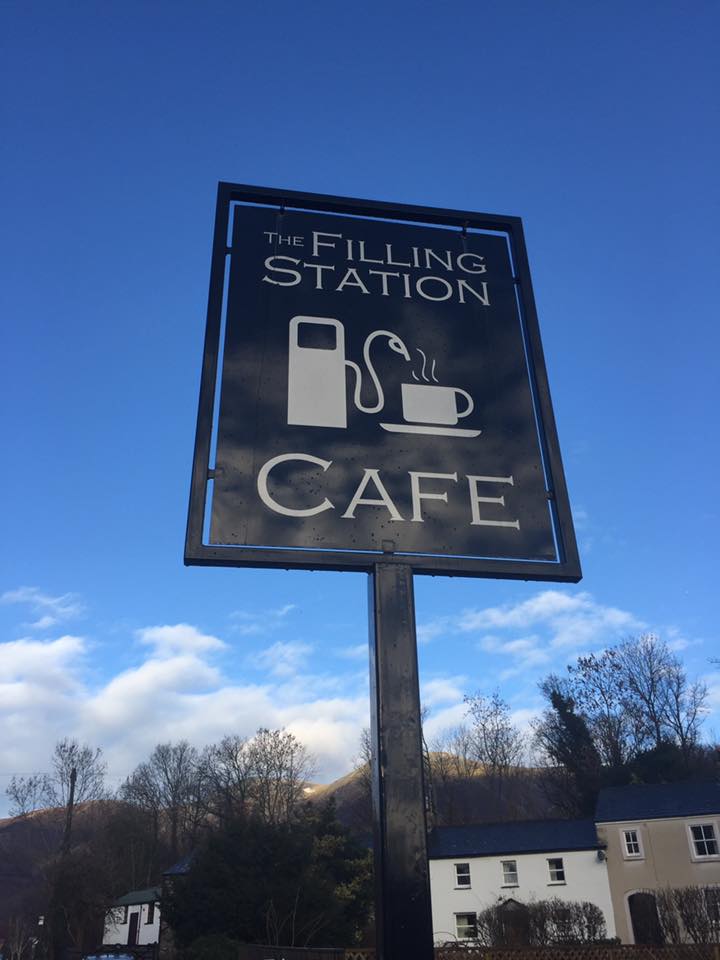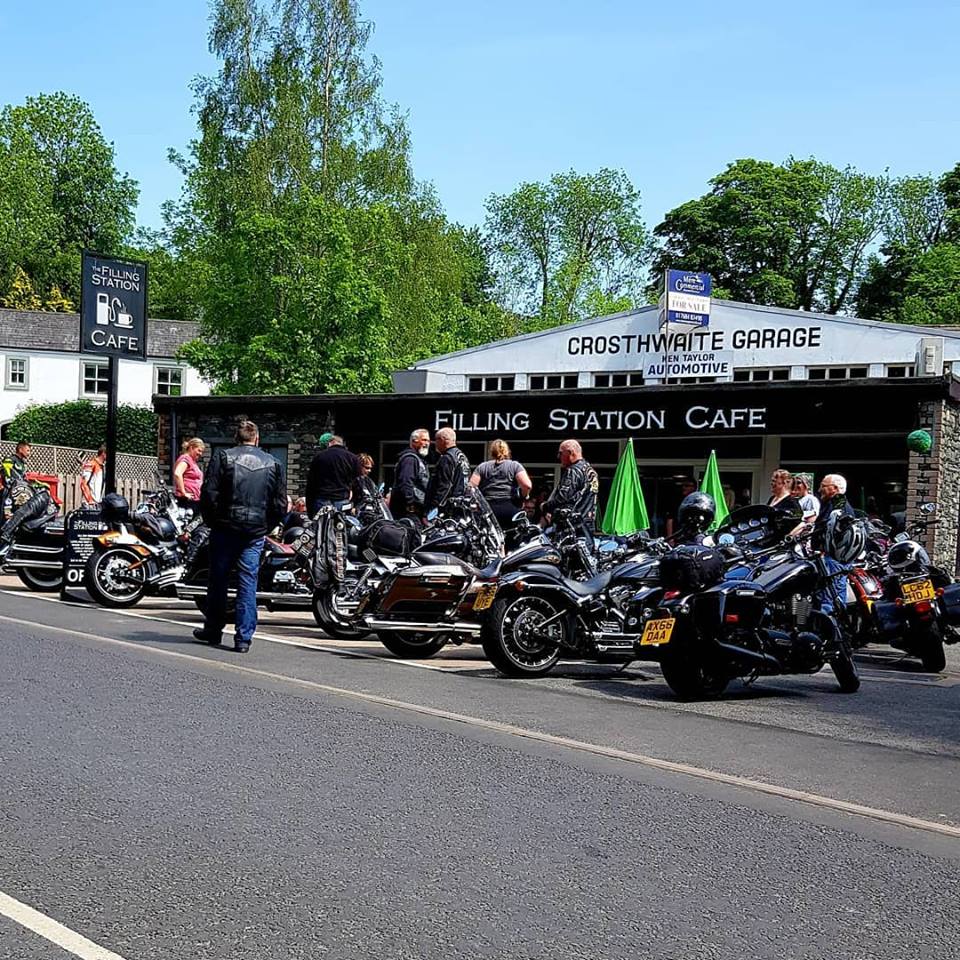 SUPER SAUSAGE CAFE
Towcester
The best place to stop if you're after a proper breakfast and a good cup of tea. Owners Chris and Gail, along with their son Simon, have been managing the cafe since 2007, although the doors first opened well over 70 years ago. The cafe has continued to grow in popularity becoming a frequent stopping point of bikers, car enthusiasts and truckers alike.
Multi-award winning cafe, Super Sausage won Britain's Best Cafe in 2016, as well as a five-star TripAdvisor rating – the accolades say it all! It's well worth sampling the menu, Super Sausage aim to cater for all so whether you've got a food allergy/intolerance, inveterate or vegan, you won't go hungry!
Devitt have been proudly working alongside Super Sausage Cafe for the last four years, the cafe often hosts events including manufacturer days, charity ride outs and much more. Due to the popular location of the cafe, just a short ride from Silverstone circuit, the car park is never shy of motorcycles.
Address: Super Sausage Cafe 35 Watling Street Potterspury Towcester NN12 7QD
Gallery
THE GREEN WELLY STOP
Scotland
The Green Welly Stop is one of the most popular biker haunts in Scotland, and it's pretty clear to see why. Located on the A82, it's a great place to stop off during your ride out. With a huge car park, outdoor seating area and fantastic dining it draws crowds from all areas, whether you're a tourist or a local, it's well worth a visit to the Green Welly.
There's always something going on at the Green Welly, whether it's a organised bike night, a charity fundraiser or just a general sunny Sunday, you'll always be able to find conversation over a cuppa.
Address:  The Green Welly Stop A82 Tyndrum Crianlarich FK20 8RY
Gallery
JACK'S HILL CAFE – NOW CLOSED 🙁
Northamptonshire
Truck stop come biker cafe, Jack's Hill has been on the map for over 60 years now and is still proven to be extremely popular with bikers to this day. With a capacity of fitting over 50 trucks and lorries in its car park, you can see why bikers like Jack's Hill Cafe. The large outdoor area teamed up with a banging cafe, it's a no brainer.
You might recognise the cafe as it's featured a number of TV shows including Top Gear, Scrapheap Challenge and Songs of Praise (believe it or not!) – it's a petrol heads heaven.
Now, the cafe itself serves up all the finest delights from a proper full English to your lunch favourites like filled Jacket Potatoes, Sandwiches and lots more. It's well worth sitting down and sampling it for yourself.
Address:  Jacks Hill Cafe A5 Watling Street Towcester NN12 8ET
Gallery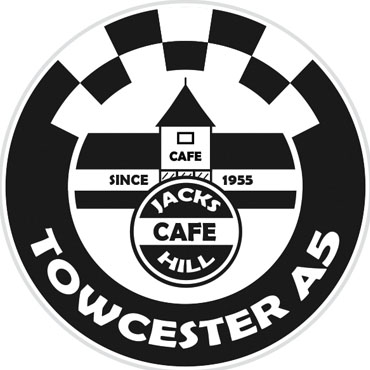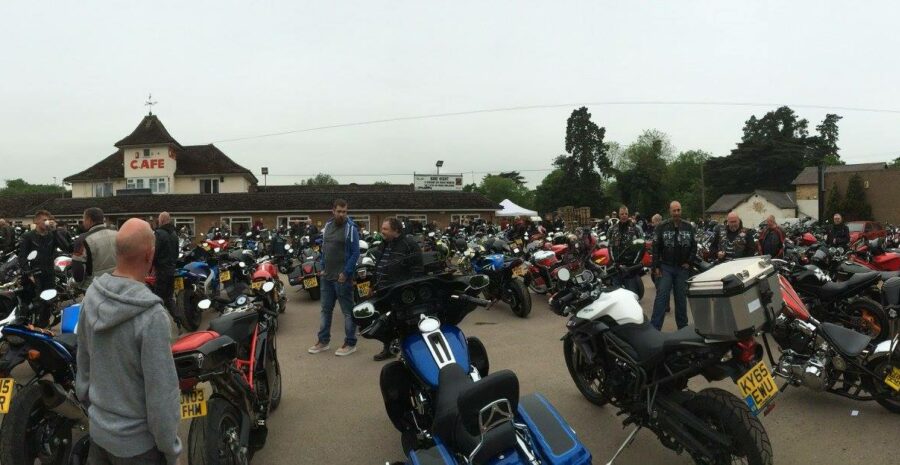 ROUTE 1066 CAFE
Robertsbridge
If you're heading on the A21 on your next ride to or from Hastings then pull up at the Route 1066 cafe diner. The cafe has a 50's/60's vibe to it but it's all about welcoming their fellow bikers in. There's always a great selection of food on the menu so you'll be spoilt for choice.
Regular bike nights are held throughout the summer months so you can enjoy a post-work ride out with a stop off for some grub and a catch up with old and new pals. Whatever you ride; custom, trike, cruiser or anything with wheels is welcome to pull up outside the cafe. Make Route 1066 your next pit stop destination…
Address: Route 1066 Cafe A21 Robertsbridge TN32 5JH
Gallery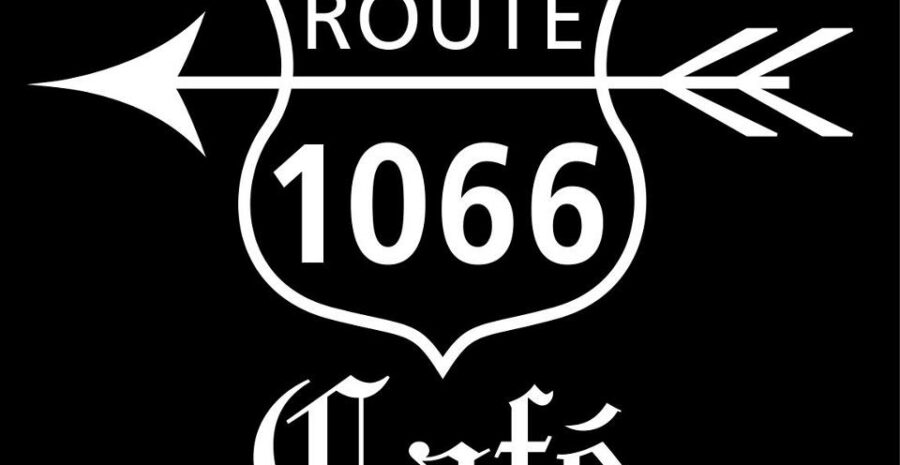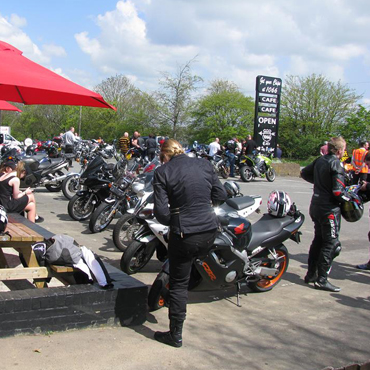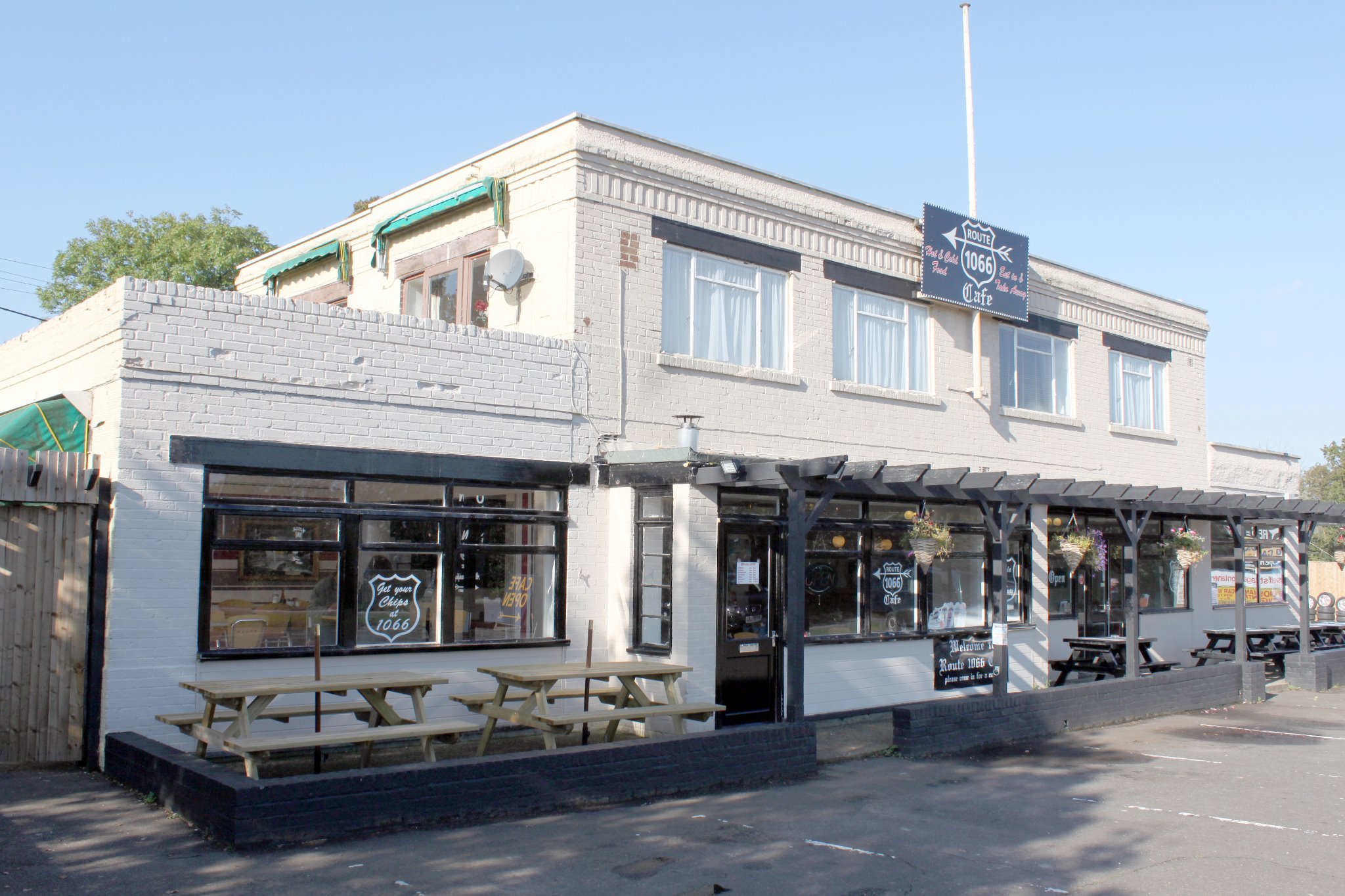 MANOR FARM CAFE
YORKSHIRE DALES
On the edge of the Yorkshire Dales you'll find the Manor Farm Cafe, a popular biker cafe with the perfect roads to match.
Recently taken over by new management this year, Manor Farm Cafe are going all out to make the cafe the best meeting spot this side of the Yorkshire Dales for bikers. Regular biker meet ups are arranged, with the bike night happening every Thursday throughout the sunnier months – there's always a bike night special on offer too so it would be rude not to stay and enjoy some good food and great company.
The menu features all of your classic cafe favourites but with a delicious specials board to boot, which is updated regularly.
Open 7 days a week so there's no excuse not to pop in, whether it's on your way home from work or for a Sunday jaunt.
Address: Manor Farm, Bellerby, Leyburn, DL8 5QH
Gallery