Top 10 Motorcycle Jackets for Women 
If you've managed to find this top 10 then you are in the search of a good ladies motorcycle jacket right?
We have put together a list of the top-rated motorcycle jackets we could find in different price ranges which should hopefully make your decisions a bit easier.
It is extremely important to protect yourself at all times to the maximum level when riding a motorcycle. You'll never go wrong investing in the best motorcycle jacket that you can afford!
As a female motorcyclist shopping for a jacket can be difficult when the motorcycle world is very male-dominated, a recent survey showed that less than 10% of riders in the UK are women.
Majority of the motorcycle jackets out there are usually classed as Unisex however you may prefer to go for one specially designed for a woman.
When buying a jacket bear in mind it needs to be fitted, so going for a unisex design may not give you the most comfortable fit in the chest area compared to one designed for ladies.
Then you have to decide what material you are going to go for – textile or leather?
To make it a bit easier we have picked our top 5 for each, in difference price ranges, but it is completely down to preference.
Leather Jackets
Now the classic leather biker jacket has been a staple for years and is an avid piece of clobber to own but how durable actually are they?
The leather jacket, providing that is a specifically made motorcycle jacket (from cowhide leather) and not a fashion item, is potentially one of the most abrasive materials meaning if you fall off it's going to be the best bet of protecting you from road rash and impact.
When looking for a leather jacket you'll want it to be tight fitting but still comfortable as it is meant to be like a second skin.
When it comes down to style a biker jacket does look cool and most definitely completes the biker image but it can be hard to clean and will probably have to be cleaned professionally.  They will do well in protecting you during your rides from debris, bugs and the wind.
A down side to buying a leather jacket is they are most often not fully waterproof so if you get caught in a downpour and forget your waterproof you're more than likely to get soaked.
1) RST Ladies Blade 2 Leather Jacket
Price – £159.99
5 Star Reviews
This jacket comes including CE Certified Armour for the high impact areas, removable thermal fleece lining, full reflective details and is made of full grain 1.1mm to 1.3mm cowhide leather.
The manufacturers focus on racing gear and test all their products on team members. If it's good enough for the BSB racers, it's good enough for us.
2) Richa Ladies Nikki Leather Jacket
Price £289.99 (finance options available)
5 Star Customer Reviews
The jacket comes including cowhide leather, D30 armour for the elbows and shoulders, 3M reflective material for late-night riding. Also it comes with a back protector insert. Richa are one of the UK's most popular brands and the jacket comes including some light pink piping. When having a read of the customer reviews all customers said it was comfortable and accommodated the female body well.
3) RST Ladies Kate Leather Jacket
Price £149.99
5 Star Customer reviews
Another RST jacket has crept into our top 5 with their Kate leather. This item has been specially made again with the idea to fit the female body. It comes with stretch panels for added flexibility, CE certified armour and removable thermal lines for added warmth. All customer reviews all commented on how well the quality of this jacket was. So if you're looking for a quality jacket this may be the one for you.
4) Furygan Bella Lady Leather Jacket
Price £359.99 (Finance options available)
5 Star Customer Reviews
While on the pricier side the Furygan Bella Lady is made from premium grade soft leather and comes with removable thermal liners, CE approved D3O  armour for maximum protection and a pocket for an optional back protector. Furygan have been established focusing on biker safety since 1969 and all their clothing are designed and tested in in-house labs from their research. Customer reviews claimed for this jacket to be flattering, comfy and feeling safe.
5) Richa Ladies Montannah Leather Jacket
Price £259.99
5 Star Customer reviews
Our 5th jacket is another one from Richa which is their leather Montannah jacket. This jacket comes with fixed mesh lining for enhanced comfort, removable thermal lining for warmth and CE certified armour for the shoulders, elbows and back. The product has all 5 star customer reviews with all saying it was comfortable, well-fit and the accent details give the jacket a nice feminine look. It even comes with a connection zip as the matching jeans are also available.
Textile Jackets
Textile jackets are another style of protection you can opt for that have different properties to leather and may be better suited to you.
The textile jackets are usually made of man-made fabrics like Cordura or Kevlar that will wear down in the event of a crash much better than your bare skin but maybe not as well as leather.
Dependent on your use of the bike the textile jacket may be the better option as they can be made to be water resistant yet also due to the fabric can be more breathable during warmer weather.
A fair few also come with removable under-layers and of course in the colder months you can always layer up!
Textile jackets can also be more comfortable to wear than leather so if you are planning a long trip comfort may want to take care and the textile fabric will often model to fit you, whereas you have to fit tightly but comfortable in leather.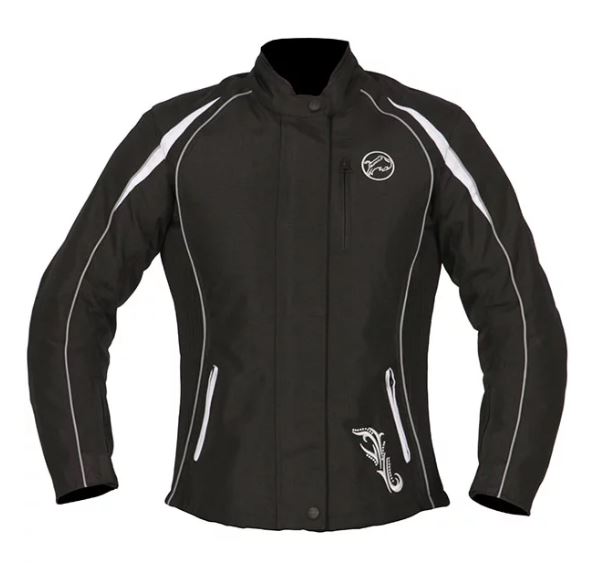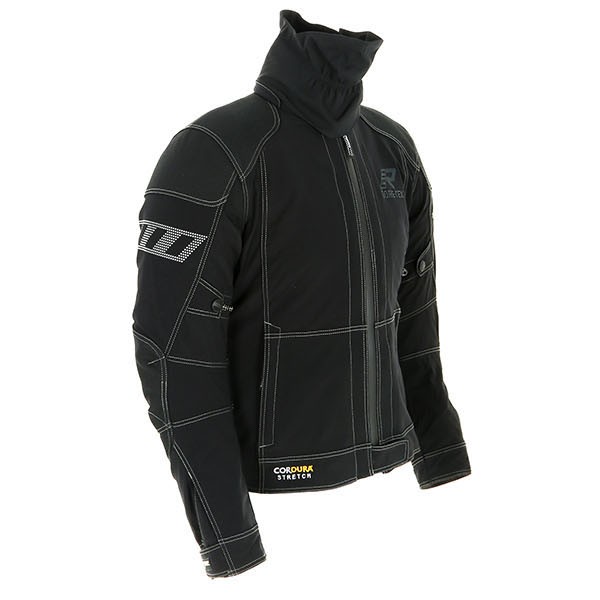 6) ARMR Moto Ladies Kami Textile Jacket
Price £129.99
5 Star Reviews
The Kami Jacket by ARMR is one of SBS best-selling jackets and with 35 5 Star Customer reviews it's no surprise that this one's first on our list. The jacket is waterproof, comes including CE approved armour, reflective panels, internal pockets, detectable thermal layer and Velcro tabs to adjust sizing. Customer reviews all claim that this is a 'cracking' jacket being comfortable, stylish and feeling safe.
7) ARMR Moto Ladies Jojo Textile Jacket
Price £99.99
5 Star Reviews
Another jacket produced by ARMR is another best seller on SBS with over 25 5 Star Reviews and two colour ways- pink and purple. The jacket includes CE approved armour, waterproof liners, reflective panels and pockets. Customer reviews claim that the jacket was comfortable, warm and stood up to weather elements well.
8) Spada Ladies Planet Textile Jacket
Price £79.99
4.5 Star Overall Reviews.
This jacket seems like a great jacket overall if you do have a lower budget. It is waterproof and comes with 5 piece CE approved armour and reflective piping. Spada have been producing motorcycle gear for almost 20 years and their products are known to be of high-quality specification.
The jacket has adjustable elements so you can tailor the sizing. From reading some customer reviews it appears that it had missed out on the 5 Stars for being a small-fit.  So you may want to size up or visit the sizing guide before you order!
9) Buffalo Ladies Verona Jacket
Price £99.99
5 Star Reviews
The Verona is a stylish jacket by the brand Buffalo and it comes in two colour-ways black/white and black/pink. It claims to be waterproof, windproof and comes with removable thermal quilted lining. The jacket comes with CE approved armour, Velcro straps for adjustments, pockets and reflective detailing. True customer reviews say that the jacket is comfortable, fits well, warm and truly waterproof. With it being priced at under £100 this one had to be included.
10) Rukka Flexina Ladies Gore-Tex Textile Jacket
Price £479.99 (Finance options available)
5 Star Reviews
Now we understand that this is the priciest item we included on this list but we couldn't not include a Rukka. Rukka is known worldwide for being the most technically advanced range on the market. The jacket is constructed of high-tec materials such as Gore-Tex lining and D3O limb protectors. Reviews claim that this jacket really does make you feel safe, fits well and keeps you warm and dry in bad weather conditions. Please bear in mind, just as it's more costly doesn't make it ultimately better than some of the other priced jackets in the list. So when you choose please ensure that you pick an item that you feel safe and comfortable in.