This year Devitt sponsored a young and upcoming rider called Jordan Gilbert. Jordan rides as part of the team HARIBO Starmix in British Superbike (BSB) Superstock 600. It has been a roller-coaster of a year for Jordan, in both his racing career and educational life. Have a read of his blog to find out how he spent his summer.
"Before I start with the racing stuff, I celebrated my 18th birthday last weekend, we had a birthday party at home with some friends and family. Thanks Mum for organizing and making all the food.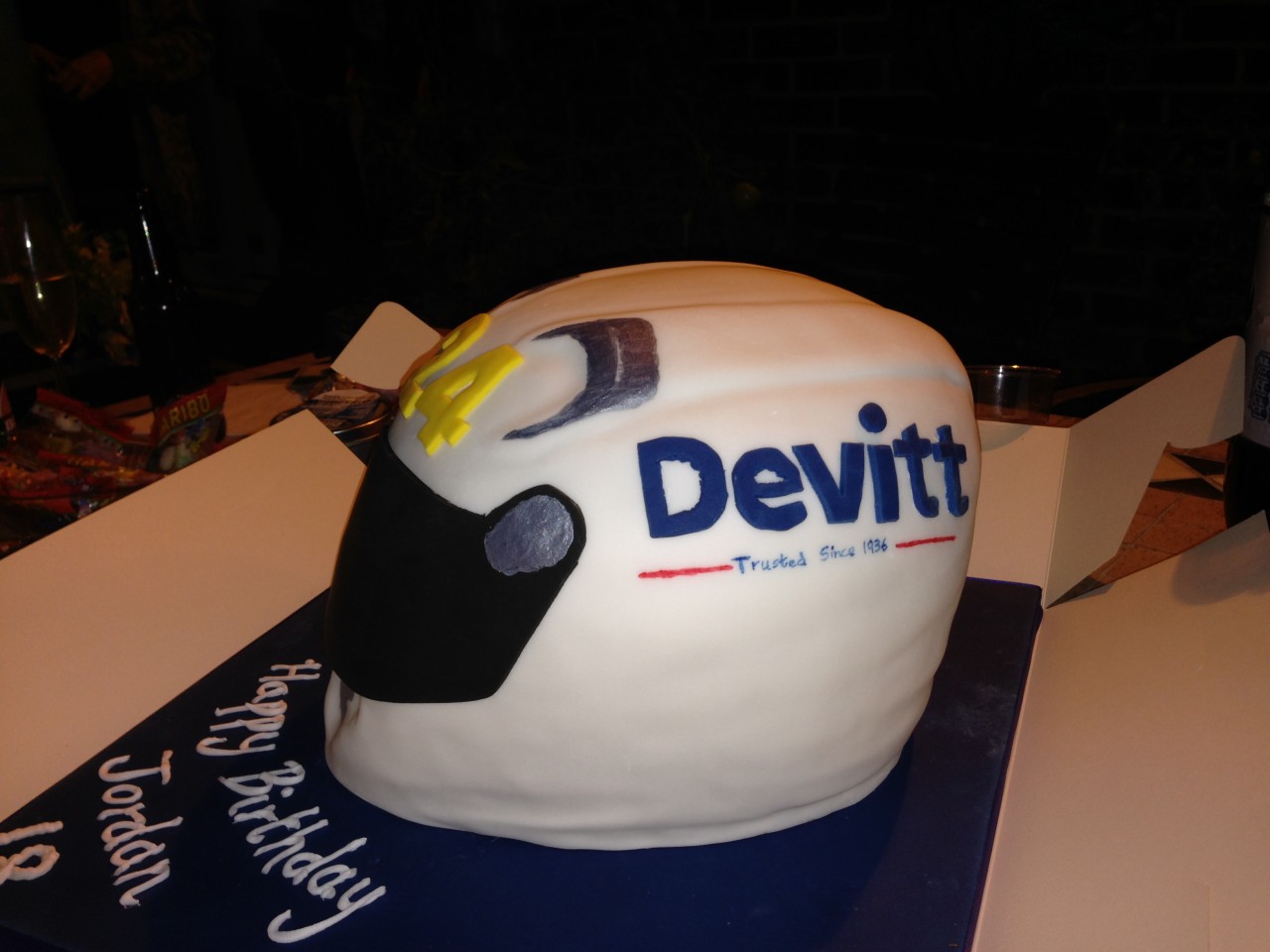 We have three rounds left of the BSB 2014 Superstock series, Donington Park and then off to Silverstone on the 5th October and then the final round at Brands Hatch GP on the 19th October. I can't believe where this year has gone, it's flown past with testing in Spain earlier in the year with Team HARIBO Starmix. I suppose it's been extra busy for me this year as I had my 'A' levels to deal with as well. I passed all my exams and got a place at Bournemouth University, not only got a place but got a scholarship as well. I have decided to defer the place a year.
Throughout this year I have learnt a lot, with the excellent team behind me at Team HARIBO Starmix I have improved a lot. We've had the odd bit of bad luck with various things, me making the odd mistake, but when you are at this level and pushing every time you get on the bike then you will have crashes.
Luckily I have fantastic protection in what I wear; the kit I wear with confidence goes like this, from head to foot…
Crash Helmet: Bell M5X 5 star rating, and really comfortable.
Ear Protection: I have used Ultimate ear plugs. These are made for each wearer; it's the best £60 my dad's spent on me.
Neck Protection:   LEATT neck protector this was new this year. Racers often suffer from broken collar bones, this is designed to reduce the chances of that happening.  It took some getting used to, with a bit of help from the manufacturers, plus some clever stuff from our Crew Chief James Jackson.  It now fits so well that I don't think I would ever ride without it.
Race Leathers:   RST Pro series leathers, these are off the peg leathers with a few changes to suit me.  I had the collar removed, as it rubbed my neck.
Back & Chest protection:  I always wear the Knox Track Vest; this has kept me safe all season. It's really comfortable to wear, and again, I now wouldn't ride without it.
Gloves:  I use Knox Handroid gloves.  These are not cheap, but the protection is top knotch.
As the year has gone on and as I've crashed and damaged them, Knox quickly send me new replacements; I've seen Knox constantly improve their gloves all year long.
Boots:  Daytona race boots are probably the best motorcycling boots money can buy.  Again, these again are not cheap, but they're the best protection you can buy. I broke my ankle in my first year of racing; I'm pretty sure this wouldn't have happened if I'd been wearing these.
I'm training really hard at the moment, as we have no BSB meetings for 3 weeks.  The other classes go off to race at Assen in a couple of weeks' time, I would love to ride Assen; it looks awesome…. maybe one day?"