Devitt will once again be sponsoring racer Simon Hewitt as he embarks on his second attempt at the infamous Dakar Rally, which takes place in Saudi Arabia from 1st to 14th January 2022.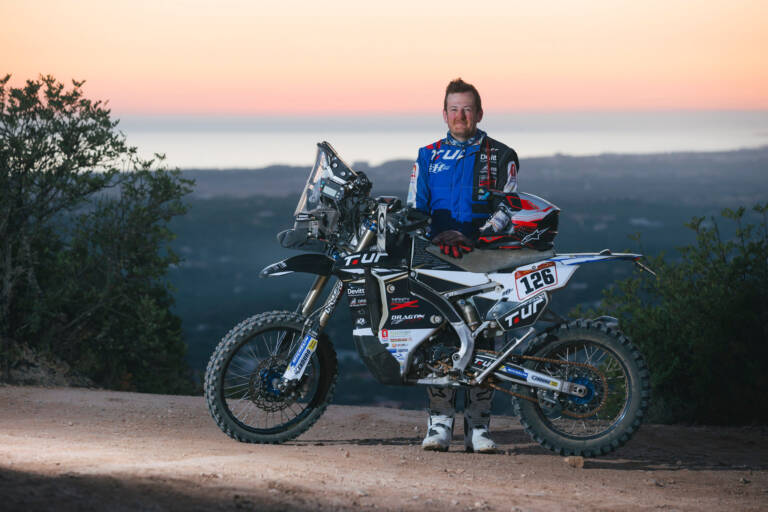 We caught up with Simon before he heads out to the Middle East to find out how he got into rally racing and why he feels like he has "unfinished business" with one of the most gruelling races on Earth.
Can you tell us a bit about your background with motorcycles and how you got into riding/motorsport? 
When I was around seven or eight, a couple of my friends had little motocross bikes and I was lucky enough to have a go. I loved it from the start, so much so that my Dad bought me a trials bike when I was ten. I rode a lot, but never competed. I just messed around on the local coal tips with my mates!
Fast forward to 15 years old and I landed a two-week work experience placement with Simon Pavey's BMW off-road riding school. I got a part-time job with them after that, and eventually bought an enduro bike instead of the trials bike, so that I could go riding with the instructors. I started racing enduro when I was 17 or so and in 2004, by the age of 24, I became an instructor myself.
How did that turn into a desire to tackle one of the toughest races in the world?
Simon Pavey has done the Dakar ten times, finishing eight of them, and some of the other instructors had done the race as well. Hearing their wild stories just made me want to go and experience it myself. In 2014, when I had a few races in the UK under my belt, a group of five of us went to do a navigation race in Greece called Serres Rally, which is the same style as Dakar but much easier.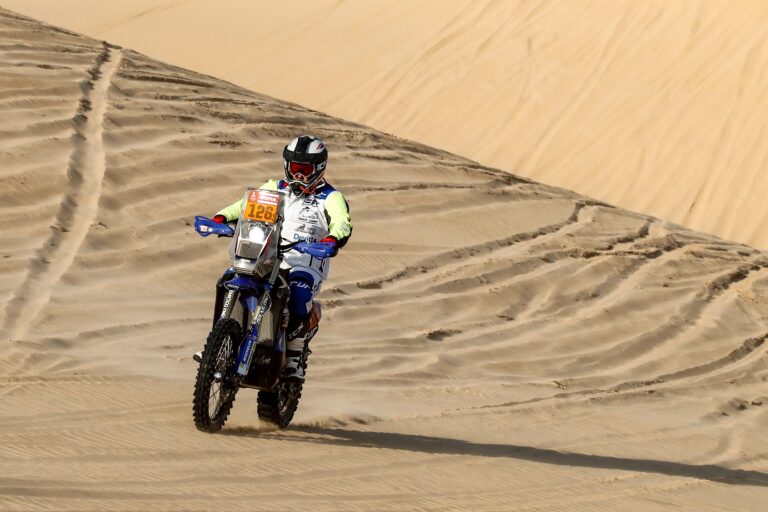 Once I'd done that, I just wanted more of that style of racing, I was hooked. I went back to Greece in 2015 and 2017, improving my results every time. I then did Merzouga Rally in Morocco in 2019, which was a Dakar qualifying event, and finished that. That got my foot in the door to do Dakar itself.
How would you describe the Dakar to someone who doesn't know what it is?
Essentially, it's a long-distance off-road rally where competitors race set distances through various terrain, following directions on a roadbook that you're given at the start of each day. It's about two weeks long, with a rest day in the middle, and we cover anything from 200 to 500 miles a day.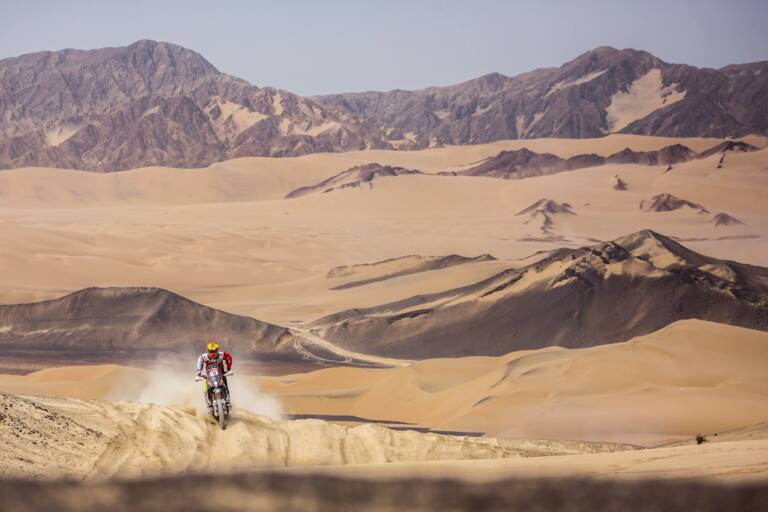 The race is open to bikes, quads, cars, dune buggies and trucks, with everyone following the same route but at staggered start times. It's a pretty crazy event, a bit like Wacky Races at times!
How would you sum up your experience in 2020? What were your highlights and lowlights?
My preparations for the 2020 Dakar were anything but ideal, with a very bumpy ride to the start line including a broken collarbone, being let down by a team at the last minute and having my bike stuck in customs. Even making the start line felt like a victory.
I'll start with the lowlight, which has to be my engine failing on day seven. I was absolutely crushed, heartbroken. I'd worked so hard to make it that far. If you can't finish a stage, they let you repair your bike back at the bivouac (the moving village of the race) and re-join the race the next day, but you don't get a finishers medal at the end. I did that and rode the last few stages just to gain the experience.
I'd say the highlight was seeing my dad and girlfriend at the end of the penultimate stage. They flew out to watch me race and I was so happy to see them. They were with me at the finish line of the last stage too, that was pretty special.
You mention in your 2020 blog that you have "unfinished business" at the Dakar. What made you want to give it another go and what are you hoping to achieve this year?
The top riders/drivers in each class are racing to win the event, but the majority of competitors are just trying to get to the finish line and earn one of the coveted finisher's medals. For me, it's the main motivation, as owning one of those medals shows you have a certain level of riding skill as well as personal qualities like determination, perseverance, strength of character and mental strength.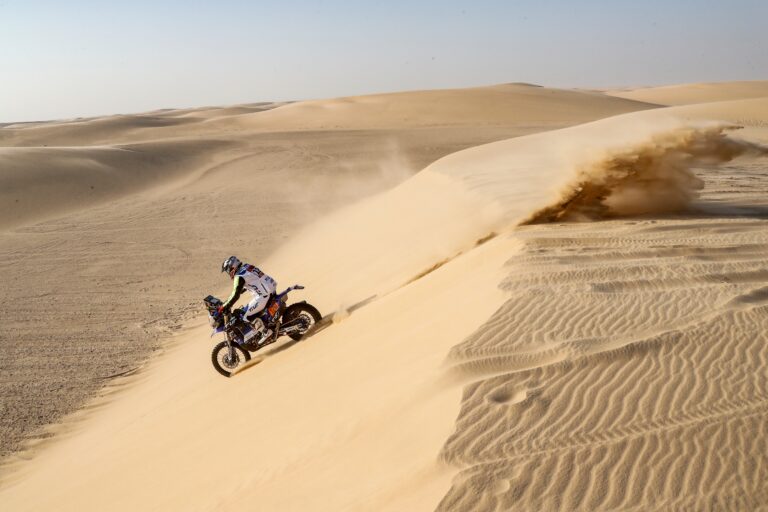 So that's it for me, I'm just trying to get to the finish line and enjoy the journey on the way.
Is there anything you will be doing differently in your approach?
Although I didn't finish last time, I felt like I did a lot of things well in terms of how I rode the stages. I pushed when I could and backed off when I had to, depending on the terrain or distance of the stage. I feel like I understand the race pretty well in that respect.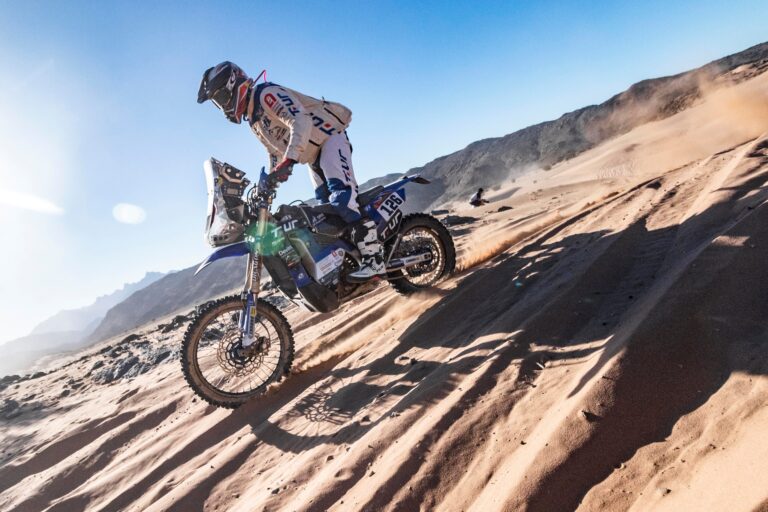 The biggest change this time is that I'll have a mechanic looking after my bike, which will give me a lot more time to rest and sleep. Hopefully that will mean I get to enjoy the riding a bit more.
You embarked on the Dakar 2020 with very little training due to injury. Have you been able to do more training this year? 
Absolutely, it's been so much better in that department. I invested in a rowing machine during one of the lockdowns in 2020, so I've been putting that to good use for a while. I've also been doing a lot of running and HIIT sessions. In terms of on-bike training, I spent a couple of weeks in October on the rally bike testing, training and practicing roadbooks. It was great, I feel like I'm a million miles ahead of where I was last time.
What bike will you be riding?
I'll be riding a Yamaha WR450F Rally. It starts life as a standard 450cc enduro bike that you can buy from the showroom, but then the guys at Drag'on Yamaha in Calais take it apart and modify the chassis, engine, suspension, everything really. It looks nothing like a stock enduro bike by the end of the process.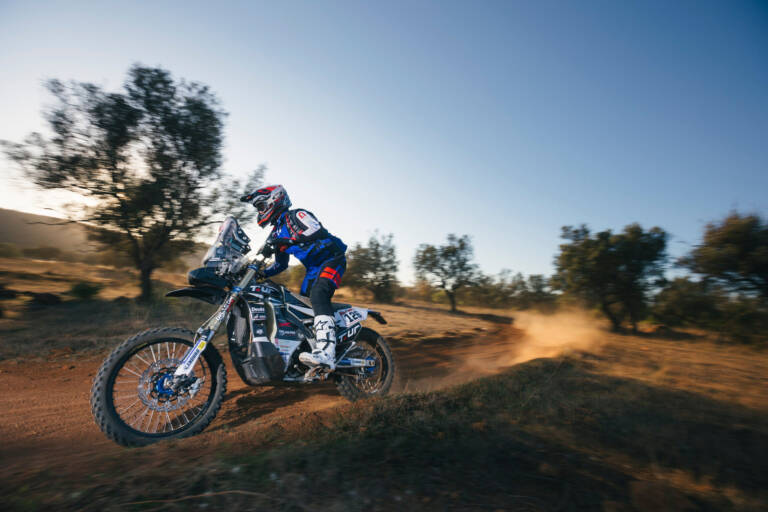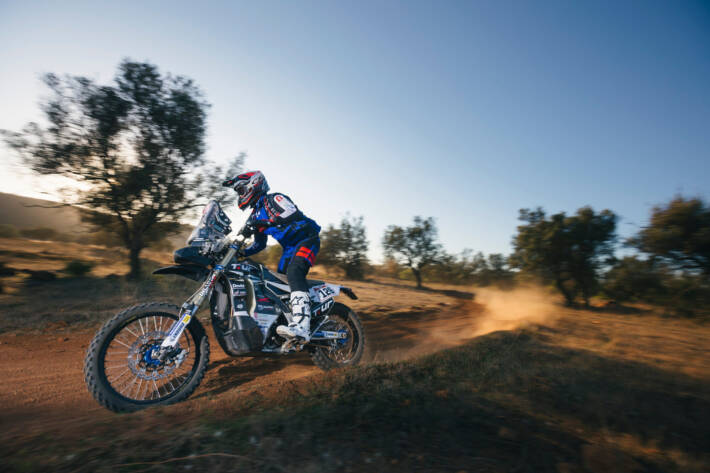 The wheelbase is longer to improve stability at high speeds in the desert, the fuel tank capacity goes from 8L to 31L (enough for about 280km through any type of terrain), the engine puts out more power with more reliability. It's a proper weapon, I love riding it.
Who will be supporting you on the ground?
As well as the Drag'on Yamaha Team, who will look after bike and logistics etc, I'll also have my girlfriend, Holly, there with me for the duration of the race. She's awesome, and loves being at races as much as I do. Dakar isn't just a race, it's a real adventure of a lifetime, so I'm really happy that we'll get to experience it together.
To follow Simon's progress in the 2022 Dakar Rally visit https://simonhewitt.com/