In 1976, Barry Sheene took his first World Championship title on a Suzuki RG500s. 40 years on and the winning machine, along with a few others, are making their way back to Britain to be displayed to the public during the British MotoGP round at Silverstone this September. 
The infamous RG500s will feature as part of the Day of Champions on Thursday 1st September through to the end of the Silverstone MotoGP World Champion event on Sunday 4th September.
Sheene had the biking nation at grips during the 1976 world title following the progress of his recovery after the sensational crash 175mph at Daytona in 1975 during testing for the 200-mile race.
Taking the title back in '76 looked easy to Sheene as he dominated the early part of the season winning the first three rounds, in France, Austria and Italy. On top of that he then added a win at Assen before securing the fifth win of the year in Sweden.
In true style, Sheene continued to defend his title in a very similar fashion in 1977, taking six wins in Venezuela, Germany, Italy, France, Belgium and Sweden to secure his back-to-back titles from Americans Steve Baker and Pet Hennen.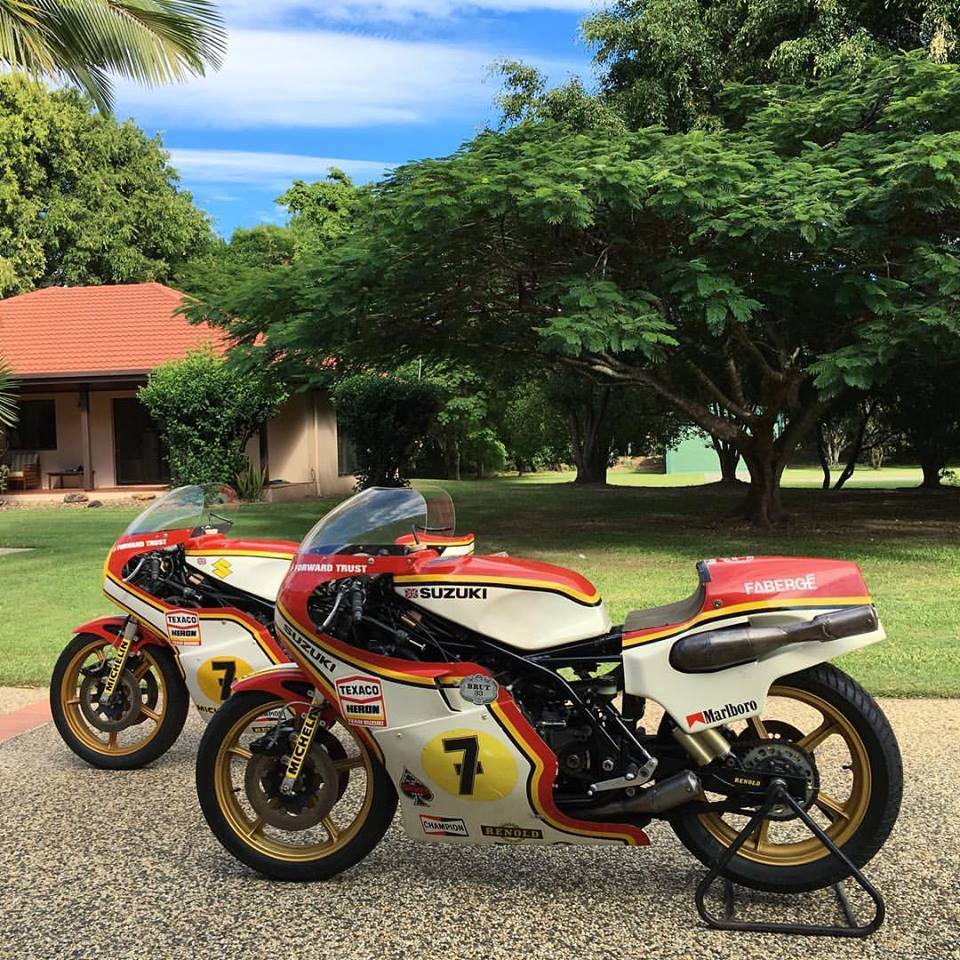 In 1985 Sheene emigrated to Australia's Golf Coast taking his iconic machines with him, however after 40 years since his first ever World Championship win, the machines will be returning back to their home soil.
"It's a privilege to have the machines at this year's British Grand Prix, itself an event that offers so many fond memories of Barry's career," said event director Chris Herring.
The machines remain untouched in the original Texaco Heron Suzuki team colours and will be on display in a special tribute area. There will also be a parade in memory of Sheene with many of his formal rivals forming part of the 2016 festival.
One famous face returning to Silverstone next month to take part in parade for Sheene is double World Champion, Graeme Crosby.
The New Zealander was involved in one of the most iconic GP crashes of all time back in 1981; Crosby recalls: "After leading for four laps I slipped off at Stowe Corner, unfortunately Marco Lucchinelli, Barry Sheene and Kenny Roberts all followed me into the hay bales.
"It started as a small incident but turned into a national issue as I was blamed for ending Barry's chances of winning the World Championship. I was definitely branded the bad boy by the media.
"But in the later years the wounds were healed as Barry and myself shared a passion for aviation. I also admired his flamboyant style and dedication to the sport. And he taught me a trick or two when dealing with the press!"
Crosby will be reunited with his factory XR35 Suzuki for the first time since the 1981 500cc Grand Prix accident, which will be on display to the public as well. Joining Crosby for the weekend's spectacular star-studded parade will be World Champion Kenny Roberts, 1977 World Championship runner-up, Steve Baker and 5 times World Champion Mick Doohan.
You can also use these codes to redeem 10% discount on your ticket purchase:
WEEKEND – MGP2016
SUNDAY – MGP2016S