If you've ever visited a motorcycle show or race, or enjoyed an organised ride-out, you might have spotted the DocBike team – complete with eye-catching, liveried BMWs bristling with state-of-the-art medical equipment – chatting animatedly to other bikers.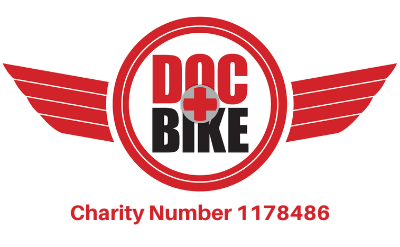 Or – if you've been less fortunate – those same ambassadors might have raced to help save your life at the roadside, and put that expensive equipment into action.
Either way, you probably wondered who they are, what their qualifications are, what their main role is – and who funds them. Why are doctors and medics riding motorcycles in the first place?
Devitt has decided to throw its weight behind DocBike, partnering this hugely worthwhile organisation as it carries out potentially life-saving work at the roadside – and as it campaigns tirelessly to help prevent bikers getting into trouble in the first place.
We've been speaking to the two passionate motorcyclists who founded this unique organisation, to discover who the men and women behind the hi-viz and helmets really are, and what more – with your help – they hope to achieve.
Founded
DocBike was founded in 2013 by Dr Ian Mew, Consultant in Anaesthetics and Intensive Care Medicine and former Director of Major trauma at Dorset County Hospital, along with Chris Smith, a retired police motorcyclist with over 20 years' experience, and who continues as an advanced police riding instructor and examiner.
Ian – who also works with the Dorset Air Ambulance Service and who frequently attends serious motorcycle fatalities – came to the realisation that to make a real difference and save riders' lives, it was vital to reach them before they crashed. And so his passion for this unique motorcycle injury prevention movement was born.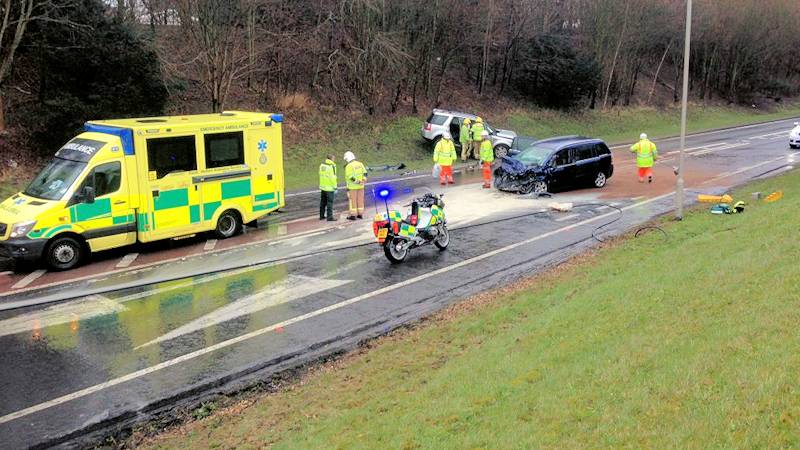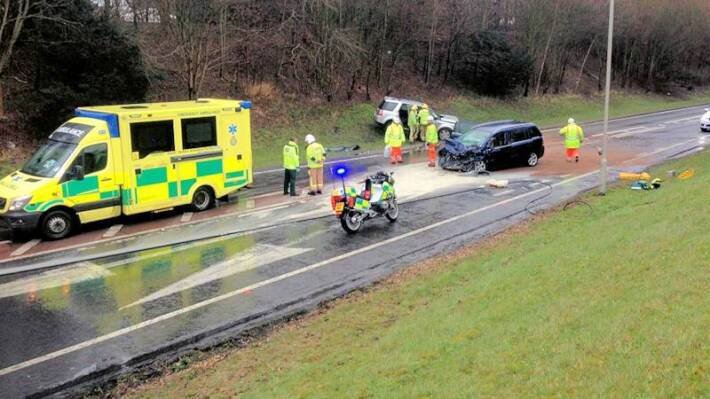 Initially equipped with just one former police motorcycle, specially equipped to complement the Air Ambulance service in Dorset, DocBike now operates in three counties – Dorset, Staffordshire and Northamptonshire – and has a team of six doctors and paramedics who are routinely dispatched to serious on-road incidents.
Fleet
With a 'fleet' of five motorcycles – including BMW R 1200s and R1250s that cost up to £50,000 each after being fully equipped – DocBike gained charitable status in 2018 and is overseen by a high-ranking board of trustees, several of whom are also passionate motorcyclists.
While DocBike doctors and paramedics are perhaps best known for dashing to high profile emergency incidents on their machines, however, work carried out behind the scenes is equally as important, as Dr Mew told Devitt.
Crucially both endeavours – just like any modern medical procedure – are entirely underpinned by the latest methodical research and data. Dr Mew is keen to stress that evidence – in the form of where accidents take place, and precisely what causes them – form the very cornerstones of DocBike, guiding their actions on a day to day basis.
Unfortunately, some of that evidence makes grim reading. According to the Department for Transport, on average every week in the UK, six motorcyclists die on the roads, 94 are seriously injured in road collisions and over 19,000 are injured in a collision in the UK every year.
Warning signs
The more positive news is that research carried out by DocBike – using forensic Trauma Audit & Research Network data, combined with police crash investigations – shows that up to 80 per cent of these collisions could be avoided altogether. How? By equipping riders with the ability to recognise 'hidden' vital warning signs when they are riding – and the skills necessary to avoid a crash.
Explains Ian, who like other DocBike riders has undertaken exhaustive police motorcycle training: "Clearly, there is knowledge and there are riding skills that we can equip motorcyclists with, that will help prevent them being involved in a collision. But to achieve that we have to engage with them first to make them aware of the facts – and that's where DocBike comes into its element."
The unique strength of DocBike is that it presents an approachable platform from which to reach other motorcyclists – all without being 'preachy' or authoritarian. "We are not interested in how loud your exhaust is or how small your number plate is," says Dr Mew, who has been a keen motorcyclist for many years.
"What we are interested in, when we meet other riders, is stopping people from crashing. It's just is so much easier to not have to put someone back together again, than to have to put them through six months of surgery, rehabilitation and all the pain and suffering that they and their families have to go through.
Awareness
"We need to be able to talk to them and raise their awareness of why and how motorcyclists crash. By doing so, we're actually planting the seeds so that when they're out on the bike, they're recognising various situations that we highlight – situations they might not have appreciated before. This avoids them being involved in a collision because they come to appreciate the signs and reduce the risks, and as a consequence, they're naturally modifying their behaviour without anyone telling them what to do."
But why the bikes? "Being a doctor or paramedic on an emergency motorcycle, especially when associated with the local air ambulance service, acts as a real draw for motorcyclists to come and chat, to find out more and support DocBike in their area," says Dr Mew. "Riders are naturally curious to hear more, and we're very happy to share what we know."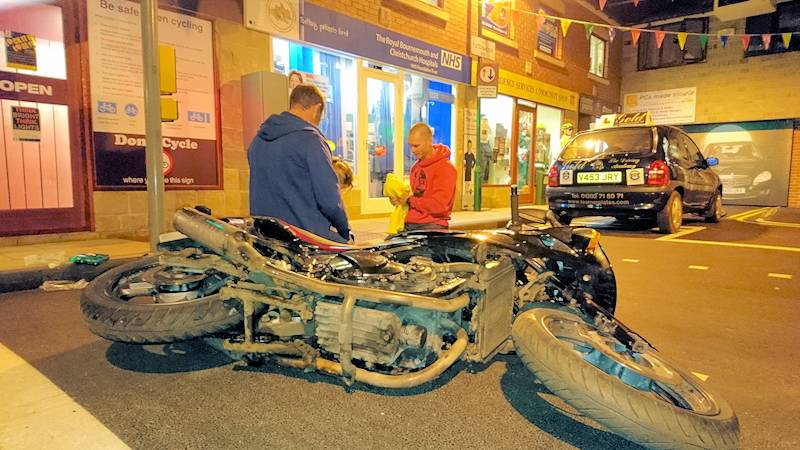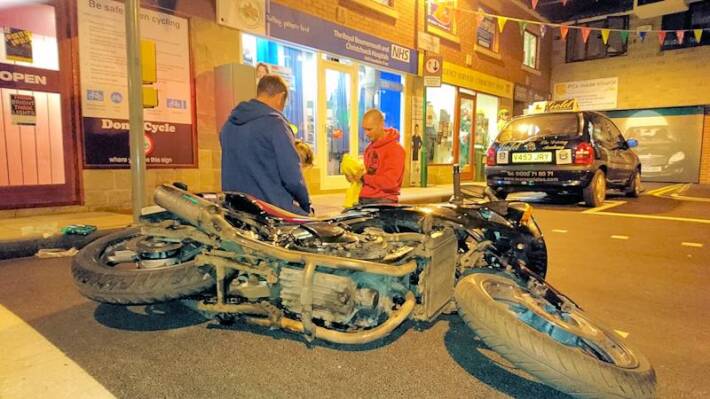 Often, the dividends go way beyond passing on life-saving tips at public events and high-profile work at the roadside. "Frequently, riders decide to get involved with DocBike, supporting its values and helping to change the culture of riding in their own area," says Ian. "They help cultivate bikers who know how to handle their bikes and have fun, but who also know how to avoid being in a bike crash.
"The beauty of the bikes is that we can be out, we can be at the bike cafes, we can be hanging around bike shops and places where we know – because of our data analysis showing when and where bikes are most likely to crash – we can do the most good."
Expand
The aim of DocBike today is to expand into new geographical areas which, research shows, experience high numbers of motorcycle crashes. "We're very keen to use research and evidence to put the bikes in exactly the right place at the right time, not only to be there if someone crashes but also to capture those most likely to be involved," says Dr Mew. "We know we can modify their behaviour right at the point where – according to the statistics – it's most likely to save their life.
"If we can make a difference in terms of raising people's awareness of why they crash so that they naturally see the signs when they're riding – and then modify their behaviour so that they don't become a statistic – that's exactly what we're all about."
Another method of reaching riders is to direct them onto police-run Bike Safe courses, so that their skills can be assessed and sharpened up. Another is to meet them through Biker Down courses – courses run by the national Fire and Rescue Service, backed and supported by DocBike.
But it all starts with those race meetings, ride-outs and shows. So next time you spot the DocBike team, walk up, have a chat – and see what you can learn. You might help save a life. It might even be your own.
David Williams @djrwilliams