Part of the successful Italian Piaggio group since 2004, Aprilia of today is all about speed and power.  It is the group's front-runner in sports competitions.
Through its continuous success on the racetrack, the Aprilia brand has established absolute leadership in its motorcycling technology.  In particular, its chassis and engine technology is renowned to be cutting edge.  Aprilia balances its aggressive image with the marketing message that their racing experience helps to boost performance and enhance safety for the everyday user.
A brief History
Aprilia was founded in 1945 by Cavaliere Alberto Beggio with its factory located at Noale in Venice.  It started out as a manufacturer of small capacity motorcycles and scooters.  In 1968, it introduced a 50 cc motorcycle with other collaborators.  Subsequently, its first mopeds Colibrì, Daniela and Packi came onto the market.
In 1970, Aprilia manufactured a motocross bike called Scarabeo which came in 50 and 125 cc versions.  It gained popularity and remained in production until the end of the 1970s.  It was during this decade when Aprilia began to taste success on the race track, as Ivan Alborghetti from Milan won the Italian 125 and 250 cc motorcross championships on Aprilias.  The brand never looked back from hereon, with other riders such as Loris Reggiani, Alessandro Gramigni and Tommy Ahvala all winning on Aprilia motorcycle models.
Piaggio's acquisition in 2004 allowed Aprilia to broaden its racetrack ambitions with a return to off road competitions and debut in superbike racing.  On 15 August 2010, Aprilia became the most successful motorcycle racing brand in history.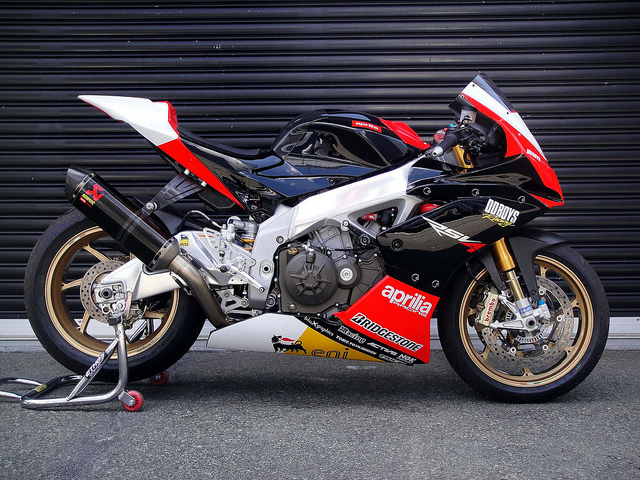 Popular models
Aprilia produces motorcycles and scooters.  The flagship Aprilia SRV850 is the most powerful scooter ever made.
Aprilia Caponord 1200, 2014: Featuring a 1197cc 8v V-Twin engine, twin spar aluminium frame, full electronic suspension, cruise control, adjustable traction control, ABS and adjustable mapping modes, this bike is no ordinary machine.
Price new: £11,692
Price used: £10,295
Licence type required:  A1
Aprilia RS4 125, 2014: a more affordable bike with 125cc four stroke liquid cooled single cylinder engine, electronic injection and 4 valves.  The RS4 125 is fun to ride and boasts great looks that would appeal to a younger market.
Price new: £4,471
Price used: £2,995
Licence type required:  A1
Sponsorships
Aprilia gives back to the global community via the activities of the Piaggio Group.  However, much of this has been carried out under the iconic Vespa brand.  For example, the group launched the Vespa for Children project in 2013, and donated Vespas to the following non-profit organisations:
European Institute of Oncology
San Patrignano drug rehabilitation centre
Italian Association for Cancer Research
National Italian American Foundation
The Allannah Medeline Foundation
In the Asian region, the group took part in the "Help save one life by giving a child a helmet" programme which took place in Thailand and Taiwan.
The Indian subsidiary also organised charitable initiatives such as the PRAGATI project which involved providing modern technological equipment in 20 schools to enable distance learning.  Additionally, it promoted a health and eye check-up campaign to increase road safety.
Reviews
The success of Aprilia is perhaps best summed up by its competition wins rather than industry reviews.  It has achieved 54 world title wins including: 38 Road Racing Championship titles, 7 Superbike titles and 9 Off Road titles.  It has also enjoyed 294 MotoGP race wins.