Kevin Clinton RoSPA Interview
Motorcyclists are sometimes put into a number of stereotypes: the brooding Hell's Angel, the traffic weaving speedster perched on a Japanese built ballistic missile, Steve McQueen attempting dangerous feats on a vintage bike in The Great Escape. The fact is, however, that in my experience motorcyclists and scooterists aren't as unsafe as their image suggests.
How do I know that? My time in the Road Safety Department of RoSPA has brought me into contact with motorcyclists across the UK, particularly through our RoADAR network (RoSPA Advanced Drivers and Riders). RoADAR represents 60 plus local groups around the country who volunteer their time to educate and advise other bikers on a range of issues, including road safety.
What I have found is that when motorcyclists get involved in helping other bikers they are fantastically enthusiastic and incredibly good at giving up their time free of charge to help other people develop their motorcycling post-test skills and abilities. Biker groups are often very active and individual bikers are keen to share what they have learnt and developed. In other words, most motorcyclists are extremely road-safety conscious.
That's important to me because while RoSPA provides post-test training, and advanced motorcycling advice via our network of local groups in the UK – educating advanced drivers and riders – we often rely on motorcyclist volunteers to share their experience and expertise. We also provide an advanced motorcycling test as well as a training course for motorcycling instructors, called the National Diploma In Advanced Motorcycling Instruction. These are all areas where we help motorcyclists on a practical level.
Practical Help and Support for Motorcyclists
Probably equally important is the work RoSPA does in raising awareness and providing advice, which is freely available on our website. As well as working closely with our RoADAR network, we also liaise with motorcycling bodies such as the British Motorcyclists Federation, the Motorcycle Industry Association, and with the Department for Transport and the DVSA on motorcycling issues, helping to co-ordinate efforts to improve motorcycling safety.
A main area of focus on motorcyclists at the moment is our support for the THINK! 'Never too Good' campaign, part of the Department for Transport's latest road safety initiative, which is supporting refresher training for advanced motorcyclists. Specialist motorcycle insurers such as Devitt Insurance Services have joined the campaign to reduce motorcycle road traffic fatalities and injuries.  To back up its support for THINK! and the UK's biking community, for example, Devitt is offering 10% discounts to bikers who take RoSPA's Advanced Motorcycling Test.
When the Danger is in Plain View
Motorcyclists will always be an important part of the Road Safety Strategic Framework for the obvious reason that their exposure to risk is higher than other road users. So another important pillar of the Government's strategy to reduce motorcycle accidents is not just to increase bikers' awareness of the risk they face but equally to make drivers more aware of motorcyclists. More awareness is particularly needed at junctions where the driver looks but doesn't see the motorcyclist even though they are in plain view very often.
Some road users are desperate to take any opportunity to join the flow of traffic and may not spot a motorcyclist in the traffic even though the biker thinks he or she is easy to see. There is research which shows that drivers have difficulty judging the speed of a bike and underestimate the bike's time of arrival.
Other advice we offer on the RoSPA website, for example, is that many motorcyclists do their training on town, not country roads. Country roads are different so bikers need to apply their skills, knowledge and ability in a different way. Some bends on country roads are smooth and even, opening up once motorcyclists are into them. Others tighten up dramatically. If you have gone into a bend at too high a speed you will find yourself with a major problem. If the road gives you clues on how it bends then use them.
A National Road Safety Strategy
In terms of an overall road safety strategy, RoSPA takes pains to look at the whole road design, making sure the road network takes bikers into account when it comes to risks – such as surfaces not being one that bikers are likely to skid on. The condition of the surface is more important to bikers in many ways than it is for drivers. Part of the challenge of using a motorbike is a rider's ability to deal with different road conditions. There are all sorts of conditions that motorcyclists need to have the skills to deal with but some examples that can lead to loss of control of the bike range from poor weather conditions to diesel spills to potholes.
Experienced motorcyclists are the people to go to, however, if you want quality advice on bike road safety. Safety Gone Sane is RoSPA's blogsite featuring useful information via blogs from motorcyclists among other road users. Many online motorcycling communities distribute useful information on their own Social Media channels such as twitter and even I – a self- confessed Social Media dinosaur – sent my first tweet a few weeks ago about the upcoming UN Global Road Safety Week – the third one – that takes place in May!
The good news is that motorcycle accidents on the road are trending down. There are many reasons behind the reductions in motorcycling casualties – some of which is affected by the level of active motorcyclists on the roads. The numbers of active motorcyclists were increasing significantly a few years ago but these figures are flattening out now.
As mentioned previously, the weather can play a big part of this downward trend – even if it's only because if the summer is not so warm and sunny it has a negative impact on the number of motorcyclists that take their bike out for a spin. Meanwhile, motorcycle campaigns, the changes to motorcyclist training rules and licensing and road safety education and enforcement are playing a part in the reduction.
No Time for Complacency
We should not be complacent, of course. The number of GB motorcyclists killed in 2013 was 331 while 4,866 motorcyclists were seriously injured and the number of reported casualties in total was 18,752. RoSPA continues to be vigilant and alert to emerging trends. We are focused at the moment, for example on those motorcyclists who, as they grow older or develop new skills, graduate to larger more powerful machines. It's very important that when a motorcyclist moves on to a larger machine that they undergo training to prepare themselves for the extra horsepower under their control.
A Government Campaign slogan of a few years ago was that success at the ballot box was all about Education, Education and Education. My paraphrased version of that slogan and message to motorcyclists is that effective and safe motorcycling on the roads is all about Training, Training and Training.
If they would like to find out more about how to ride safely, motorcyclists might want to visit some of the websites I have listed below.
RoSPA Advanced Drivers and Riders
www.roadar.org
BikeSafe
www.bikesafe.co.uk
British Motorcyclists Federation
www.bmf.co.uk
Motorcycle Action Group
www.mag-uk.org
Motorcycle Industry Association
www.mcia.co.uk
All of these organisations are passionate about making motorcycling safer for the biking community and committed to providing dedicated practical support. Or simply log online and contact your local neighbourhood motorcycle community, you'll find that it is almost certainly only too pleased to help!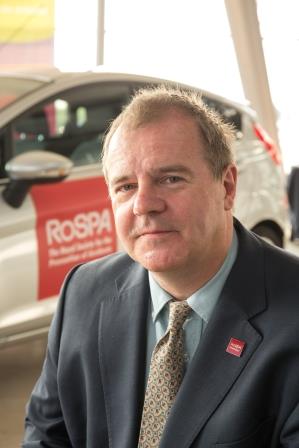 Kevin Clinton, Head of Road Safety at the Royal Society for the Prevention of Accidents (RoSPA).
RoSPA is passionate about insuring life, and in particular leisure time is as safe and secure as it can be.
The organisation promotes key issues and provides help and assistance with the aim of reducing the risk of accidents where possible.
RoSPA's mission is to "save lives and reduce injuries".