History was made at last weekend's Emilia-Romagna Grand Prix at Misano when Fabio Quartararo clinched this year's MotoGP World Championship, El Diablo – as he's nicknamed – becoming the first Frenchman ever to win the premier two-wheel title.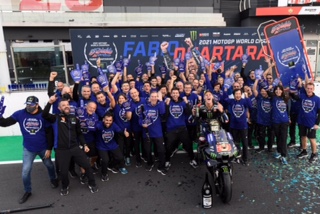 Despite having first hosted a GP in 1951, just two years after the World Championship series began, and despite having seven World Champions in other classes, the French nation have never really come close in 500cc/MotoGP.
Christian Sarron's third place overall in 1985 and 1989 was their best previous finish in the championship whilst they only had three GP wins in the class, one each for Pierre Monneret (1954), Sarron (1985) and Regis Laconi (1999). That's now all changed with Quartararo having taken eight victories in the last two seasons.
Fantastic Fabio
Quartararo has been in pole position in the championship practically all season, taking over the lead in the title standings at round two. The Monster Energy Yamaha rider has held it ever since and although he's only taken five wins in the 16 races he's been an almost ever-present in the top four.
That consistency has ultimately paid dividends although it's also worth pointing out the 22-year old would have won more races had it not been for bad luck, arm pump hitting him at Jerez whilst way out in front and a broken zip causing his leathers to fly open at Catalunya.
His speed can be seen in qualifying where he's impressively only been off the front row twice in those 17 races, fifth place at round two at Qatar (which he won) and 15th last weekend at Misano, where he came through to fourth.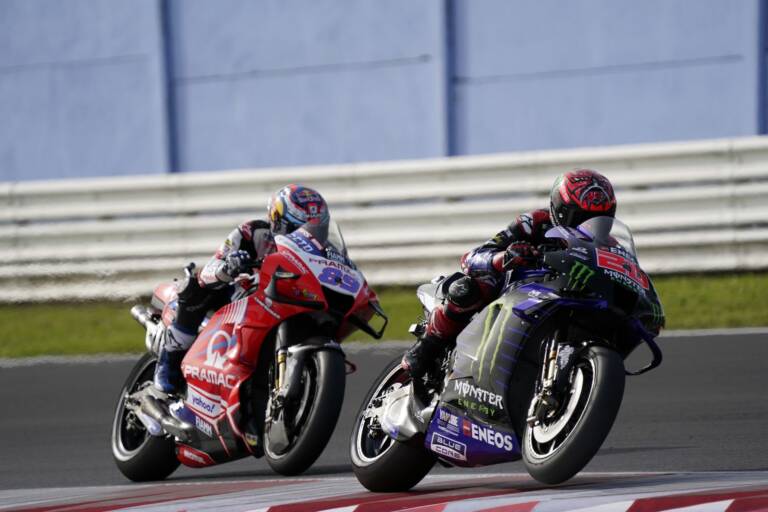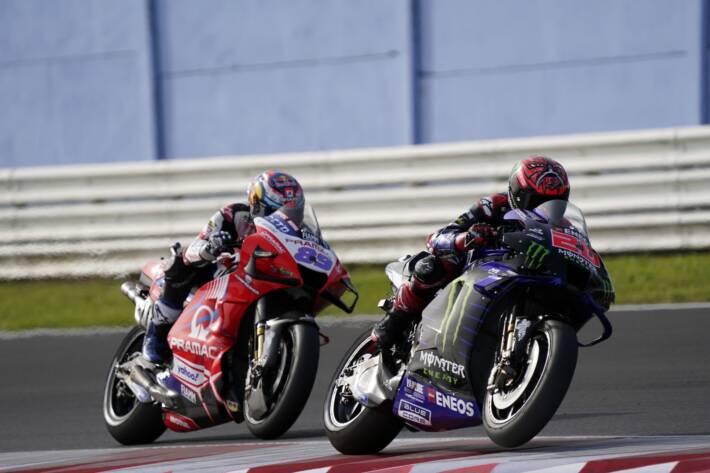 It looked like he'd have to wait until the penultimate round at Portimao to clinch the title, particularly when he found himself outside the top ten at Misano when title rival Francesco Bagnaia was leading. However, he steadily worked his way through the field and was up inside the top five when the Italian crashed out (see below).
Quartararo should, perhaps, have won the 2020 title but a combination of the M1 Yamaha and his own temperament counted against him. With a more refined package beneath him this time and a much calmer, and mature, outlook on his racing, he's been able to put together a superb season. He no longer gets flustered or annoyed when things don't quite go right and, instead, works methodically through the problems; the toys are no longer thrown out the pram.
Sixty-five points clear in the title race, with two races to go, shows how he's been the class act of the field this year and whilst it might not have been Marc Marquez-esque domination, he's won when he could and taken as many points as possible when he couldn't, the regular tactics of a champion.
Bagnaia bows out
After a strong start to the season, three podiums coming in the first four races, Ducati's Bagnaia had a slight dip in form mid-season but he regrouped well and four podiums in five races, including two wins, ahead of Misano made the Italian the form man.
He was well on course to cut the gap to Quartararo and take the title to the penultimate round having led from the opening lap but with just five laps of the 27-lap race to go, he was down and out, in more ways than one.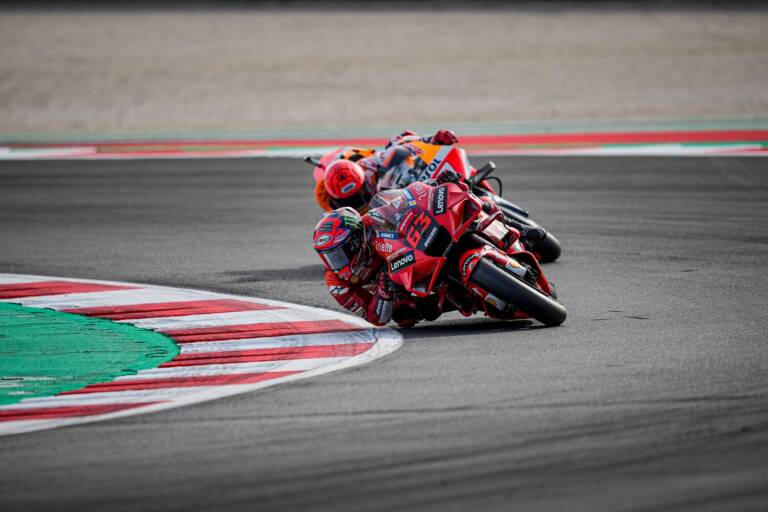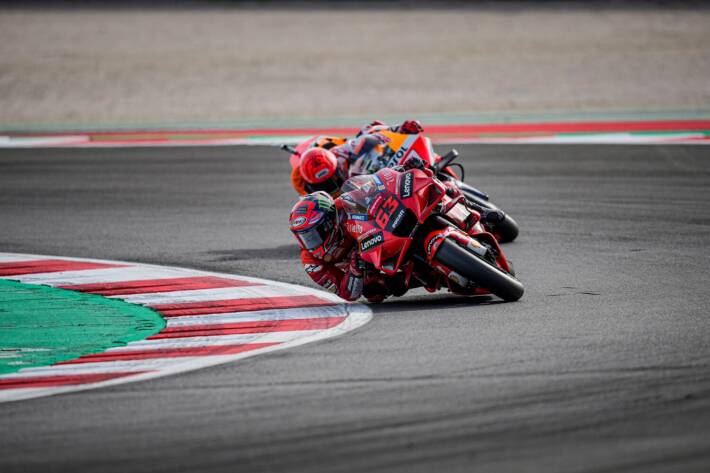 Under pressure throughout from Marquez, Bagnaia had, like team-mate Jack Miller, opted for the hard compound front tyre but he ultimately asked too much of it and lost the front in the same place as the Australian had done earlier in the race.
It brought to an end his championship hopes for 2021 but he was magnanimous in defeat, waiting for Quaratararo in pit lane after the race to greet him with a warm hug. But there can be no doubt he's upped his game up this season, his first with the factory did.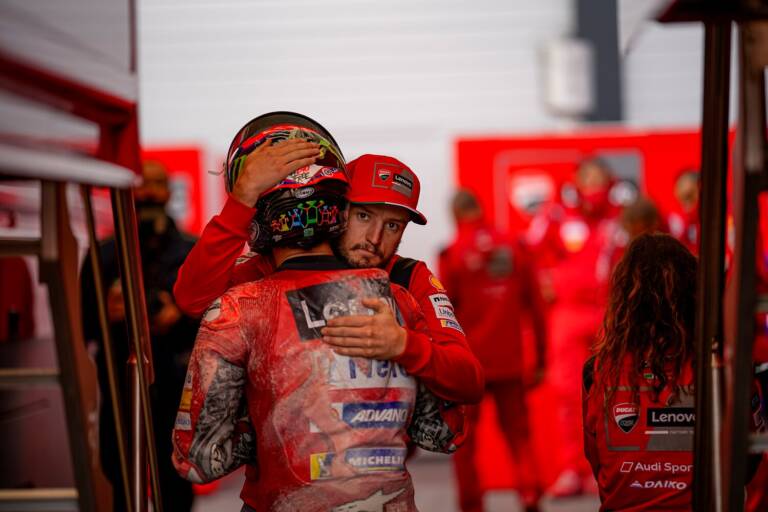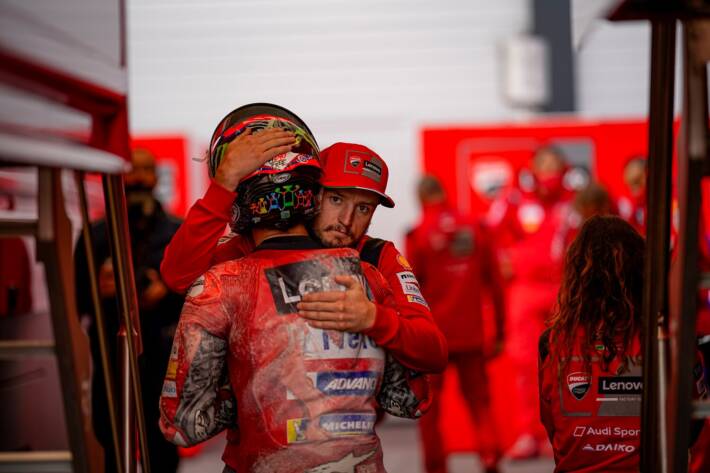 He needed to do so with previous seasons in satellite teams not uprooting any trees but he's certainly well placed to be a contender, and Ducati's number one rider, in the immediate years.
Is Marquez back?
Fighting his way back to full fitness, 2021 has been a long old slog for Marquez but the Repsol Honda rider has been constantly chipping away with certain rides here and there showcasing his unbelievable talents.
Indeed, two wins came his way at Sachsenring and the Circuit of the Americas but both circuits were anti-clockwise, which alleviate the weakness in his right shoulder, whilst his record at each circuit was also unparalleled.
However, Misano was, perhaps, the most telling race of the year as he was able to win for the first time since his return on a clockwise circuit. He never put a wheel wrong following Bagnaia and it could certainly be argued that the pressure he was exerting played a significant part in the Italian's downfall.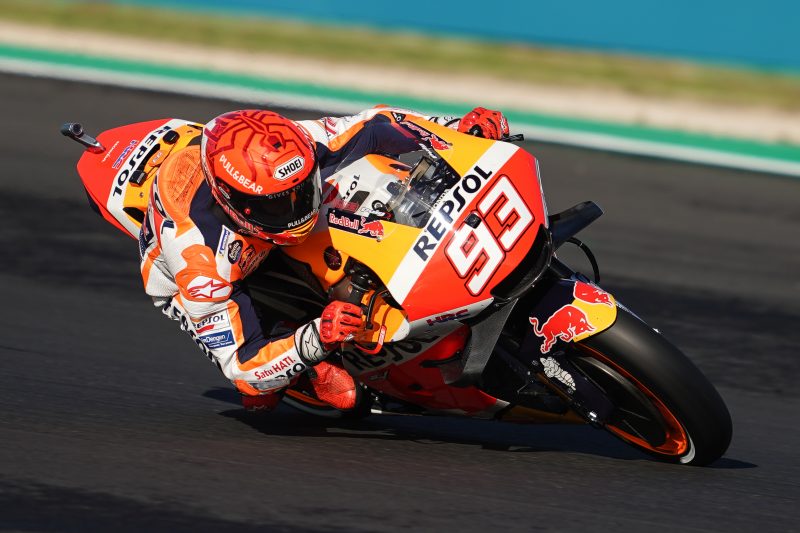 Marquez has scored more points, 83, than any other rider in the last four races and whilst he's still not 100% fit, he's getting ever closer and would expect to be in that position at the beginning of 2022. With a full schedule of pre-season testing behind him, he'll also have a Honda RC213V developed in tune with what he needs, unlike this year.
It's something the rest of the grid is all too well aware of and although this season is yet to finish, 2022 is already a mouth-watering prospect.
Surprise package
Jorge Martin may have stole headlines with his race win, podiums and pole positions but it's fellow Ducati rider Enea Bastianini that currently leads the way in the race to be Rookie of the Year.
Just five points separate the Italian and Spaniard with two races to go but at Misano, it was again who Bastianini impressed – and for various reasons. The reigning Moto 2 World Champion crashed three times in the space of an hour on Saturday so few would have expected him to be a challenger on race day.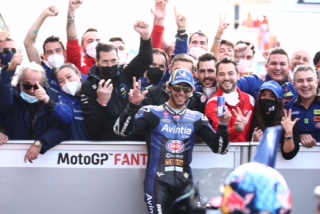 Indeed, he had to start from 16th on the grid, one place behind Quartararo but just as the Frenchman moved steadily through the field so too did Bastianini. It all came down to the last lap and although a podium would have been a dream way for Quartararo to win the world title, Bastianini had other ideas and dived ahead with half a lap to go.
It meant he took his second podium finish of the season and what's remarkable is that he's doing it on the oldest bike on the grid, a 2019-spec Ducati Desmosedici. The Avintia Esponsorama team are also the poorest funded team in MotoGP but the 23-year old has finished inside the top six in each of the last four races and is continuing to impress.
Title relinquished
Misano marked the end of Joan Mir's reign as MotoGP World Champion but although the season may not have gone as he would have liked, or hoped, the fact he sits in third overall shows his 2020 success wasn't a flash in the pan.
He's finished in the top six in ten of the 15 races he's finished and has never once finished outside the top ten whilst he's also been on the podium five times. However, the Suzuki ultimately hasn't been good enough this year.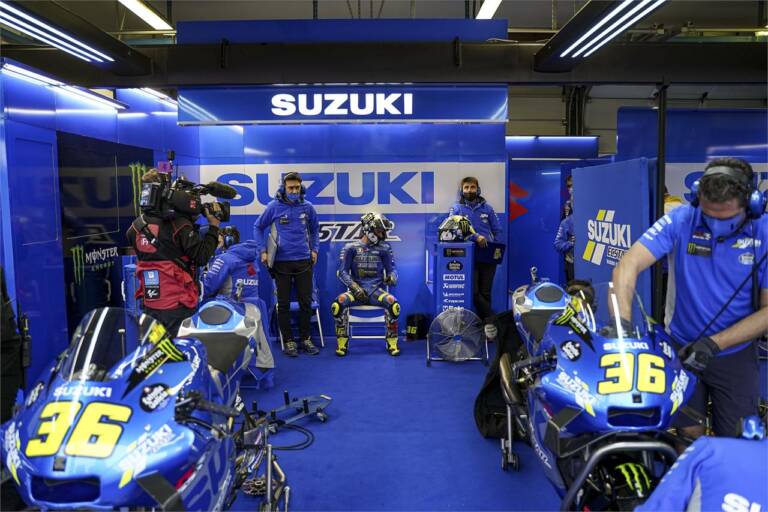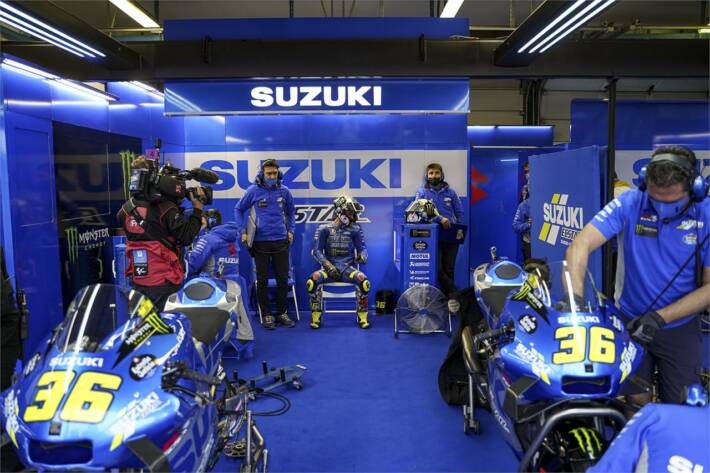 The areas where it had an advantage last year have gone whilst rival manufacturers have increased their strengths in other areas, their holeshot devices being one. It took Suzuki a lot longer to fit such a device to their GSXR machine and in MotoGP you can't afford to fall behind in any area or at any stage.
If you do, your results will suffer and it's only Mir's skills and talent that have put him in third overall. He's had to over-ride the bike more often than not and riding on such a knife-edge can only be done for so long. The Hamamatsu factory have a big winter ahead of them/
Rossi's Italian swansong
It's fair to say 2021 hasn't been the final year in racing that Valentino Rossi would have wanted and 21st in the title standings, at present, isn't where he would be wanting to bow out.
However, age has finally caught up with the legendary Italian and with the pace of the current crop of young riders reaching new heights it's taken all his might to make it into the top 15 despite setting many personal new best lap times himself.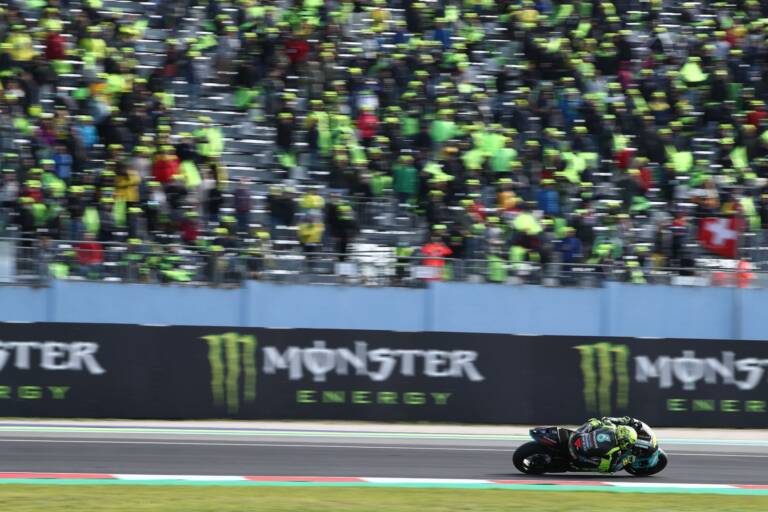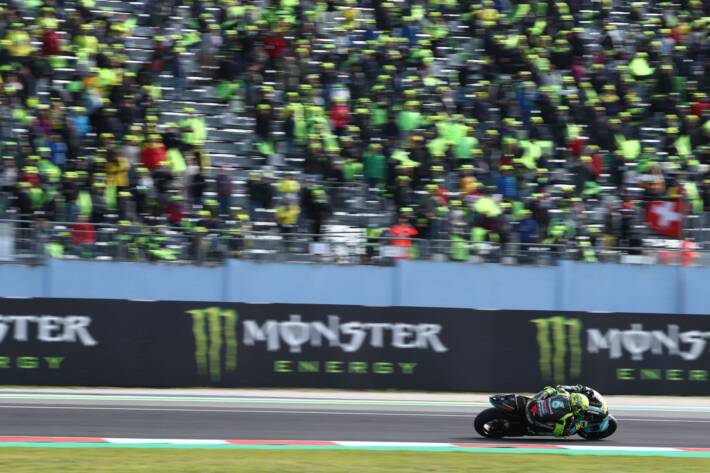 The 42-year old had his last ever race in Italy at Misano and tenth place was just his third top ten finish of the season. But irrespective of where he finished, the adulation he received was still, understandably, the same.
Such was his appreciation he even threw his helmet into the stands at the end of the race, something he's never done before in his entire 26 years of Grand Prix racing. One race fan went home extremely happy.
Back to winning ways
Whilst Rossi has just two races left in his Grand Prix career, Sam Lowes still has a few more years left in the tank and whilst crashes have wrecked his 2021 Moto 2 Championship challenge, he took a welcome victory at Misano.
It was his first time on the top step since round two at Qatar and although he's currently sitting in fourth overall he knows it should be a lot better and 115 points adrift of current leader Remy Garner – son of 1987 500cc World Champion Wayne Gardner – tells its own story.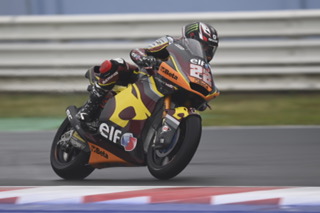 He should be a lot closer than that as he has everything at his disposal to win the title whether it's his own talent or the team he's riding for. For various reasons, it hasn't happened this time around.
But at Misano, he put together a fine race and seeing the Union Jack flying high on the podium and hearing the national anthem playing was what all UK fans wanted.
Having started watching motorcycle races all over the world form childhood, Phil Wain has been a freelance motorcycle journalist for 15 years and is features writer for a number of publications including BikeSport News, Classic Racer and Road Racing Ireland, as well as being a regular contributor to MCN and MCN Sport. He is PR officer for a number of teams and riders at both the British Superbike Championship and International road races, including PBM Ducati, RAF Regular & Reserve Kawasaki, Dafabet Devitt Racing, John McGuinness, Lee Johnston and KMR Kawasaki. He is also heavily involved with the Isle of Man TT Races, writing official press releases and race reports as well as providing ITV4 with statistical information