Introducing our new Devitt blogger, Ray! We first met Ray when he started blogging for our sponsored site, Keep Britain Biking and he did such an excellent job we asked if he wouldn't mind writing for us as well (not forgetting he also has his own blog about his biking adventures). Gladly, he accepted! And so here  is Ray's first blog, giving you a bit of his background and love for biking. We also get a little intro to his son Ben, who is often in the pillion seat, as well as Ray's recommendations for some great upcoming event musts in the biking world.
"Well it's all going on!
"So who didn't watch the Isle of Man TT?" I know I did!
There I was every Monday evening glued to ITV 4 (we don't have Sky) watching the day's highlights and sadly the tragedy that unfurled. Some nights the TT would be followed by the Moto GP highlights, much to my dear wife's dismay, with the mega star Marc Marques showing the world just what a 21-year-old rider is capable of. All I needed then to finish my day off was pickup a book, heaven. The fact the book will inevitable be a 'globe trotting motorbike ride' is neither here nor there.
You see I just love everything about bikes, biking and bikers it's all I know, however having ridden motorbikes for over 30 years throws up one unexpected issue.
"What can I do now?"
Well the answer is simple, everything!
This weekend alone there are numerous events happening throughout the UK not to mention Europe and I'm pleased to say I'll be squeezing two of these events into my weekend.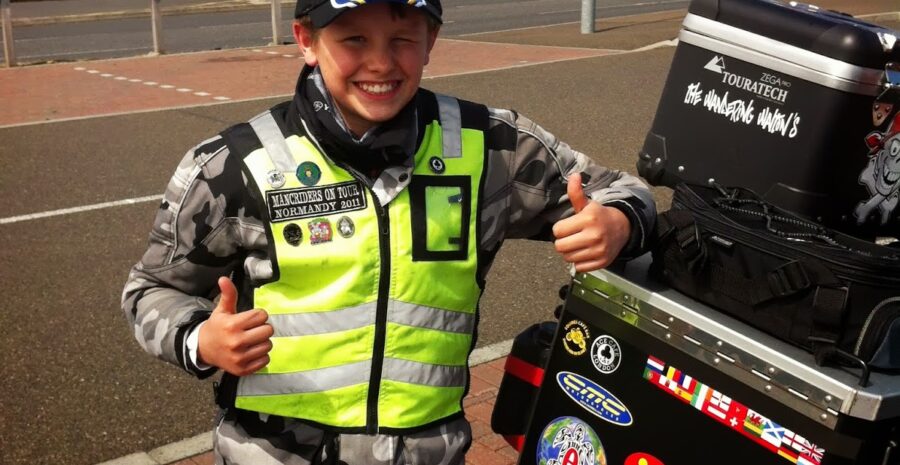 Friday I'll be heading over to Squires Café Bar in Sherburn in Elmet, just off the A1 near Selby, to meet up with the Royal British Legion Riders (RBLR) and the Iron Butt Association UK (IBAUK) who will be taking part in the RBLR1000.
The RBLR1000 is the biggest fund raising event of the year organised by the Royal British Legion Riders. It's an annual event in its 6th year and involves riding over 1000 miles in under 24 hours to qualify for the coveted IBA UK SS1000 plus automatic membership to this elusive club.  You do have the option of taking longer and making a weekend ride of it, but most participants desire that elusive SS1000 (Saddle Sore 1000) too much to hang around.
Each rider must raise a minimum of £50 in sponsorship which goes to the Royal British Legion plus pay a nominal entrance fee to cover admin costs, patch, certificates both RBLR and IBA UK SS1000 and weekends camping at Squires Café.
I'm giving it a miss this year having completed the ride both solo and with my son Ben who last year won the "Youngest Participant Award" at the age of 11. This year I will be speaking to the people who make this event happen and reporting back in my next Blog.  The RBLR1000. "Are you up to the challenge?"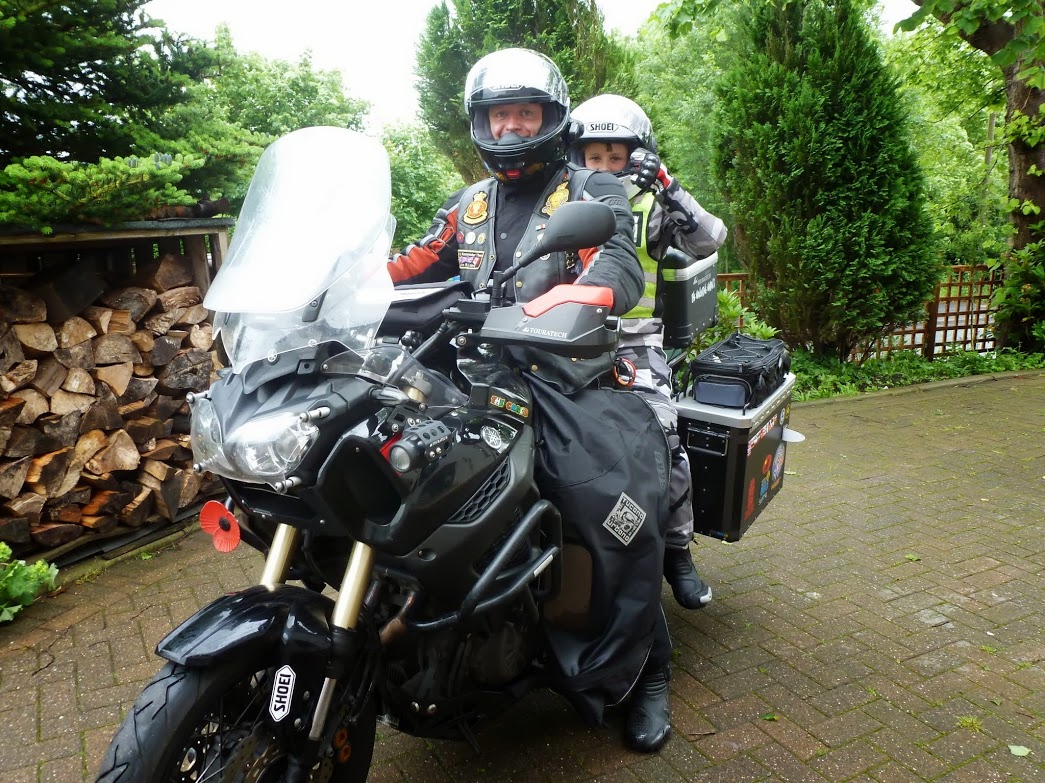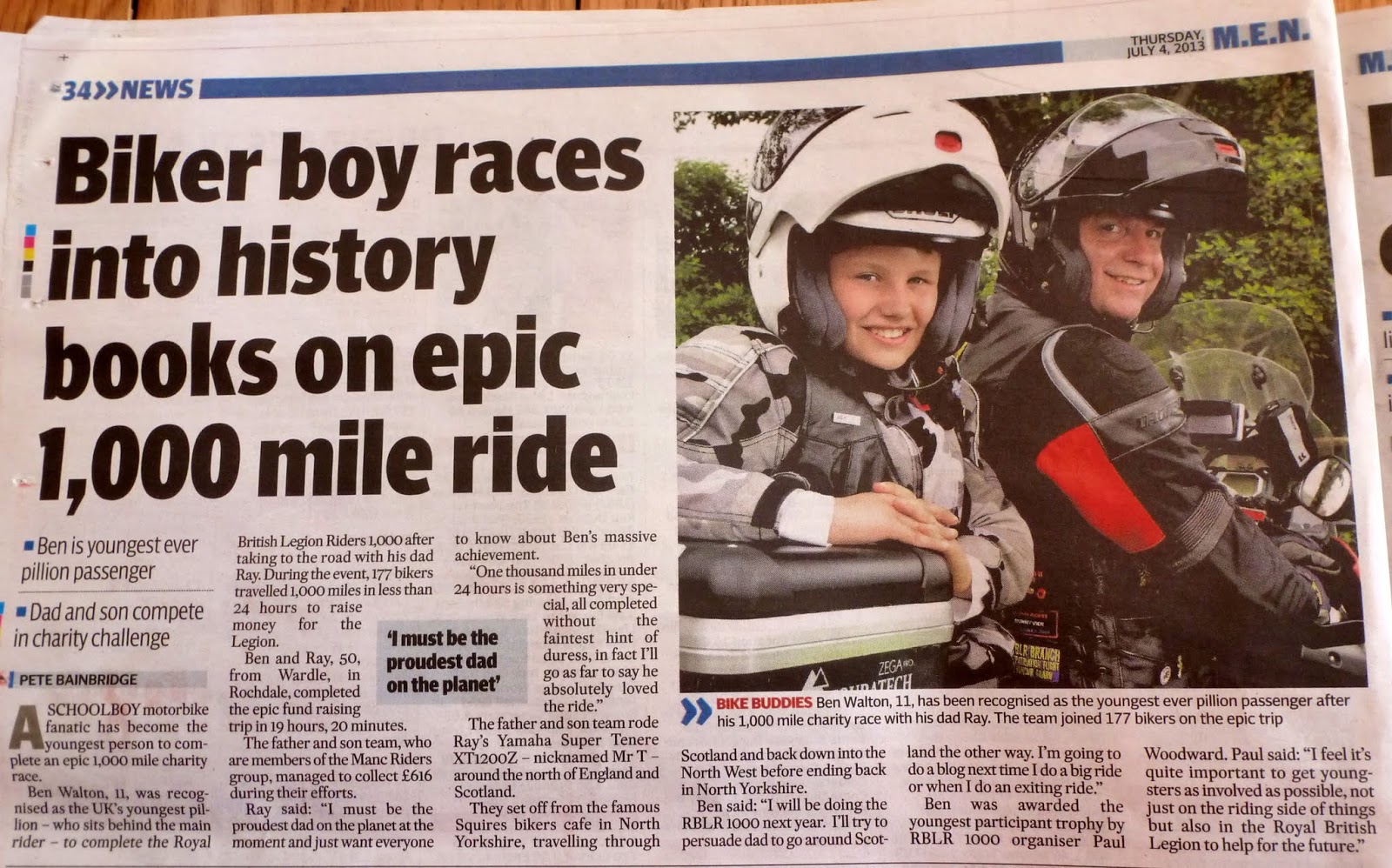 Saturday it's off down to my beloved Derbyshire, to attend the Horizons Unlimited HUBB UK 2014 being held at Donnington Park Farm for the second year. This will be my fourth time in attendance and so its just Saturday and Sunday this year however the event actually runs for 4 days from Thursday 19th to Sunday 22nd June.
If you have ever thought of touring the UK, visiting Norway, Riding through Europe or even taking off around the world on you GSXR1000 like good friend Bruce Smart, lovingly known as TeaPotOne (the call sign for the Met's refreshment Wagon) did, then you're in the right place.
The HUBB UK is a fantastic place to be, originally the idea of Susan and Grant Johnson who built the Horizons Unlimited website into the phenomena it is today, after riding around the world. The UK event is organised by Ian Harper and Sam Manicom, a legend in the 'Around the World' biker's community. It's an unmissable event if you have any interest in touring, travelling or just dreaming of what its like to travel abroad.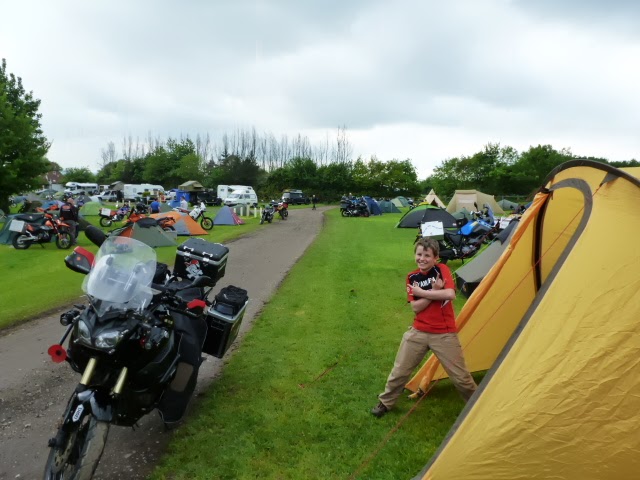 The great thing about the HUBB UK event is that fact it's not just motorbike travellers there's 4×4 drivers, cyclists, walkers in fact anyone and everyone who has covered long distances has at one time or another attended.
This year Susan and Grant will be personally attending after riding over from the HUBB Germany meeting. This is no mean feat as Grant has recently recovered from prostate cancer. Can you believe it they have even organised a 'ride in' from Dover up the A1 to Donnington on Thursday for anyone who wishes to join them.
I'll let you know how things went this year after 'down sizing' by taking just my Boblbee Rucksack on my back and arriving on the 'Fireblade'. It should cause quite a stir as last year I attended in true touring fashion on the Yamaha XT1200Z Super Tenere complete with Redverz Tent and Ben.
Other events taking place include an IBA UK European Ride to Eat (RTE) in Plzen in the Czech Republic. One of the IBA UK's familiar mottos being "We ride alone to be together" gives you an idea of what the European RTE involves.
The Farmyard Party – Europe's biggest bike rally also takes place this weekend organised by Motorcycle Action Group Yorkshire, which I would have loved to attend but there's just not enough days in the week
So folk's as you can see there is 'Always' something happening in the world of the bikes if your willing to have a good look around."
Raymondo
The Wandering Walton