Two lifelong friends, Matt and Reece, will take on one of the biggest challenges next month (October) as they attempt to be the first duo to circumnavigate the globe in a scooter and a sidecar. Read more about why they're taking on this unusual challenge… 
Why?
The real aim behind the As Seen From The Sidecar trip is to raise awareness and money for modern day slavery in the UK and abroad. It is believed that in the UK alone that 13,000 people are victims of slavery and 45.8 million globally are impacted.
Teaming up with the charity Unseen UK, who run the UK Modern Slavery Helpline, Matt and Reece help to raise the profile of slavery by travelling the globe; sharing the stories of the people they meet on their travels and hopefully setting a new World Record.
One of the Sidecar duo, Matt tells us how they came to the decision for this great adventure:
"When we originally thought up the expedition the idea was to go through as many borders as possible in the most ridiculous way imaginable to show how ridiculous we thought it was that people were treated differently simply because of which side of a border they were born on.
From this we knew there was a fantastic opportunity to raise valuable funds and raise awareness for various human rights abuses all across the globe. But we wanted to focus on one that transcended all boarders, was in every country, perpetuated other human rights abuses and was something we would be able to encourage people back home to help combat by making simple changes to their everyday lives; such as buying the rights clothes or food."
Take a look at the short video below to find out more…
Where?
Covering almost 40,000 miles over 50 countries, the As Seen From The Sidecar duo will set off on Saturday 21st October from the Ace Cafe London. All are invited to join them on the first leg of their ride from London to Paris, it only costs £25 to join the rally and that includes your return Eurostar trip!
The route will take the duo over numerous continents battling all kinds of conditions from snow to sand and a whole host of uncertainties; so what do they think will really be the biggest challenge…
"Unusual answer but I always say (leaving) Dover, as then I think it will really hit home that we are on our way, but also there are loads of amazing places we can't wait to visit and what's most exciting will be meeting people and telling their stories of everyday life to people back home.
I think it would be foolish to say there is no where we are not apprehensive about, with everything you read in the news there are obviously some scary places in the world but that's one of the main reason we want to do this trip to challenge those stereotypes and show that people are people regardless of where they are from."
Take a look at our gallery below to see how As Seen From The Sidecar have been preparing for their trip.
How?
So the complete journey will be done on a scooter and sidecar, and with only just over a years' experience of riding each – it's not going to be an easy task. They've managed to pack in a lot of riding experience over the last year, more than some might accomplish in a lifetime, including London to Lands End to John O'Groats on 125cc bike with L plates on just as a warm up – we won't mention the trip to a&e and a minor fall in McDonald's car park though!
Matt fancies himself as the captain of the trip, but with over 40,000 miles to cover there's no doubt that there will be a split share of driving and snoozing in the sidecar over their 18 month trip. The trip will display lots of obstacles and challenges from the variation of landscapes and weathers on city-styled scooter and a sidecar, not the most common or reliable means of transport.
"We will be going on a Honda SH300i with a custom built sidecar. We approached various sidecar manufacturers who said they could help but it was proving costly… then came across two brothers named Charlie and Richard who are essentially sidecar enthusiasts and great guys that helped us build it on a charity budget!
It was a bit of a gamble on our part going with them but since we have had it designed we have taken the outfit to various publicity events and spoken to many sidecar experts and they reckon it's spot on!"
Can they set a new World Record?
"That's definitely the plan, the current record for longest journey by scooter and sidecar is 8,000km we plan to do 40,000 miles. Also no one has ever circumnavigated the globe on a scooter and sidecar to our knowledge so that will be a world first in itself!"
Want to support? 
There's a few ways that you can support Matt and Reece on their upcoming challenge, from making a pledge to supporting any upcoming events.
Take a look below to find out how:
"We've teamed up with Unseen UK, who run the UK Modern Slavery Helpline, to put it on and we're hoping to raise awareness of the 13,000 people living in slavery in the UK. If people are feeling generous sponsor the expedition, a minimum of 50% of the proceeds raised will be going towards the organisations and charities we will be supporting throughout the expedition.
The rest will go towards supplies, visas, fuel etc all of that is essential if we are to promote the great work these charities do and the people they support – you could watch our little animation on our pledges page and grab a postcard or a tour in the sidecar!"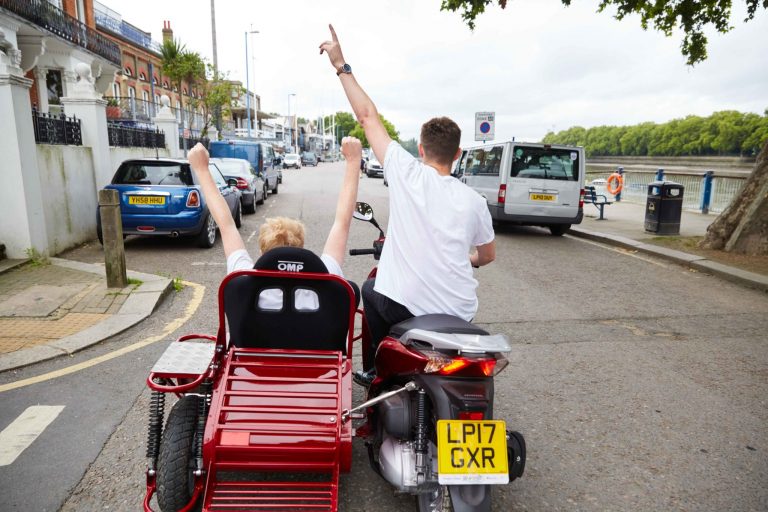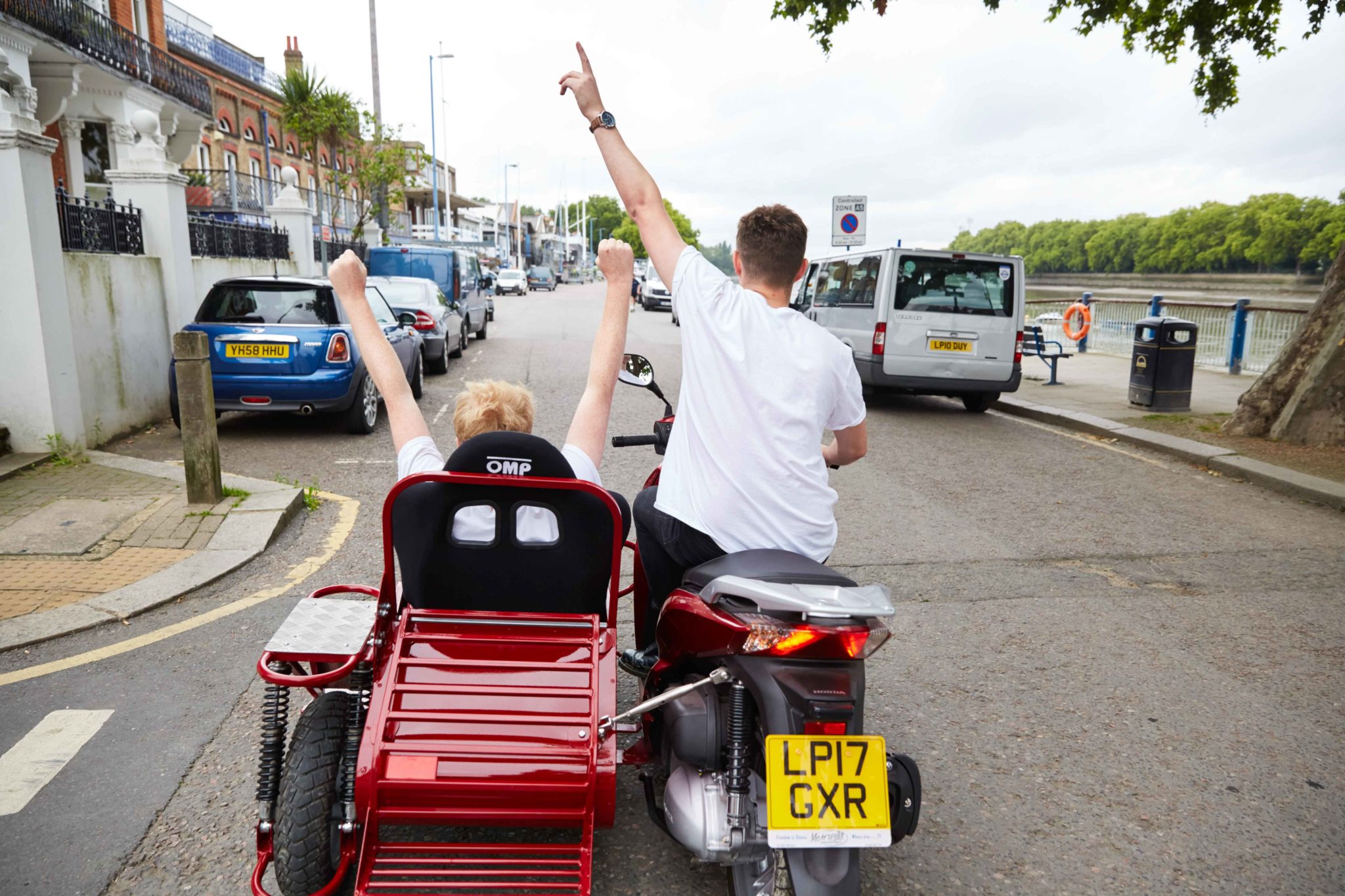 Check out their Facebook page to keep up-to-date with As Seen From The Sidecar's adventure!